Designing beautiful printouts for the grid view
06 Jul 2022

4 Minutes to read
Designing beautiful printouts for the grid view
Updated on 06 Jul 2022

4 Minutes to read
---
Although so much of what you do day-to-day is digital, sometimes you need a printout to send an invoice in the mail or write on a physical copy of what is being presented on screen.
With Airtable, your grid view printout can be customized to have different row heights and column widths, to display averages or totals, to wrap long text, and to add a title to your printout. You can also adjust your browser's print options to display a light grey background for the grouped rows.
In this article, we're going to take the Digital video production template and create a beautiful printout that you could use in a meeting to review all the upcoming video projects.
Create a view to include only the relevant information
Because we're limited to the size of a piece of paper we need to do some work to make sure only relevant data is displayed on the page and that data has enough space to be readable.
Starting out, the digital video production base has 28 fields! That's way more than can fit on a single piece of paper.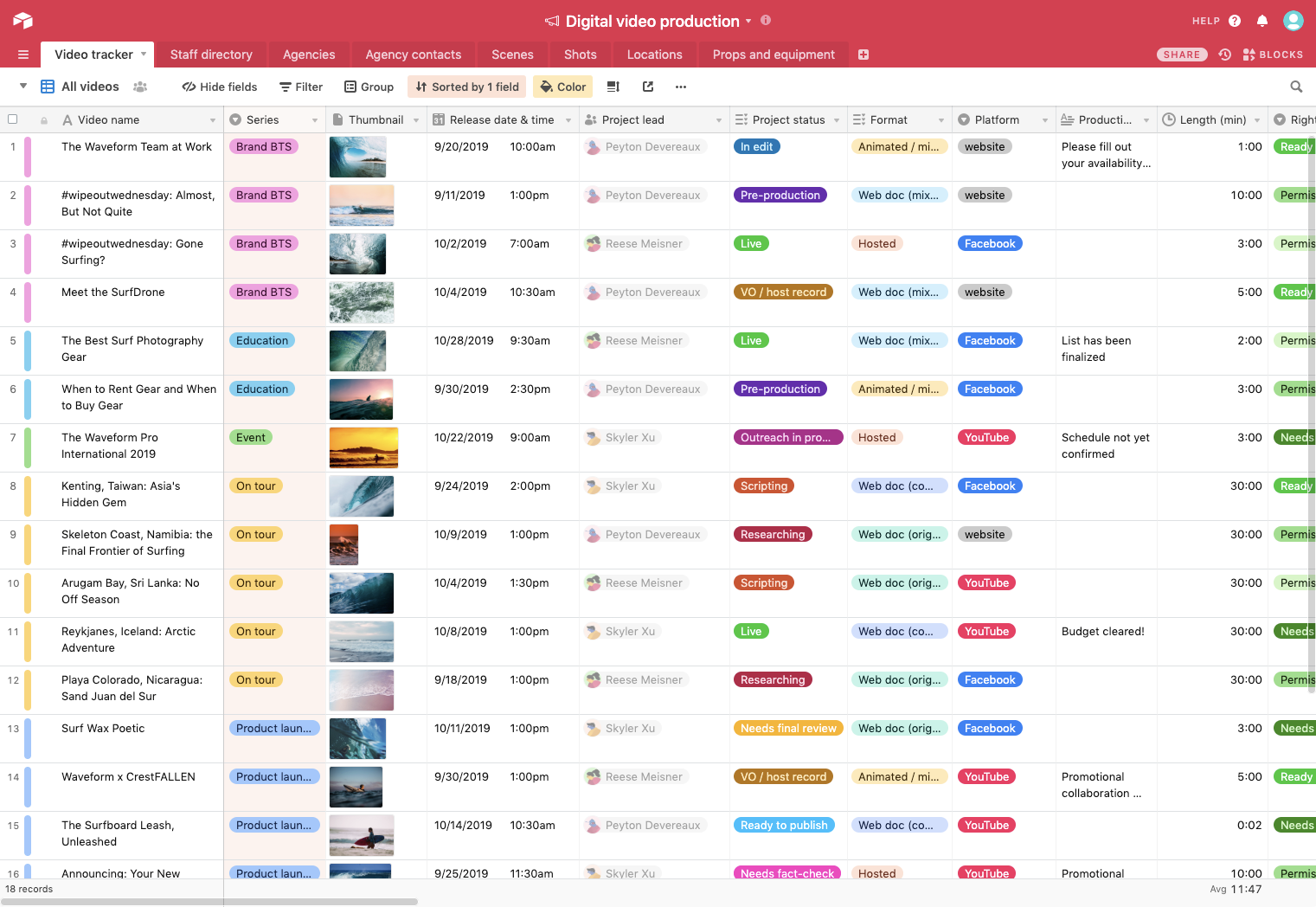 Let's create a new view for the printout named "Meeting Agenda." This view can be used to limit the fields that will be in the printout. Click the Hide fields button in the view bar to bring up the hide fields dialog and choose "Hide all".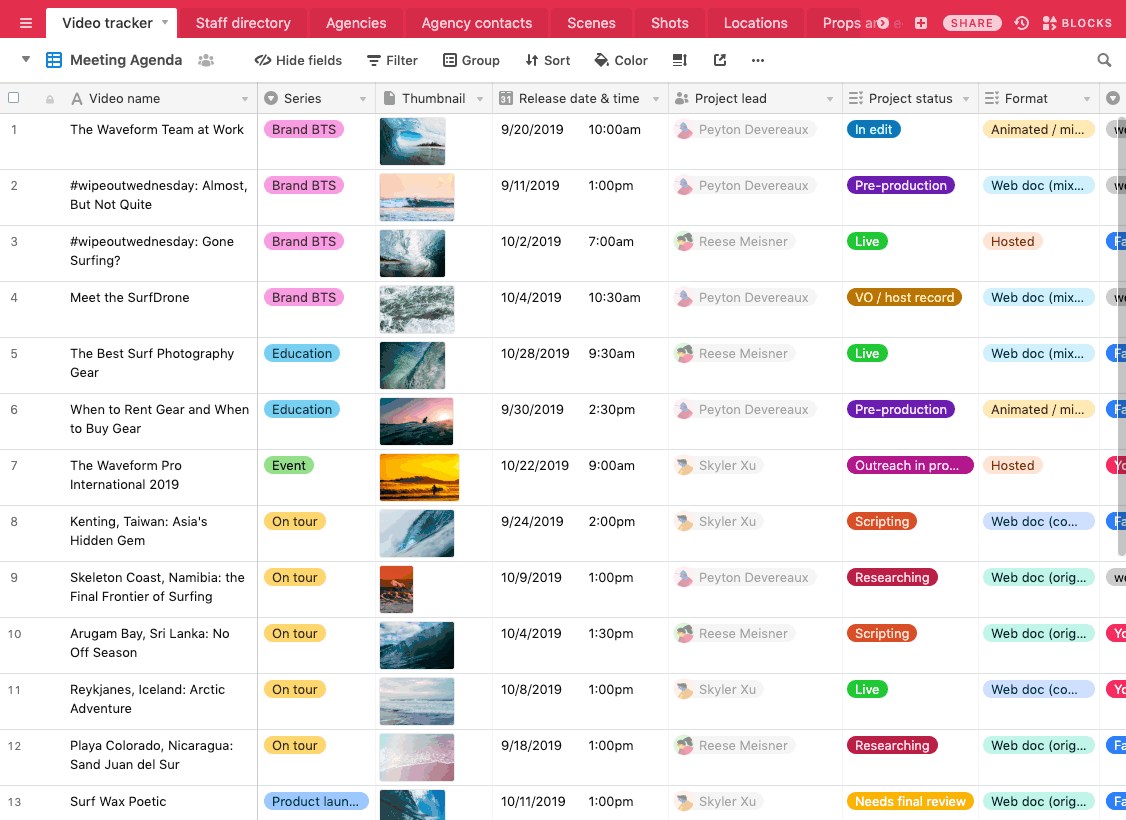 Once all the fields are hidden, we can add back just the relevant fields we need. The fields that are important in our meeting are:
Video name
Series
Release date & time
Project status
Format
Budget
Remaining budget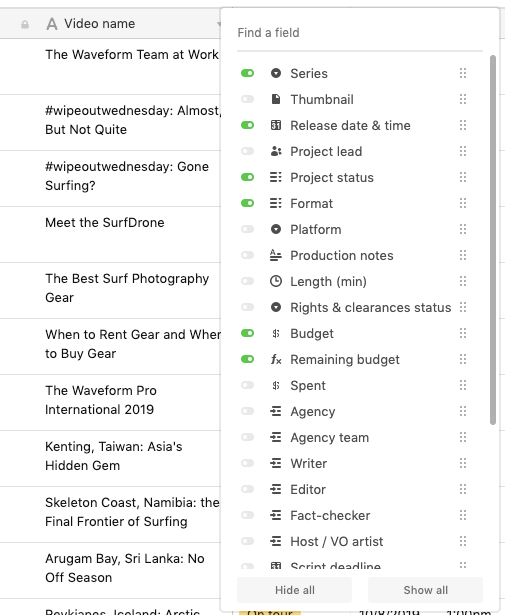 Set printing options for the grid view
Let's print this and see how it looks! To print a grid and configure the print dialog, use CtrlP.
Some of the options in the print dialog we'll start with are:
Orientation: Landscape
Column sizing: Fit to page width
Font size: Small
Include row numbers: Off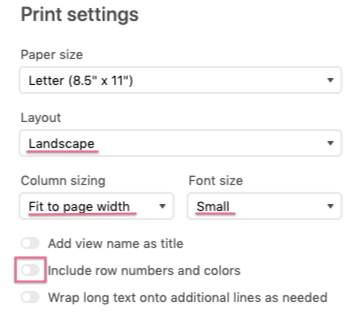 When we print this, we end up with a result that is already good. But we can make this even better!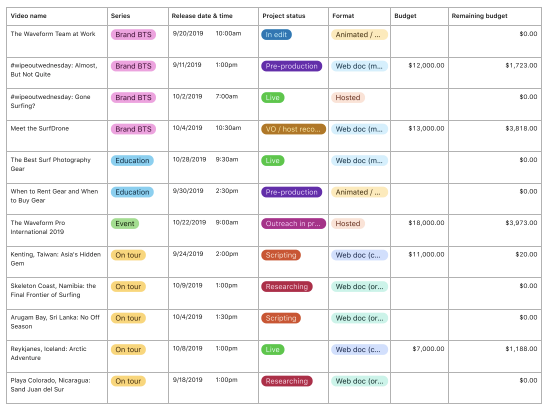 Use row height and text wrapping for a more condensed report
In our first try, the printout has a lot of extra white space. That's because our row height in the grid view was set to medium! You can use row height to change the height of rows in your printout. Let's change row height to "short."

If we printed this grid with the shortest row height, we would have some information cut off in the first column (video name field).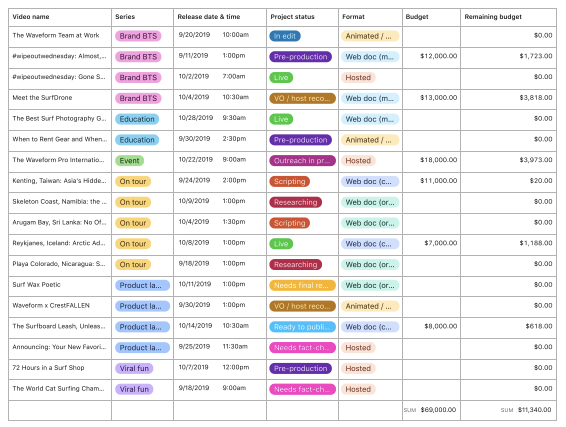 To be able to have both the short row height and as much information displaying as possible, we will turn on the option "Wrap text onto multiple lines" in the Print settings when we print again. That way by default our row height will be short but if they need extra space they will grow in height.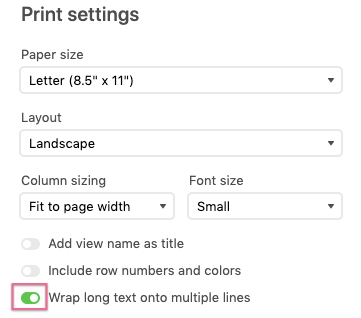 Our new printout is much more compact yet contains just as much information.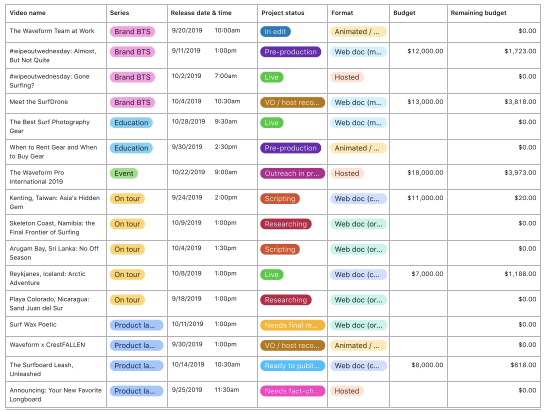 Organize the information on the printout
Next, we'd like to organize the result by project status. There are two ways you can do this for a more readable printout:
Update the printout view configuration and add a group. Then hide the grouped field in the view because those values are now displayed in the group header.
Sort by the field we want to group by so similar records are next to each other. If the view will be used for future printouts, toggle the "Keep sorted" option so your printout always has the same sort.
We're going to do both. We'll group by "Series" (and hide the "Series" field since we don't need it anymore) and sort by "Project status".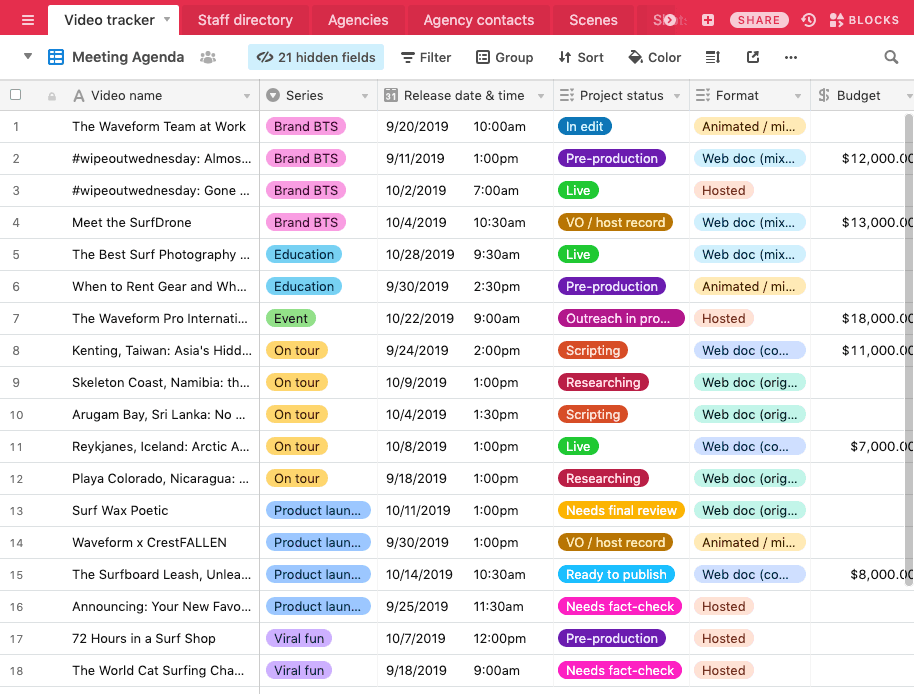 With grouping and sorting, we are getting a little bit closer to the result we want. There is even additional details now displaying such as the total budget per series.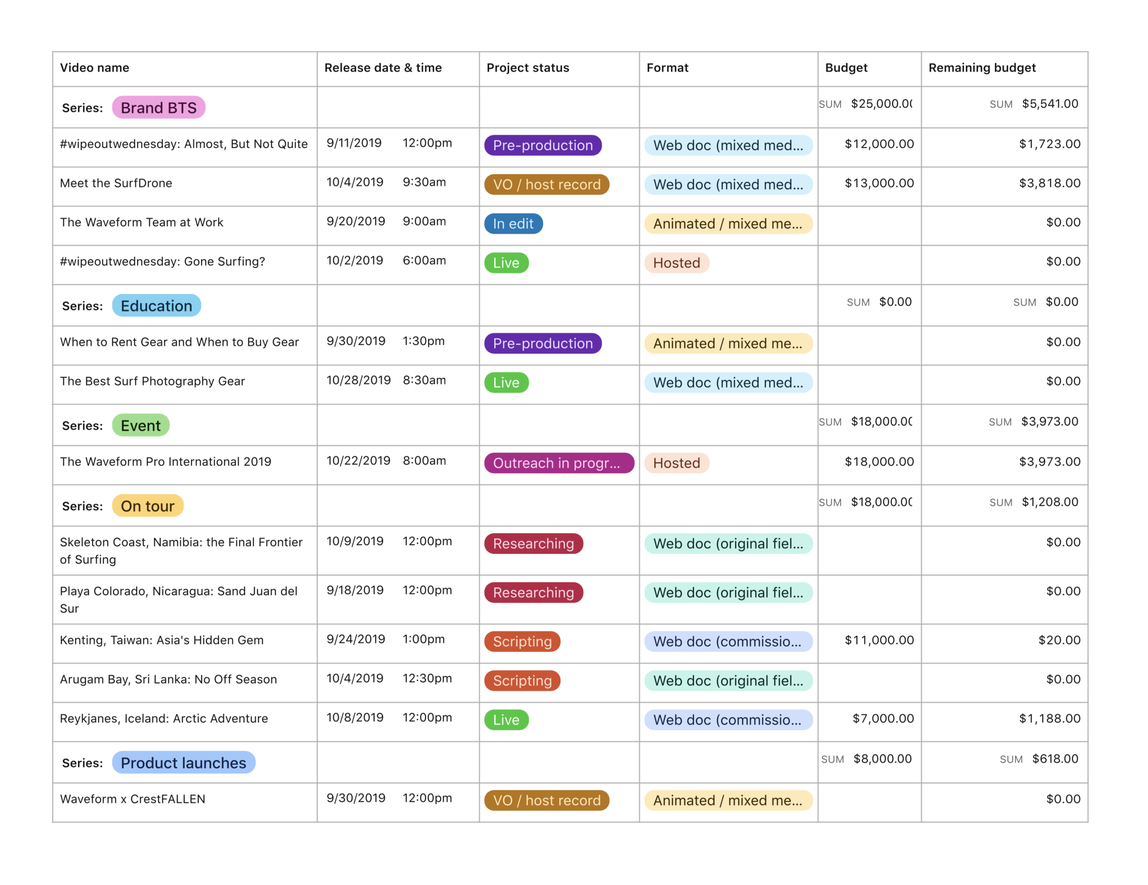 Adjust field width
Our "Budget" field is a bit small compared to our "Remaining budget" field. We can change the field width in the grid view to also change the column width in our printout.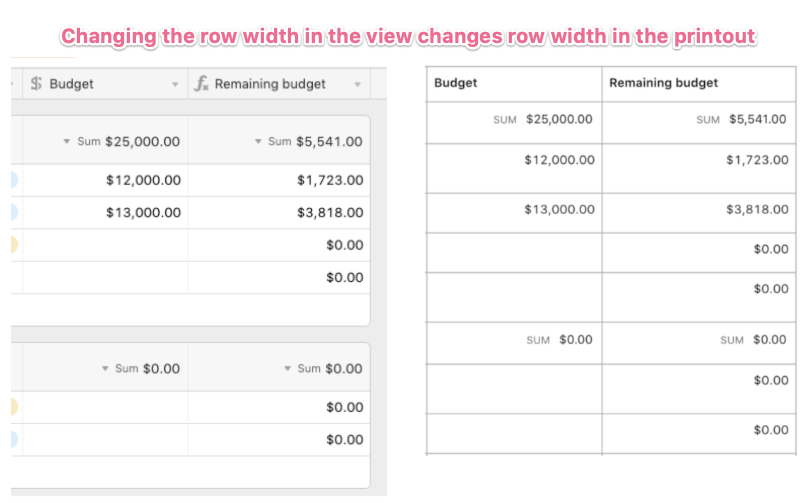 Enable background graphics for subtle shading
To make it easier to tell the difference between our groups, we will enable background graphics. By default in most browsers (we're using Chrome for this example and recommend you do too) the background graphics option is turned off.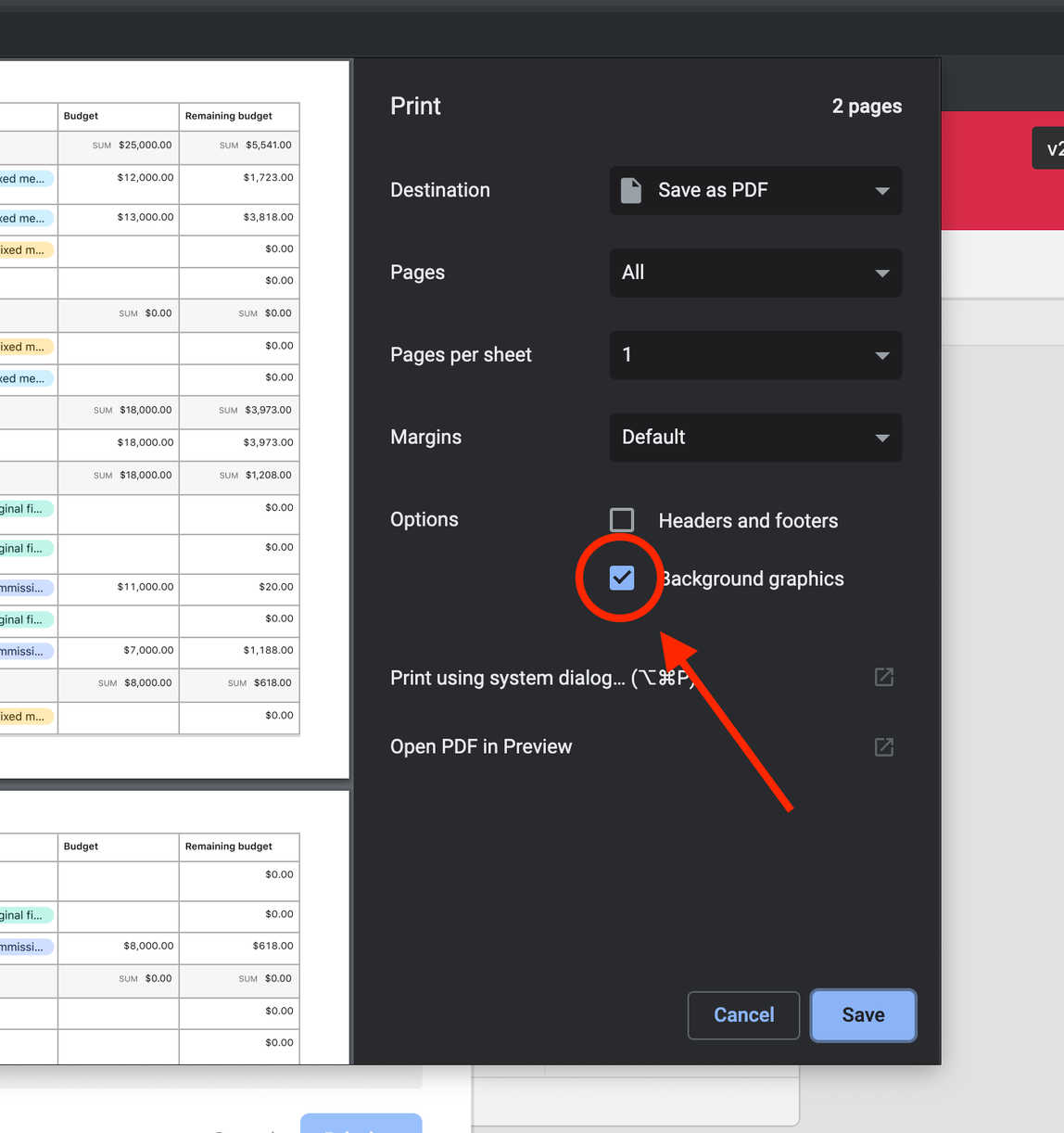 With background graphics enabled, a soft grey background color is applied to the grouped header rows.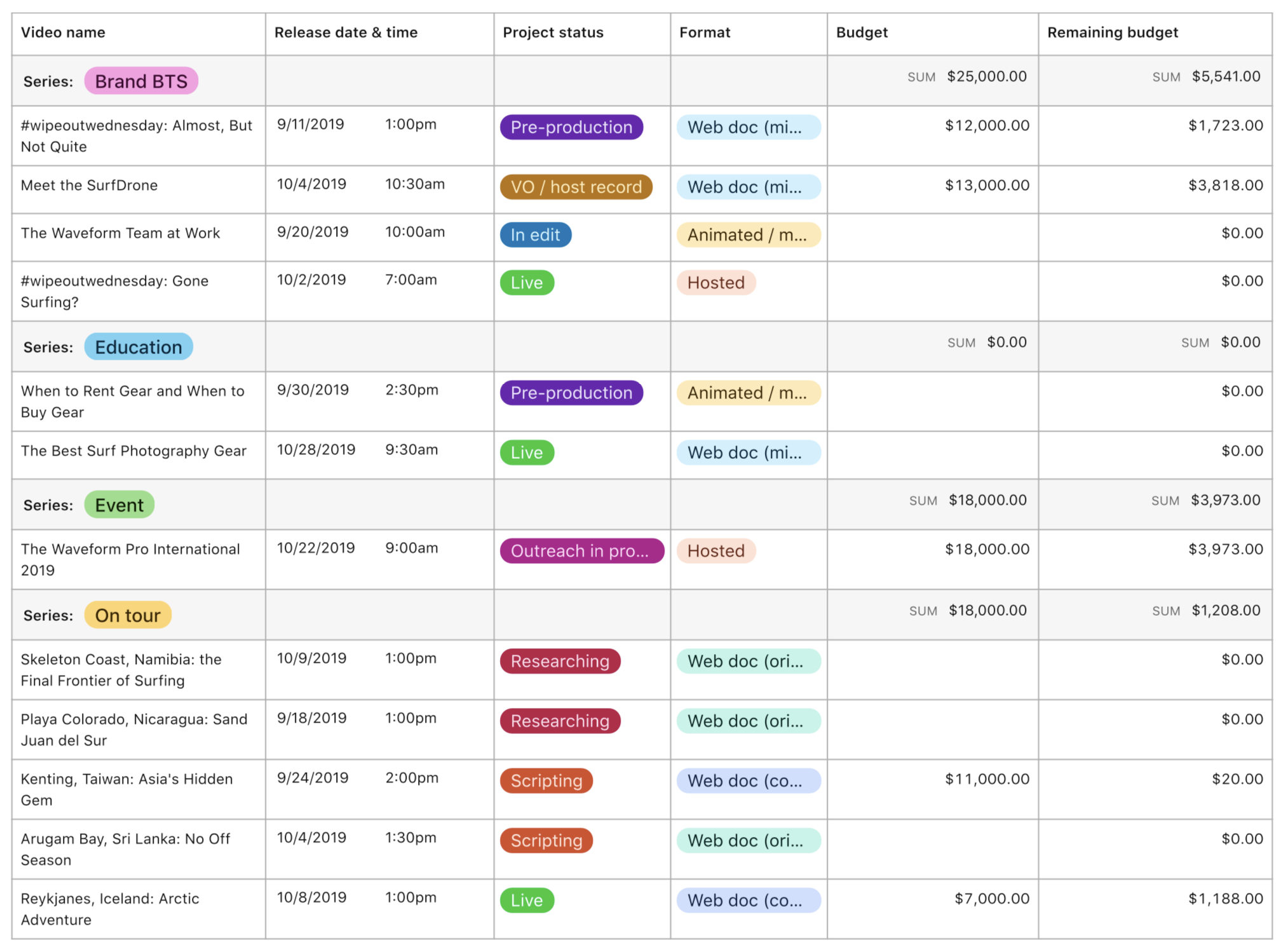 Add a title
Finally, to make it easier to run meetings with our printout, we'll enable the "Add view name as title" option so that our printout has a heading.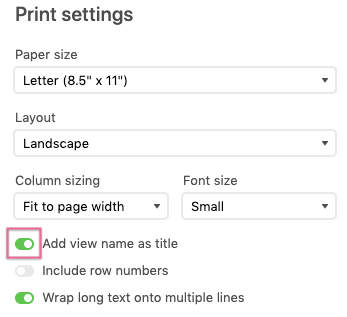 Headers and footers
If you toggle on the "Headers and footers" option in your browser's print dialog, these will be automatically added to the printout. Headers include the title of the view and the current date, and footers include the URL of the current view and the page numbers of the printout.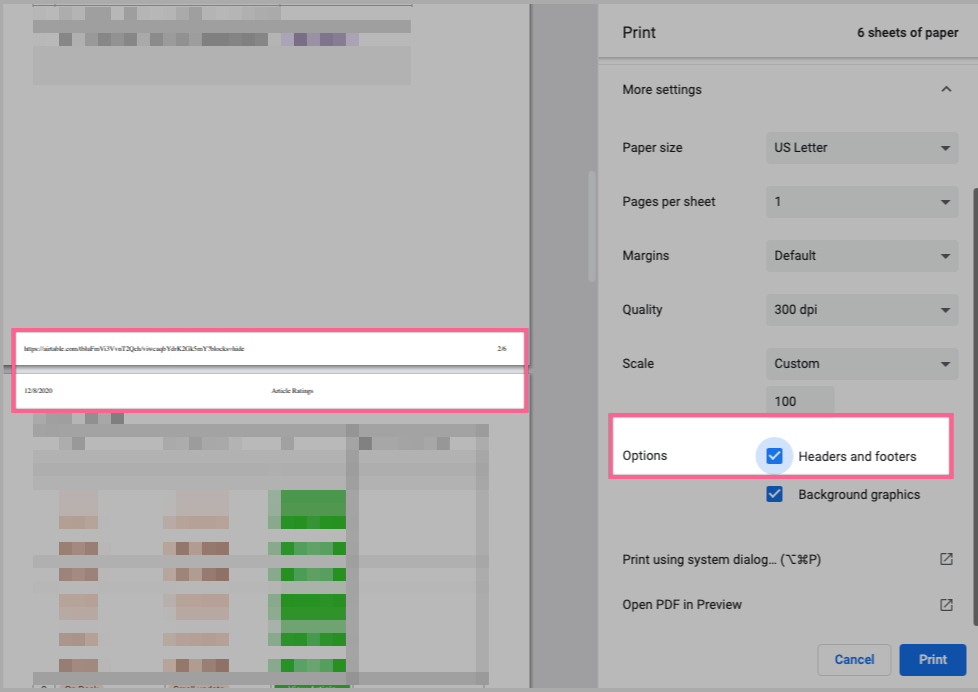 The final result has all the pieces in place.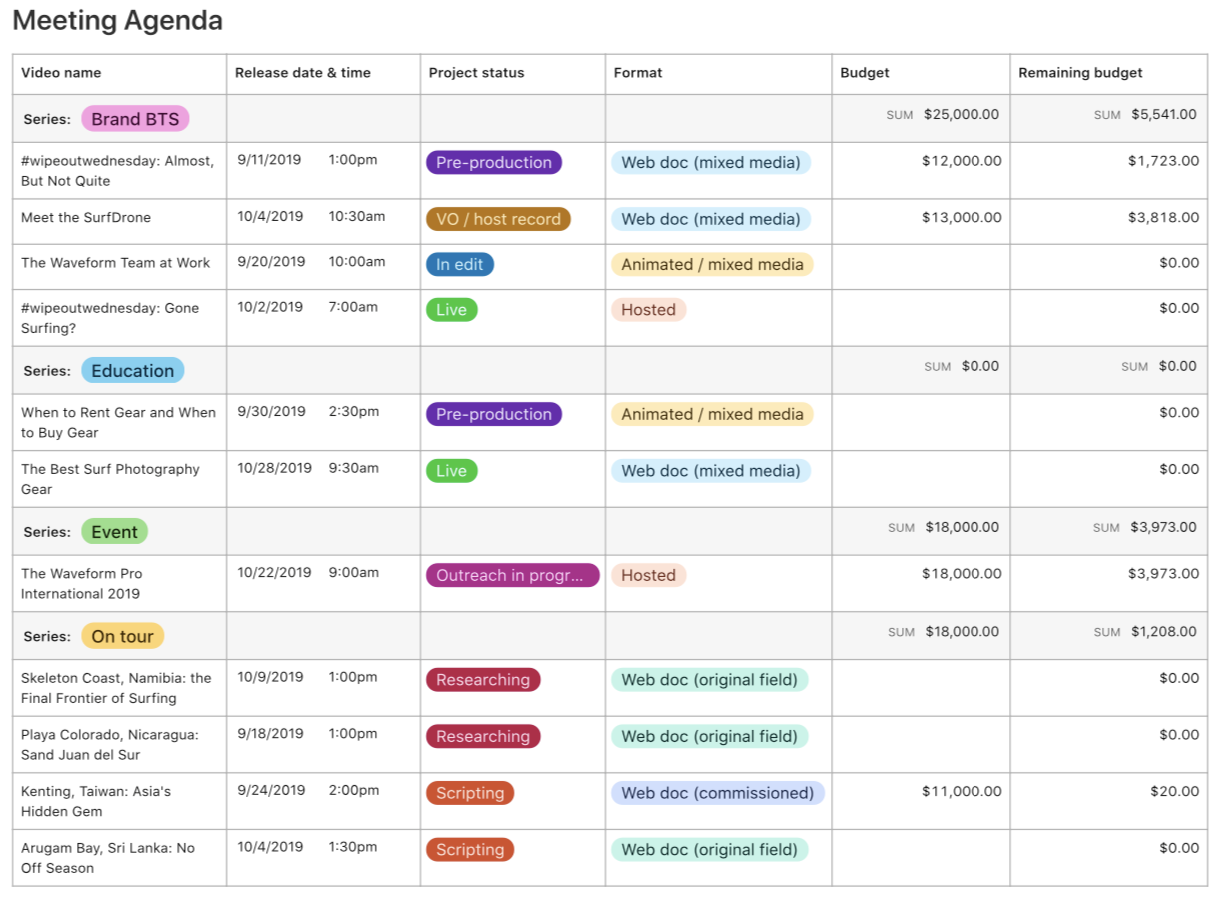 ---
Was this article helpful?
---
What's Next