Interface Designer permissions
23 Aug 2023

10 Minutes to read
Interface Designer permissions
Updated on 23 Aug 2023

10 Minutes to read
---
Share feedback
Thanks for sharing your feedback!
Because Interface Designer offers flexible ways to simplify workflows, visualize data, and tailor information to different audiences across organizations, it's important to review the permissions assigned to any/all interfaces, bases, and data you share with collaborators. Read along to learn the ins and outs of permissions in Interface Designer.
Introduction
| | |
| --- | --- |
| Plan availability | All plan types |
| Permissions | |
| Platform(s) | Web/Browser, Mac app, and Windows app |
| Related reading | |
| Airtable terminology | Interface-only users - Interface-only users are users who are only invited to the interface, not the underlying base. This is a paid plan-only feature. |
Interface Designer at a glance
Interface Designer is a powerful way for creators to work and partner with collaborators without those collaborators needing full access to all the information stored in a single base. Instead, creators can build interfaces on top of the same base—ensuring collaborators always see and interact with the information most relevant to them. Consult our getting started with Interface Designer article if you are interested to learn more about why and when to use Interface Designer.
Interface Designer permissions overview
NOTE
The information in this article is specific to Interface Designer. To learn more about general Airtable collaborator permissions,
please review this article.
After publishing an interface, creators can share it with other users. This allows creators to define their permission level/type and restrict access to certain data.
Users can share interfaces with individuals or groups* (Business and Enterprise Scale only) directly via email, with the option to notify users.
Additionally, base creators can create one or more invite links that automatically grant interface access once clicked. Invite by link is only available to base creators when workspace restrictions permit doing so. These options are covered in more detail in this support article.
The following chart helps visualize how Interface Designer permissions impact different levels of collaborators:
| Interface Designer actions | Interface-only viewer | Interface-only commentor | Interface-only editor | Base viewer | Base commenter | Base editor | Base creator | Non-Airtable user / external colleague |
| --- | --- | --- | --- | --- | --- | --- | --- | --- |
| Can view interfaces | ✅ | ✅ | ✅ | ✅ | ✅ | ✅ | ✅ | ❌ |
| Can comment on interfaces | ❌ | ✅ | ✅ | ❌ | ✅ | ✅ | ✅ | ❌ |
| Can edit interface records | ❌ | ❌ | ✅ | ❌ | ❌ | ✅ | ✅ | ❌ |
| Can create new records via form entry in interfaces containing form functionality | ❌ | ❌ | ✅ | ❌ | ❌ | ✅ | ✅ | ❌ |
| Can access the full base | ❌ | ❌ | ❌ | ✅ | ✅ | ✅ | ✅ | ❌ |
| Can add or update interfaces and interface pages | ❌ | ❌ | ❌ | ❌ | ❌ | ❌ | ✅ | ❌ |
| Can share access to interfaces at their permission level | ✅ 1 | ✅ 1 | ✅ 1 | ✅ | ✅ | ✅ | ✅ | ❌ |
| Billable (Team or self -serve Business plans) | ❌ | ✅ | ✅ | ❌ | ✅ | ✅ | ✅ | ❌ |
1 When interface access restrictions are enabled, users with interface-only access are not able to share interfaces with other users. You can learn more about this feature below.
Using Interface designer permissions
NOTE
Before sharing an interface with a collaborator or group, we suggest using the Preview or View as features for testing purposes. Testing the sharing flow ensures the intended collaborator has access to—or is limited to—the information you shared with them.
As part of interface building, thinking about permissions allows you more control and flexibility over your and your team's work. So, once you've opened or started creating an interface, consider who you're sharing your work with—what access their contribution requires—and the sensitivity of the data being shared.
Permissions for viewing records in interfaces
You'll be able to personalize interface content for users via the Users can see option. Here you can set whether:
All records - All users see all records possible based on other interface settings.
Viewer's records only - Users only see only their records. A user field is required for this option to be available. Additionally, Business or Enterprise Scale users have access to user groups functionality allowing them to give viewing access to the same records for an entire group of users.
Specific records - All users see only specific records based on one or more conditions or conditional groups.
You can also set the fields that will be visible from this menu of options.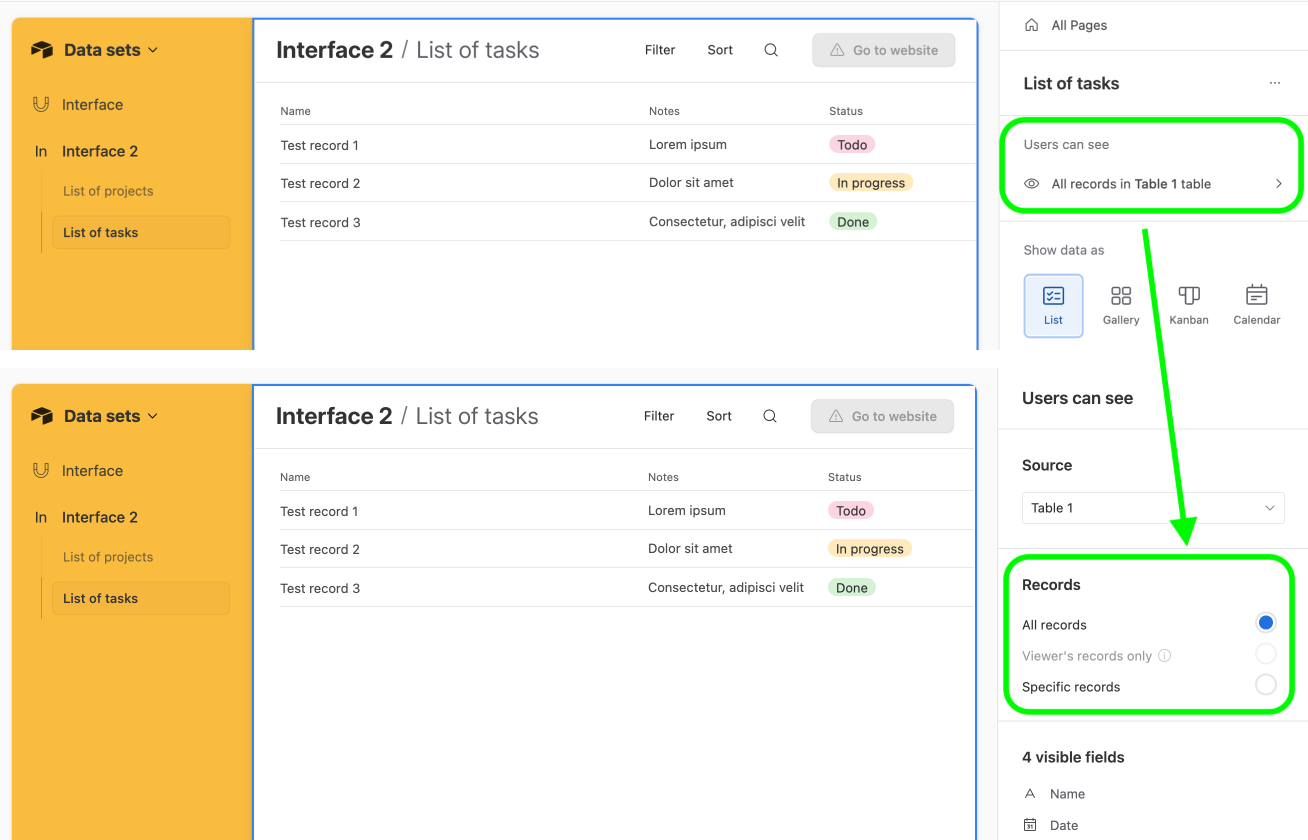 Permissions for editing or adding records in interfaces
When creating or editing an interface, you'll be able to allow users with the appropriate permissions to:
Edit records inline - This will allow end users to edit or add new records in a similar fashion to the way that record editing and adding work in a base.
Add records - This option allows you to add a button to the interface that end-users can click. When clicked, this button will open a form to enter record details and ultimately create a new record. As a creator you'll want to edit the form that end users see and give the button a customized label.
You can choose to enable just one or both of these options can be enabled at the same time, depending on your workflow's needs.

Interface designer permissions dependencies
With Interface Designer, certain parts of Airtable and how permissions interact with collaborators have changed in ways that impact how creators/collaborators previously used Airtable.
Please review and consider the following updates to Airtable when creating interfaces and sharing them:
Field visibility - Interface Designer replaces the need for hidden fields because now collaborators only see fields and information you've shared with them specifically.
Filter elements - In addition to showing a filtered set of records to all users, interface creators can also add filter elements, allowing end users to control what they see.
Viewing individual records details: When expanding a record to see its details, you now see a full-page experience fully customizable in Interface Designer.

List elements require these detail pages to be enabled. Once enabled, creators can design record detail pages showing specific fields — in any orientation to their end users.
Collaborators only see fields that creators add to their record detail pages. As a result, hidden fields are no longer available.
Detail pages are reusable per table and per interface. So, for example, if a creator has two grids on two separate detail pages in an interface showing records from their "projects" table, they'll use the same record detail page layout.

Notifications - Mentioning a collaborator in an interface notifies them and redirects them to the interface.
Disappearing records - If a collaborator's access is revoked, they will immediately lose access to the interface they're using. But if the collaborator updates an interface, causing the row not to match filters. In that case, they will retain access to that record for 5 minutes.
Workspace restrictions - For Team plans, workspace sharing restrictions are extended to interfaces (but not domain restrictions). While Business and Enterprise Scale plans restrictions impact both workspace sharing and domain restrictions.
Commenting: When mentioning someone in a comment, comment on the intended interface, not the base. Any person mentioned in a base comment — who doesn't have previous access to that base — will not receive notifications.
Interface-only impact on billing: It's important to remember that granting interface-only permissions to users can impact the owner's billing. To learn more about how billing works, review Airtable's billing overview.
Restricting interface sharing
In some cases, creators on Team/Business/Enterprise Scale plans may want to restrict interface sharing to only allow base collaborators to share the interface with other users. This is where interface sharing restrictions come into play.
A few notes to consider about this feature
When this toggle is turned on, only users with base access are able to share the interface with other users.

Users with interface-only access will not be able to share the interface with other users.
Users with interface-only access can still request access for other users and the workspace owner(s) will ultimately decide if access to the interface is granted.
This feature is on a per-interface basis. For bases that contain multiple interfaces, this option will need to be configured for each separate interface.
Creators will also be able to invite new users by email. However, to limit new users from getting access without approval, they will no longer be able to view or manage invite links. The Invite by Link tab will be disabled in the Share dialog.

When this toggle is turned off (default), users with interface or base access are able to share the interface with other users.

This means that a user with interface-only access can grant interface-only access to other users at or below their permission level.

If a workspace has workspace sharing restrictions enabled, sharing will always be disabled for all bases and interfaces within that workspace.
This feature is only available to Creators/Owners with base access on paid plans.
To access this feature's settings
Navigate to the All pages list in the righthand sidebar.
Locate the specific interface page that you would like to restrict.
Click on the three-dot icon next to the interface page's name.
Toggle on/off the Restrict interface sharing setting.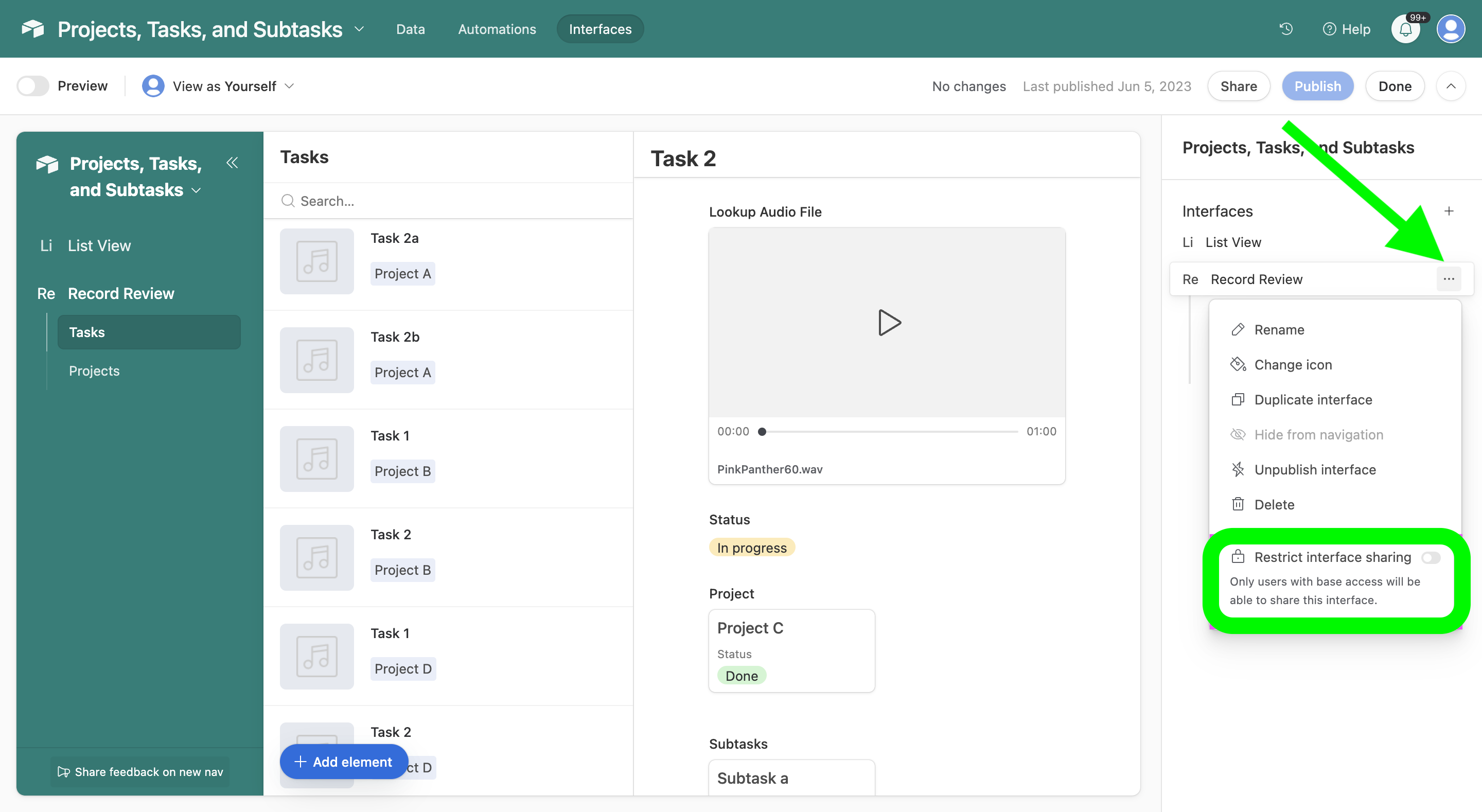 FAQs
Can I share an interface with anyone as a view-only link or do they have to have an Airtable account?
There are other related considerations outlined in the FAQs below, however, an Airtable account login is the first requirement in order to view an interface. To share information from a base with people who do not have an Airtable account consider creating a base or view share link.
Who can create new interfaces/interface pages?
Users with Owner or Creator collaborator permissions on a base can create new interfaces and groups of interfaces.
Can I share an interface without sharing the base?
While interfaces are available to all customers on all plans, the ability to share interfaces separately from the base is restricted to paid plans only.
If I share an interface with another individual or team, can they see the underlying data?
Not necessarily. It depends on whether the option to allow access to the base was checked when the invitation was sent. Ultimately, only base collaborators can view the underlying base.
What happens if more than one collaborator is editing an interface at the same time?
Interface Designer will always save the most recent changes to an interface. So, if more than one collaborator is editing the same interface, Interface Designer will reflect the last changes to both collaborators.
If a base collaborator has "Commenter" or "Read-only" base permissions, can they edit an interface's "Editable" fields?
No, a base collaborator with Commenter or Read-only permissions on a base can't edit or modify a base's records through an interface. This also means that commenters and read-only users are not able to fill out form elements in interfaces.
I updated an interface's appearance, why isn't the change visible to my collaborators?
If you made a change to an interface or to the elements contained in an interface itself, you must first publish the changes for that interface in order for other collaborators in a base to see those changes.
What happens if someone who is not a base collaborator tries to navigate to an interface URL?
Suppose you share an interface URL with someone who is not a base collaborator. In that case, they can request access to the interface without needing access to the underlying base. The workspace owner can then grant access or ignore the request. If you share an interface URL with someone who is an interface collaborator — but not a base collaborator — they may or may not be able to see the exact record you linked depending on their permissions as set by the interface.
On Free plans, if you share an interface URL with someone who is not a base or interface collaborator, they will have to request access to the interface, granting them access to the underlying base. The workspace owner can then give access or ignore the request.
Can I duplicate an interface into another base?
We do not support duplicating interfaces into another base at this time.
How do field and table permissions impact Interfaces?
Field and table permissions set in the base will extend and be respected in Interfaces as well.
Who can share Interfaces?
All Interfaces users will be able to share the Interface further at their permission level or below. For paid plans, if workspace sharing restrictions are turned on, then only workspace owners can share the base. See this workplace restrictions article for more information.
Can I only share a specific page on an interface?
No, sharing an interface will share all published pages on that interface.
Can I see what interfaces a user has access to?
Business and Enterprise Scale admins can navigate to the Admin panel's Users tab to view a particular user and confirm the interfaces they have access to and their permission level per interface.
How can I see all the Interfaces that exist across my organization?
Business and Enterprise Scale admins can navigate to the Admin panel's Interfaces tab to see the full list of interfaces within the organization.
---
Was this article helpful?
---
What's Next