Migrating from Gantt Extension to Gantt View
06 Jul 2022

2 Minutes to read
Migrating from Gantt Extension to Gantt View
Updated on 06 Jul 2022

2 Minutes to read
---
In March 2021, we released Gantt view -- a new and improved version of the existing Gantt extension. Gantt view comes packed with the same functionality as the Gantt extension, but with a host of new features, like the ability to:
Create and navigate to Gantt views directly from the view sidebar.
Make use of the full screen real estate without needing to access your Gantt from the extensions dashboard or enter full screen mode.
Adjust filters and record coloring inline without needing to switch back and forth between the extension and a source view.
Create standalone shares of Gantt views without exposing the rest of your base data.
If you're still using the Gantt extension, we encourage you to switch over to the new views interface. Migrating from the existing Gantt extension to the new Gantt view can be done in a few simple steps, which are outlined below.
Step 1: create a new Gantt view from the sidebar in your table of choice
To create a new Gantt view, open the view sidebar (on the left-hand side of your base), and under the "Create a view" section select "Gantt".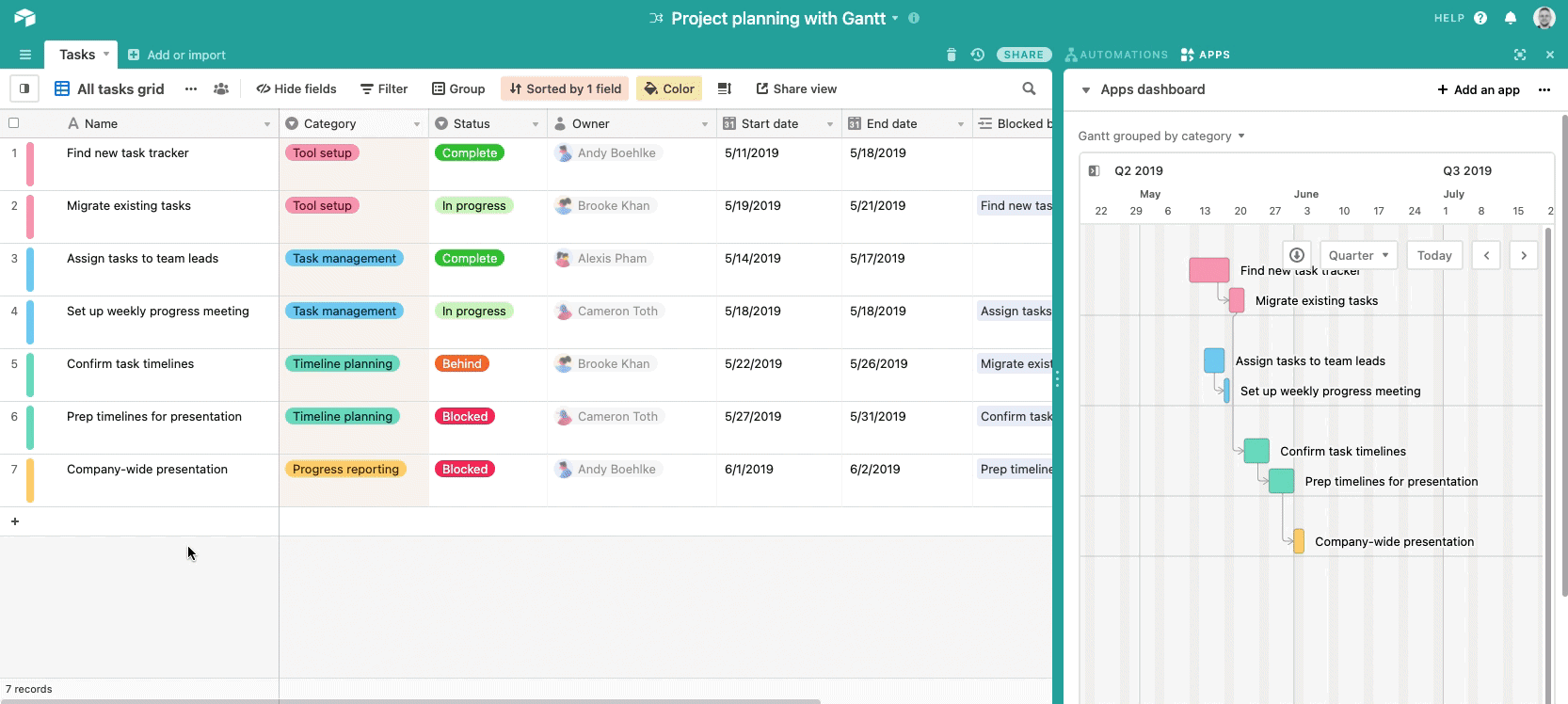 As soon as you create the view, you'll see a setup window.
Step 2: choose setup options
Within the setup window you configure the following options:


Start date field: choose a date field to use for the start date of Gantt records
End date field: choose a date field to use for the end date of Gantt records
Dependency field: choose a linked record field for specifying dependencies between records in this table. Learn more about dependencies here.
Milestones: when this setting is enabled, records that only have end dates will be treated as milestones. Learn more about milestones here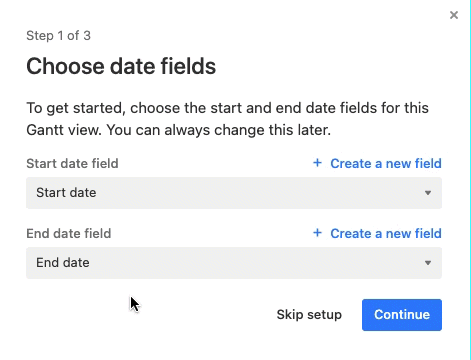 Once you've configured the setup options your Gantt view will be created! You can change the setup options at any time from the Gantt settings menu.
Step 3: customization options
There are a few settings that used to be available in the old Gantt extension that are located elsewhere in the Gantt view.
Selecting table and view: because the Gantt view is already created within a table, these options no longer exist.
Filters, groups, and record color: just like other views, you can now configure these options within the view configuration bar (shown below)

Grouping and record coloring need to be manually reconfigured via the "Group" and "Color" menus in the view bar. You can copy the grouping and coloring settings from other views, but you cannot copy those settings from an existing Gantt extension.
Step 4: delete your original Gantt extension
Once you're happy with the way your Gantt view looks, you can delete the original Gantt extension. Note that this will affect all existing shared links that include this extension.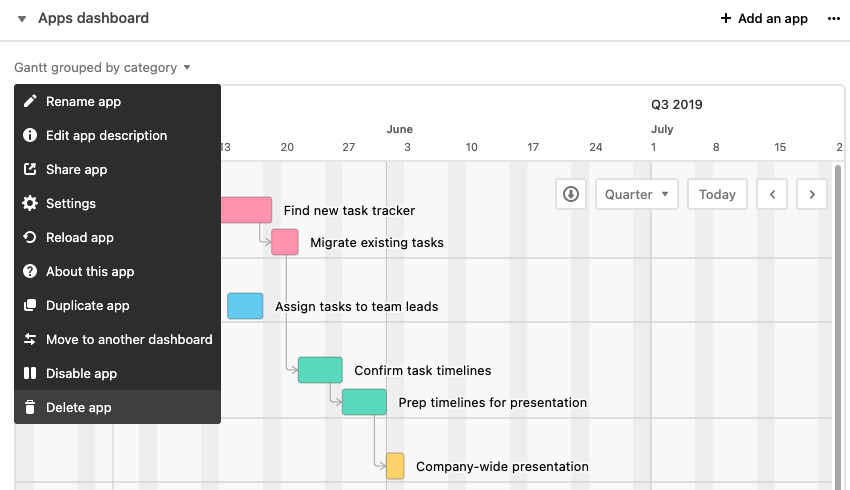 ---
Was this article helpful?
---
What's Next