Overview of collaboration features
09 Nov 2022

2 Minutes to read
Overview of collaboration features
Updated on 09 Nov 2022

2 Minutes to read
---
Once you've invited collaborators (both workspace and base collaborators, as appropriate), Airtable has many features you can use to facilitate intra-team communication and task delegation.
Comments and @mentioning
Collaborators with creator, editor, and commenter permissions can collaborate with one another by commenting on individual records. Expand a record to see that record's activity feed. At the bottom of the activity field is a text box in which you can enter a comment.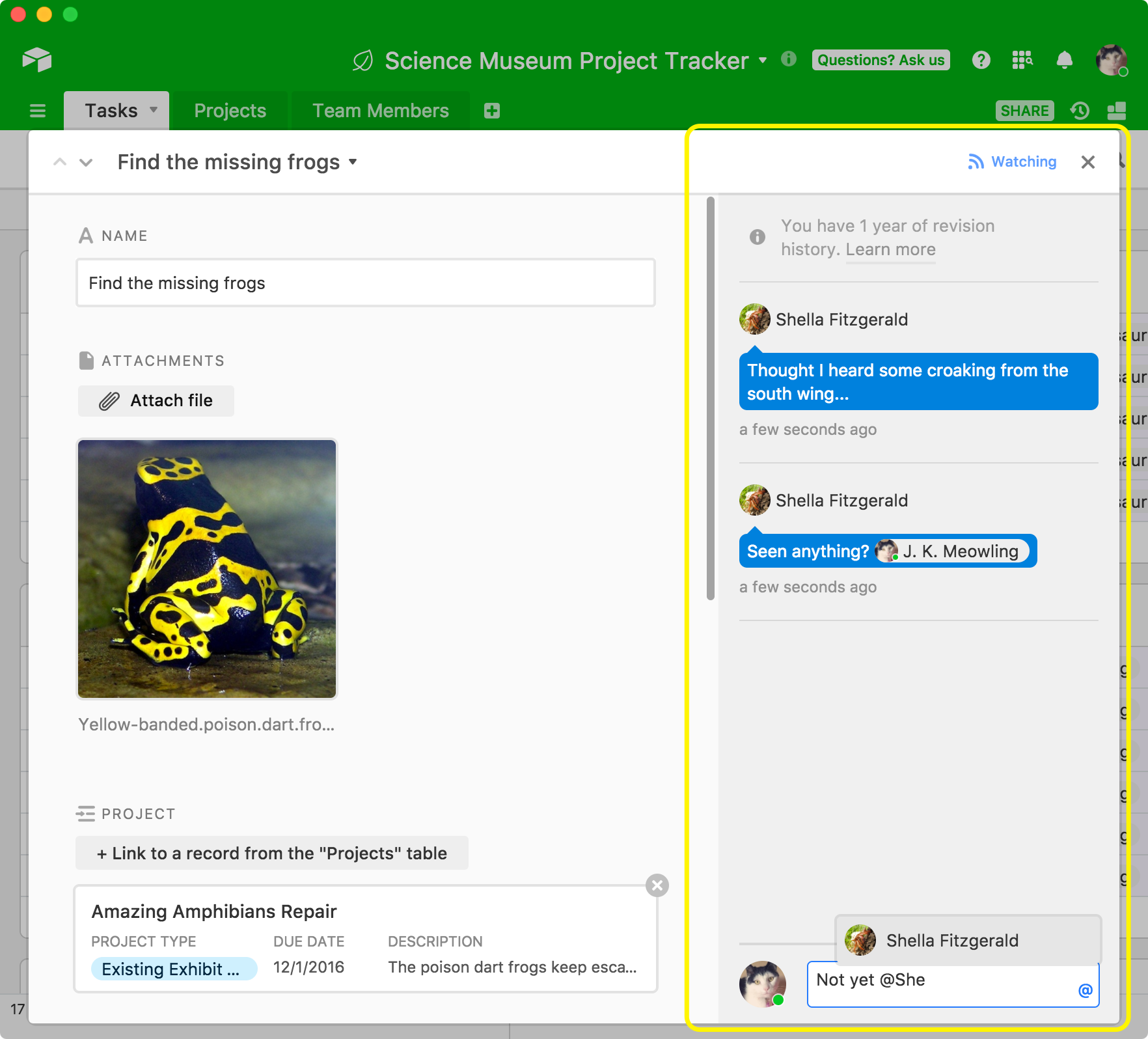 To notify a collaborator in a record's comments, you can @mention them by typing the @ symbol and selecting their name from the dropdown menu, or you can click the @ icon in the comment box. When you @mention a collaborator, they will be notified that you mentioned them in that record.

You can also @mention collaborators in long text fields, which will also send the @mentioned collaborator a notification.

For more information, please read this article on comments and @mentions.
User field
The User field allows you to select one or more names from an automatically generated dropdown list of all the collaborators (both workspace collaborators and base collaborators) with whom your base is shared.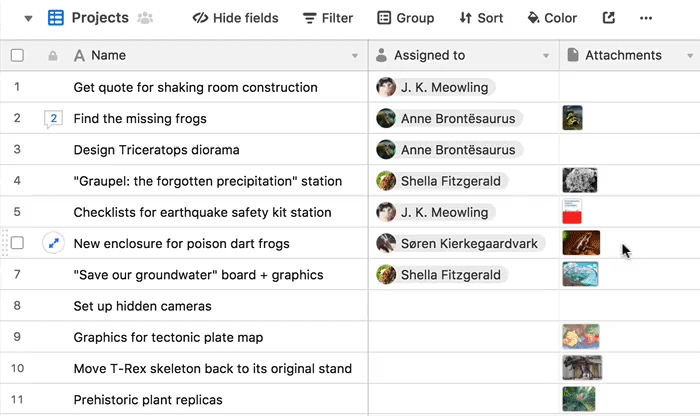 The user field can be configured to notify a collaborator when their name has been added to a cell. A collaborator notified when added to a user field can receive an in-app notification, as well as an email notification. This is particularly helpful for project management use cases or any other situations in which you need to assign records to people. There are a lot of powerful things you can do with user fields, so we suggest you read our full collaborator field support article and this list of 5 ways to manage projects more efficiently with the collaborator field.
Personal views
When working with collaborators, you'll all typically have different responsibilities, and therefore, different ways that you want to look at the same information. One person might just want to see all the tasks that are assigned to them at a glance; a manager might want to get a quick overview of the statuses of all tasks.
The best way to accommodate your and your collaborators' different needs is by making different views, which are set ways of looking at the same underlying data. You can filter out records you don't need to see, group records together, and even view your records on a calendar or a kanban board.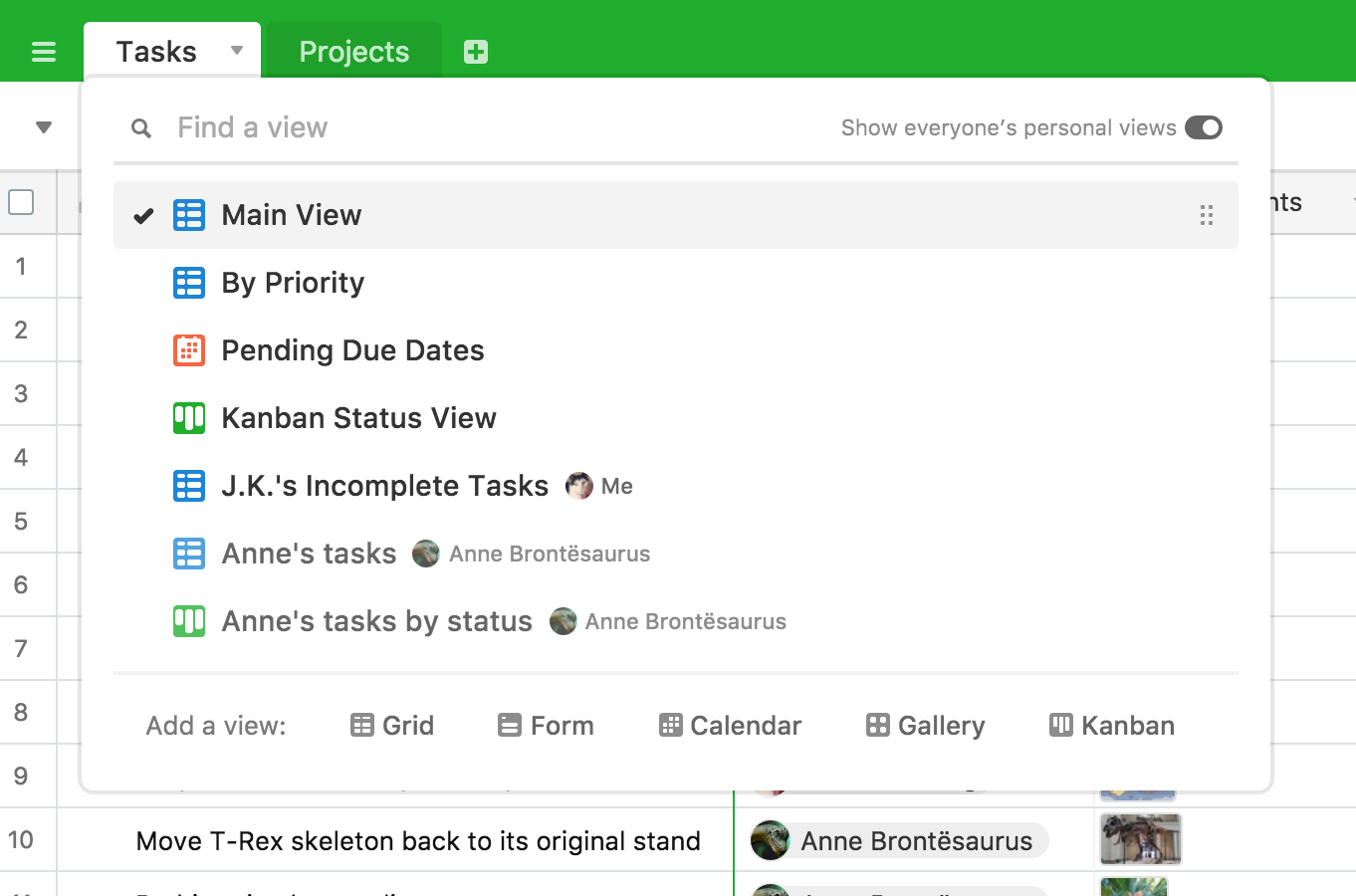 Personal views are a premium feature, available on the Pro plan, which allows a collaborator with creator, editor, or commenter permissions to create views that only the person who created the view can edit, and that are hidden from other collaborators' view bars by default. This is extremely useful when:
You're working with many different collaborators, all of whom are using the base in different ways
Your collaborators have created lots and lots of views, and navigating the view bar is getting unwieldy
You don't want any of your collaborators messing with your carefully crafted views
Slack integration
If you're working on a team that uses Slack, we highly recommend that you try out our Airtable-Slack integration. You can set up the integration so that your team will receive updates in a specified Slack channel whenever changes are made to an Airtable base, whenever changes are made to specific records in an Airtable base, or whenever changes are made in specific views in an Airtable base.
To learn more about it (and watch a video demonstrating how to set up the integration), read this article.
---
Was this article helpful?
---
What's Next