Publish a base in Airtable Universe
07 Jul 2022

2 Minutes to read
Publish a base in Airtable Universe
Updated on 07 Jul 2022

2 Minutes to read
---
To access the Airtable Universe publishing page, click the yellow "Publish and manage" button on the bottom left side of the sidebar:

The publish page is a list of all of the workspaces and bases to which you have access. It also shows which bases you've already published. To search for a particular base, you can use the search box under the creator profile. Note that you must have at least creator-level permissions for a base (as either a workspace or base collaborator) in order to publish that base. If you only have editor or read-only access to a base, you will not be allowed to publish that base on Airtable Universe.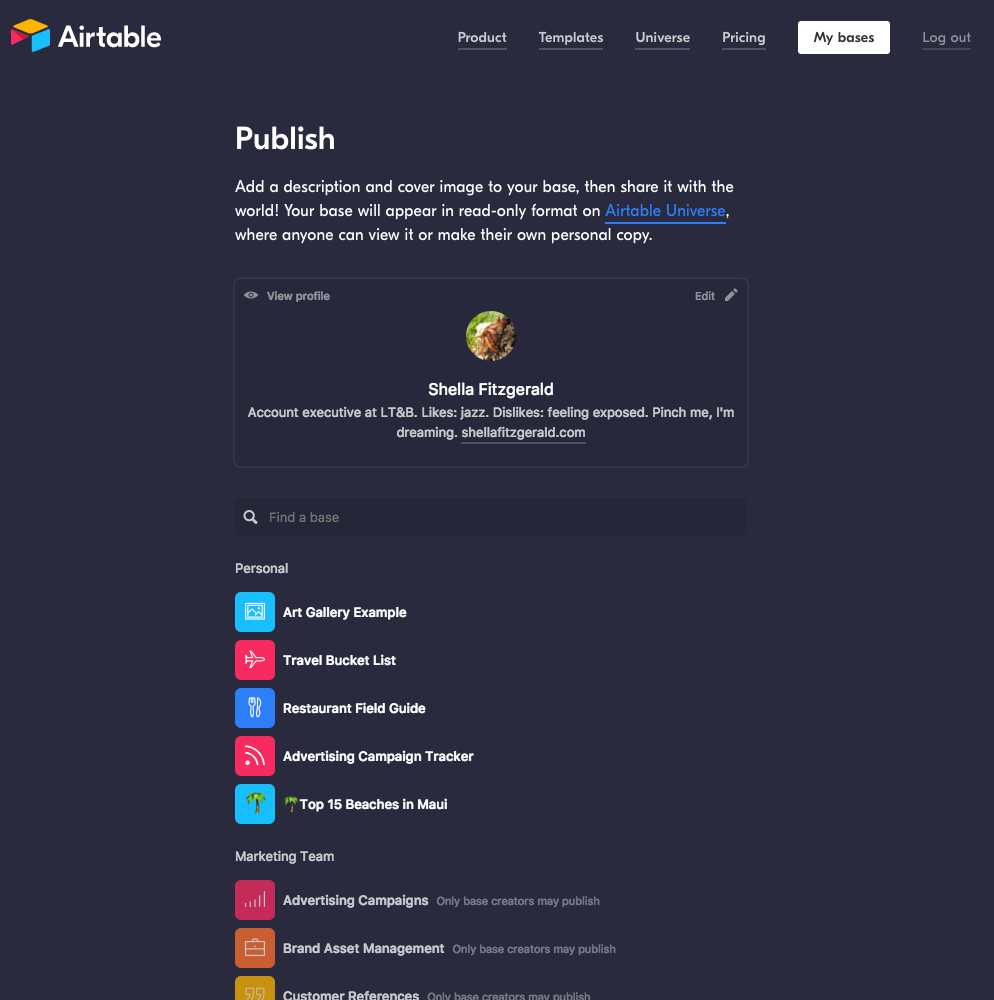 Publishing a base
To publish a base, click on that base's icon from the Publish page.
Before publishing anything, please ensure that the base you are publishing is appropriate for Airtable Universe. In particular, if your base has sensitive, confidential, or proprietary information, you should NOT directly publish it to Universe. (As an alternative, we recommend creating a duplicate base, redacting that duplicated base, and publishing the redacted, duplicated base.) For further guidance on what makes a good Universe base, please read the section of this support article on creating the right base for Universe.
After clicking on a base's icon from the publish page, you'll be brought to a publishing interface.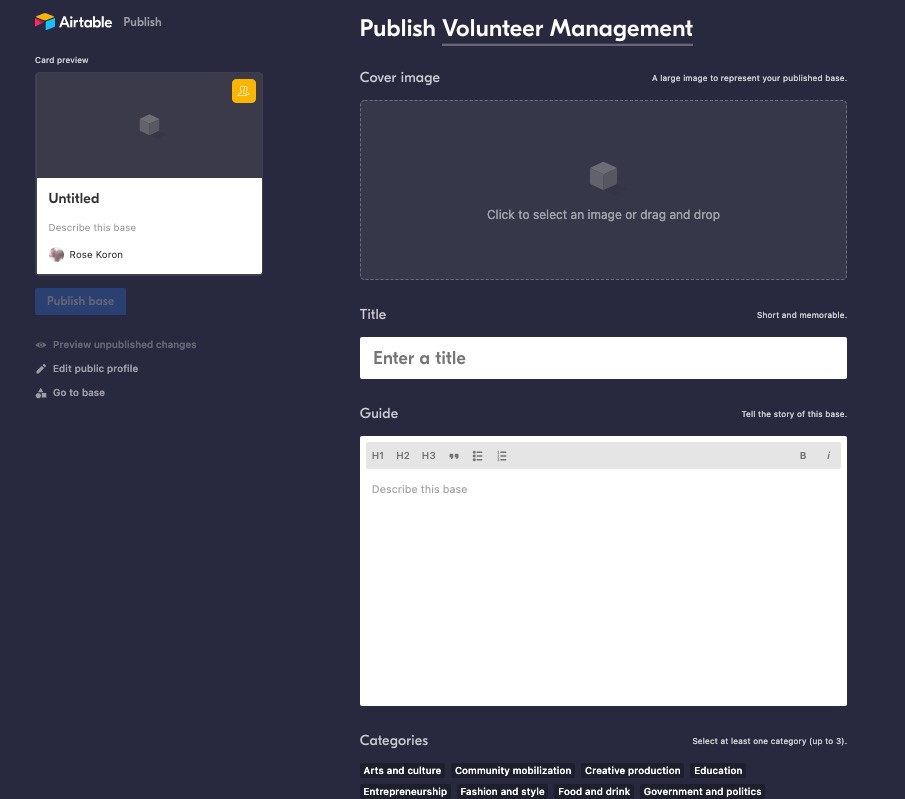 The first thing you need to do before publishing your base is to upload a cover image. Picking a good cover image is critical for getting viewers' attention, so choose wisely! We also request that you only use images for which you have usage rights. Note that images must be in PNG, JPG, or GIF format, under 5 MB, and at least 500px by 300px.
The title of your base is the name by which your published base will be identified in Universe. It can be the same as the title of your original base, but it does not necessarily need to be the same. Please be aware, however, that when a user copies your base from Universe, the base that they get will have the same title as the original base, not the title you gave it for Universe.
The guide box is extremely important for ensuring that the people viewing your base understand what it's about. You can use the WYSIWYG buttons to format your text. If you want to include links in your base's guide, you can do so by pasting in the links (they'll automatically linkify when the base is published), or by formatting your link with square brackets and parentheses like so:
[text that will be linked](http://example.com)

Lastly, you'll need to pick at least one category from the categories listed in order to publish your base. You can pick up to a maximum of three.
Before publishing, you can preview your base metadata by clicking the Preview unpublished changes option, or go back to your base to make changes by clicking the Go to base option.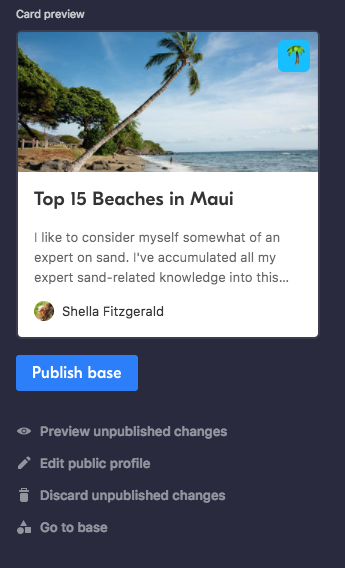 When you've given your base a cover image, title, guide, and category, you can publish your base by clicking the blue Publish base button. Before finally publishing, you'll see a confirmation dialog.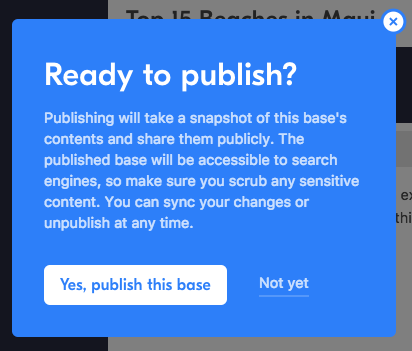 After publishing the base, you can copy the link that appears to share your published base with the world.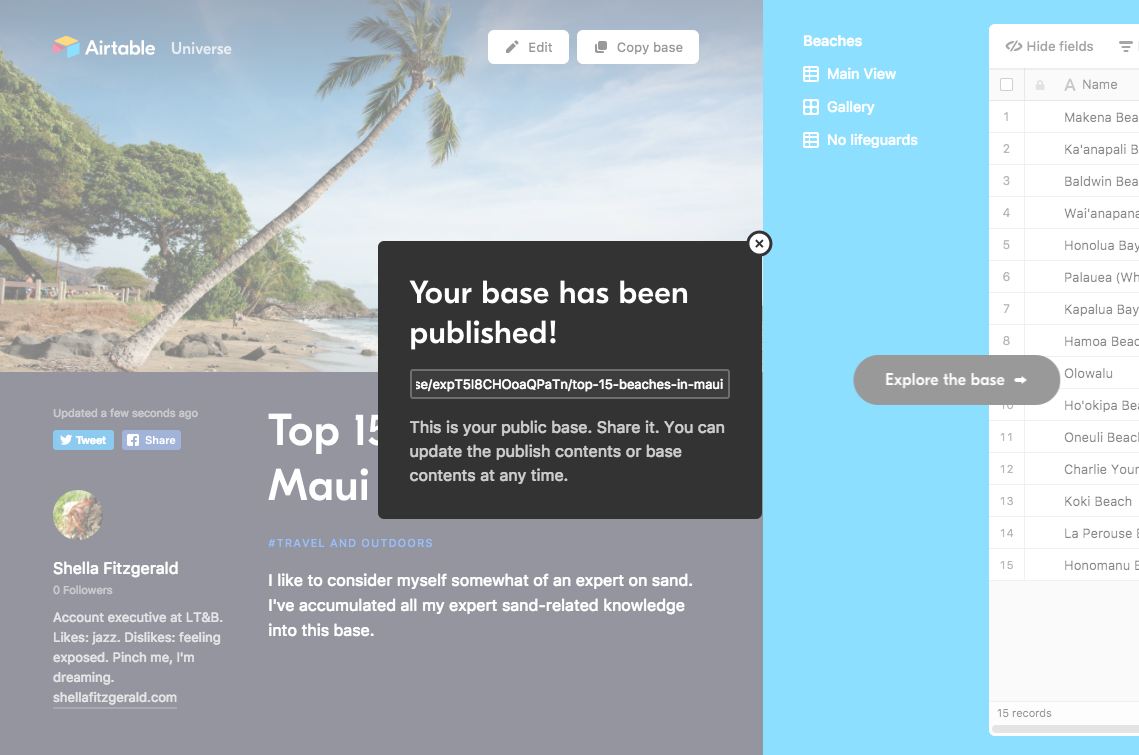 ---
Was this article helpful?
---