Verified data overview
27 Mar 2023

6 Minutes to read
Verified data overview
Updated on 27 Mar 2023

6 Minutes to read
---
By leveraging our existing table sync feature, Enterprise admins are able to create a library of verified data. Users with creator permissions are then able to sync that verified data into bases across their organization's Airtable ecosystem.
Introduction
Plan availability
Currently in limited beta availability

Permissions

Admins with Owners/Creator permissions - Can add/delete verified datasets in the data library
Owner/Creator - Can use the data library to set up verified data syncs

Platform(s)
Web/Browser, Mac app, and Windows app
Related reading
Airtable terminology

Verified data - In general, verified data is information that is maintained for accuracy and used as the original source of truth when it is shared with others. In Airtable, verified data is a view from a table in a base (a.k.a. dataset) that can be synced to another base in your organization's ecosystem.
Verified data library - A collection of sync sources that have been verified by your organization's admin team.
Verified data overview
Often, especially in organizations with many departments and teams, there is an issue of content sprawl. Briefly, content sprawl is what happens when multiple versions of similar data are being used across an organization. This means that data becomes hard to trust, difficult to find, and tedious or inefficient to keep updated. You can likely think of several examples of how this might already be occurring at your organization. A few examples might be:
Company-wide KPIs and OKRs
People (Human resources directory)
Product roadmap
Verified data helps to reduce data sprawl by allowing Enterprise admins to add certain verified data sources to their organization's data library. By doing so, each verified data source becomes a single source of truth for the entire business. Since the data's source of truth is reduced to a single view in Airtable, that data can be updated in just one location, thus helping to ensure that end-users can find the verified data and trust that it is accurate.
Adding verified data to a library
The following steps can be performed by Enterprise admins with Creator permissions in the base where the verified data is being stored.
Navigate to the base, table, and view that you would like to add to your organization's data library.
Click Share view and Create a shareable grid view link to open the share menu.

Toggle on the option to Allow data in this view to be synced to other bases. If this same view has previously been set up as a sync source, then we recommend that you create a new view first in case this view is being used for other purposes than verified data
Click + Add to verified data library. If this option is not available, then it means that you either do not have admin privileges for your organization or you don't have a high enough permission level in the base you are working in. Clicking + Add to verified data library will open an additional window to add a few more details before the verified data source is created.
Give the verified dataset a name.
Optionally you can include a description. We highly recommend describing the data in as much detail as is necessary to help creators across your organization understand exactly what the verified data source contains.
Here you can choose whether to lock the view. By default, this option is toggled on. Remember, that records can still be modified in other views in the table where the verified data is being stored. The main reason for this feature is to prevent accidental changes to the configuration of the view being used as the verified dataset.
This shows how the verified data source will appear as a preview in the data library.
Once you have finished configuring these options, click Add to verified data library.

Note
To remove a verified data source from the data library follow steps 1 and 2 above. You'll then see the option to
Edit dataset in verified data library
where
+ Add to verified data library
was in step 4. This will open up the data set in the data library where you will see the option to
Remove from library
. Alternatively, Enterprise admins can remove a data set from the
verified data library page in the Admin Panel
.
Adding verified data from a library
The following steps can be performed by any users from your organization who have Creator permissions in the base or workspace where they want to add the verified data.
Navigate to the base where you would like to add the verified data.
Click the + Add or import option to create a new table.
Here you can either click one of the verified data source options under Add from verified data library or click xx more data sets...to see all of the possible data sets in your organization's verified data library.

If you clicked to view more data sets, then a popup will appear with more choices from your organization's verified data library.

Once you've chosen a verified data source, a preview of the source will appear. The preview can help you to better understand the data set before syncing it to the base. You can:

See the table and records and even expand records
Read more About this data set
See the number of records and fields in the data set
See the number of bases that are currently syncing this data
Who published the data set originally (using the steps outlined above)
When the data set was last updated



When you have confirmed that this is the correct data set to use, click Add this data. Depending on the size of the source, it may take a few moments for the source data to sync over. You'll see a new synced table appear in the base when it is finished processing.
Verified data in the Admin Panel
Within the Admin Panel, Enterprise admins can access the verified data page for their organization's instance by clicking on the Verified data option from the lefthand sidebar. On this page, admins are able to see a list of verified data sets with information about each including:
Find a data set - Search for a data set by its given name in the verified data library.
Name - The name given to the verified data set.
Description - The high-level description of what each data set contains.
Bases added this data - The total number of both active and inactive bases that have included this data.


Note

This feature is coming soon. Once we have released this feature this note will be removed.

Published - The user who originally published the verified data set.
CSV - Download a CSV file containing the information listed above.
... (Additional options) - Here, admins will find more options that allow them to:

Preview - Preview the data set
Edit - Edit the name and/or description of the verified data set
Go to data source - This option links to the original view of the verified data shared to the data library
Remove from library - Remove this data set from your organization's verified data library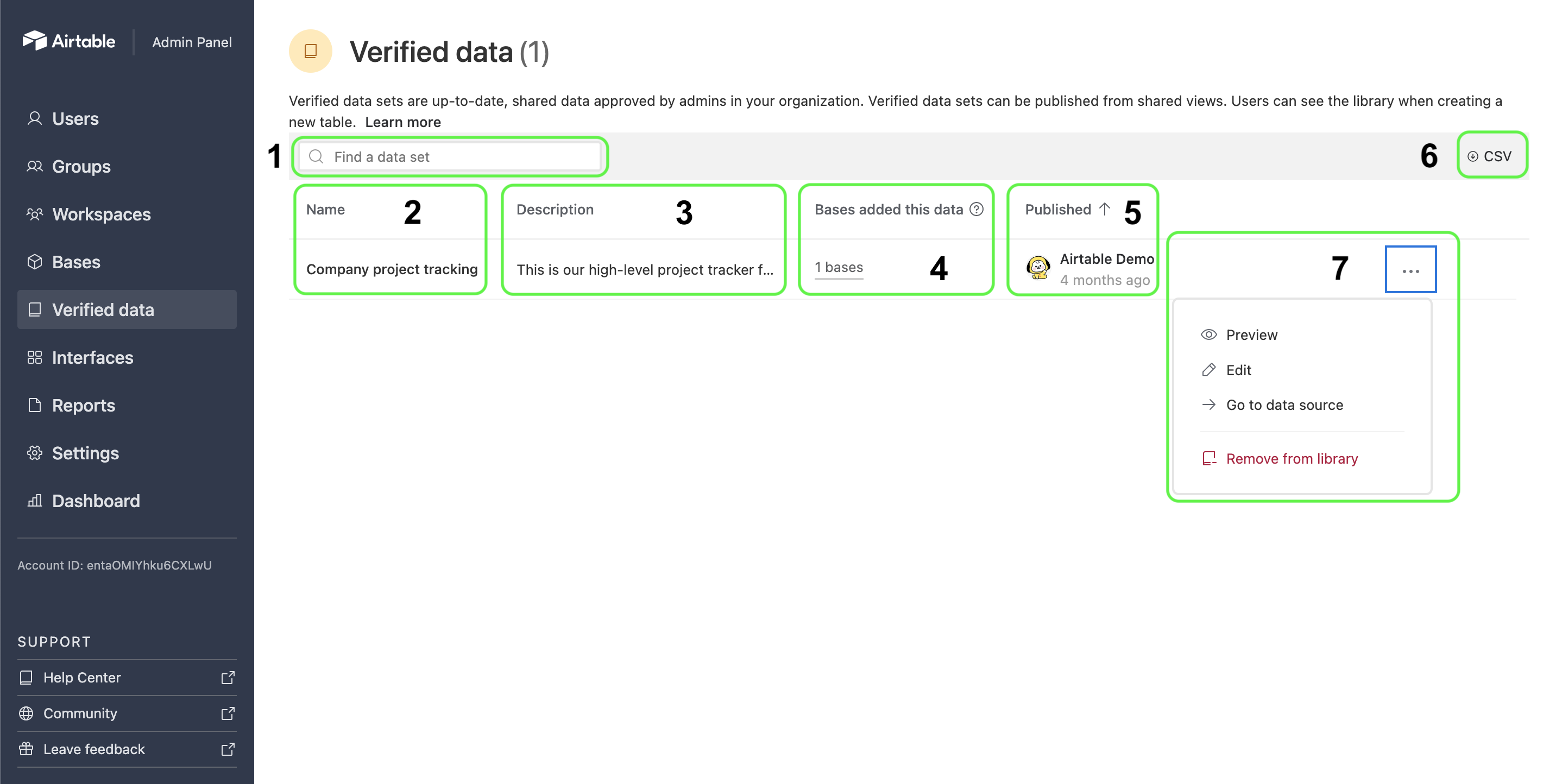 ---
Was this article helpful?
---
What's Next