Managing Airtable automations
05 Sep 2023

7 Minuten zu lesen
Managing Airtable automations
Aktualisiert am 05 Sep 2023

7 Minuten zu lesen
---
The content is currently unavailable in German. You are viewing the default English version.
Share feedback
Thanks for sharing your feedback!
After you've successfully set up an automation, there are a few things to know about managing an automation. Below, we'll cover the considerations and options that matter most when organizing, troubleshooting, and modifying automations in a base.
Viewing automations in full and split-screen modes
You can switch between full and split-screen mode for your automation by clicking on the "Fullscreen" button: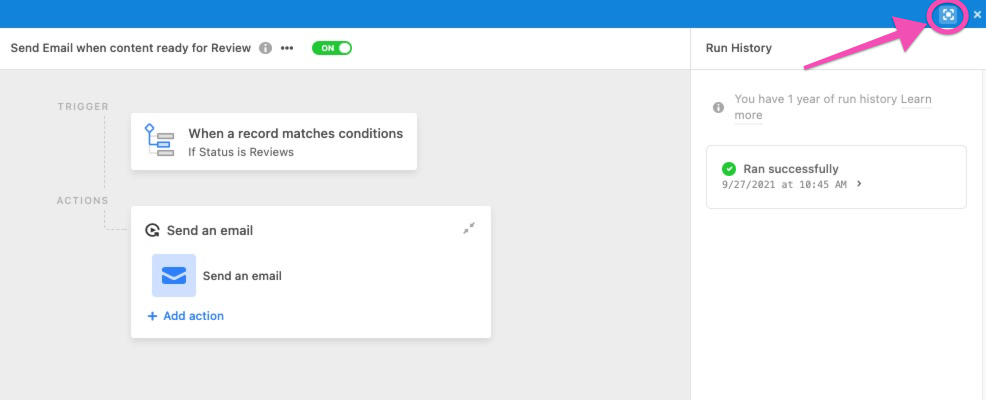 Once in split-screen mode, you can navigate through your trigger and action steps by using the arrows located in the top right corner of the automation panel: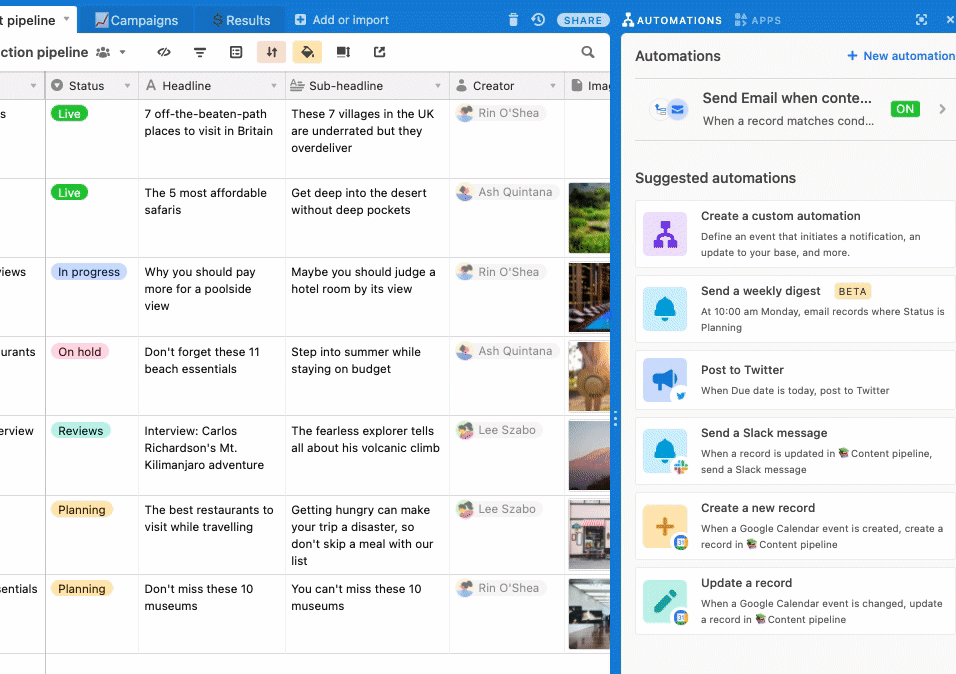 Automation run history
Sometimes you may need to access information in your automation's history (e.g. troubleshooting, see who may have not received an email automation, etc.) To access this information, you will need to navigate to the "Run history" section in your automation's setup window.
Note
The individual user that toggles the Automation "On" is the user who will receive failed automation run notifications.
Here you will be able to see the run history of both failed and successful automation attempts. Clicking on a log item will show the details of the executed automation. The time of execution will display in each collaborator's local time.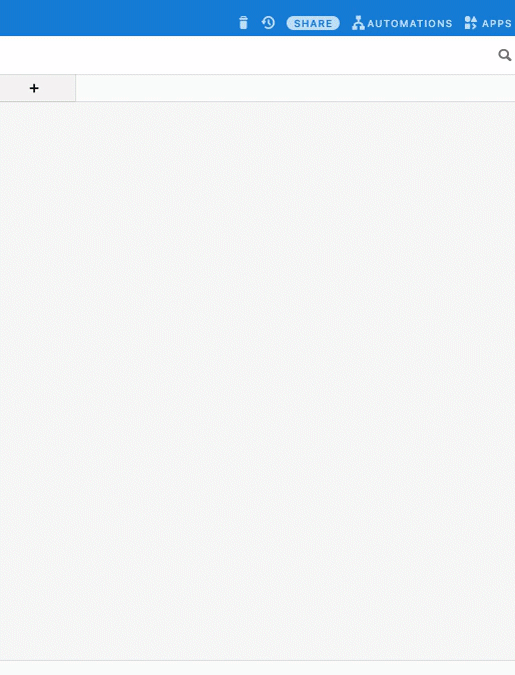 Within the "Run history" window, you will not be able to see any tests that were performed as part of the setup process, so your automation will need to have triggered at least one action while an automation was turned on for you to see any run history.
Re-running a failed automation
In your Automation run history, you can also choose to "Rerun" any past failed runs of an Automation. This can be especially helpful for troubleshooting and testing automations.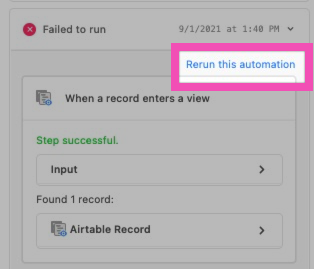 Note
Sometimes, clicking the rerun option will also fail. It's possible that some part of the automation is broken and needs to be updated. However, even after updating the automation to run correctly, the rerun option will still not work. This is because the automation is still attempting to run the automation in its previous state , the configuration state of the automation when the run was first attempted. In this case, you may need to build out a custom automation using a different manual trigger, such as a checkbox field, to "rerun" the automation.
Turning automations on and off
After successfully setting up your automation(s), you can activate your automation by clicking the "On/Off" toggle in the upper right-hand corner of the Automations window. After successfully turning the automation on, the toggle will be green. To turn the automation off, simply click the toggle again.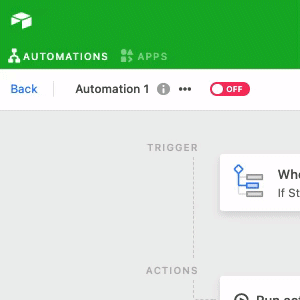 Automation dropdown menu options
Click the arrow next to the automation name to see the available dropdown menu options. Available options include:
Edit description
Copy automation URL (a direct link to the automation)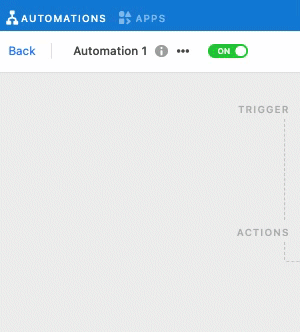 Renaming an automation
You are able to rename an Automation if you have "Editor" permissions or above in the base where the automation resides. With the automation's setup window opened you can either click the dropdown menu next to the current name and choose "Rename automation" or simply double-click on the name to begin editing.
Duplicating an automation
There are times when you may already have built an automation that is close enough to another automation you are going to build. Or perhaps you want to tweak or test a few things while maintaining your original automation. In these instances, you can duplicate the automation by clicking the dropdown menu next to the automation's name and choosing "Duplicate automation." This will cause a new automation named "Your automation's name copy" to be created.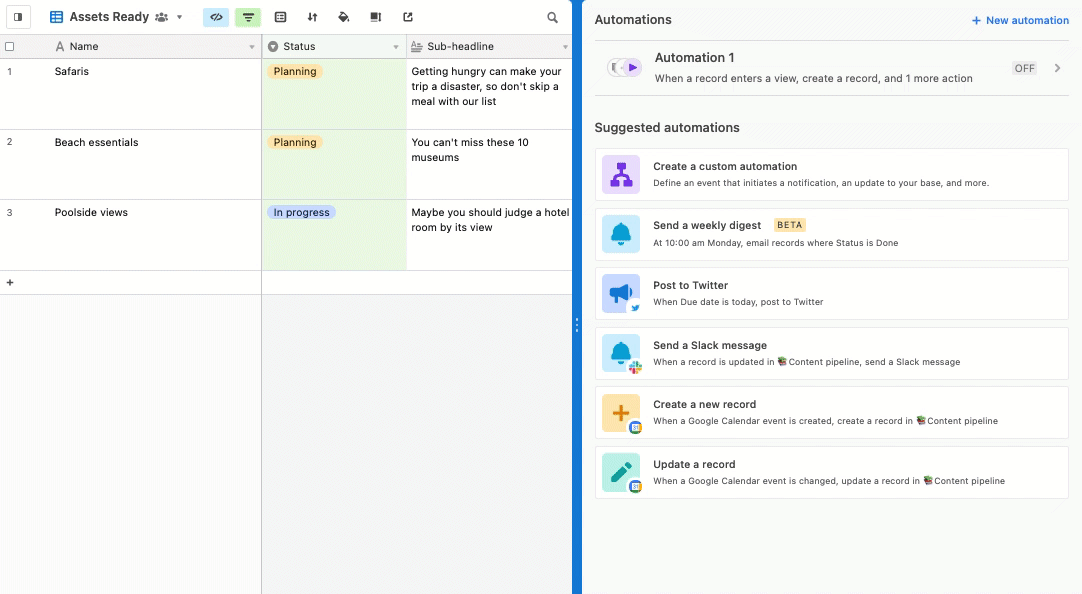 Note that whatever testing state the trigger and action(s) steps have in the original automation will be matched in the duplicate. Additionally, if the tests have all run successfully on the original, but now something has changed in the duplicate, then the trigger or action(s) will need to be successfully retested.
Deleting an automation
To delete an automation you need to turn it off first. Next, click on the drop-down arrow next to the name of your automation and click "Delete automation".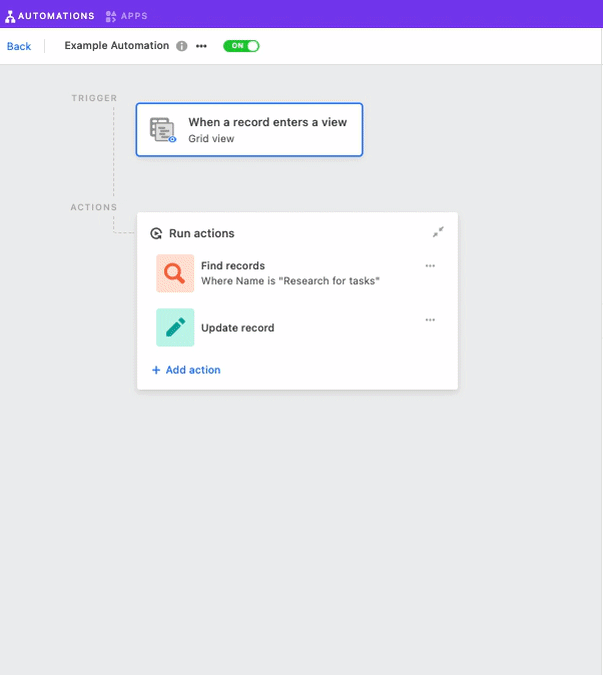 Sorting and sections
To help better organize all of the automations you and your team create Airtable has a few features that are good to know about.
Sorting
With the Automations window open, you'll see a six-dot icon appear to the right of the automation you are hovering over. Your mouse will appear as a hand icon and you can then click and drag the automation to move it somewhere else.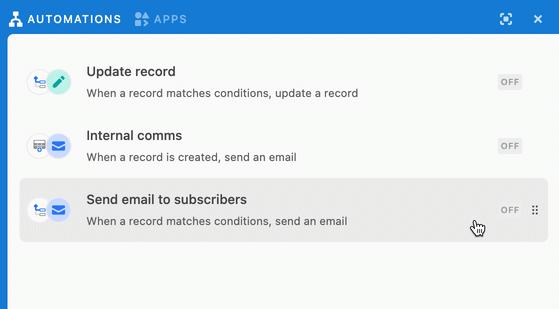 You can also sort sections and move automations from one section to another. We'll cover that below.
Sections
Near the bottom of the Automations window, you'll see the "Create section" option.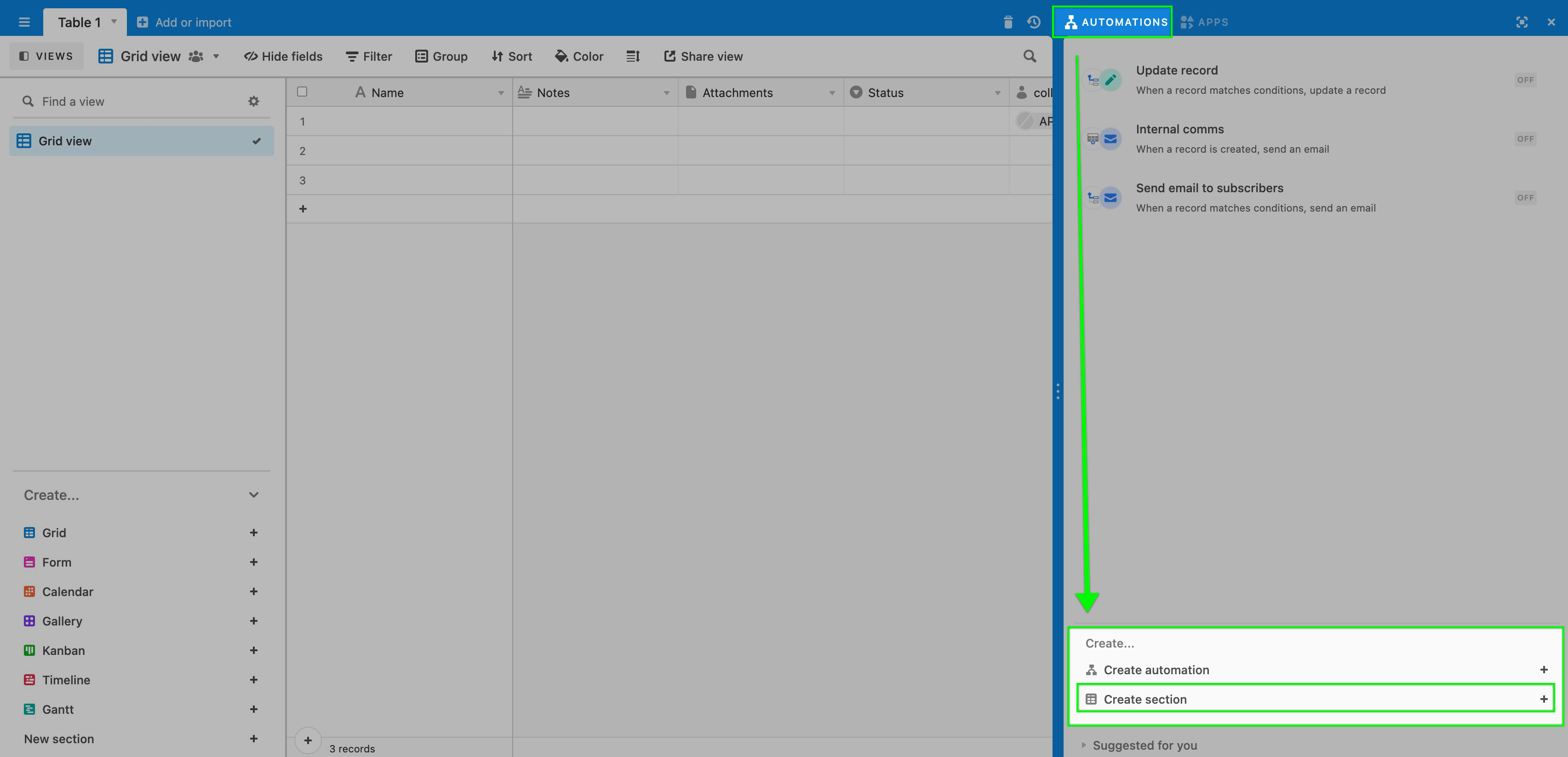 Once clicked, a new section will appear that you can rename. You'll also see a "More" section automatically created. This is where automations not nested in a section you've created will appear.

For this example, we will be creating a "Comms" section and a "Base updates" section to nest our automations. After we create the sections, we'll move some of the automations into a section. You can also move automations from one section to another at a later time if necessary.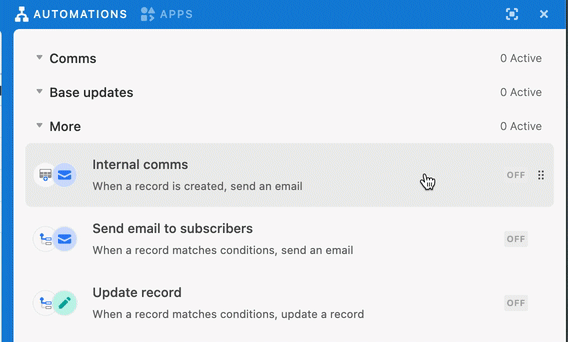 You can also collapse and sort sections as shown in the GIF below. It's worth noting that the default "More" section will always appear at the bottom.
Last, if you want to delete a section, then click the "..." three-dot icon next to that section. When a section is deleted, any automations nested in that section will be moved to the default "More" section.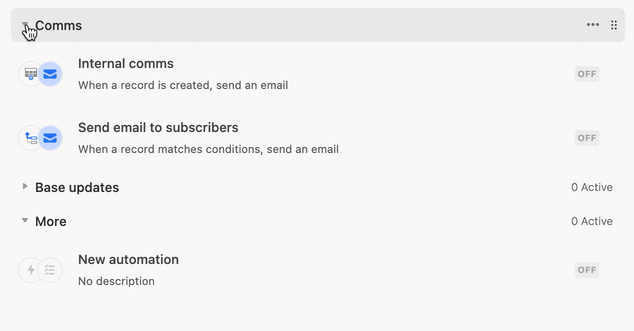 Changing a trigger
In some cases, you may want to change an automation's trigger step because the previous trigger was either incorrectly chosen or is no longer relevant because of changes made to the base. By navigating to the automation's setup window and opening the trigger step you can click the trigger type dropdown menu to choose a different trigger for that particular automation.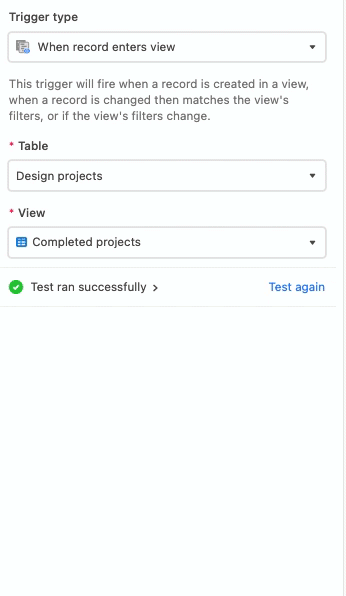 As you can see above, there is a warning message letting you know that changing the trigger may invalidate certain configurations that you've previously set up. Be sure to work back through both the trigger and the action steps, filling in any parts that may have become invalidated, and retest those steps. Also, you will be unable to undo the trigger change, so consider making a duplicate first and then adjusting the trigger.
Changing an action
In some cases, you may want to change one of your automation's action steps, because the action type you choose wasn't quite right for the job at hand. You can change an automation step's action type by navigating to the step in question, and clicking on the "Action type" dropdown menu then choosing another action type from the provided selection.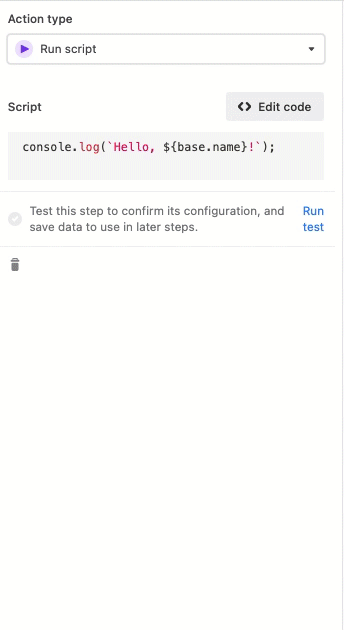 As you can see above, there is a warning message letting you know that changing the action type may invalidate certain configurations that you've previously set up. Be sure to work back through the trigger and all of your automation's action steps, retesting along the way, to make sure your automation works as it should from top to bottom. Also, you will be unable to undo an automation step's action change, so consider making a duplicate first and then adjusting your action type.
Changing the details of triggers and actions
Sometimes you may want to change certain details of an automation that you have created. In these cases, the best practice is to create a duplicate automation in case you need to refer back to the previous state of the automation. However, during the course of making updates, if you decide that the changes you have made should be discarded, then click Discard changes and the automation will revert back to the state it was in before you began making those changes. This is an all-or-nothing option. Individual actions or triggers cannot be reverted in a more granular way at this time.

Viewing workspace runs and limit
On the Airtable homepage, workspace owners can view the number of automation runs they have used in a given monthly billing period. Access your workspace settings by clicking on the workspace settings option in the dropdown menu next to your workspace's name.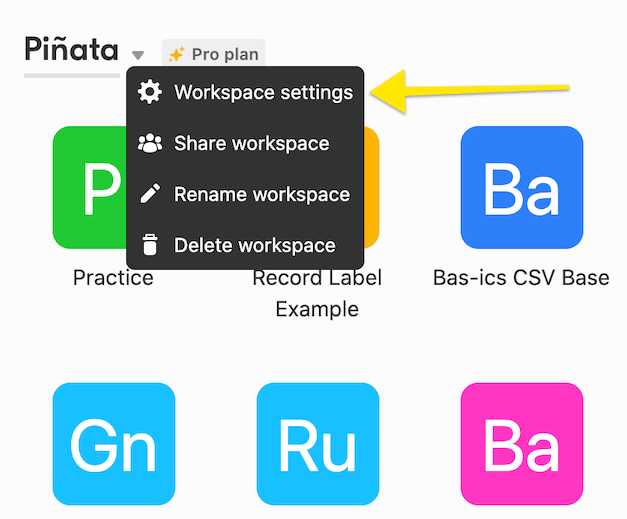 After landing on your workspace settings page find the "Usage" section below the "Billing Plan" and "Billable Collaborators" sections. The first usage stat should show the overall workspace run limit and list the number of automation runs your workspace has used this month.
Automation run limits reset on the first of the month. Note that at this time there isn't a way to purchase additional automation runs, but we may consider that in the future.

Automation emails
Emails sent from Airtable Automations come from noreply@airtable.com to ensure that emails aren't flagged as spam. At this time there isn't a way to change that sending email to another email address.
Currently, while an automation is ON, that automation will always send an email notification whenever it fails. However, if you'd like to have someone takeover "ownership" of the Automation and its failure notifications, that collaborator will need to toggle the Automation OFF then back ON, and they will receive those failure notifications going forward.
FAQs
Who gets notified when a workspace approaches and/or reaches the monthly automation execution limit?
Workspace owners will receive an email that their workspace is approaching the limit when the threshold is 80%, 90%, and then 100% reached.
---
War dieser Artikel hilfreich?
---
What's Next