Airtable Universe
07 Jul 2022

4 Minutes to read
Airtable Universe
Updated on 07 Jul 2022

4 Minutes to read
---
Discover how other people use Airtable with Airtable Universe, a platform that will allow anyone to browse through bases created by Airtable experts. Search or browse by category to find the bases most relevant to your interests; follow individual creators to get notified whenever they publish new bases. Best of all, you can make a copy of any base on Universe for your personal Airtable account!
If you want to learn more about how to publish your own base on Airtable Universe, please refer to this article about Airtable Universe publishing.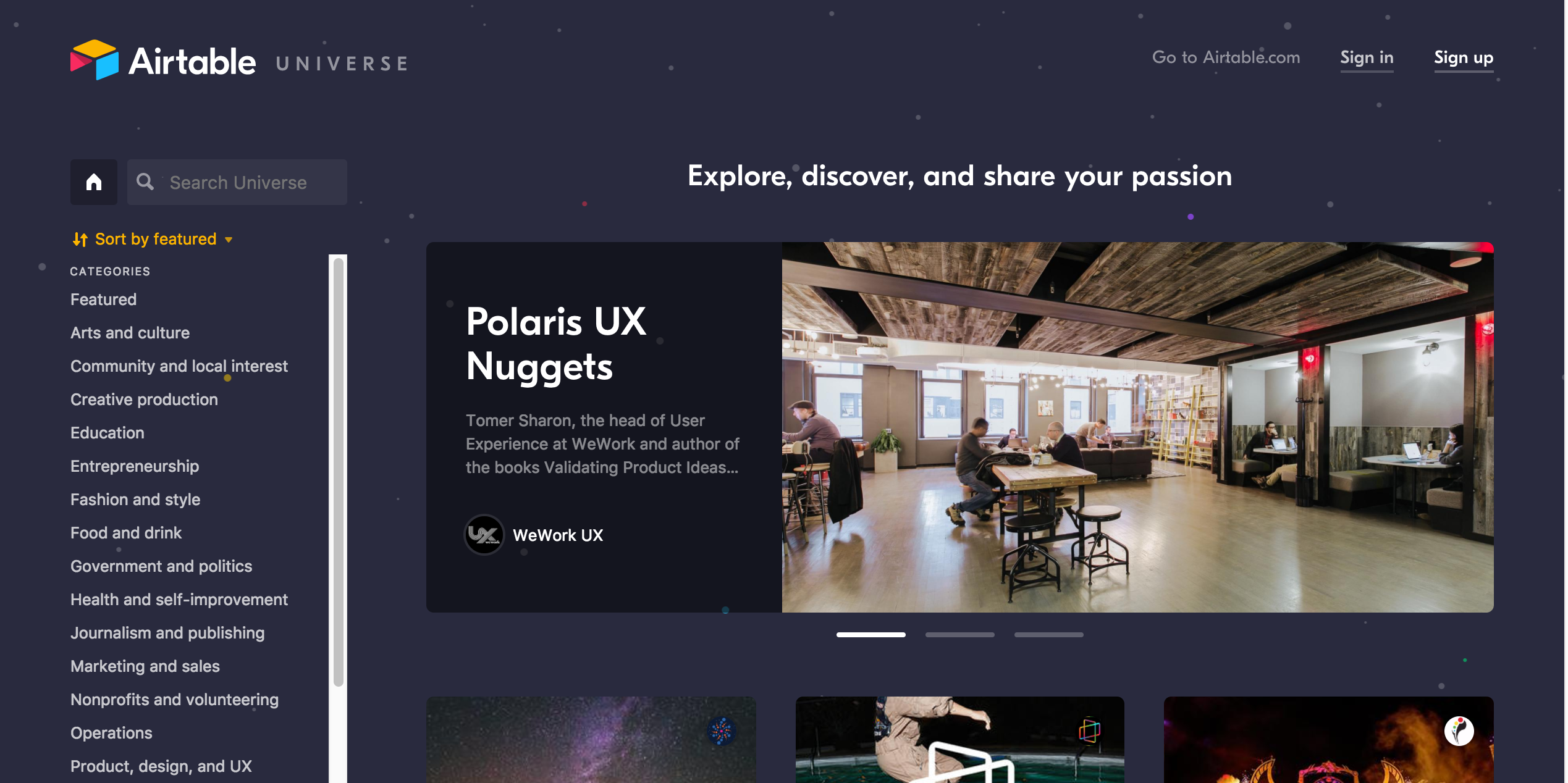 What's the difference between templates and Airtable Universe bases?
Both our templates and Airtable Universe will allow you to make copies of existing bases to your personal Airtable account, instead of starting a base from scratch or importing a CSV. These copies can then be modified as you see fit, to suit your own needs.
The templates are idealized versions of Airtable bases, officially published by the Airtable team, and designed to fit a wide variety of general use cases. The templates incorporate best industry practices—based on feedback from thousands of the 30,000+ organizations that use Airtable—but they are intentionally polished and simplified to make it easy for new users to learn how to use Airtable, and to serve as a good starting point for building your own custom base.
The bases in Airtable Universe, on the other hand, are published by Airtable users. Thought leaders, influential brands, and Airtable experts have open-sourced their real Airtable bases for the world to see. These bases tend to be highly specific or idiosyncratic, because Airtable Universe shows how real people actually use Airtable in their professional and personal lives. With Airtable Universe, you can get an in-depth, hands-on understanding of how real companies and industry leaders use Airtable for their own workflows.
Additionally, the records included in the templates contain generic filler information to demonstrate how a template should be used, whereas Airtable Universe bases are often valuable for the specific information contained within. For example, the template My Trip Ideas demonstrates how you might want to design an Airtable base for organizing your own trips, but the records within are not especially useful for planning your own real trip. In contrast, the records in the Airtable Universe base Hidden San Francisco give specific recommendations for offbeat or lesser-known places to visit in San Francisco.
You should check out the template gallery if you...
are totally new to Airtable
want to learn Airtable best practices
You should check out Airtable Universe if you...
are interested in discovering more about how other people use Airtable in the real world
want to explore some interesting bases
Navigation
To get to Universe while in Airtable, simply click the Universe link at the top of the homepage.

Browsing Airtable Universe
The main page is comprised of a series of featured Universe bases, a search box, and a list of categories. If you continue to scroll down, you'll see more and more featured bases.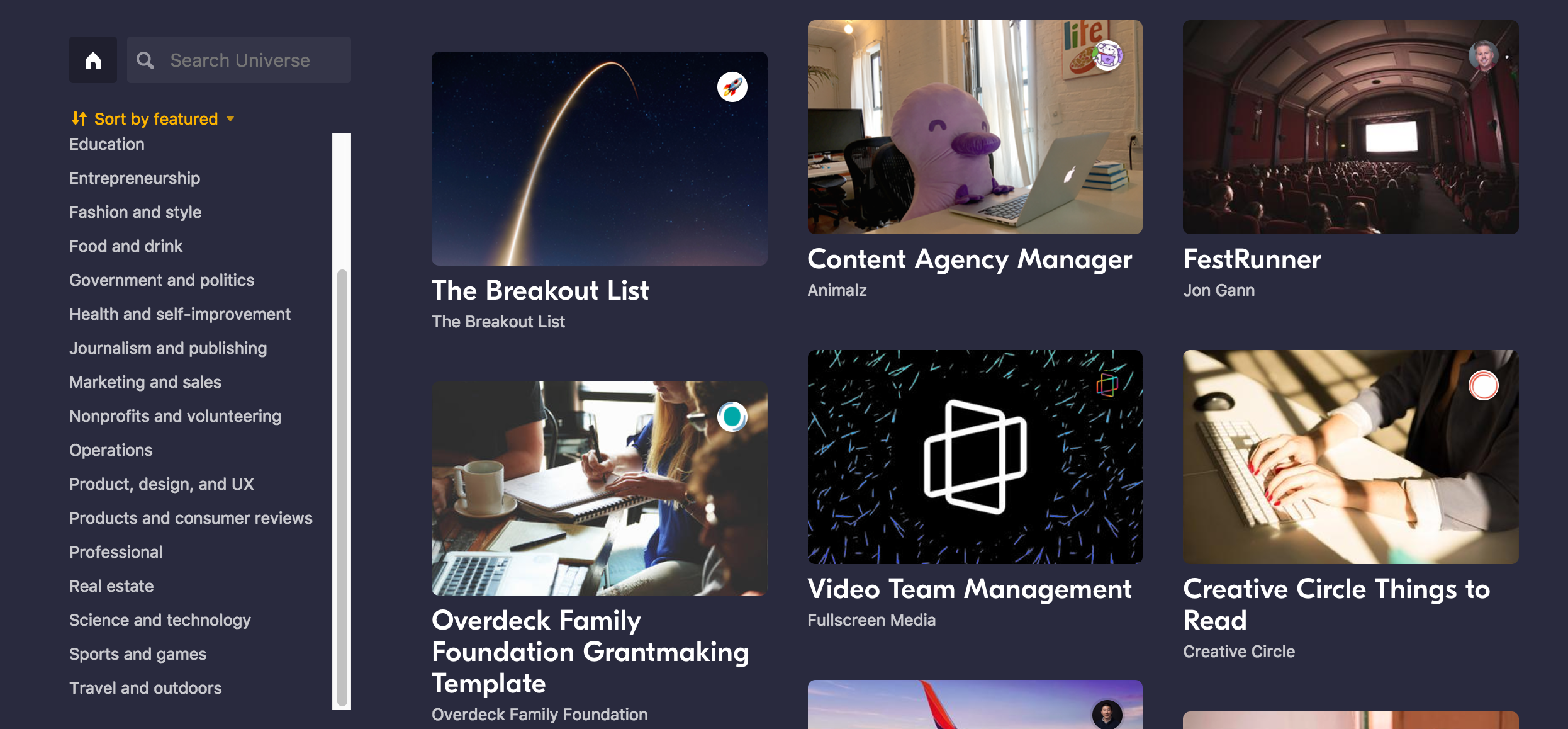 Clicking on one of the categories on the side will bring you to that category's page, in which you can see every base included in that category.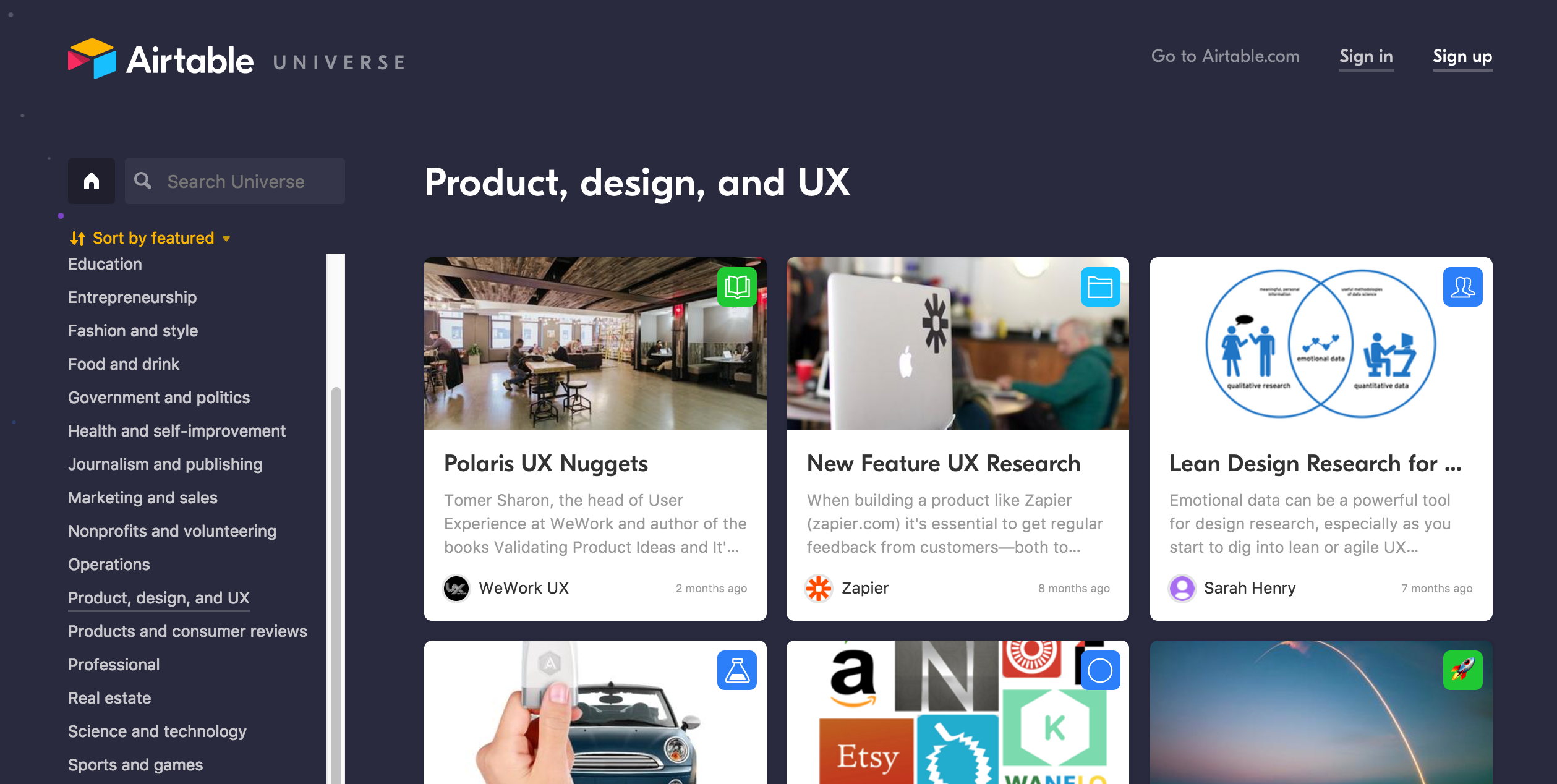 You can also type in the search box to find bases.

To return to the Universe home page from within a category page or a search page, click the home button next to the search bar.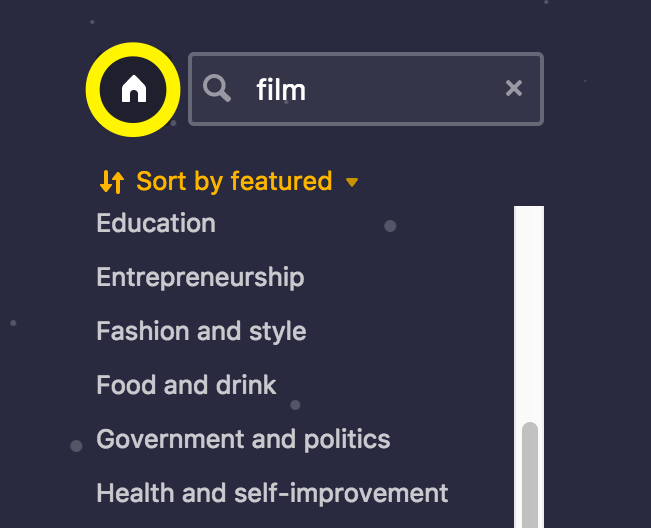 Universe base pages
Once you click on a card for a base you want to learn more about, you'll be brought to that base's guide page. This is where the creator can explain the story behind the base and how to use it. You can also share a base on social media with the Tweet and Share buttons.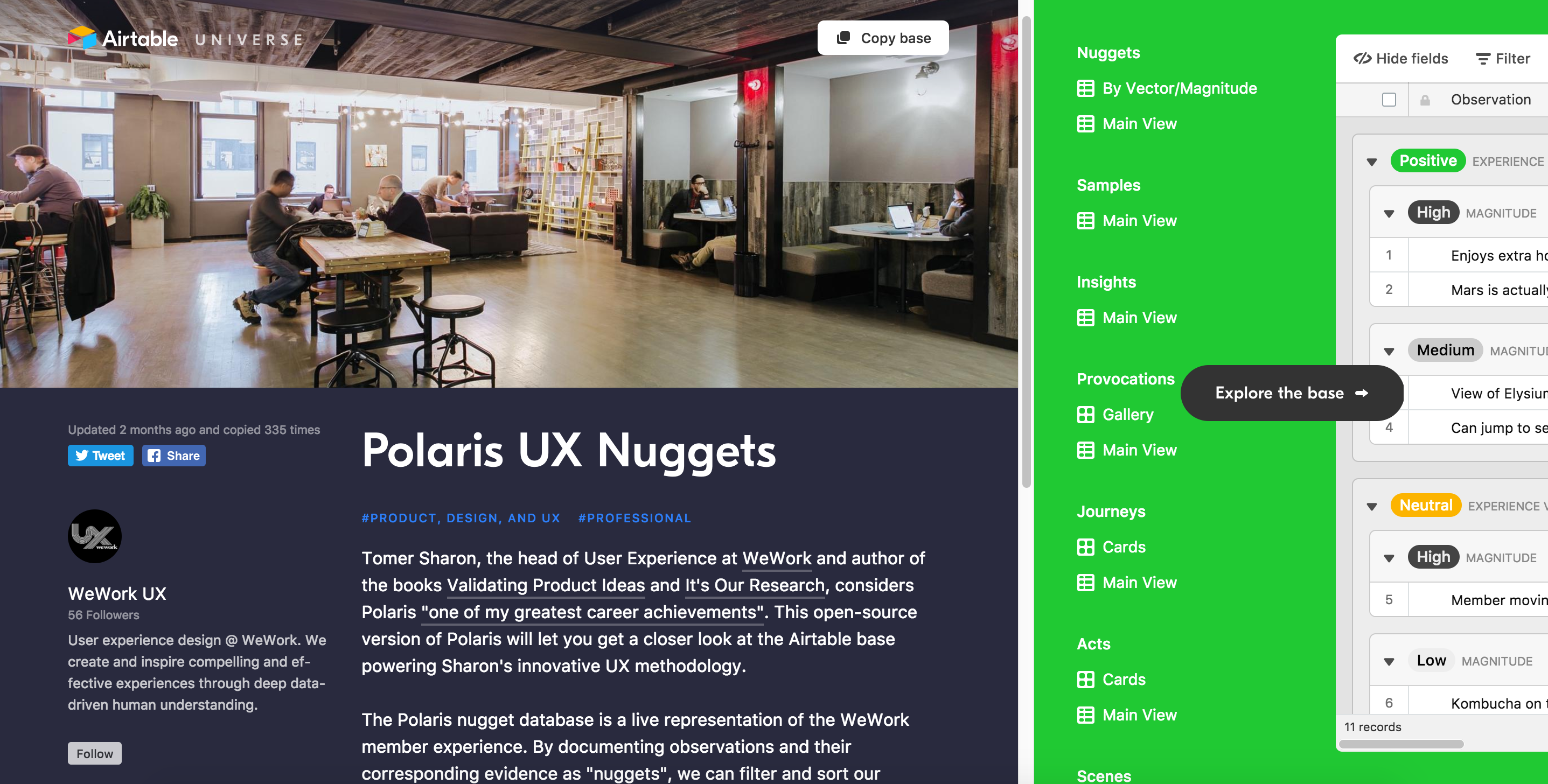 To get a more in-depth look at a Universe base, click the Explore the base button. This will bring you inside the base, where you can browse through all the different tables and views.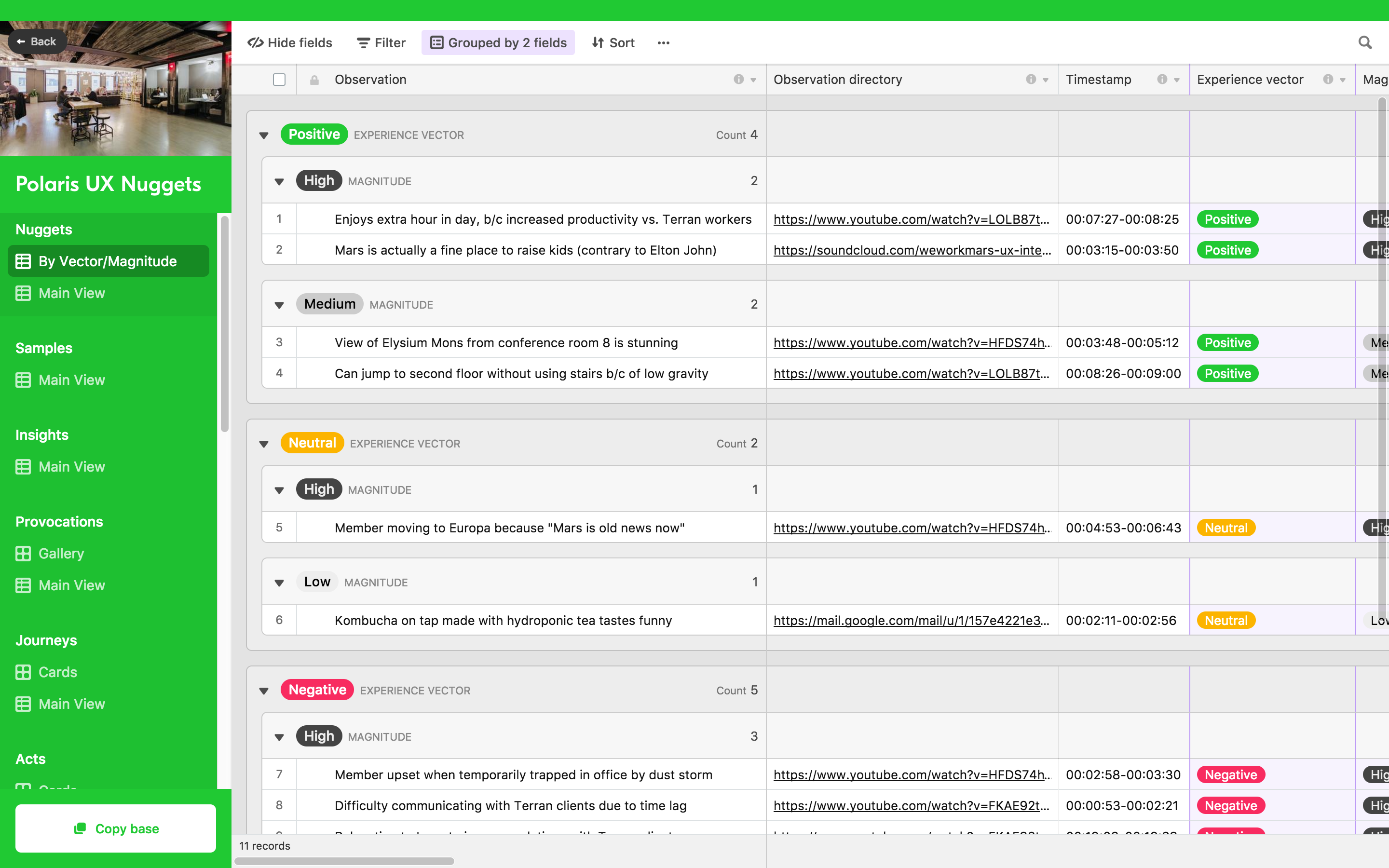 Apply filters, hide/show fields, sort, or group records as desired to see the records you want to see. Note that Universe bases will often have field descriptions. If you see a gray information symbol in the header of a field, try mousing over it to read the description! These descriptions provide extra insight into how specific fields get used.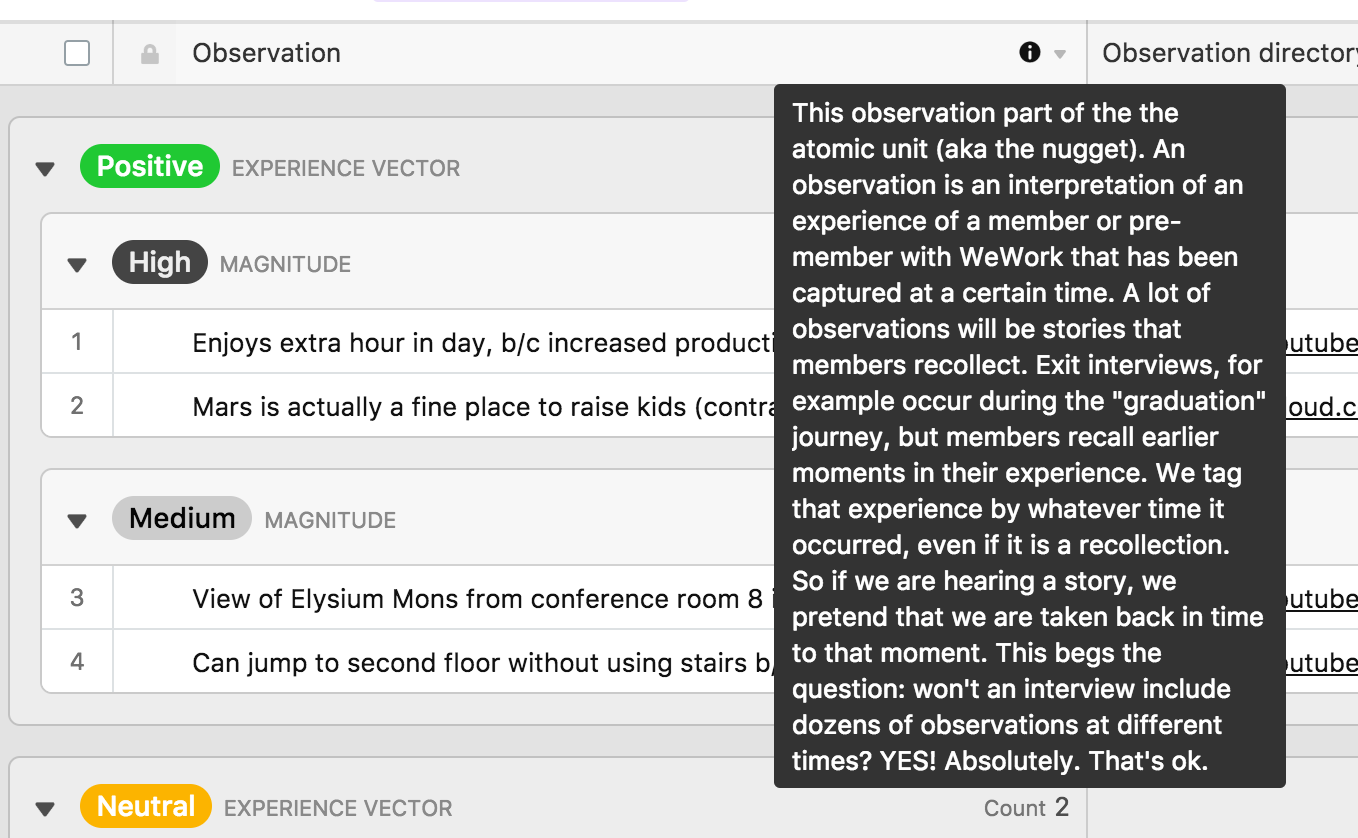 To return to a base's guide page from the base exploration page, click the Back button in the top left corner.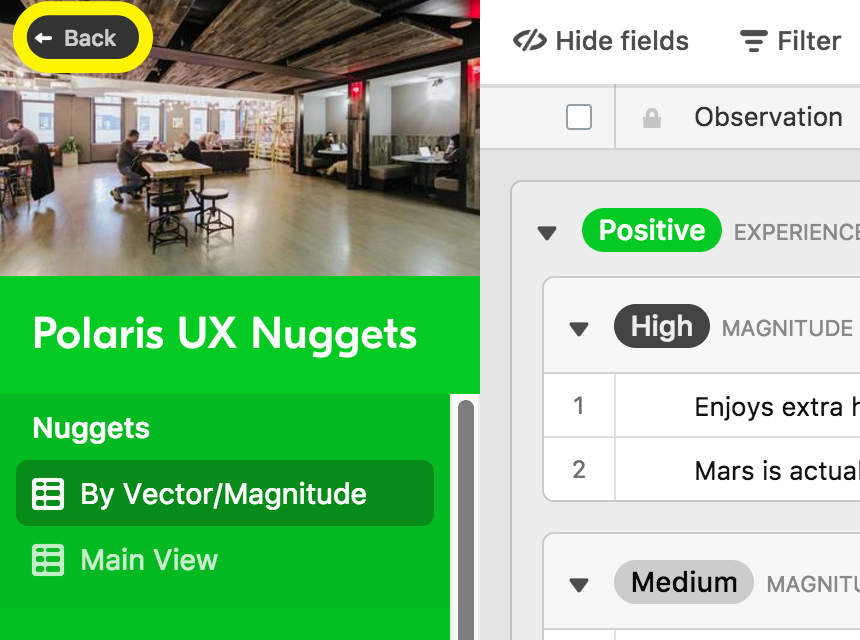 To return to the Airtable Universe homepage from within a Universe base guide page, click the Airtable Universe logo in the top left corner.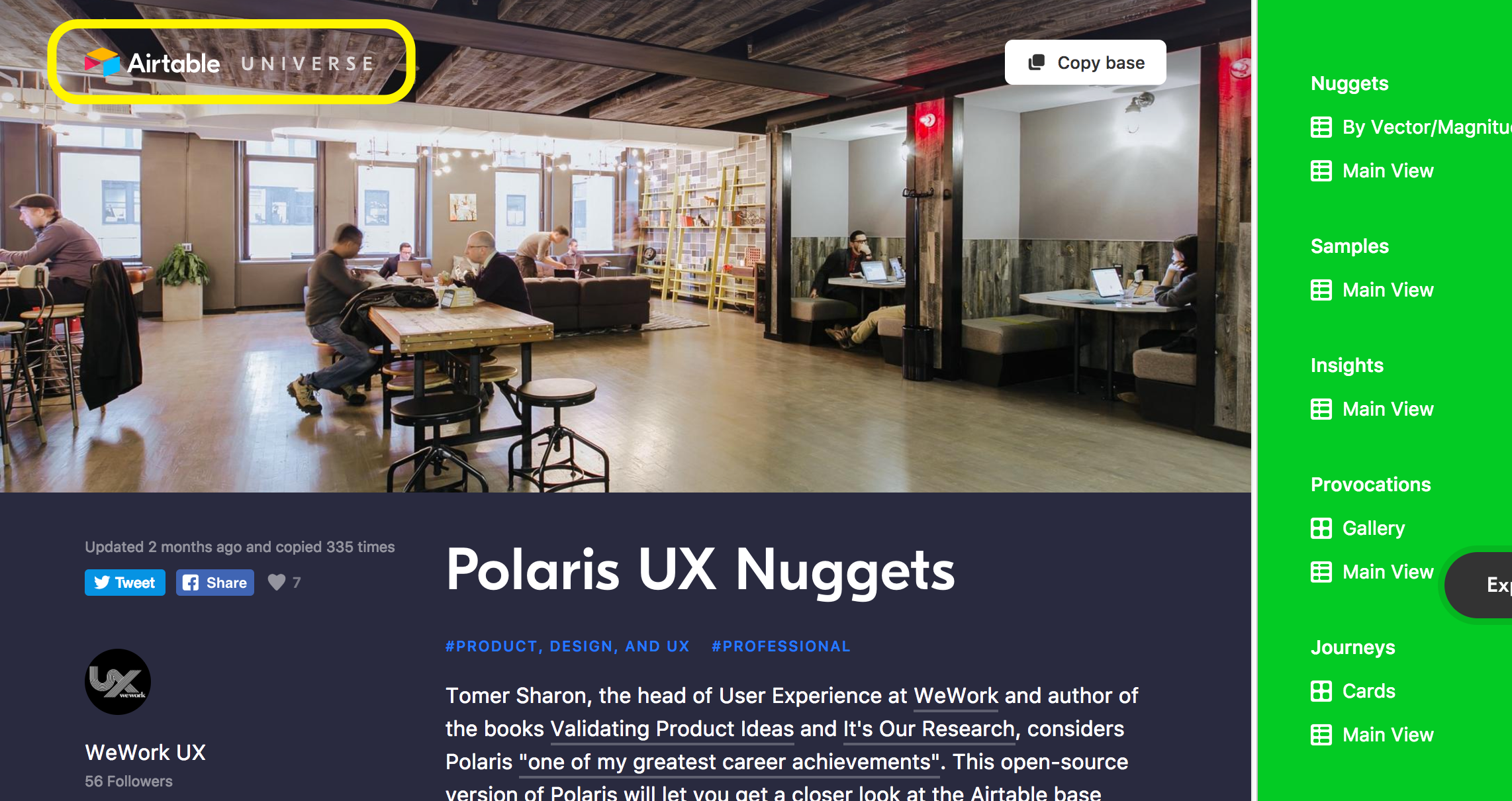 Copying a Universe base
To copy a base to your own Airtable account, you can click the Copy base button from a base's guide page, or while exploring the base.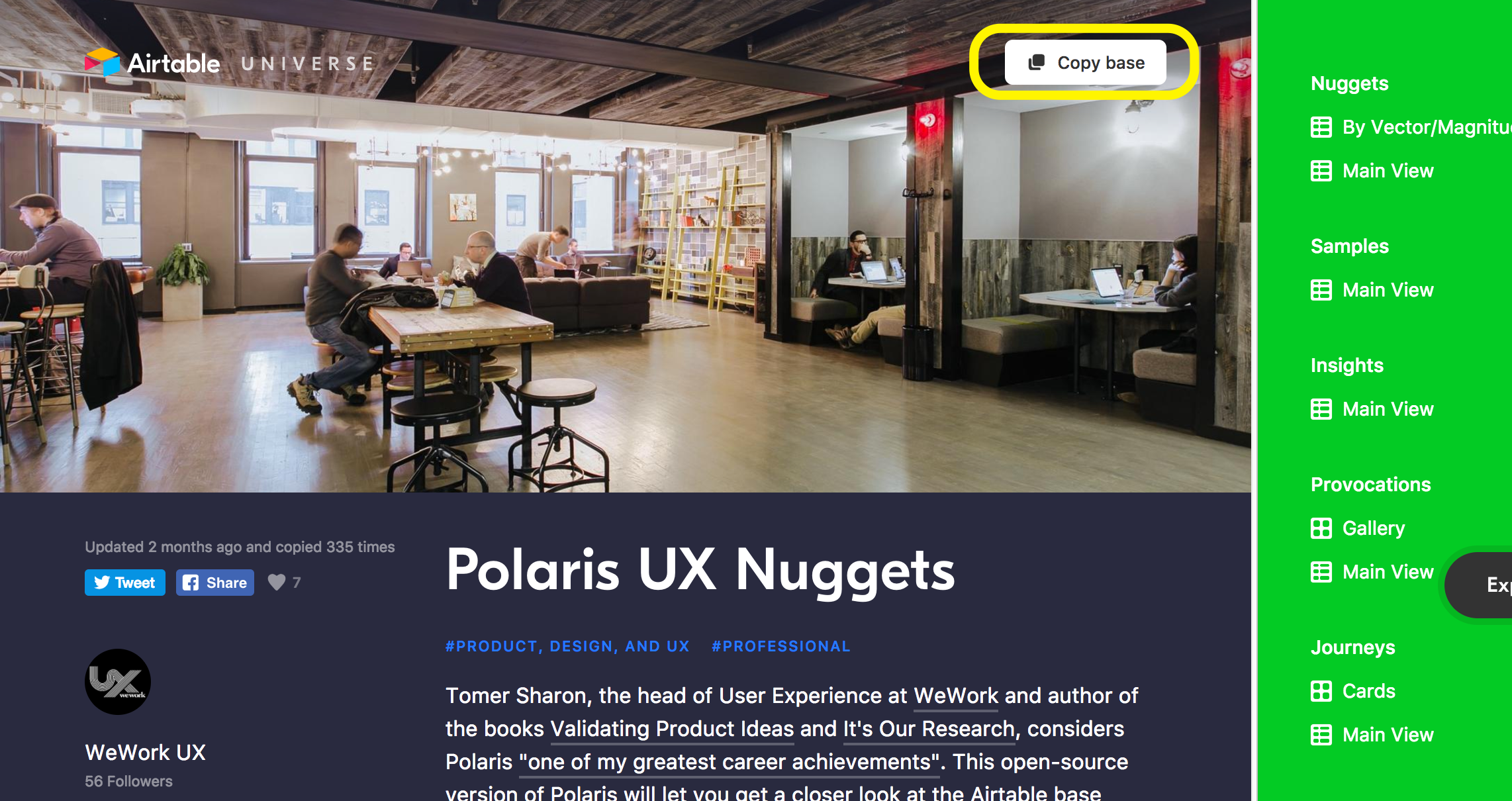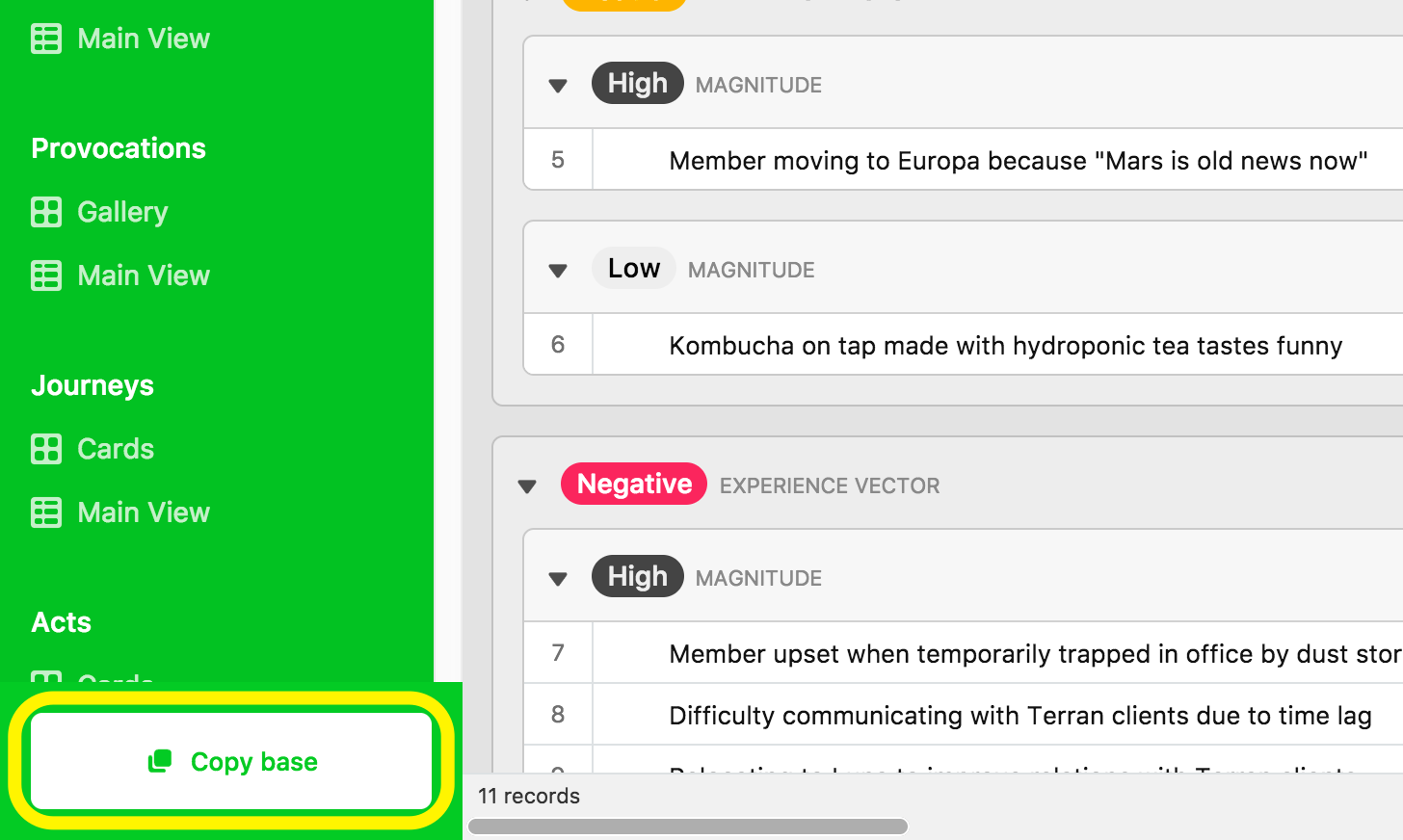 In either case, clicking the Copy base button will bring up a dialog asking you to pick which workspace you'd like to add the new base to.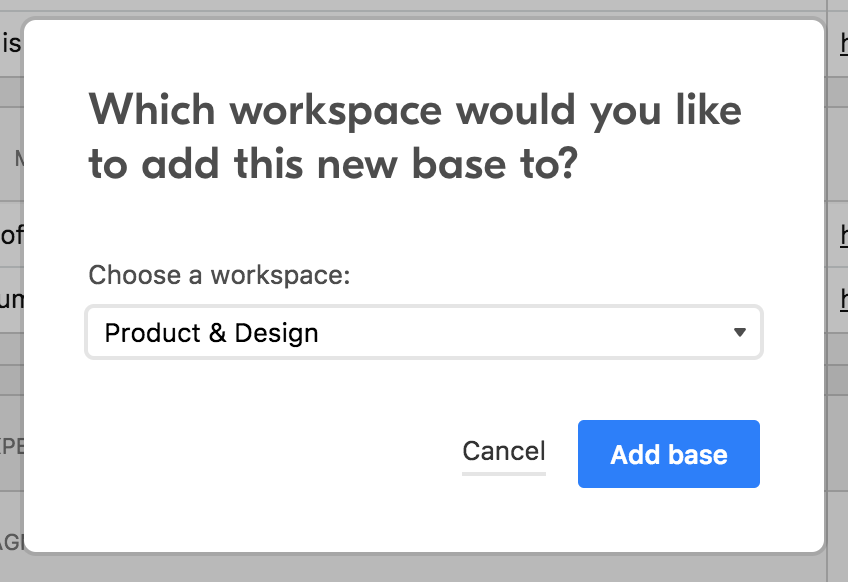 Following creators
Clicking on a creator's name from within a Universe base or from the navigation pages will bring you to their page, showing you all the Universe bases they've published.

You can follow individual creators to stay up-to-date with all their latest bases by clicking the Follow button on their creator page, or from within one of their base's guide pages.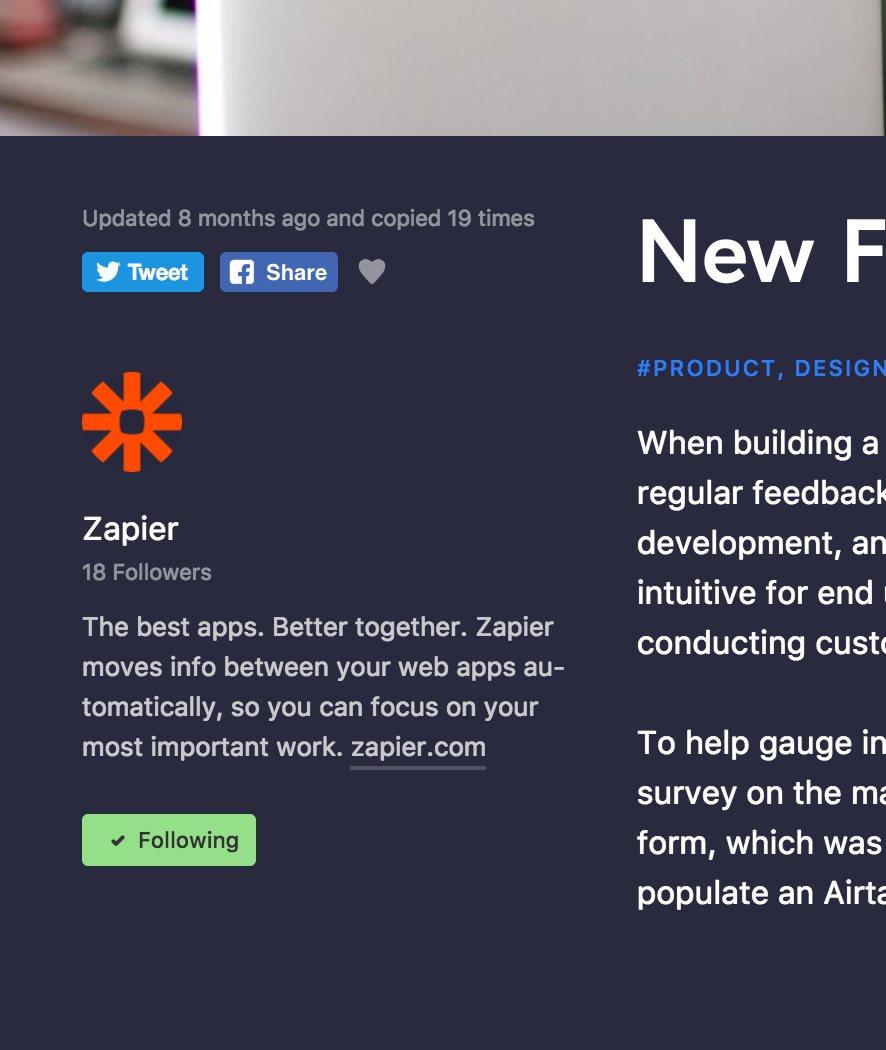 Whenever a creator you follow publishes a new base, you'll receive an Airtable notification and an email notification.

---
Was this article helpful?
---
What's Next