Embed and share individual extensions (beta)
30 May 2023

3 Minutes to read
Embed and share individual extensions (beta)
Updated on 30 May 2023

3 Minutes to read
---
Share feedback
Thanks for sharing your feedback!
This beta is no longer in active development and is no longer available by request. This article will remain available for reference for the time being. We recommend checking out our article on creating a sharable extensions dashboard for more information on sharing extensions.
As a part of the extension share links and embedded extensions beta, you can create a special type of base share link called an extension share link that will show a read-only, fullscreen version of the extension of your choice. This can be extremely useful for surfacing high-level insights and visualizations from your bases for a company wiki (like Confluence), or for creating an internal dashboard comprised of extensions from a variety of different bases.
Creating an extension share link
To create an extension share link, open up the extensions side panel or dashboard, then mouse over the extension you wish to share. You should see a share button appear next to the name of the extension.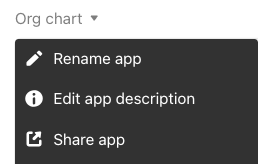 Clicking this button will bring up a dialog warning you that sharing this extension will also share all of the tables in this base.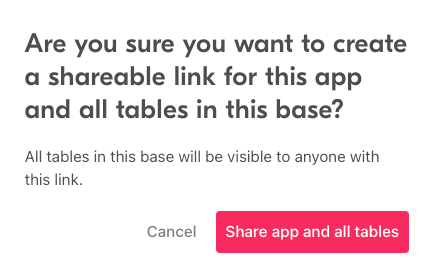 After clicking the Share extension and all tables option, you'll be brought to a dialog box where you can see and configure the extension share link. You can now send this share link to others, preview it for yourself, embed it into a website, and enable password or email domain restrictions if desired.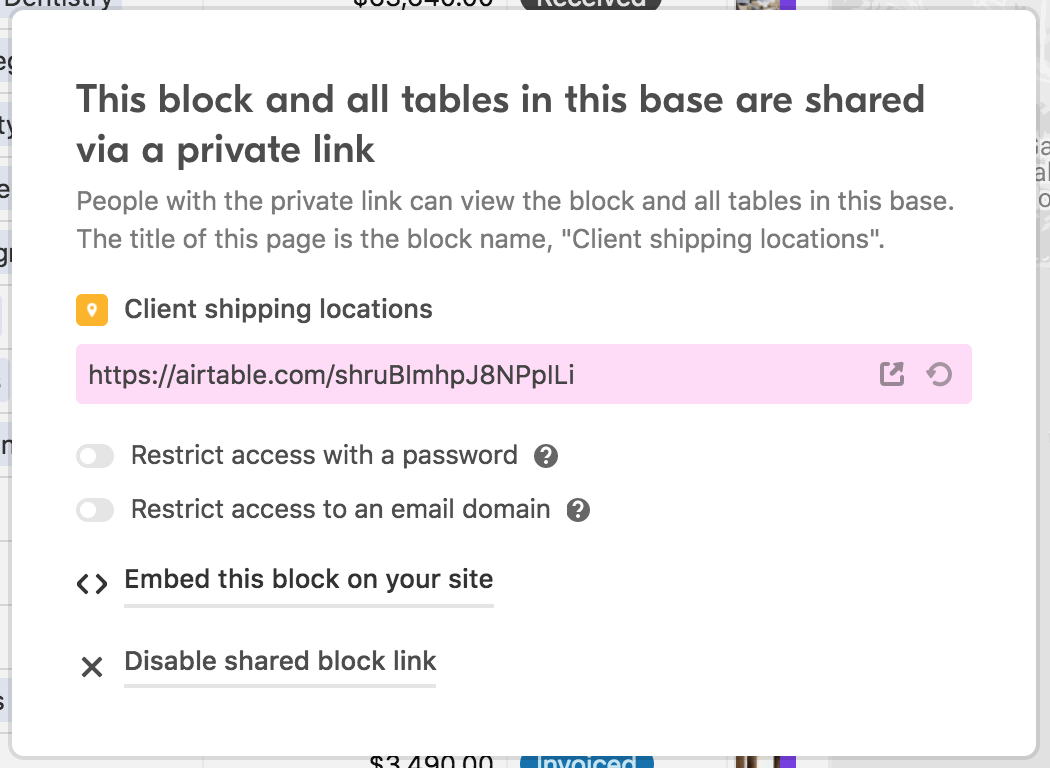 Viewing a shared extension
When someone opens your share link, they'll see something like this: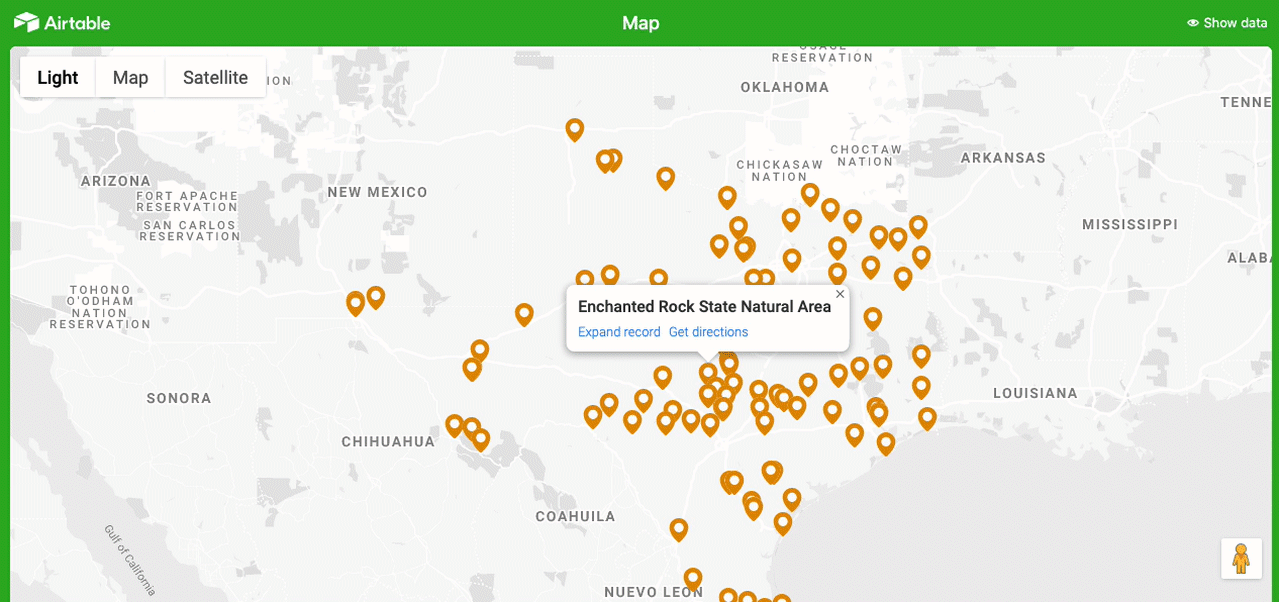 Someone viewing your extension share link can also see the records in all of the tables in all of your bases by clicking the Show data button in the top right corner.
Viewing all extension share links in a base
You can also see an overview of every extension share link in your base by going to the base share dialog and scrolling down to the bottom section labeled "Shared extension links." Clicking here will show you all of the base's active extension share links.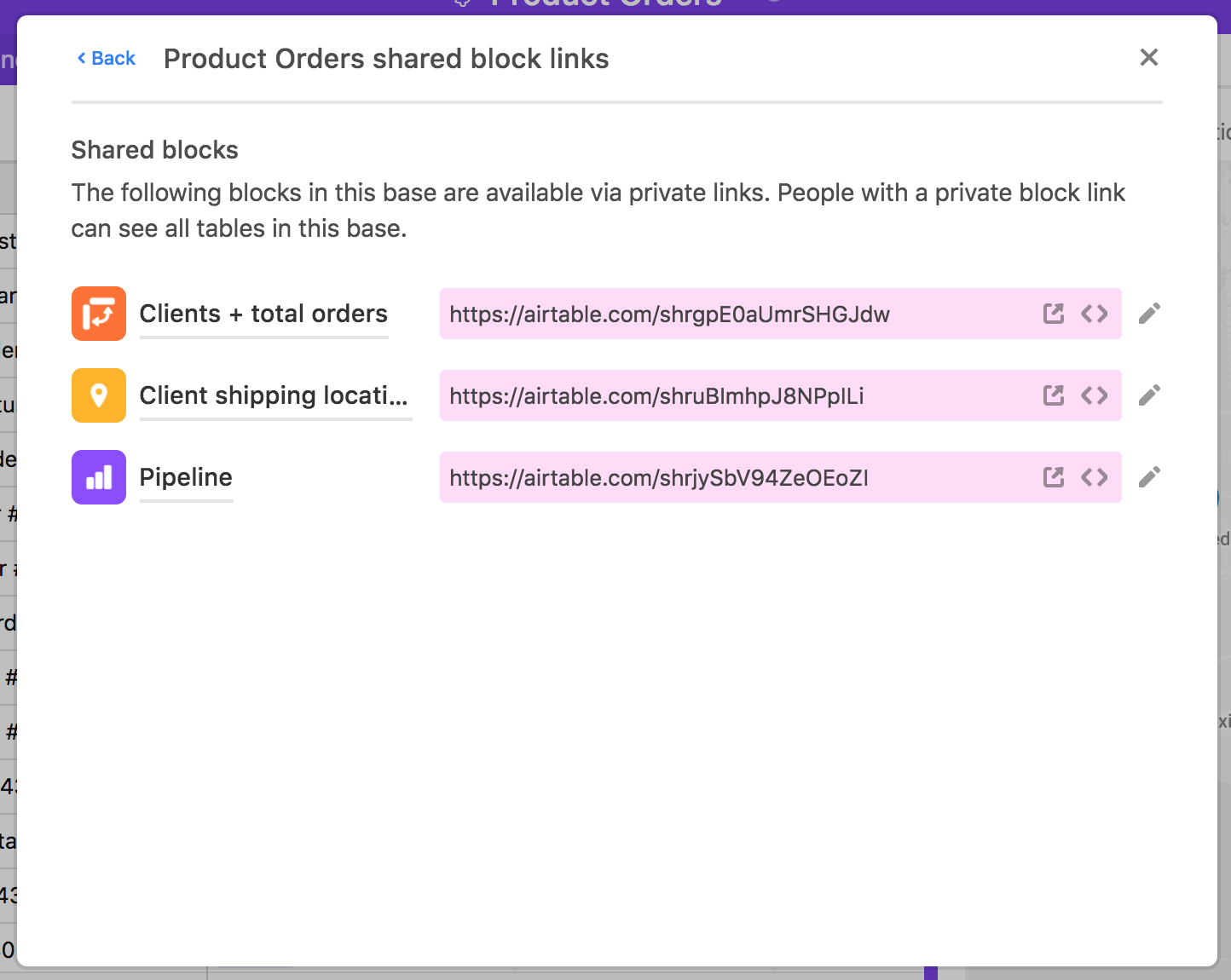 FAQs
Can I share just the information from a specific view the extension is using?
No; because extension share links are a special type of base share link (as opposed to a type of view share link), at the moment, you cannot choose to share just the information from a specific view on which an extension is based.
Do extension share links update in real time?
No; in order to see the latest data, the viewer of the extension share link/embedded extension will need to refresh the page.
How do I request access to this beta?
Please contact our support team to request access.
What is the best use for this beta feature?
This is a very experimental beta feature, and due to being able to view all of the information in a base through the share link, is best suited for internal use cases only.
What if I don't want to expose the contents of my entire base?
As a workaround, you can create a new base which uses a synced table from your current base. With synced tables, the "child" base receives a read-only subset of data from the "parent" base. As updates are made in the parent, they automatically update in the child base. You can then rebuild the extension you want to share in the child base. This way, when an external viewer accesses the share link, there is no information in the underlying base.
---
Was this article helpful?
---
What's Next