Airtable automation action: Hootsuite post
05 Jul 2022

4 Minutes to read
Airtable automation action: Hootsuite post
Updated on 05 Jul 2022

4 Minutes to read
---
Share feedback
Thanks for sharing your feedback!
Creating, managing, and posting multiple social campaigns at once can mean juggling a lot. Airtable's flexible workflows are a natural fit for keeping track of all those moving pieces, and by using the new Hootsuite Automation action you can make sure your team never misses a beat (or a post deadline)! Using the Hootsuite action will allow you to schedule your posts ahead of time, with no copy-pasting, as soon as they meet your standards.
If you are unfamiliar with Airtable Automations we recommend reading the Creating an automation support article before diving in.
Setup
As a prerequisite, you will need to already have an existing Hootsuite account.
For this example, we'll be using a simple table we created to keep track of all the upcoming articles for our blog. Our ideal workflow is: once a featured article's status is set to Approved a new Hootsuite post is automatically scheduled, with all the correct content, at that article's Post Time.

To start, click on "Automations" in the upper right corner of your base. Then, click "Create an automation" to begin the setup process.
Choose a trigger
After creating your new automation, the first thing you'll need to do is carefully choose the trigger. This trigger will tell the automation when to run, and which record's information you'll be using to schedule a post with Hootsuite.
For our example workflow, we'd like to schedule a post whenever a featured article's status has been set to Approved . We'll use the When a record matches conditions trigger to ensure that our new automation is triggered only when a blog post has the Approved status and it is one of our featured articles.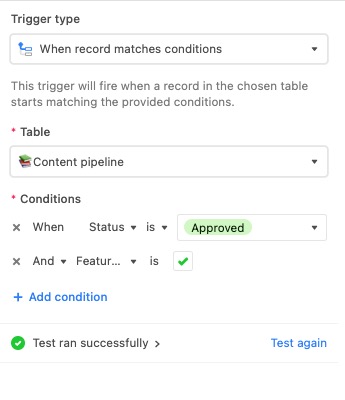 Whenever you add a new trigger or action to an automation you'll always want to test that individual step to ensure your configuration is correct.
Add an action
Once our trigger is configured, and tested, we can move on to setting up our action. Select the "Hootsuite: Schedule Post" action and you'll then be prompted to select or connect, your Hootsuite account.
Once your account is connected the "Social Profiles" dropdown will populate with all the Social Profiles that you currently have set up in Hootsuite. You can choose to use one, or multiple, social profiles to schedule a post for.
Now you can specify the following inputs for your future post(s):
Scheduled Time - the date and time your post(s) will be scheduled to be posted
Message - the content you'd like your post to include, and the format for that content
Attachments - any images or other files you'd like to attach to your post
Tags - you can specify comma-separated tags for your post
We'll start with the "Scheduled Time" input. In our example table we had a date field named Post Time that specified both the date and time that our article will need to be posted.

We can then format the content for our future post using the "Message" input. Finally, we want to make sure we include any attachments that are associated with our article by filling in the "Attachments" input. Below is the configuration for our article example.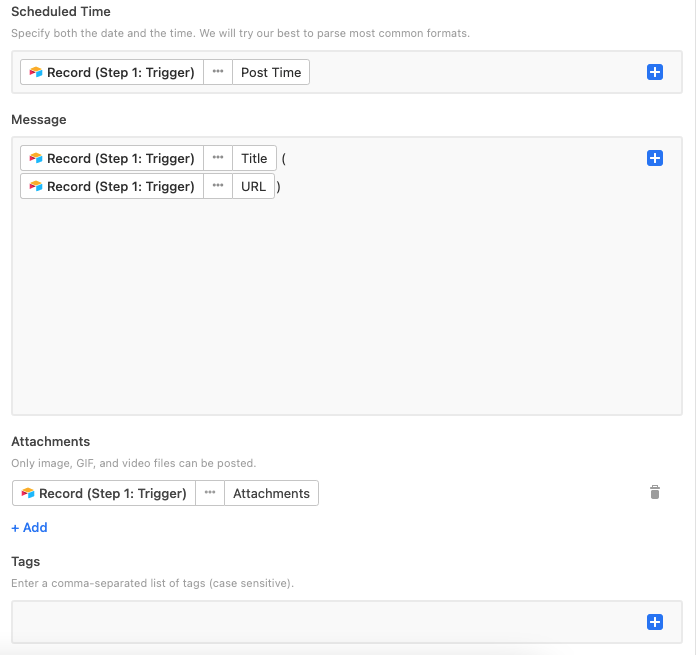 Test and enable your automation
At this point, you'll want to make sure to test your action and ensure everything is configured properly. You'll now be able to turn on the automation and see your new posts in Hootsuite.
TIP
If you have any final tweaks to make to a post once the Automation has run- you can always change those posts in Hootsuite before it goes live.
Creating different automations for different social accounts
If you'd like to have the flexibility to format posts for different social media platforms, we recommend creating separate automations for each of those platforms.
We'll use our example from before to showcase a possible workflow for handling different social platforms. We've added a multiple select field to our table to track the different social platforms where we'll be posting our articles.

We can now create multiple automations to account for each social media platform. Here is an example where we adjusted our trigger to handle articles posting to Twitter.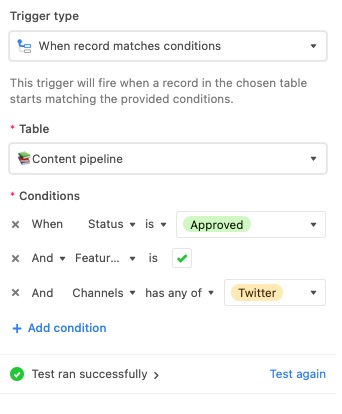 With that trigger in place, we can choose to only use our Twitter "Social profile" from Hootsuite.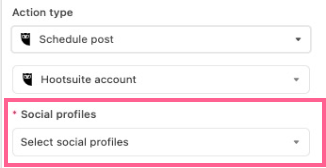 We can now freely format the message for this action knowing that this post will just be for Twitter.
FAQs
What happens if I try to schedule a post in Hootsuite for a date that has already passed?
Your automation will display an error for attempts to schedule posts in the past.
What happens to my automations if my Hootsuite account gets deactivated?
If the Hootsuite account for a related automation is deactivated or disconnected, then the automation will cease to work until a new Hootsuite account is connected and configured.
Which types of Hootsuite social profiles are supported?
Currently, we support the following social profiles:
Twitter
Facebook (Pages and groups)
LinkedIn
Instagram Personal (Instagram Business accounts are not currently supported by Hootsuite's API)
Can I select a Facebook personal profile to post as?
You are unable to select Facebook personal profiles in the Hootsuite action, because the Facebook API won't allow posting to them.
---
Was this article helpful?
---
What's Next