Publishing on Airtable Universe overview
07 Jul 2022

13 Minutes to read
Publishing on Airtable Universe overview
Updated on 07 Jul 2022

13 Minutes to read
---
Airtable Universe is how Airtable experts, thought leaders, and all-around-interesting folks open-source their high-quality bases. Sharing your collections, guides, and Airtable best practices with the whole world takes only a few clicks—and once your base is published, anyone can make a copy of that base for their own personal use. Users inspired by your content can follow you and get notified whenever you publish a new base.
Publishing on Airtable Universe: an introduction
When you've put a lot of hard work into an Airtable base and you want to show it off to the whole world, Airtable Universe gives you a simple way to display your base in a beautiful page optimized for sharing, complete with a cover image and rich text description.
Anyone with an Airtable account can use the Airtable Universe publishing page to publish an Airtable base. Some (not all) of the bases published through Airtable Universe will get listed on the main Airtable Universe site. However, regardless of whether a base has been selected to be featured on the main Universe site, anyone who publishes a base through the Airtable Universe will be able to share it with anyone else they want by using that published base's share link.
Additionally, regardless of whether a base has been listed on the main site, you can find all bases published by a particular creator by going to their profile page.
Getting started and creating a profile
Before publishing anything, you'll need to create an Airtable Universe user profile. The picture for your creator profile is taken from the profile picture of your Airtable account. You can change this from your account settings page.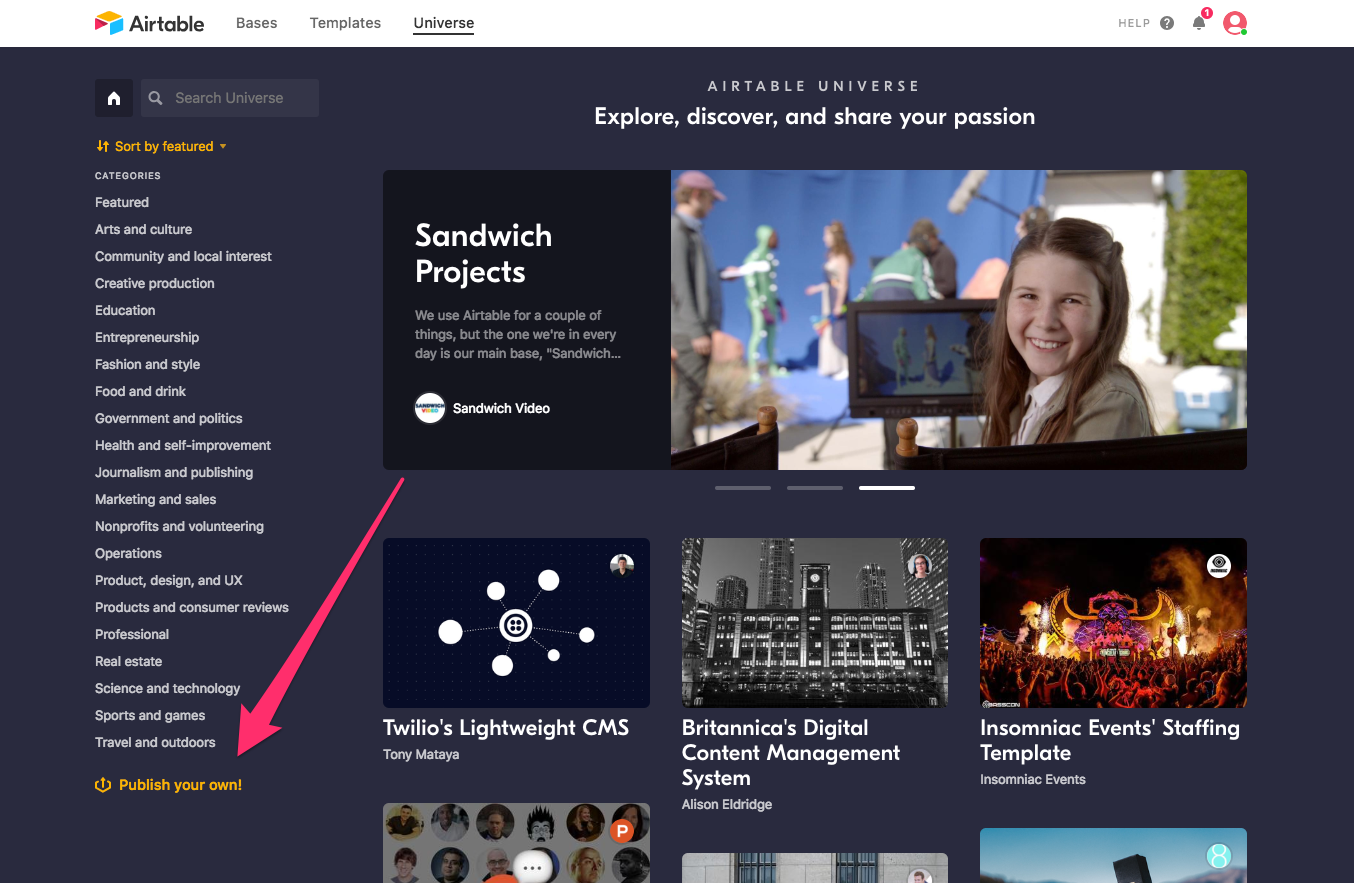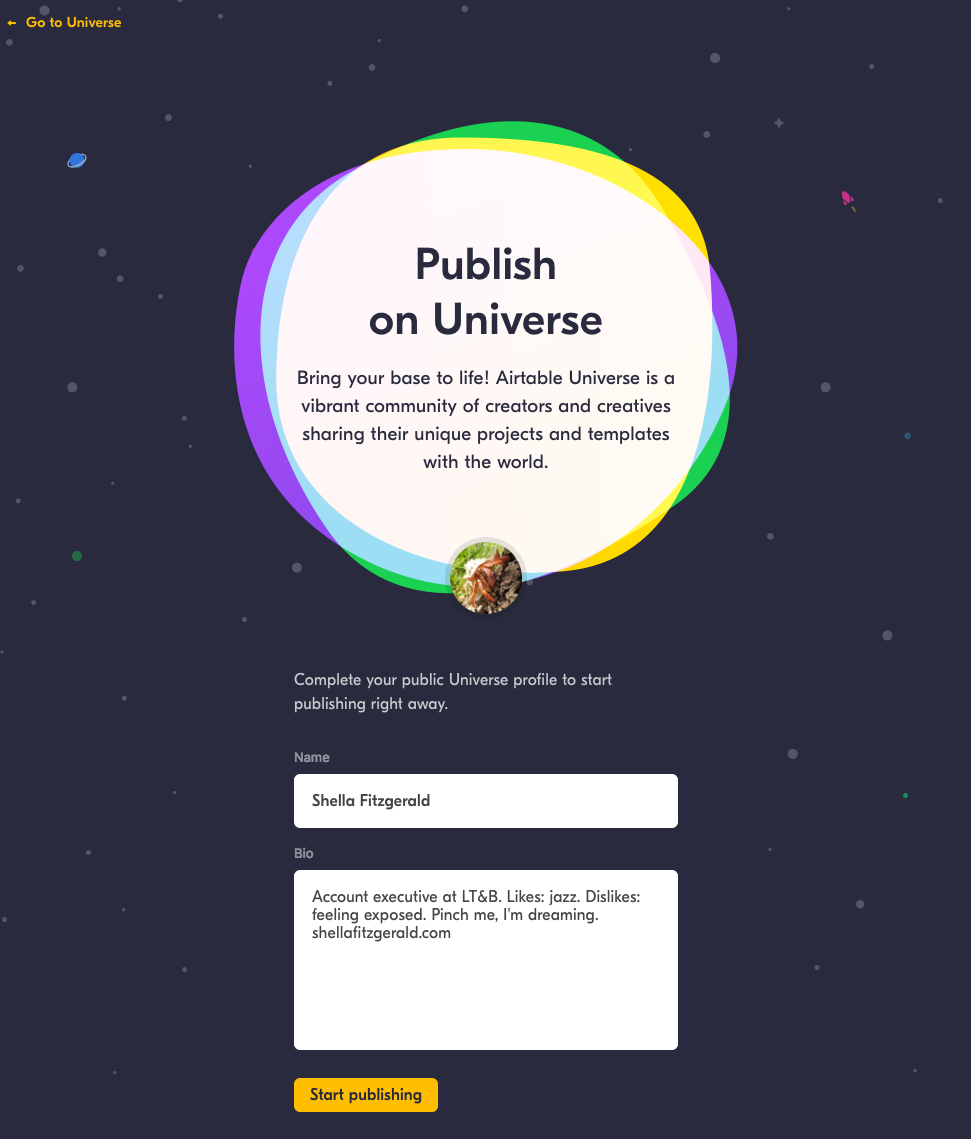 The Name dialog is how your name will show up on your creator page, and who your published bases will be attributed to. The name is automatically filled in using the name tied to your Airtable account, but you can change it here.
The Bio dialog is where you can put information about yourself. Keep it short and sweet, as the maximum number of characters allowed is 200. Links that you put in the bio will be linkified once your bio is created.
Once everything looks good, you can click the Start publishing button.
Your profile page
Your profile page is where you (and other folks exploring Airtable Universe) can learn about you and see every base you've published. To get to your profile page, go to the Airtable Universe home page and click the button with your user icon below where it says "Your profile."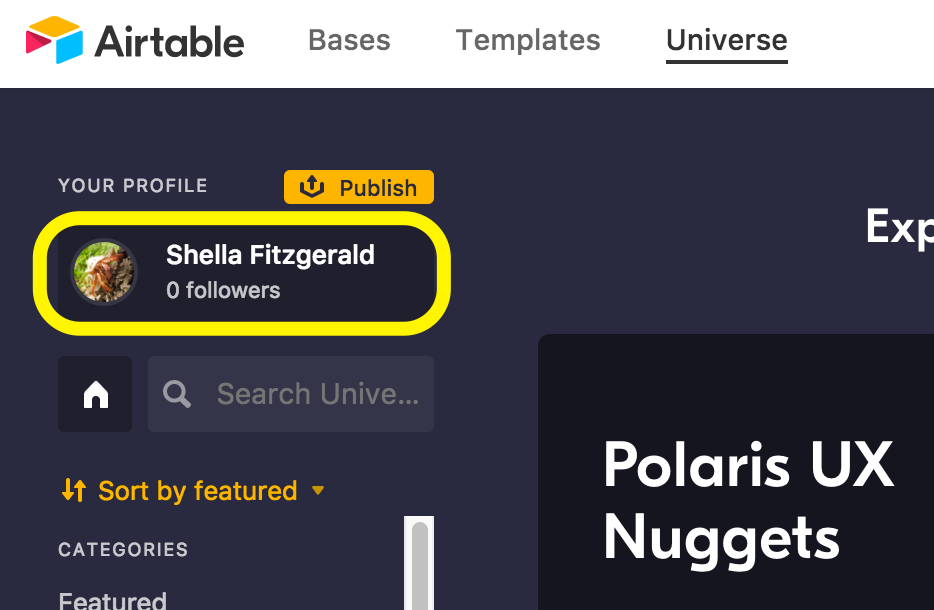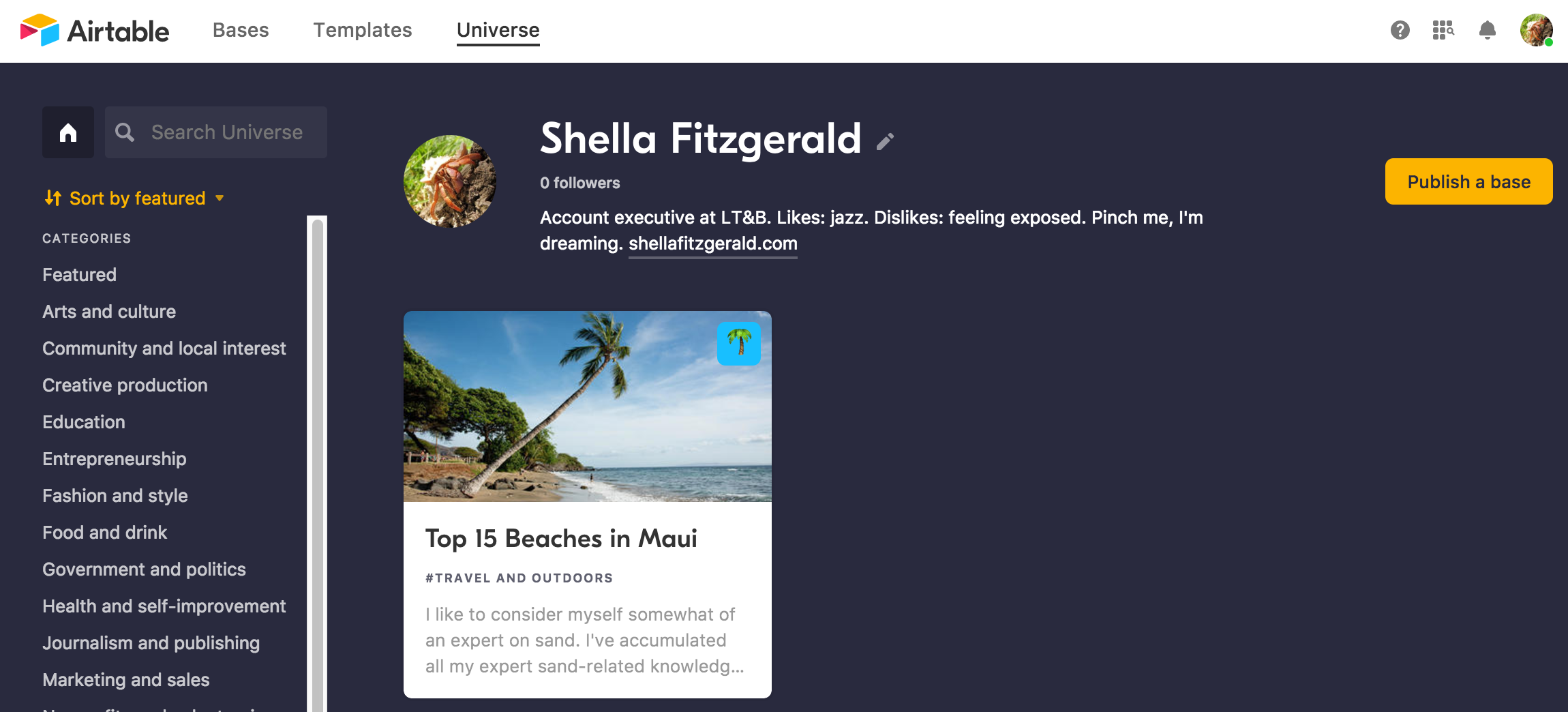 From your profile page, you can see your bio, user icon, and the bases you've published. Note that every base you've published, even the bases that haven't been listed on the main site, will appear on your profile page.
To edit your bio, click on the pencil icon next to the name associated with your account. This will bring up a dialog where you can change the displayed user name and the bio. You can also choose whether you want to receive follower notifications.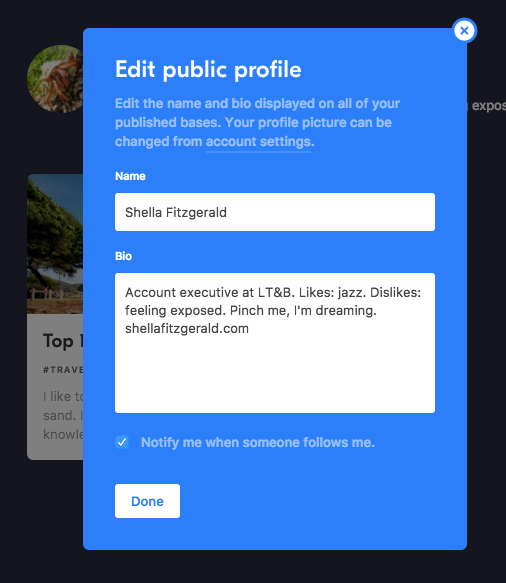 You can also access your profile directly from the Publish page.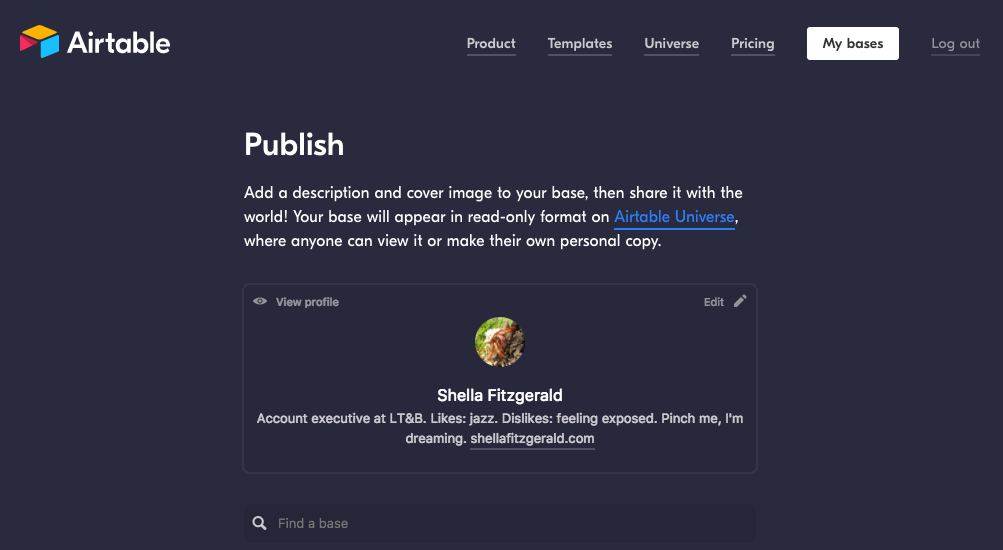 The publish page
To access the publish page, click the yellow publish button on your profile page or the yellow publish button above your user icon.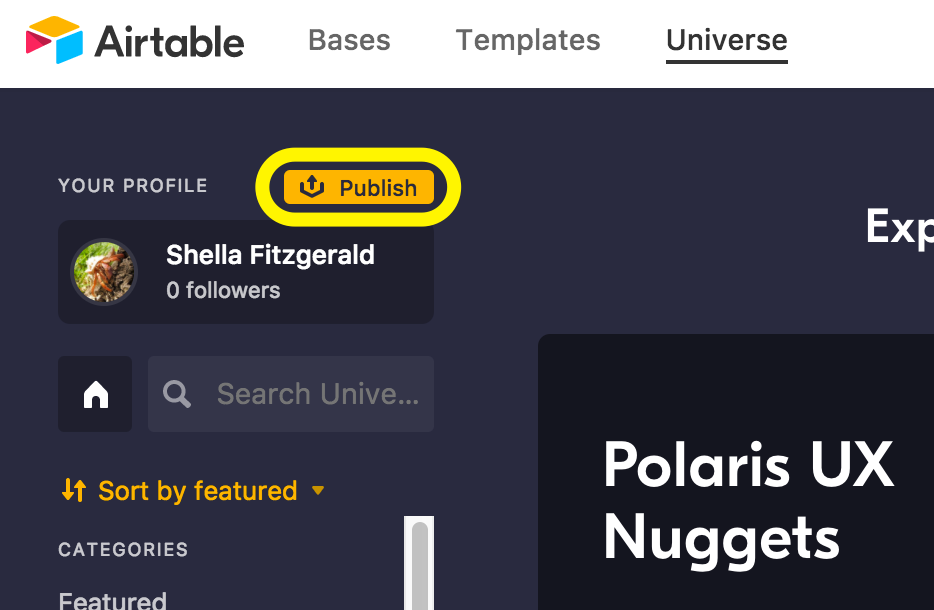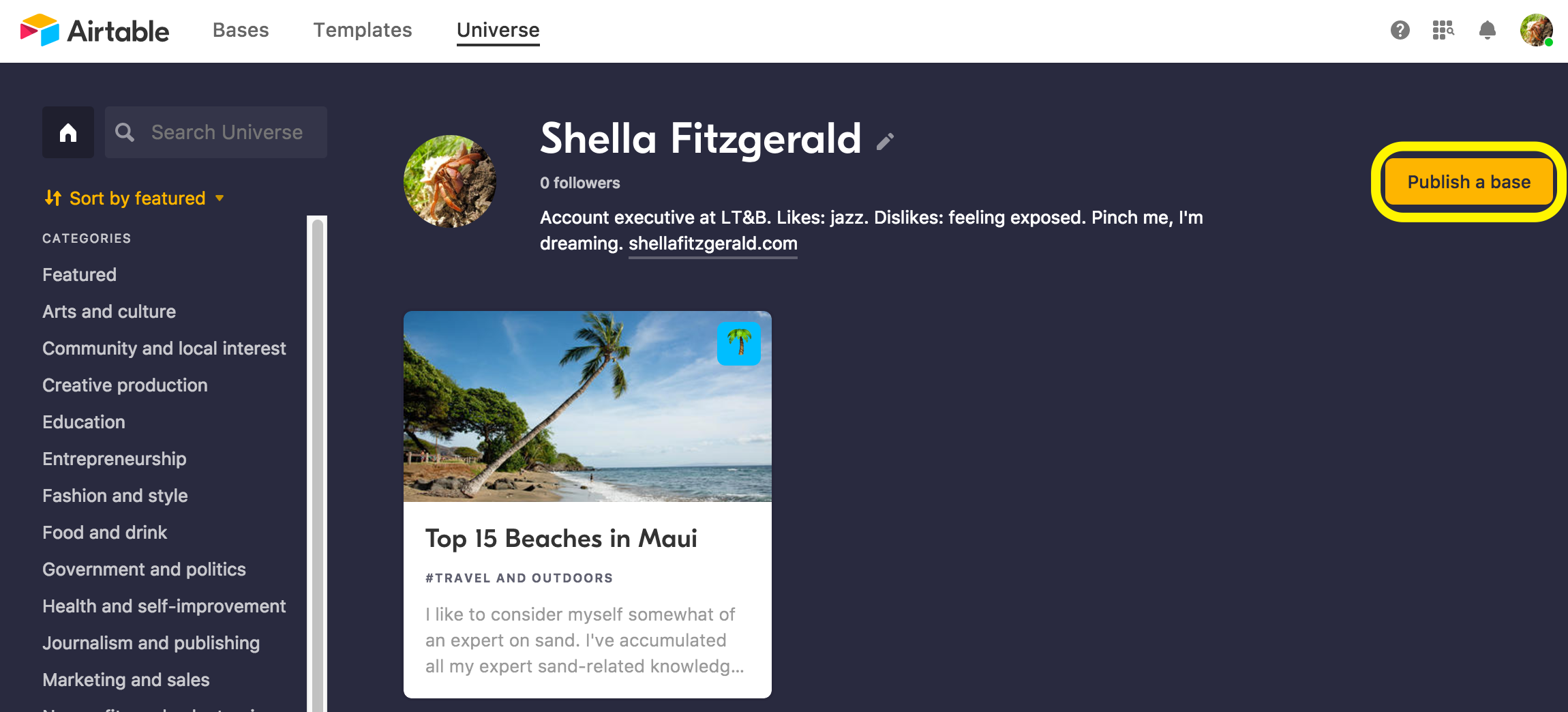 The publish page is a list of all of the workspaces and bases to which you have access. It also shows which bases you've already published. To search for a particular base, you can use the search box under the creator profile. Note that you must have at least creator-level permissions for a base (as either a workspace or base collaborator) in order to publish that base. If you only have editor or read-only access to a base, you will not be allowed to publish that base on Airtable Universe.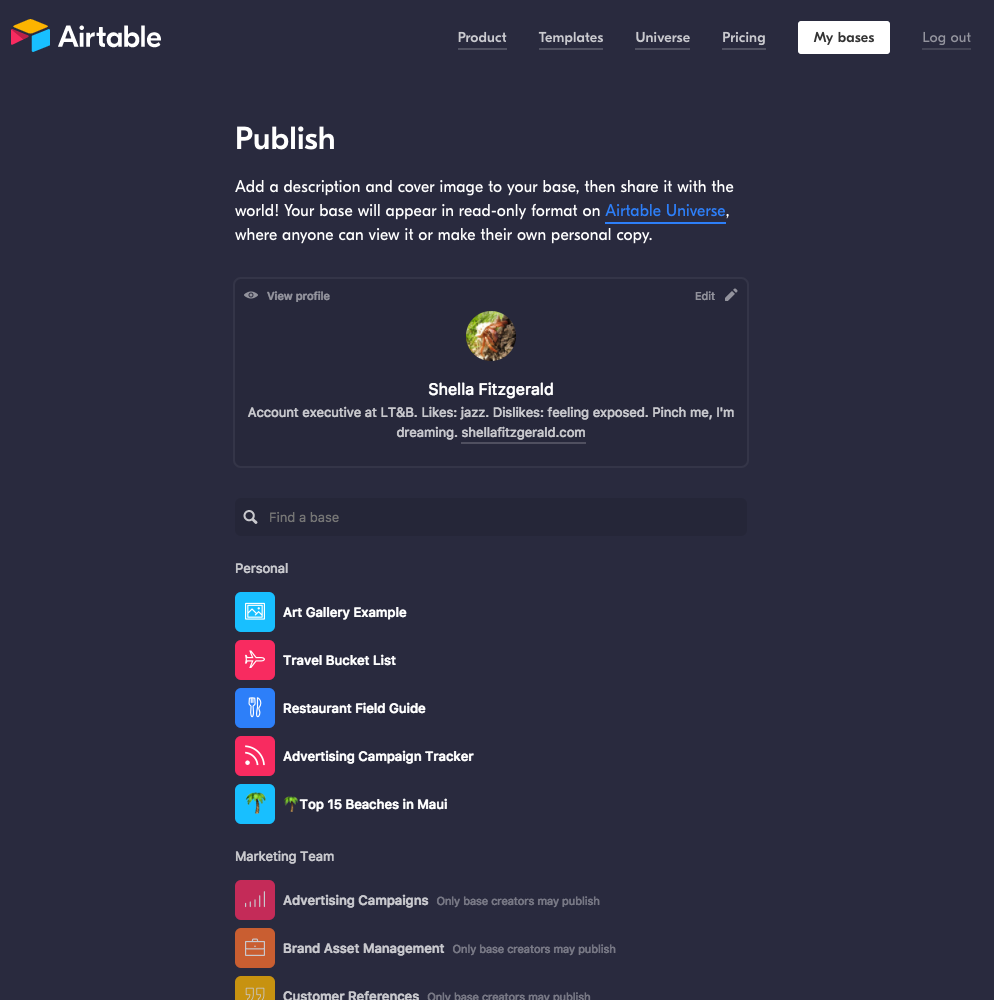 Publishing a base
To publish a base, click on that base's icon from the Publish page.
Before publishing anything, please ensure that the base you're publishing is appropriate for Airtable Universe. In particular, if your base has sensitive, confidential, or proprietary information, you should NOT directly publish it to Universe. (As an alternative, we recommend creating a duplicate base, redacting that duplicated base, and publishing the redacted, duplicated base.) For further guidance on what makes a good Universe base, please read the section of this support article on creating the right base for Universe.
After clicking on a base's icon from the publish page, you'll be brought to a publishing interface.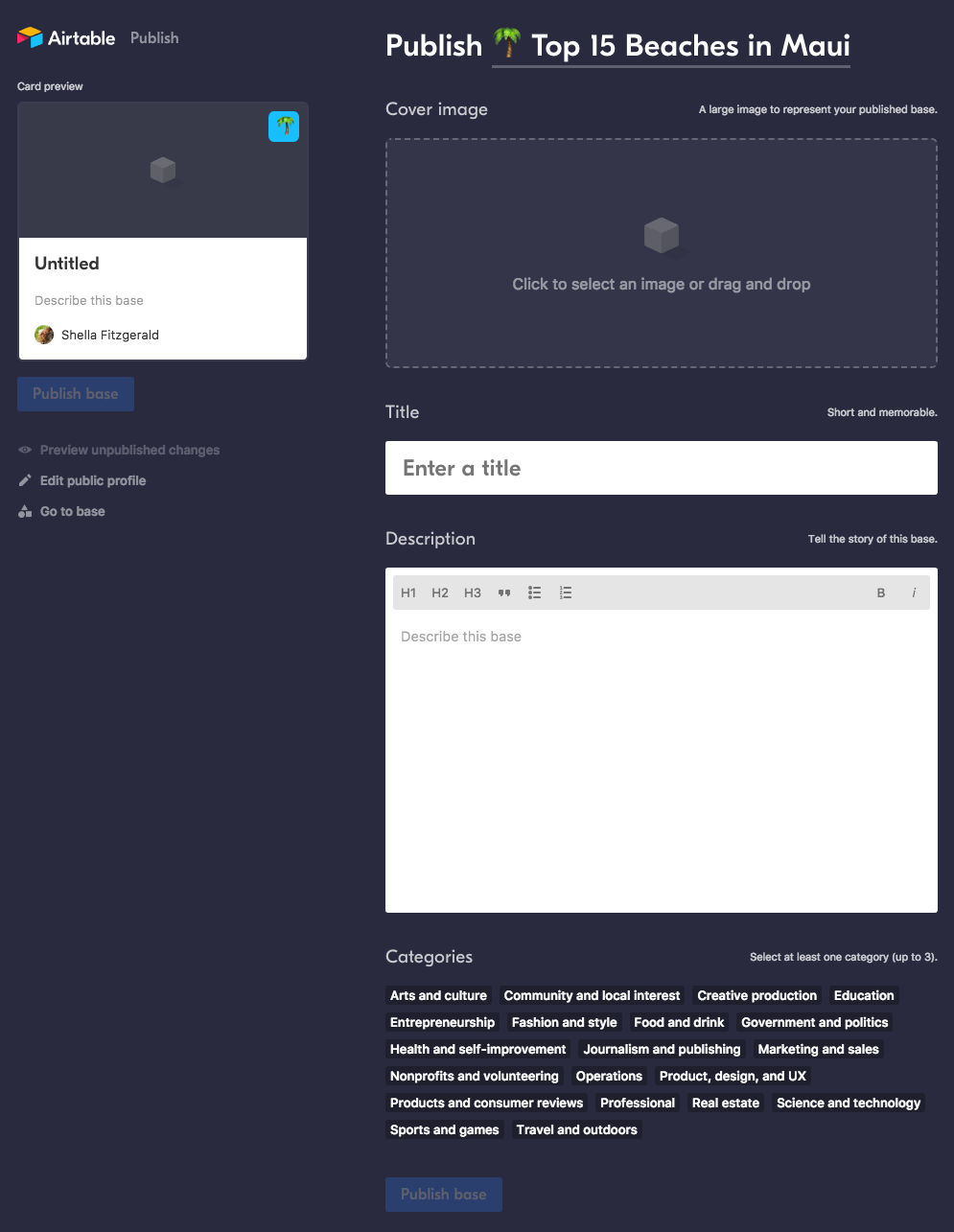 The first thing you need to do before publishing your base is to upload a cover image. Picking a good cover image is critical for getting viewers' attention, so choose wisely! We also request that you only use images for which you have usage rights. Note that images must be in PNG, JPG, or GIF format, under 5 MB, and at least 500px by 300px.
The title of your base is the name by which your published base will be identified in Universe. It can be the same as the title of your original base, but it does not necessarily need to be the same. Please be aware, however, that when a user copies your base from Universe, the base that they get will have the same title as the original base, not the title you gave it for Universe.
The description box is extremely important for ensuring that the people viewing your base understand what it's about. You can use the WYSIWYG buttons to format your text. If you want to include links in your description, you can do so by pasting in the links (they'll automatically linkify when the base is published), or by formatting your link with square brackets and parentheses like so:
[text that will be linked](http://example.com)

Lastly, you'll need to pick at least one category from the categories listed in order to publish your base. You can pick up to a maximum of three.
Before publishing, you can preview your base metadata by clicking the Preview unpublished changes option, or go back to your base to make changes by clicking the Go to base option.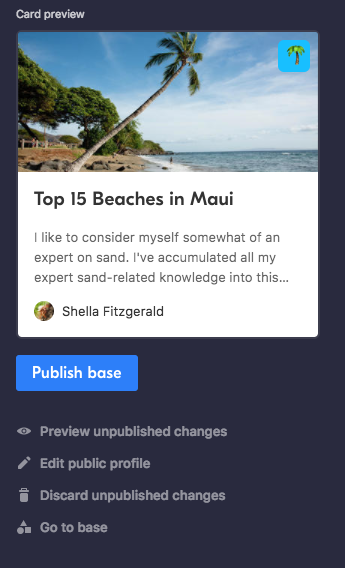 When you've given your base a cover image, title, description, and category, you can publish your base by clicking the blue Publish base button. Before finally publishing, you'll see a confirmation dialog.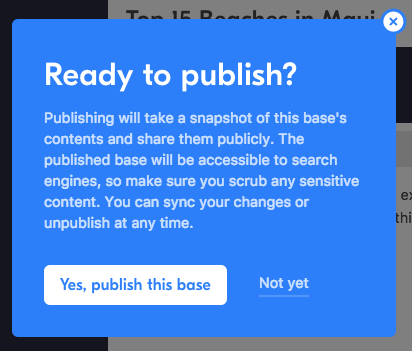 After publishing the base, you can copy the link that appears to share your published base with the world.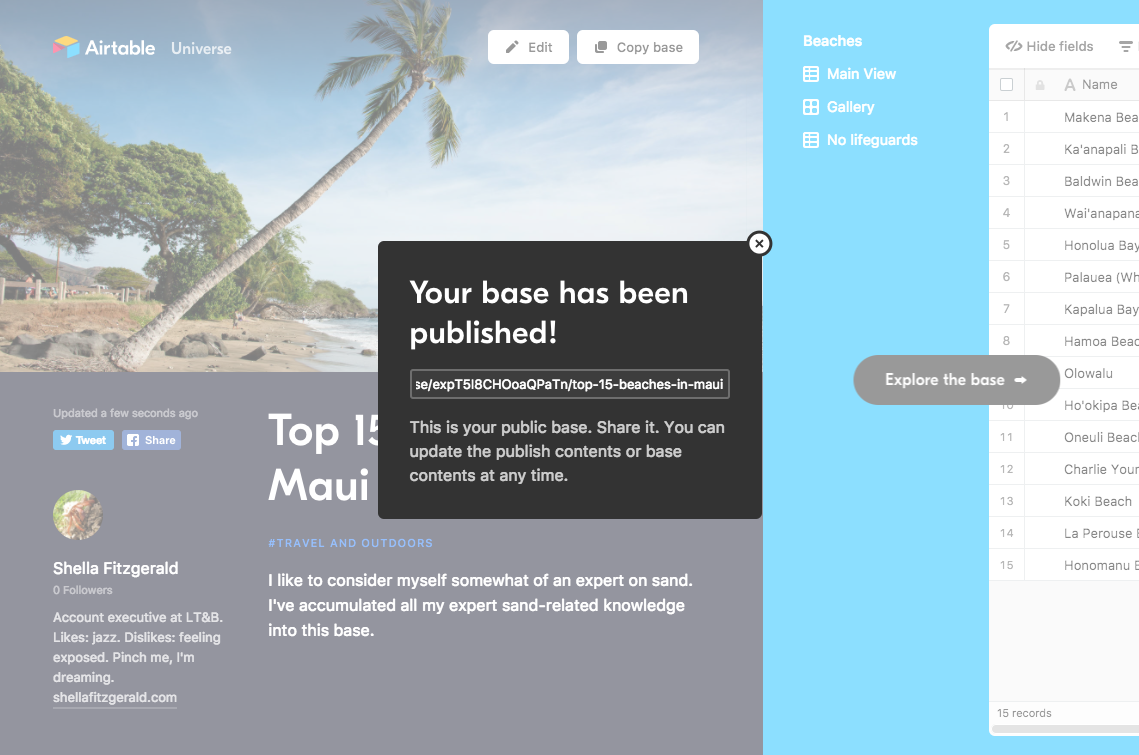 Editing or updating a published base
A base on Universe will stay as is unless you explicitly decide to edit it or update it again. This means that if you make updates to a base you've published, you will need to return to the publish interface and update it for the changes you've made to appear. (In contrast, a base share link will reflect all changes to a base in real time.)
To edit a base, you can go to the publish page, find the appropriate base, and click on its icon.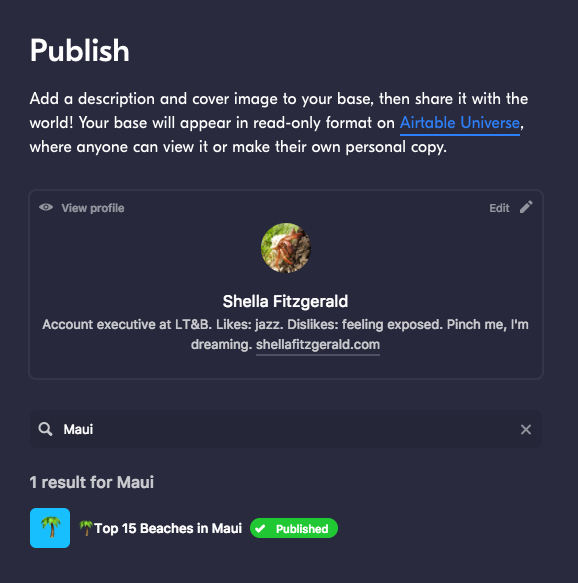 You can also go to your profile page, click on the card for the appropriate base, and then click the Edit button toward the top of the page.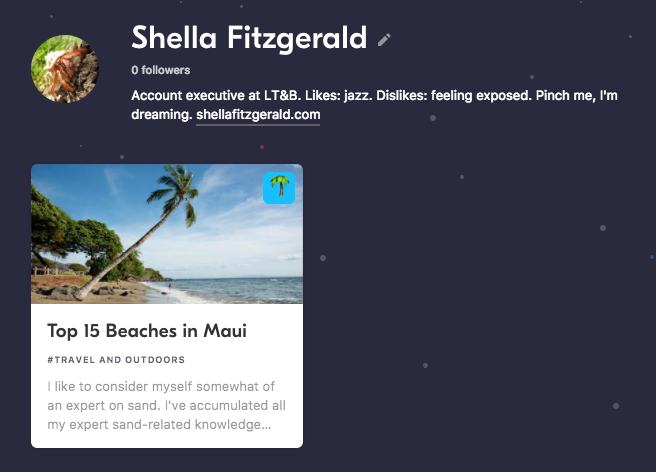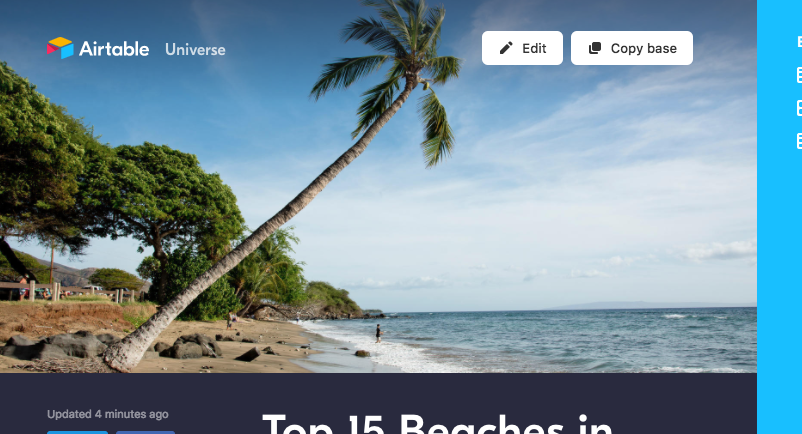 Either of these methods will return you to the base's publishing interface. From here, you can alter the metadata (cover image, title, description, or category). The green box at the top of the base indicates that this base has been published. (You can also copy the share link for your base from here.)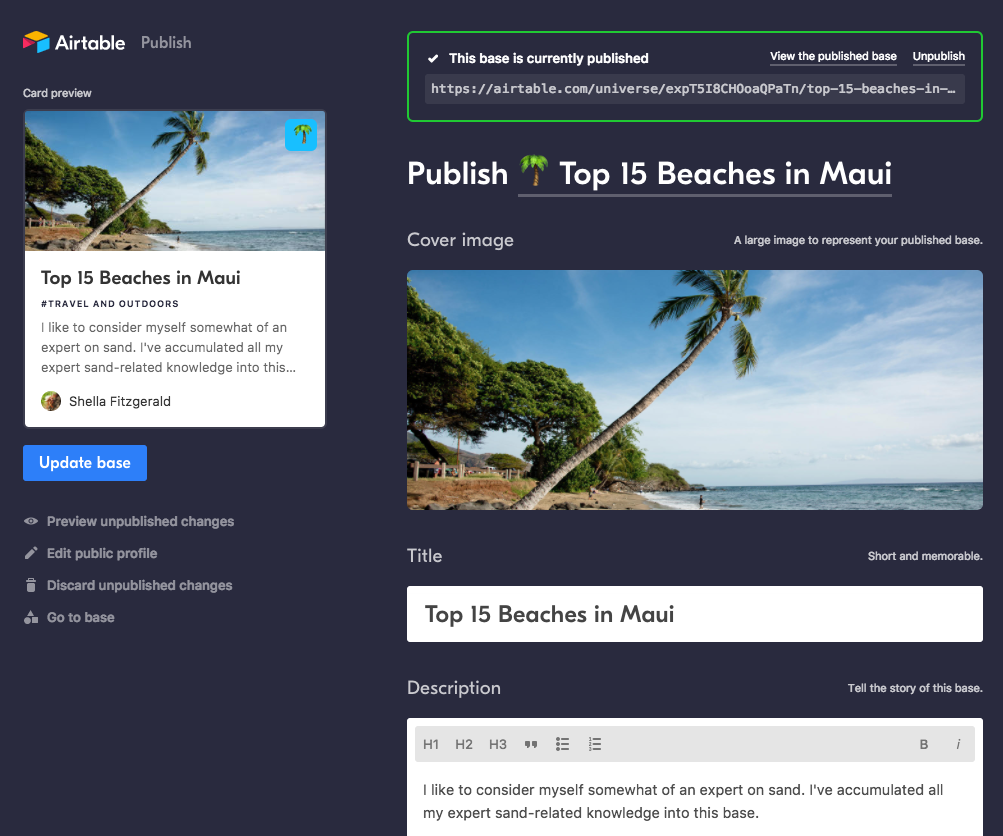 Regardless of whether you're updating the contents of a base, just the metadata, or both, you can click the Update base button when you're ready to update your published base. When you click on the update base button, you'll be asked if you want to update just the metadata, just the base contents, or both.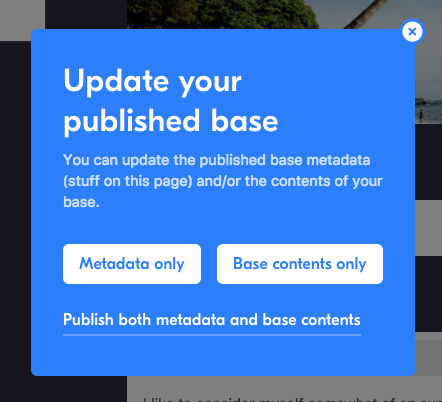 Taking down a published base
If you wish to take down a base you have previously published, return to that base's publishing page and click the Unpublish option in the green box at the top.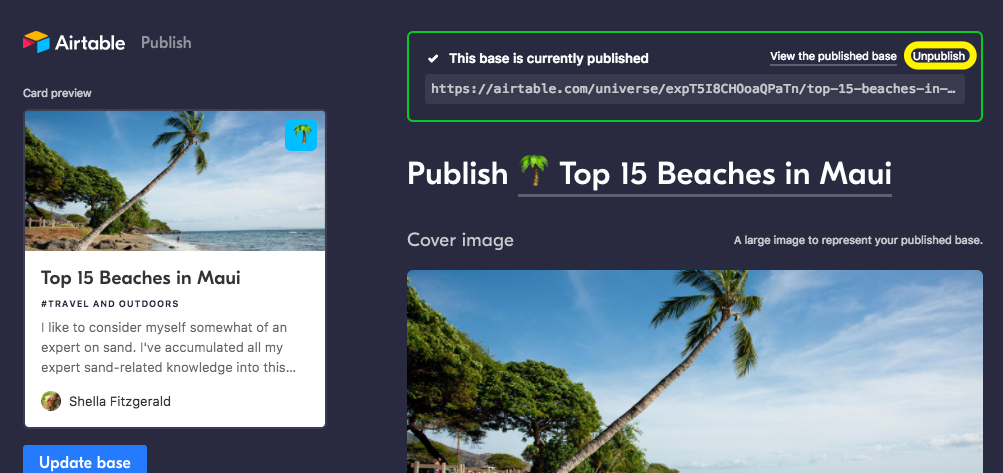 Unpublishing your base will remove it from public Universe browsing. No one will be able to see your base on Universe, even if they go to your user profile page.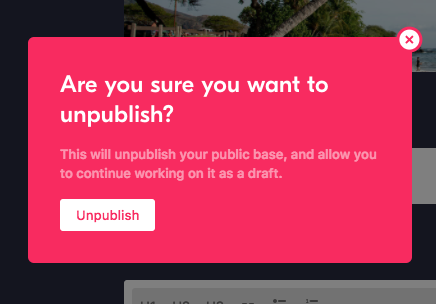 Extensions and Airtable Universe
Airtable extension, available on Pro plans, are modular extension that you can add to your bases to extend their functionality. They also look great in your Airtable Universe bases—try a map extension, or a chart extension!
If you have extensions installed in a base that you'd like to publish, you have a choice of whether or not you want those extensions to appear in Airtable Universe. At the bottom of the publish screen for your base, there is a Show extensions in published base toggle you can turn on.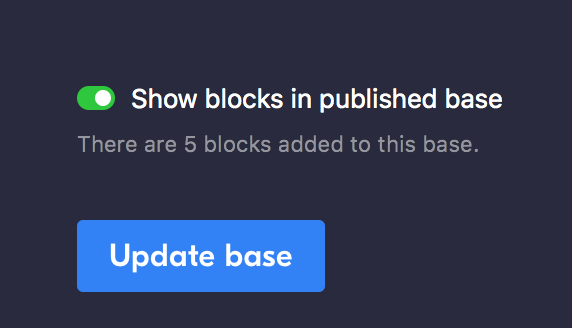 When someone makes a copy of your Universe base that has extensions in it, those extensions will persist, i.e., their copy will include copies of the extensions that were in your base. If the person who copies your base is on a free or Plus plan after the initial extensions trial expires, the extensions will be copied, but they will not be able to access or edit them (unless they upgrade to Pro in the future, at which point they will be able to edit or delete those extensions).
Note that when the base copy and included extensions are copied, API keys from extensions which use them are NOT copied over. The copying person will need to enter their own API key to enable those copied extensions.
Tips: creating the right base for Airtable Universe
As mentioned previously, not every base published through Airtable Universe will get listed on the main Airtable Universe site. If you would like to maximize the chance that your base will be featured on the main Airtable Universe site—and also ensure that folks browsing Universe will take the time to read through and like your base—we recommend that you take a moment to read through these guidelines about what makes for a high-quality Universe base.
In general, there are two types of bases that make good Airtable Universe bases: bases that are valuable for their structure (which you also can think of as user-generated "templates") and bases that are valuable for their content. Some bases may fit into both categories. If you want your base to shine, it should excel in at least one of these ways.
Bases with good structure
Have you developed a killer Airtable workflow for your industry use case or personal life? Have you ever thought, "My base is great and it should be a template"? If you answered "Yes" to either of these questions, then you might have a base that is valuable for its structure. While the information within the base may be proprietary, or too specific to be of general interest, the way your base is constructed is such that other people could get a lot of use out of it if they adapted it for their own purposes. You can think of these bases as "templates" developed by Airtable users, rather than the Airtable team.
A good structure-oriented base is one which clearly articulates the purposes of its various features. This means that you should take some time to properly explain why and how your base is so useful in the published Airtable Universe description. Adding plenty of field descriptions or table descriptions when appropriate is one of the best ways to make your base more accessible to a wider audience.
Here are a few examples of well-structured bases.
IMPORTANT: When you publish a base to Universe, all of the information in that base becomes available to the public. If your base has sensitive, confidential, or proprietary information, you should NOT directly publish it to Universe. Instead, you should publish a redacted copy of your base, following these steps:
Make a duplicate of your base (making sure to uncheck the "Duplicate records" box)
Create a few sample records with dummy data for each table in your copied base. While not strictly required, putting sample records in your base is highly recommended, as it makes it much easier for someone encountering your base for the first time to understand exactly how it's used.
Take a moment to look over your copied base and ensure that everything sensitive has been removed. Note that view names, table names, options in select fields, etc. may contain sensitive information left over from the original base.
Publish the copied base.
Bases with valuable content
Have you spent hours painstakingly compiling in-depth statistics into an easily navigable Airtable base? Are you an expert looking to impart wisdom to beginners? Are your friends always asking you for your great list of travel recommendations? If you have a base that primarily functions as a guide, collection, or curated list, then the primary value of your base is likely in its content. While the structure of the base may or may not be sophisticated, readers will be interested in the information contained within your records.
A good content-oriented base is one which takes advantage of Airtable's features to make the information within it as accessible as possible. This can mean (for example) using select fields to categorize records and create useful filtered views, or creating a gallery view to showcase the base's images.
Here are a few examples of bases which are valuable because of their content:
IMPORTANT: With bases that are valuable for the content, it is important to keep in mind that bases published on Airtable Universe do not automatically update when changes are made to the original base. This means that if the subject of your base is such that you're frequently updating the information within, you'll need to remember to manually update your base accordingly.
Good presentation
If you want your base to stand out, it's important to take the time to ensure that it looks good. Now, "looking good" isn't just about what cover photo you pick or what you name your base—it's about creating an experience that's enjoyable for the reader. Here's a few top tips.
Pick a quality cover photo
Maybe you shouldn't judge a book by its cover, but the fact of the matter is that a high-quality cover image will draw viewers to your base. Don't have any nice, high-resolution photos of your own? We recommend taking a look through Unsplash to find hi-res photos licensed under Creative Commons Zero.
Keep an eye on your views
Every view in your base will show up when you publish it on Airtable Universe. While you may know the purpose of the view labeled "Kanban View 8" in your own personal base, a person who comes across your base while browsing Airtable Universe will have no idea what it means. Be sure to give the all the views in your base descriptive names—and feel free to provide more information in your base description.
We also recommend rearranging your views so that the first view someone sees is the one that's the most informative, important, and/or visually impressive.
Make sure you have filler data
If your base is valuable for its structure (i.e., you're publishing a template) then you probably want to publish a duplicate version of your real base, and delete the real records contained within. If you do that, though, make sure to replace the real data with some fake data so that people looking at your published base will be able to figure out how to use it! This is especially important if your base relies on linked record fields, lookup fields, or rollup fields—if you don't have any filler data, your readers won't be able to figure out which tables are linked together.
In the event that you're having trouble coming up with filler data yourself, you can always look at the official Airtable templates in the template gallery for some inspiration.
Describe, describe, describe
A person coming across your base while browsing Universe won't have the same context that you do when it comes to understanding your own base. That's why it's absolutely critical to provide as much context as possible in your base description, table descriptions, and field descriptions. Of course, you don't have to label every single field or every single table—but the more you write, the easier it'll be for viewers to understand your base, and the more useful it will be for them.
---
Was this article helpful?
---
What's Next