Upgrading workspaces to the Airtable Enterprise plan
15 Nov 2022

1 Minute to read
Upgrading workspaces to the Airtable Enterprise plan
Updated on 15 Nov 2022

1 Minute to read
---
For Enterprise customers on a federated license agreement (FLA), Upgraders are able to upgrade any number of workspaces to enjoy the full benefits of our Enterprise plan offering. This article will walk you through all the steps to upgrade a workspace on any self-serve plan to become part of their organization's Enterprise ecosystem.
your title goes here
Remember that any new collaborators on the upgraded workspace not previously associated with your Enterprise plan may count as a billable, paid seat user.
Upgrader prerequisite
Before a user is able to upgrade a workspace to the Enterprise plan associated with their organization, they will need to be granted "Upgrader" privileges in the Admin Panel. These privileges can only be granted to users matching the internal domain associated with your organization's Airtable account. More info on this process is covered in this support article.

Upgrade process
Once a user has been granted upgrader permissions, they can follow the flow below to change a workspace from the Free, Plus, or Pro plan to be a part of their organization's Enterprise plan.
Step 1: Choose the workspace
First, click the drop-down located next to the name of the workspace you would like to upgrade. Free workspaces will show an "Upgrade workspace" option. For workspaces on Plus and Pro billing plans, you'll want to click the "Workspace settings" option.

Step 2: Change the billing plan
From the workspace settings page, click "Change billing plan."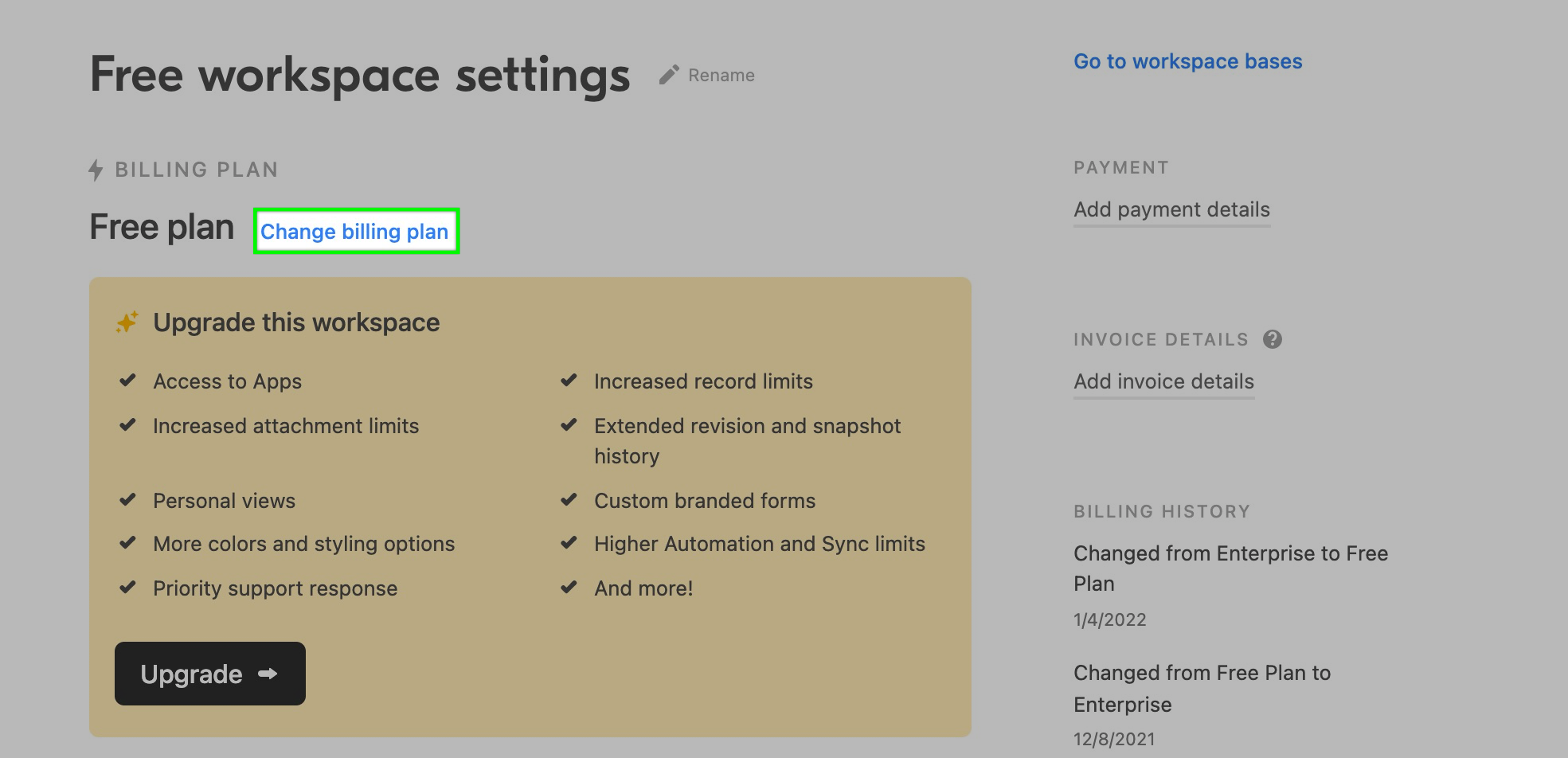 Step 3: Choose the Enterprise option
On the plans page, click on the "Choose Enterprise" option.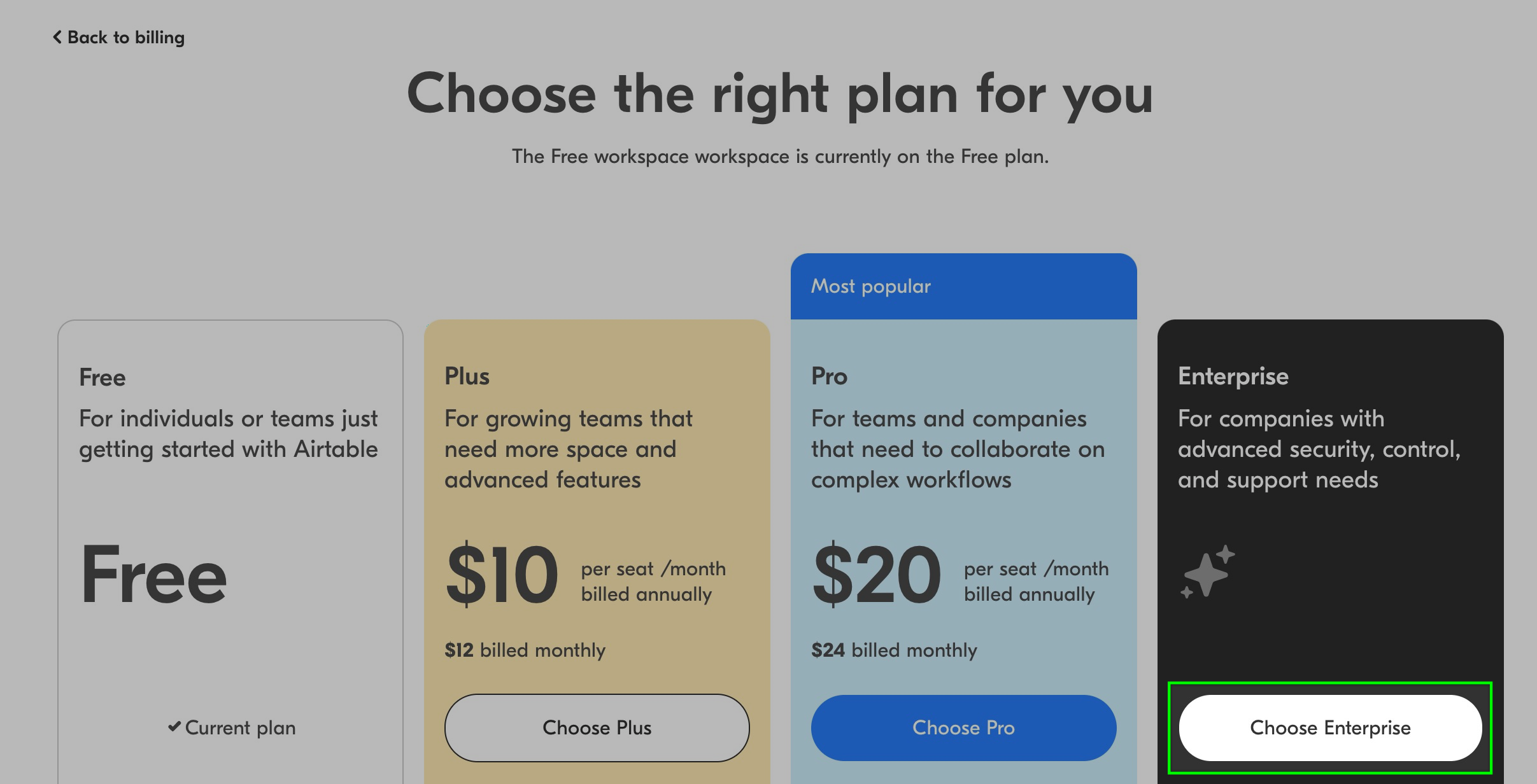 Step 4: Confirm upgrade
This will bring you to a checkout page where you can review the details of the upgrade. After confirming, click the "Upgrade" button.

Step 5: Check the workspace
After successfully upgrading, you'll be taken to a confirmation page with information. After reading through that information, you can navigate back to your Airtable home page. From here, it's a good idea to make sure that the workspace you just upgraded is now showing the "Enterprise plan" tag next to it. If it does, then this workspace is now a part of your organization's Enterprise plan and enjoys all the benefits of increased record and storage limitations as well as other powerful features.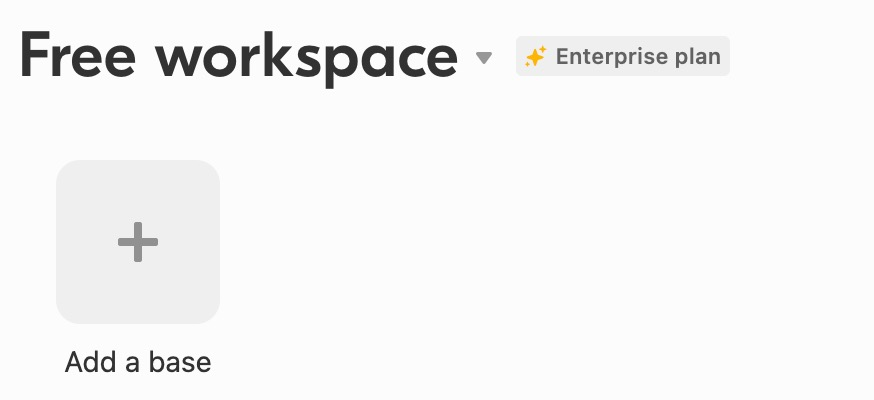 ---
Was this article helpful?
---
What's Next