Displaying extensions on Airtable Universe
14 Oct 2022

1 Minute to read
Displaying extensions on Airtable Universe
Updated on 14 Oct 2022

1 Minute to read
---
Airtable Extensions, available on all Airtable plans, are modular extensions that you can add to your bases to extend their functionality. They also look great in your Airtable Universe bases—try a map extension, or a chart extension!
If you have extensions installed in a base that you'd like to publish, you have a choice of whether or not you want those extensions to be shown in Airtable Universe. At the bottom of the publish screen for your base, there is a 'Show extensions in published base' toggle that you can turn on.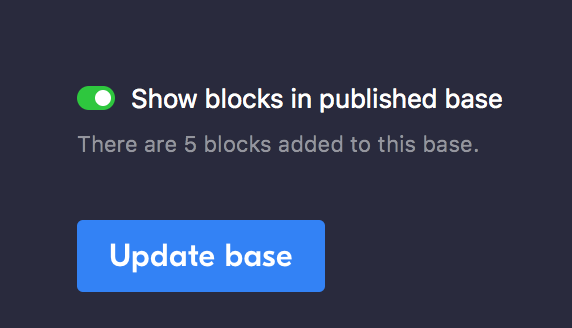 When someone makes a copy of your Universe base that has extensions in it, those extensions will persist, i.e., their copy will include copies of the extensions that were in your base. If the number of extensions in your published base exceeds the number of extensions available on that person's workspace plan, the extensions will be copied, but that person will not be able to access or edit the excess extensions unless they upgrade to a plan with a higher allotment.
Note that when the base copy and included extensions are copied, API keys from extensions that use them are NOT copied over. The copying person will need to enter their own API key to enable those copied extensions.
---
Was this article helpful?
---
What's Next