Choosing a layout for your interface
08 Jul 2022

5 Minutes to read
Choosing a layout for your interface
Updated on 08 Jul 2022

5 Minutes to read
---
With Interface Designer you can create visual interfaces that reflect your underlying base's data. When you create a new interface, you can give yourself a head start by choosing from various layouts to provide a structure to customize and build on.
Choosing a layout
Whenever you create a new interface, you can choose from one of four layouts: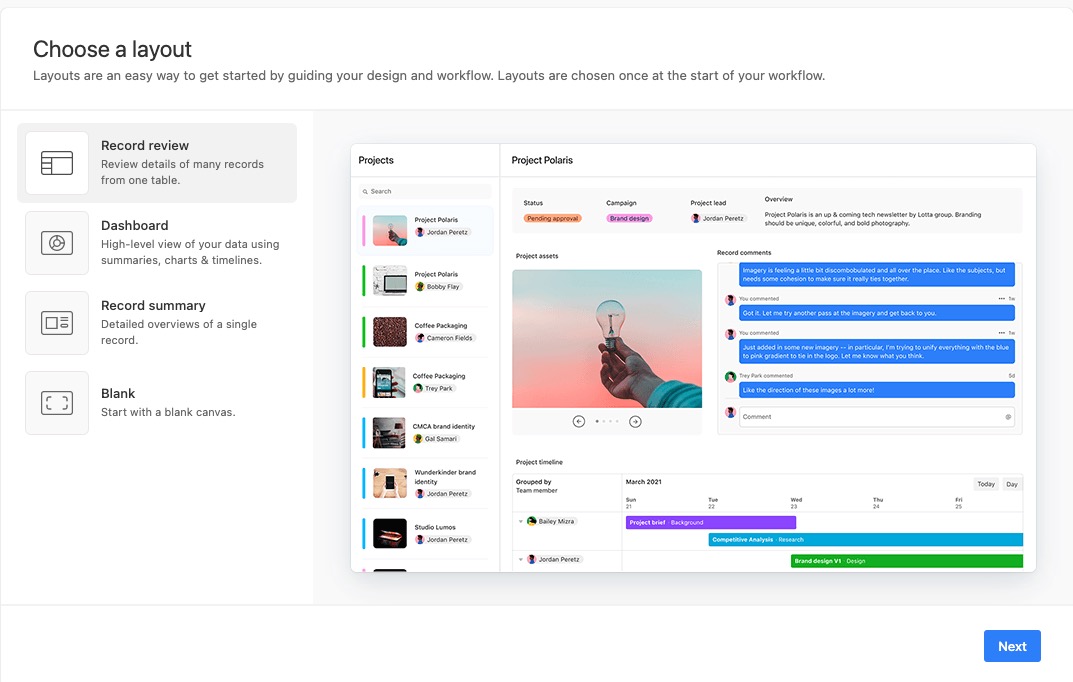 Layouts are comprised of customizable elements and can provide a framing structure for you to build your interface on.
A layout is like choosing a recipe; you have a good starting place that can be customized to your unique tastes by introducing additional ingredients. We recommend starting with a layout if you are new to Interface Designer. Layouts are a great way to show you the basics of interfaces and get you started with something that already looks good.
Each layout was built with a different workflow in mind, so we'll briefly cover each one before talking about how to connect your layout to a table in your base.
Record Review layout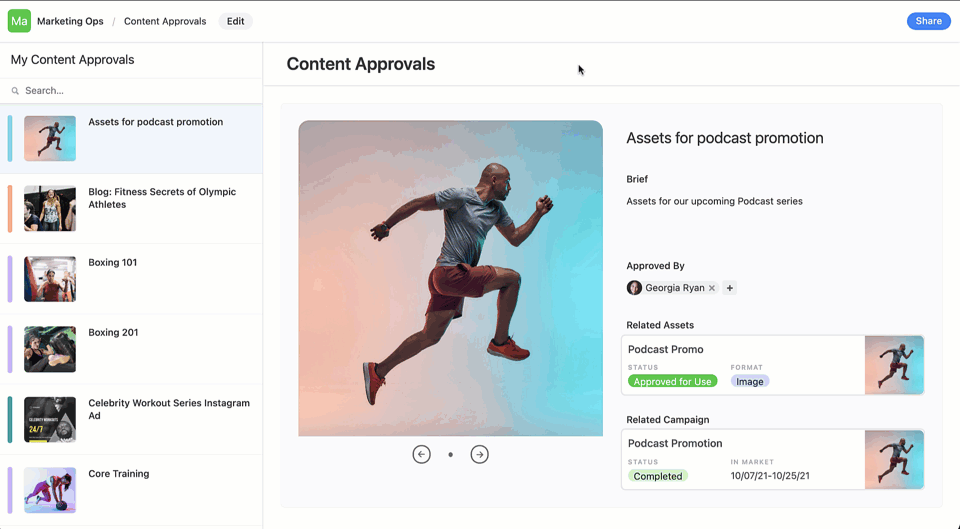 The Record review layout was designed to allow you to quickly switch between records with ease. Record review is useful for triaging or reviewing many records at once. If you'd like to see this layout in action, check out this guide on building a content approval workflow.
Within the Record review layout, you can also group records based on one or more fields from your base. After choosing the Record review layout option, you can click the drop-down next to the "Group" data option which will open up a menu of fields to group by.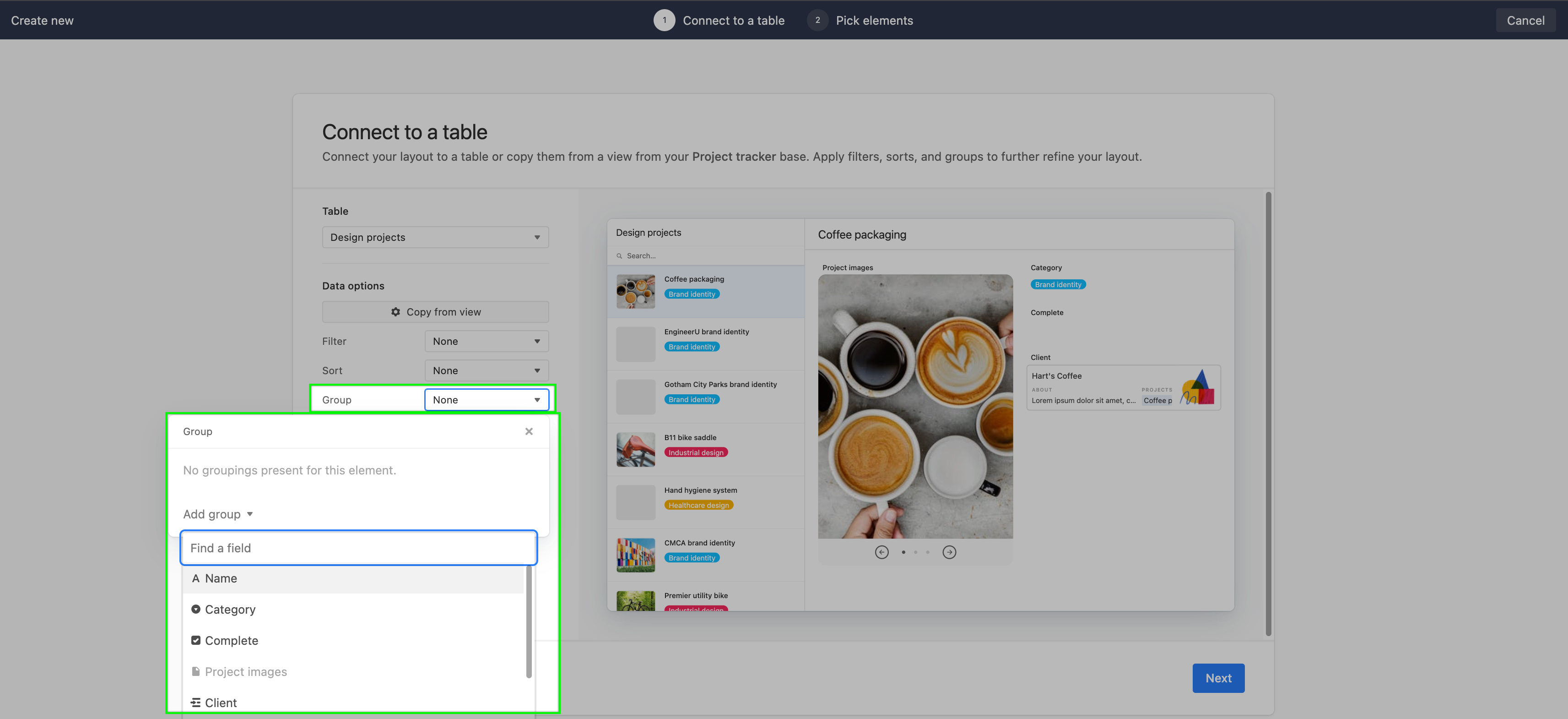 Groupings in a published base will appear as nested drop-down groups. In this case, they are neatly arranged by project category: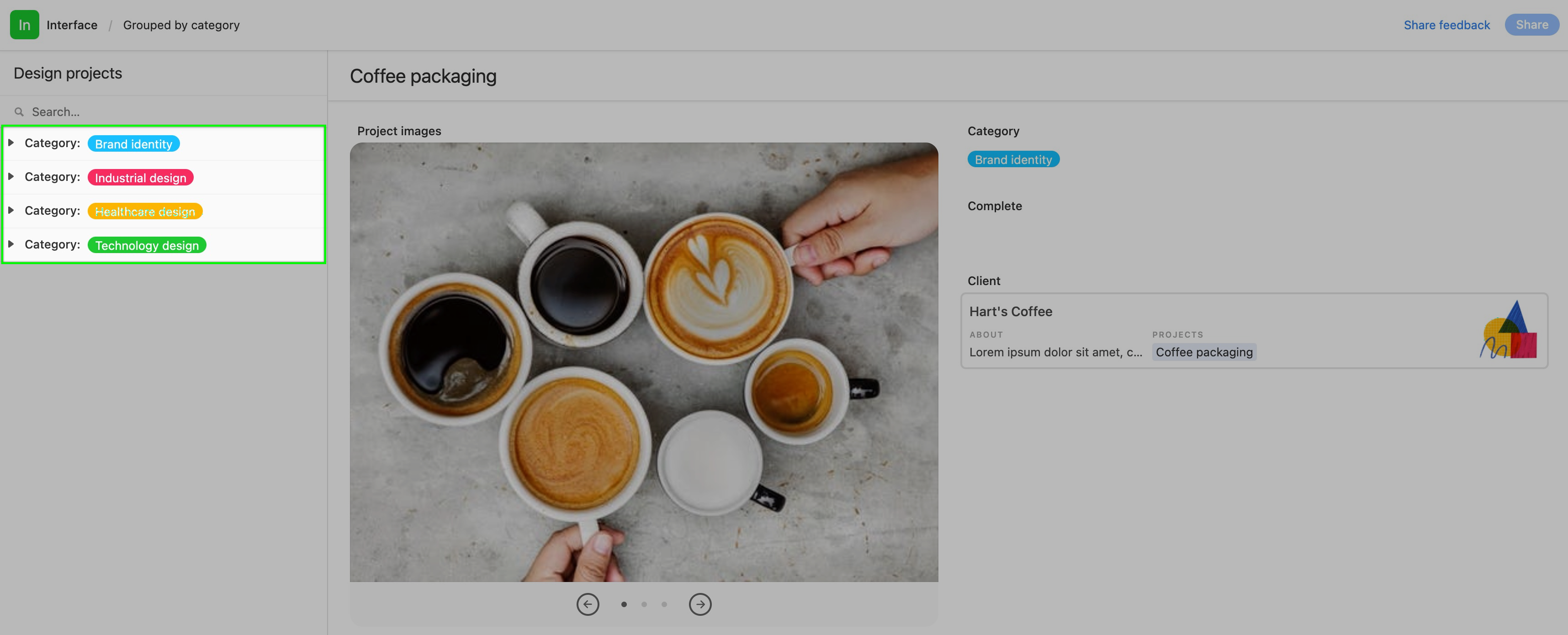 TIP
The only way to add the
Record List element
is by selecting the Record review layout when initially creating an interface.
Record summary layout
The Record summary layout provides an overview of key information based on the selected record. Record summary is best when you want to focus on one record at a time and don't need to make quick switches. For inspiration on using the Record summary layout, read this guide about building out a workflow to handle customer feedback.
Dashboard layout
The Dashboard layout is ideal for giving stakeholders and executives a high-level overview of key information to keep them in the loop. With this layout, you can let your collaborators filter data themselves, surface important numbers, and highlight metrics with charts and graphs. Click here to read how to create a product roadmap using the Dashboard Layout.
Blank layout
Choose the Blank layout to get a clean canvas if you want to start from scratch and see what you can build.
your title goes here
Each interface can only have one layout, and you can not change that layout after the interface has been created. You can always feel free to create a new interface if you'd like to try a new layout.
Connecting a layout to a table
Once you've selected the layout that is the best fit for what you are building, you will need to connect your layout to one of your base's tables. Note that if you selected the Blank layout, you will skip this step because you'll be adding your own elements.

Using the dropdown menu, you can select a table from your base to link to the layout you've chosen: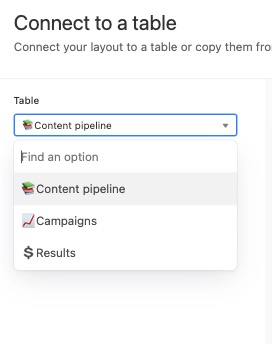 If you chose either the Record review or Record summary layouts, you could further configure your table's data by adding filtering conditions or sorting the information pulled from your table.
Interface Designer also allows you to copy over filtering conditions or sort rules straight from one of your views into your layout. Clicking the "Copy from View" button and choosing a view from your base will allow you to carry view configurations straight into your interface: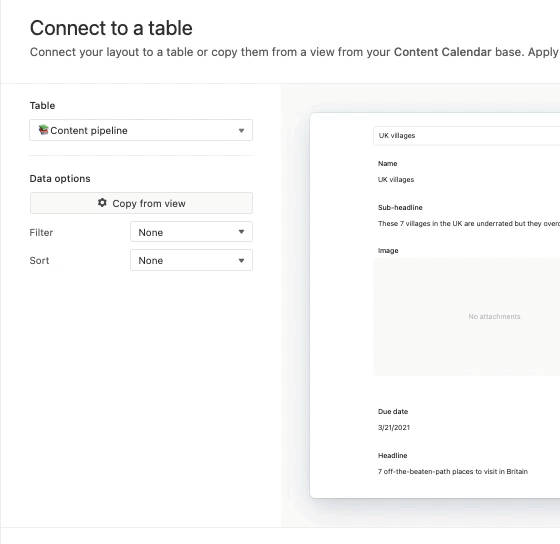 Once you are satisfied with your table configuration, click "Next" to choose the initial elements that will be included in your interface.
If you chose either the Record review or Record summary layouts, the next stage of setting up your layout will allow you to select which elements, correlating to your table's fields, that you'd like to add to your interface initially: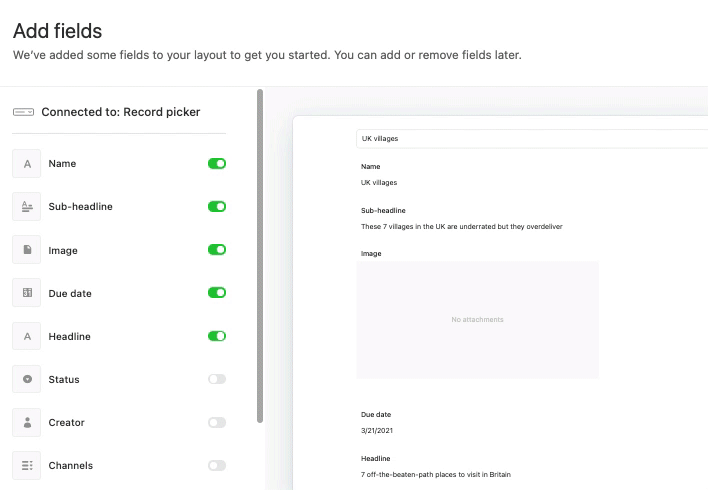 Each of these Field elements will be automatically connected to either the Record picker or Record list elements, depending on which layout you went with: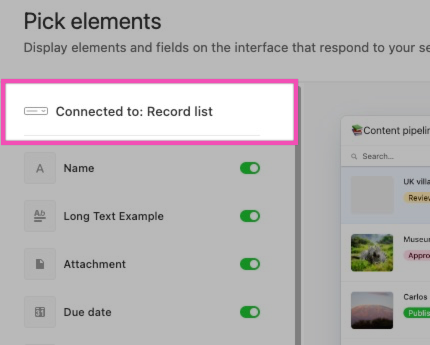 If you chose the Dashboard layout, you get to choose from a selection of elements focused on aggregating data. The Number and Chart elements are focused on taking in a table's information and showing trends about that data.
You can toggle elements on/off or further configure each element by clicking on the arrow to the right side of the element's name: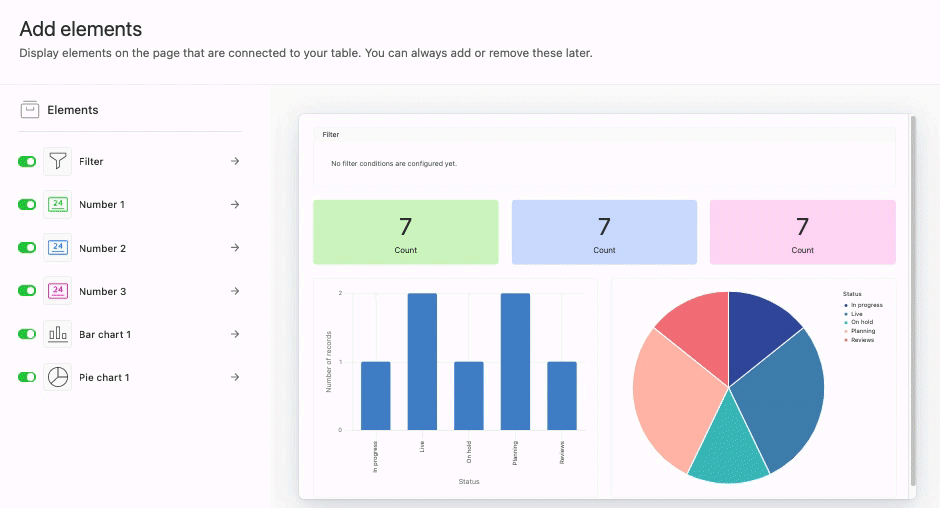 The Dashboard also includes an optional Filter element that will allow interface viewers to filter data themselves based on a condition you set. To learn more about Filter elements, see this support article.
Once you've chosen a layout and connected it to a table, you can add a name and description to your new individual interface for clarity and to let your collaborators know how to interact with it.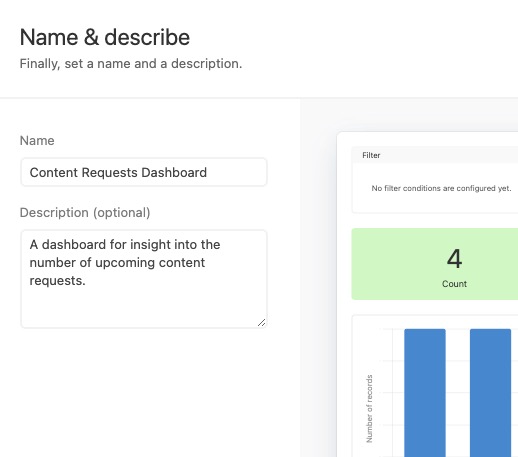 If you choose the Blank layout, you'll skip the step of naming your new interface, but you can choose to add a name and description for your interface at any time.
TIP
Though each layout is connected to a single table from your base, you can fully
customize
and
add new elements
to that interface after it's been created.
FAQs
Can I add multiple layouts to the same interface?
An interface can only have one layout, which is selected when the interface is initially created. You can always add new elements to your interface or create a new interface with another layout if you aren't happy with your finished result.
Can I recreate other layouts from scratch by using the Blank layout?
You can recreate the Dashboard and Record Summary layouts from scratch! However, the Record review layout is the only way to add a Record list element to your interface at this time—so you cannot recreate the Record review layout from scratch.
---
Was this article helpful?
---
What's Next