Deactivating and reactivating Enterprise users
01 Nov 2022

2 Minutes to read
Deactivating and reactivating Enterprise users
Updated on 01 Nov 2022

2 Minutes to read
---
Enterprise administrators can use the admin panel to deactivate (remove) or provision (reactivate) users. In this article, we'll walk admins through the ins and outs of the process.
Overview
There are multiple ways to manage users in the admin panel. Depending on the information admins are working off of, it may be easier to manage users from the Groups, Bases, or Workspaces pages rather than the Users page discussed here. In this article, we don't discuss how to manage users via our API, but that is possible as well.
your title goes here
There is also functionality within the Admin Panel that allows admins to invite new users to a workspace or base. Please visit this support article for more information.
Once a user has been added as a collaborator to a single base or workspace under your organization's Enterprise plan, that user can be fully managed from the Admin Panel.
Managing a single user
From the Admin Panel, an administrator is able to Deactivate or Provision (reactivate) a user via the "Menu" option on the right-hand side of the user list. When a user is deactivated, that will revoke their license and block their account from accessing Airtable. If the user is later reactivated, they will regain access to Airtable, including the workspaces and bases they formerly were part of. They will remain in the user list as a "Deactivated" user and can be "Provisioned" (reactivated) at any time by an admin.
your title goes here
There is currently no way to remove deactivated (previously active) users from the user list. We often find it's useful for teams to see who, at any time, had a license. However, you can filter deactivated users out of your results if needed.
In the GIF below, you'll see that we've searched for a particular user that is currently active. Clicking the ellipsis (three-dot) icon to the right of the user will open up a box of actions. First, we "Deactivate" the user, and then we "Provision" (reactivate) the user.

Managing multiple users
Sometimes admins need to perform bulk actions. This is also possible from the Users page in the Admin Panel. Admins can search, filter, sort, or scroll to find multiple users. As you are working through the various users needing to be activated or deactivated at the same time, simply click the checkbox next to each user's name.
This will allow you to begin building an ad-hoc group of users. To the top-right corner of the page, admins will see a blue "Actions" drop-down button appear. The current number of users selected will also appear.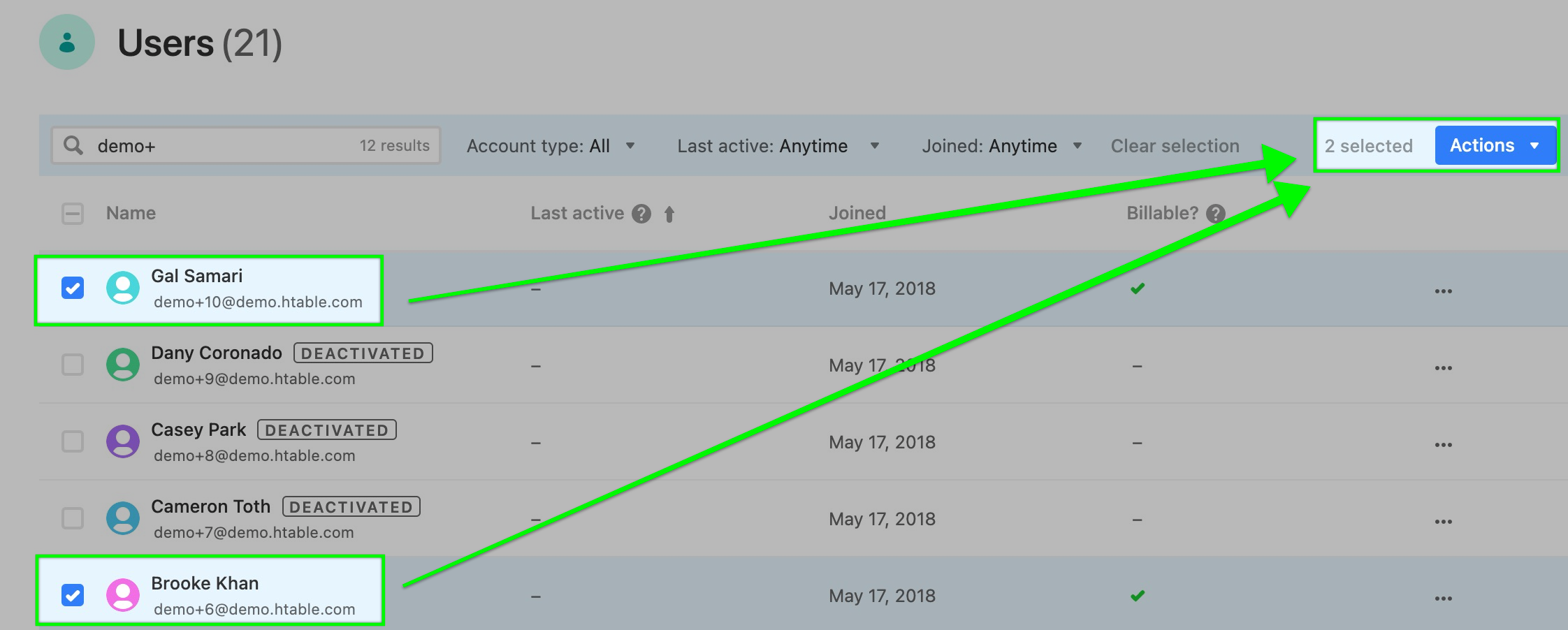 Once you've determined that all of the necessary users have been selected you can click the actions button and either provision (activate) or deactivate all of the users selected.

FAQs
As an admin, how do I remove a non-federated (external) user on an ELA Enterprise plan?
There are 2 ways to remove external users from ELA plans (e.g., \someone@gmail.com is a workspace or base collaborator and doesn't appear in the Users list in the admin panel):
Checking all of the workspaces and bases owned by users in your organization and manually removing the user(s). This process can be tedious depending upon the number of workspaces and bases that your organization has.
Programmatically checking and removing using the Enterprise API
How can I remove a user's admin privileges?
To remove an admin, check out this support article.
---
Was this article helpful?
---
What's Next