Managing and organizing extensions on a base
17 Oct 2023

1 Minute to read
Managing and organizing extensions on a base
Updated on 17 Oct 2023

1 Minute to read
---
Share feedback
Thanks for sharing your feedback!
Airtable extensions are available on all paid Airtable plans, letting you extend the functionality of your bases.
Viewing extensions
You can view your base's extensions in a split-screen view or a full-screen view. To switch between them, click the expand button in the top right corner of the extensions panel, or simply click to drag the dividing line left or right.
You can also expand an individual extension to fill the whole screen by mousing over it and clicking the expand button.
Rearranging extensions
To rearrange extensions, mouse over the extension you wish to move and click and drag using the drag handle in the top right corner. To resize an extension, click and drag from the bottom right corner.
Renaming, describing, sharing, and more
To rename, add/edit the description, share, adjust settings, manually reload, learn more about this type of extension, duplicate, move, disable or delete an extension; click on the dropdown arrow next to the name of the extension.
Creating and modifying dashboards
To add a new dashboard, navigate to the extensions dashboard you're currently on. On the left of the dashboard, you'll see the name of your current dashboard. Click the down arrow to the right of the name, and select "Add a dashboard."
To rename or delete a dashboard, click on the three dots near the "+ Add an extension" button. This will bring up a small window to make the desired adjustment.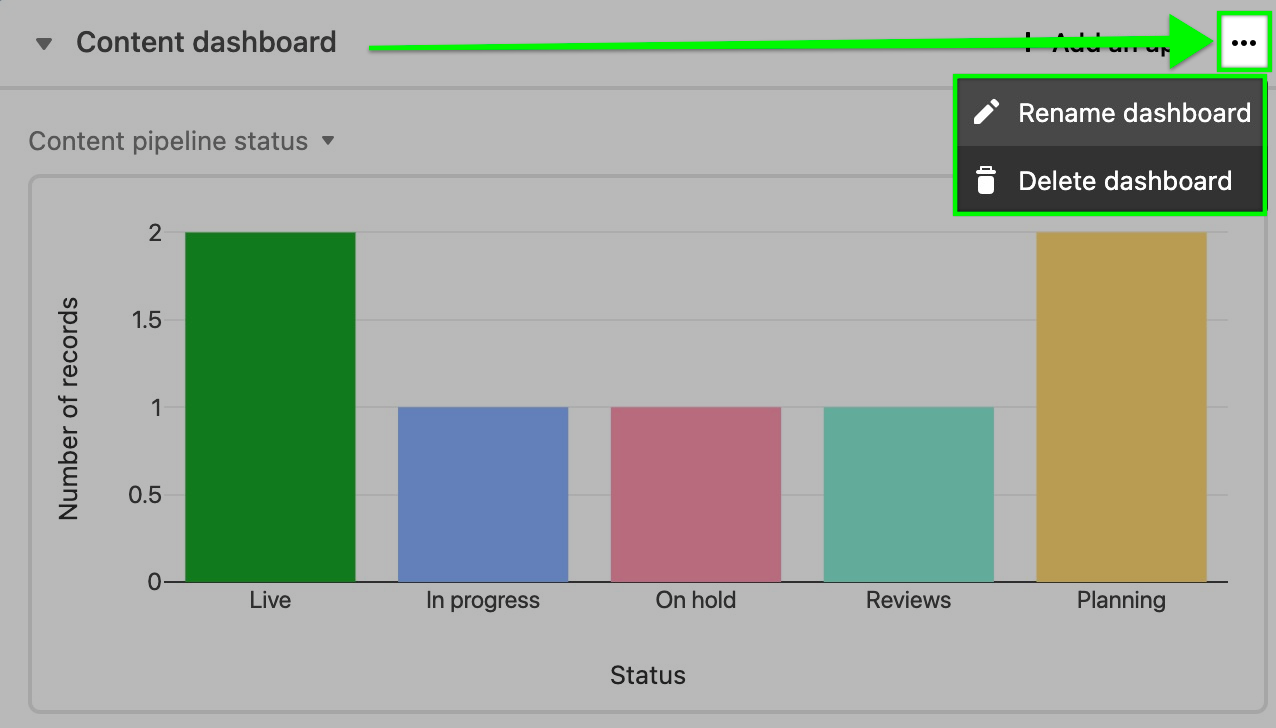 Managing all base extensions
The extensions management window allows base Owners and Creators to:
Disable or enable extensions (Bulk enabling extensions is also possible)
Add new extensions
Search for existing extensions
See the Extension name, Extension type, Dashboard location, Added by, Added on, and Status for each extension within the base
Rename an extension, edit an extension's description, learn more about an extension, duplicate an extension, move an extension to another dashboard, and delete an extension.
To see and manage all of the extensions in a base:
Click the drop-down in the top-left portion of the Extensions window.
This will reveal a Manage extensions button.
Clicking this button will open the extensions management window.
To bulk enable disabled extensions:
Click the checkbox next to whichever extensions you'd like to enable and then press the "Enable x extensions" button in the top-right portion of the screen.
Additional options can be found by clicking the "..." three-dot icon to the far right of each extension.
---
Was this article helpful?
---
What's Next