Video snippets extension
05 Jul 2022

1 Minute to read
Video snippets extension
Updated on 05 Jul 2022

1 Minute to read
---
The video snippets extension plays back all or some of the video you have in your attachment field for a record. As you select different records, the extension will automatically play the video between the start and end times you designate in the record.

The video snippets extension beta is available on pro and enterprise plans at this time.
Getting started
You can install the video snippets extension from the marketplace.
Once installed, you can select a table to begin. The table you choose must have an attachment field or a lookup of an attachment field.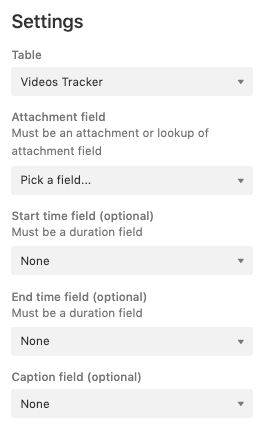 Once you choose a table, you can add an attachment field. The video in the attachment field must be the first item in that field.
You can also select fields for the following optional settings:
Start and end times: Choose duration fields for these values. You can set the field for start and end time, for start time only, or for end time only. The duration format should be h:mm:ss to be able to specify at which second the video snippet starts and ends. Note that Safari may ignore the start time.
Caption: Choose a field to display beneath the video as a caption.
Frequently asked questions
Why won't my video play?
Your browser/operating system may not support the video playback for that format.
Why doesn't my video snippet show up when I attempt to share it?
---
Was this article helpful?
---
What's Next