Advanced calendar features
06 Jul 2022

1 Minute to read
Advanced calendar features
Updated on 06 Jul 2022

1 Minute to read
---
Users on Pro plans have access to additional features. Included in these additional features is a set of advanced calendar features, designed so that teams with calendar-intensive workflows can get extra insights from their records and design extra-powerful calendars. For more specific guidance on how to implement these features, see the calendar guide.
Defining a date range
With the Pro plan, you can select two different date fields in order to define a range.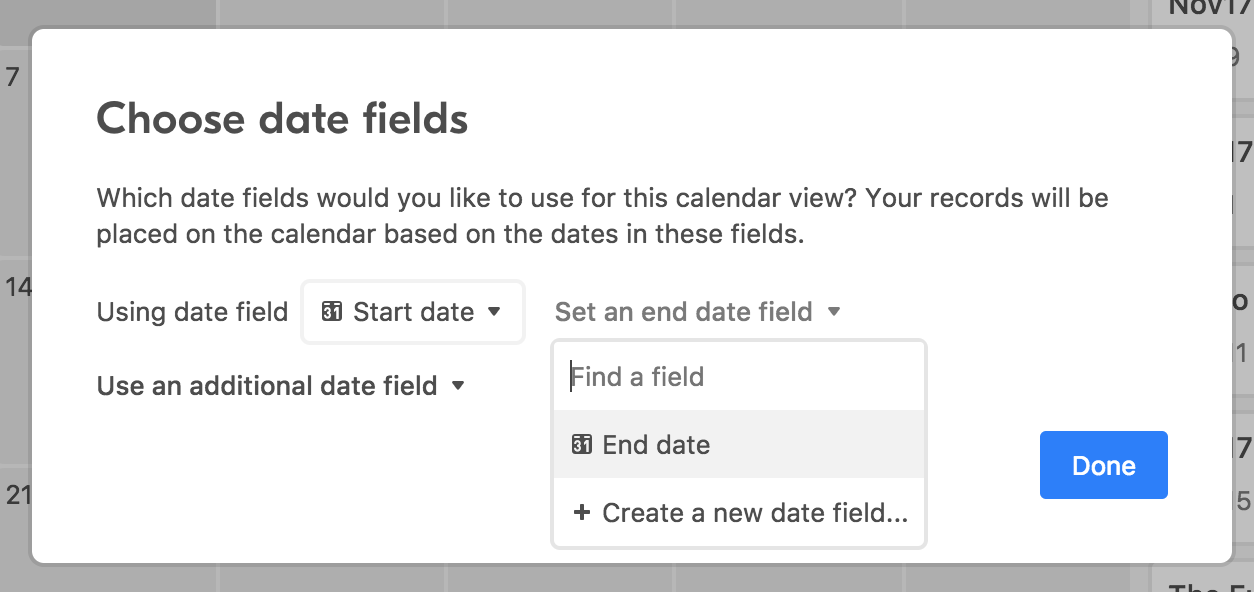 Records with values in both fields will show up on the calendar as ranges.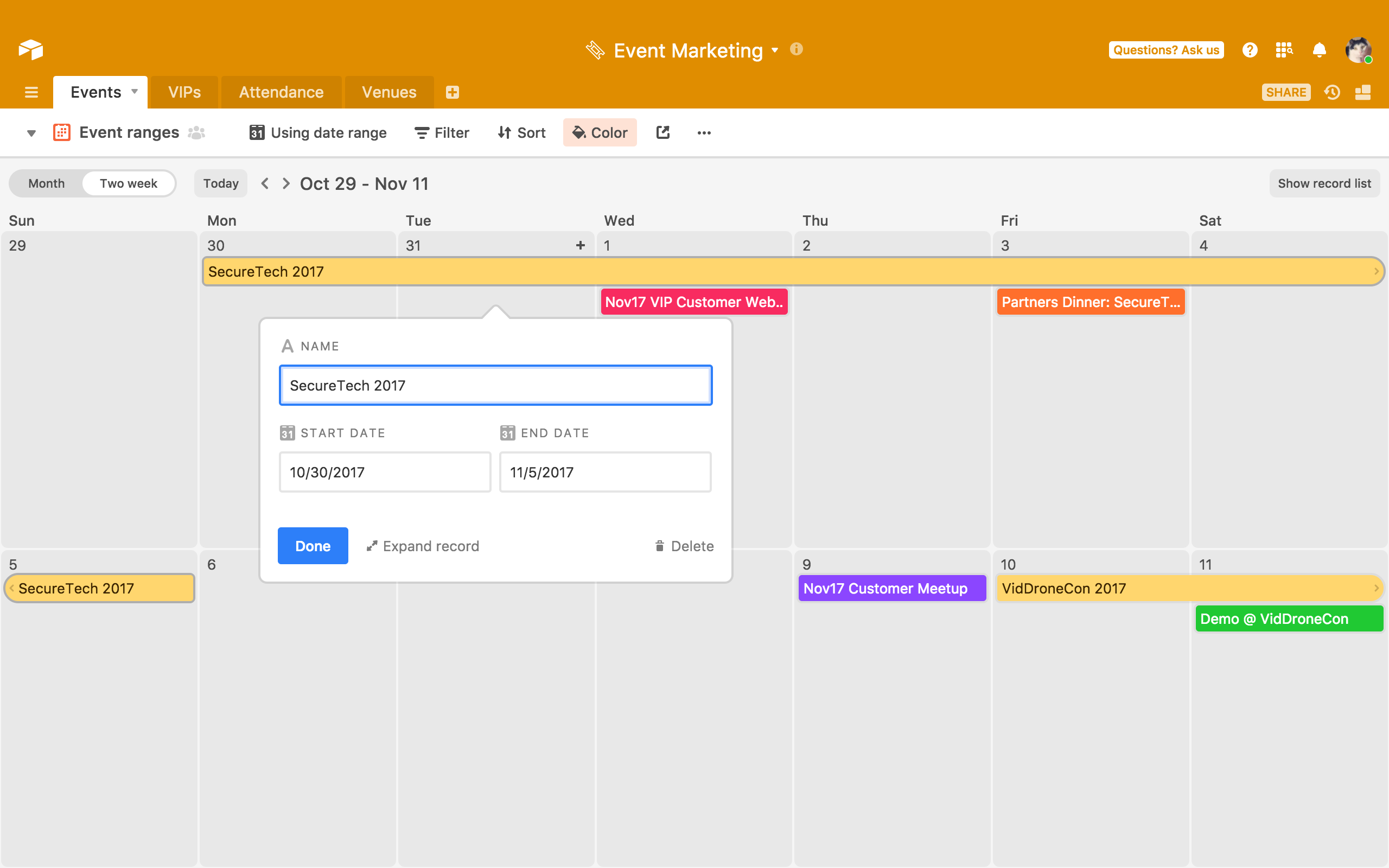 You can click and drag on ranges to move them around, or click and drag on the edges of the ranges to lengthen or shorten them as desired.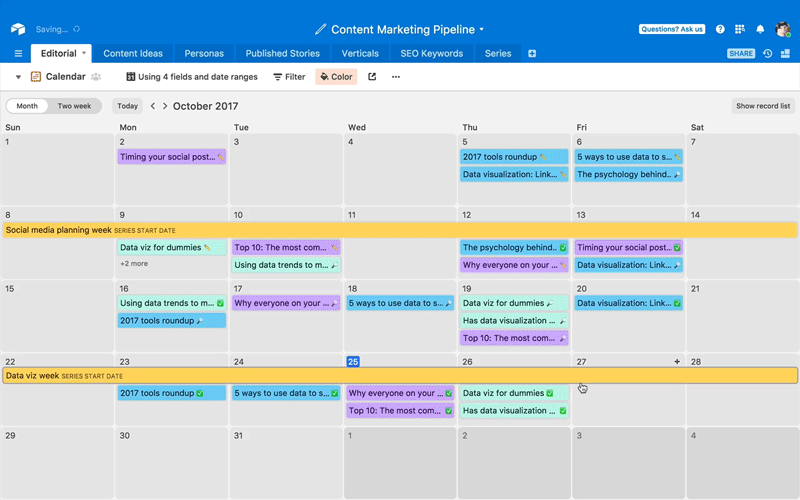 Plotting multiple calendars on a single view
With the Pro plan, if you have more than one date field in the same table, you can plot both of them on the same calendar view.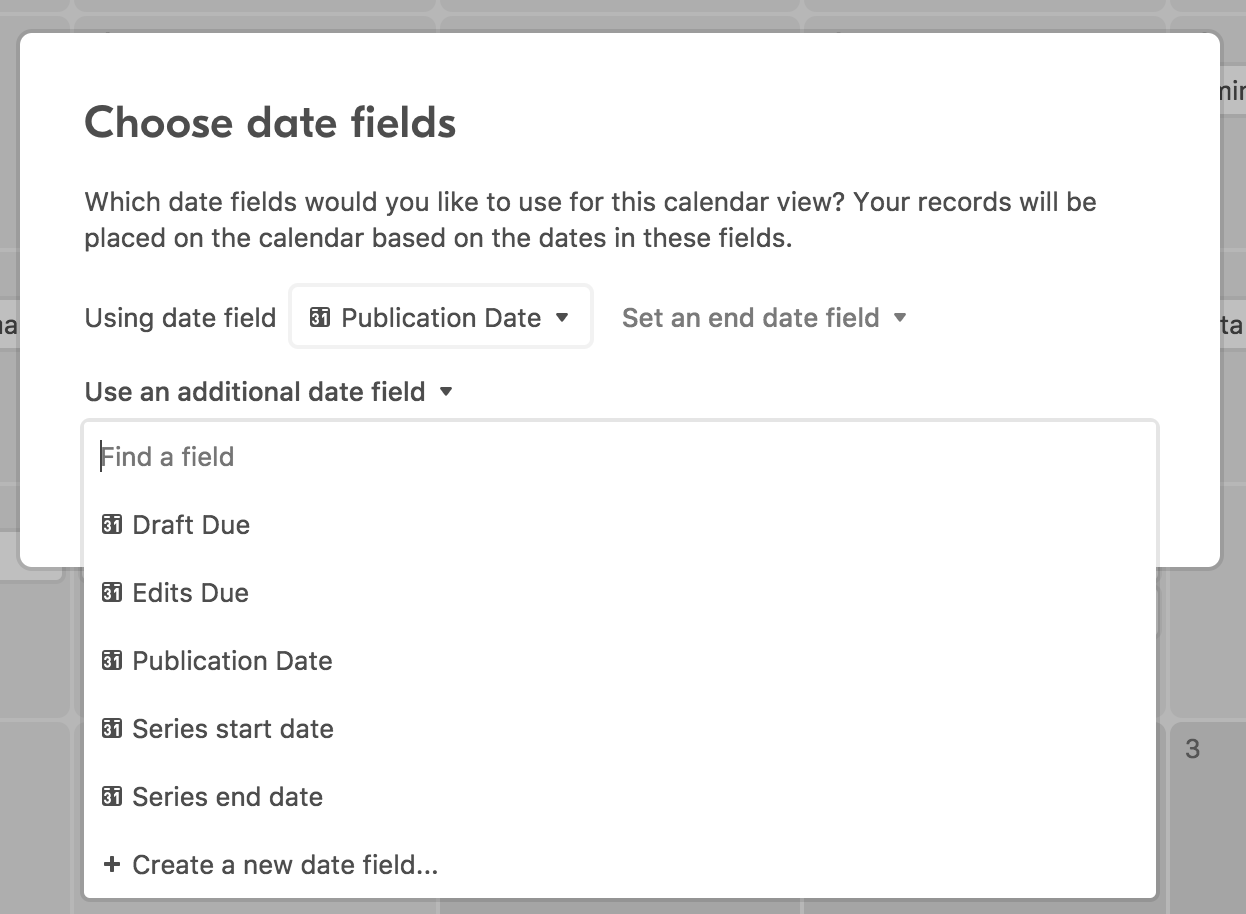 You can plot up to 20 date fields (or date ranges) onto a single calendar view.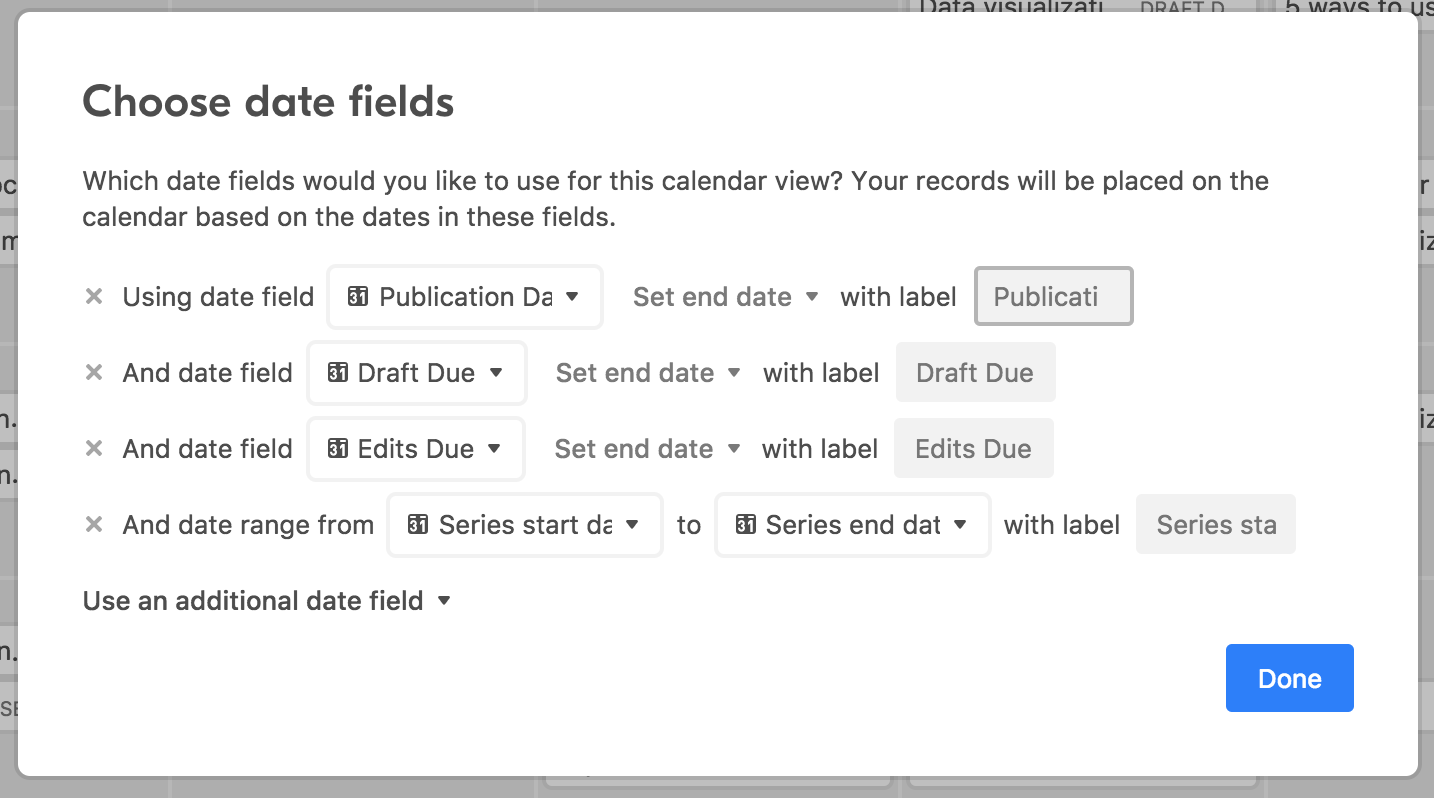 To more easily discern between your plotted fields and ranges, you can give each one its own helpful label.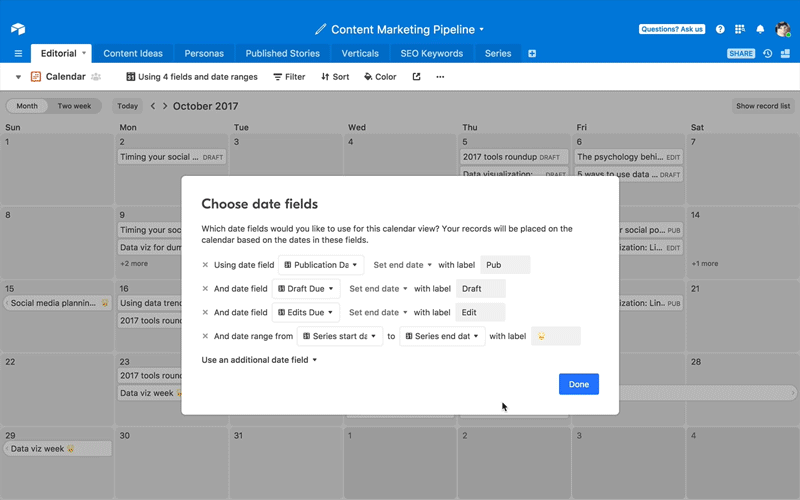 Calendar view record coloring
Record coloring is a Pro plan feature that allows you to apply colors to records within a view—meaning that you can quickly discern meaningful distinctions between records more easily, without having to dig into the details.
In calendar view, as with record coloring in other view types, you can apply color to records by matching the color of the record to the color of an associated single select field, or automatically color records using custom filtering conditions.
Calendar views also have a unique option for record coloring that is only available when you've plotted multiple date fields and/or date ranges on a single view: record coloring by date fields. Record coloring by date field lets you color the record cards in your calendar view based on the date field or date range used to create the card. This is particularly helpful if you want to be able to quickly distinguish which cards came from which date fields or ranges—for example, if you're tracking multiple types of deadlines on a single calendar.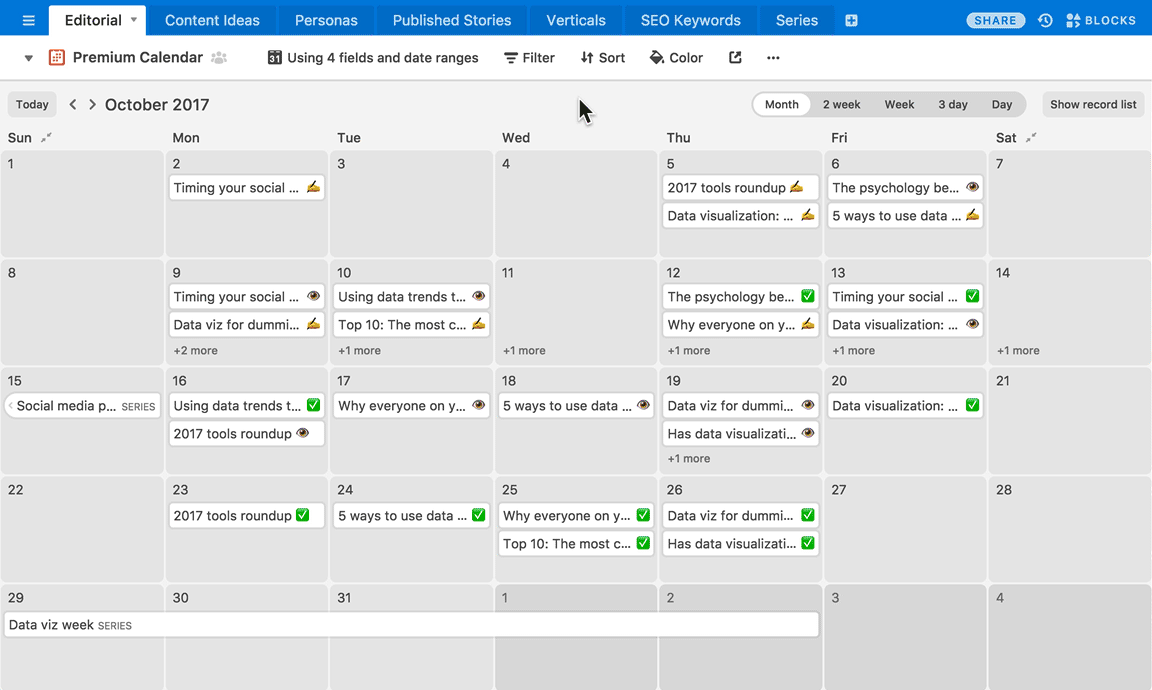 Record coloring applies color to the entire card as it appears on the calendar view. For more information on record coloring, please read through this guide.
---
Was this article helpful?
---
What's Next