Personal views
23 Aug 2023

6 Minutes to read
Personal views
Updated on 23 Aug 2023

6 Minutes to read
---
Share feedback
Thanks for sharing your feedback!
Personal views are a special view configuration type that allows collaborators with creator, editor, or commenter permissions to create views that can only be customized by the view's current owner. In other words, only the owner of a personal view can customize that view's filters, grouping, field visibility, field order, sorts, row heights, and record coloring.
Personal views are also hidden from other collaborators' view sidebars by default. This makes personal views the perfect tool to create tons of views to play around with visualizing a table's data—without worrying about affecting other collaborators' views or their view sidebar.
Introduction
| | |
| --- | --- |
| Plan availability | Paid plans only |
| Platform(s) | Web/Browser, Mac app, and Windows app |
| Try it in Airtable | |
Overview
Personal views really shine whenever you want to create a view relevant to a specific, personalized, workflow. For example, you could create a personal view with filters to only show the tasks you have been assigned to work on. By making the view personal, instead of collaborative, you can ensure that no other collaborators can accidentally alter your carefully crafted views.
If you're looking for a way to stop all collaborators from changing the configuration of a view that the entire team uses, you might want to lock the view instead.
Creating a personal view
Start by opening up the view menu and going down to the section labeled "Create...". If your view creation section is collapsed you will need to expand it by first clicking on the word "Create..." in the bottom left-hand portion of the view sidebar.
With the view creation section open, you can hover over each of the view type options for a brief explanation of that view type. Once you've picked a view type, clicking on that type will open up the menu to create your new view. You can now choose the view permission type and name your view. To create a new personal view select the "Personal" option before clicking "Create New View":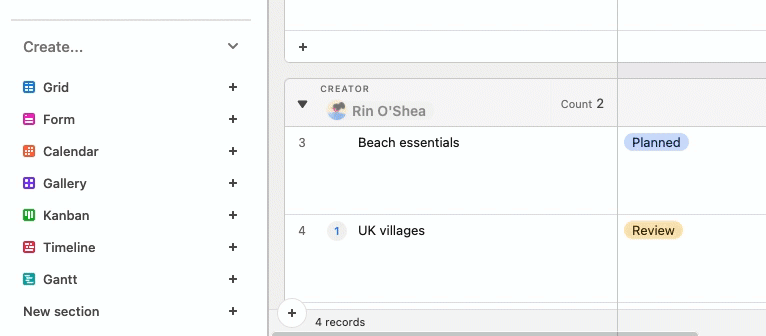 You can also change view permissions of an existing view at any time from the View settings menu if you'd like to turn a Collaborative or locked view into a personal view or vice versa:

Personal view creation shortcut from the "My Views" super section
The "My views" super section introduces a new shortcut to easily create new personal views on the fly: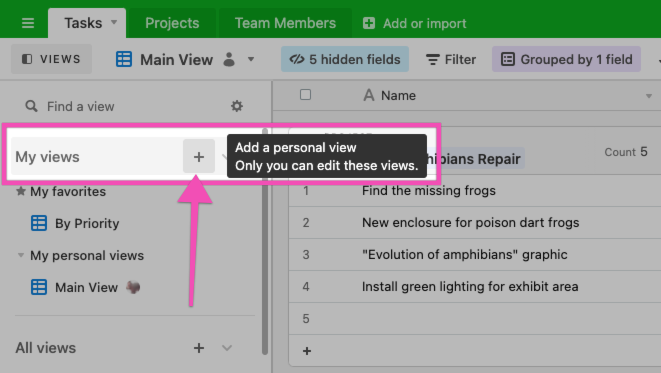 Clicking on the "+" button next to "My Views" will autofill the view's permission type as "Personal" and prefill the name of the new view as "[Your Name]'s Viewtype":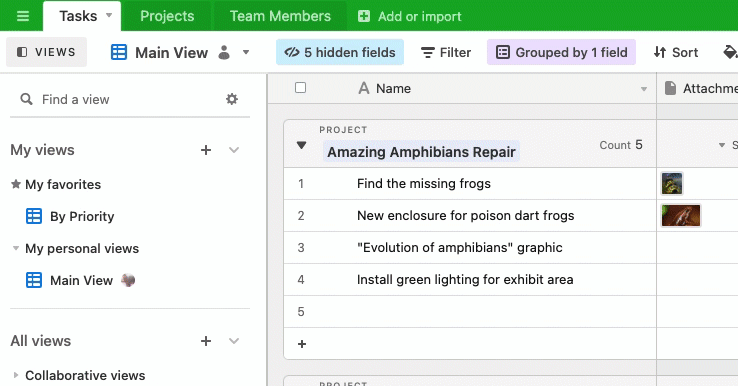 Newly created views in large bases are personal by default
When many collaborators work together within the same table, the number of views on that table starts to grow. Having many views in a table can make it hard to navigate and even harder to find which views are most relevant to you. As a best practice, we recommend using personal views so users can play around with data in ways that are specific to their needs.
To that end, personal views are now the default permission type for large bases (defined as bases with over 20 views, and where there are more than three different collaborators creating views).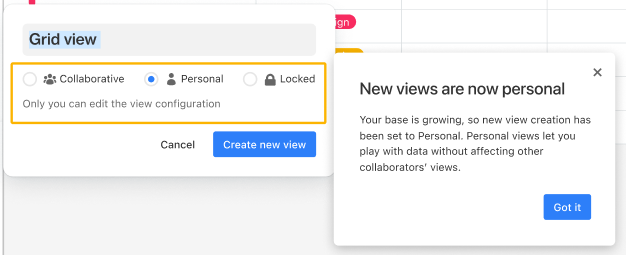 If you'd like to choose another permission type when creating a new view, you can easily change the settings by selecting any of the other view permission type options before clicking "Create new view":

Viewing personal views
By default, when you open up the view menu you will only see collaborative views, locked views, and your own personal views (which are marked with your user's profile avatar after the view's name).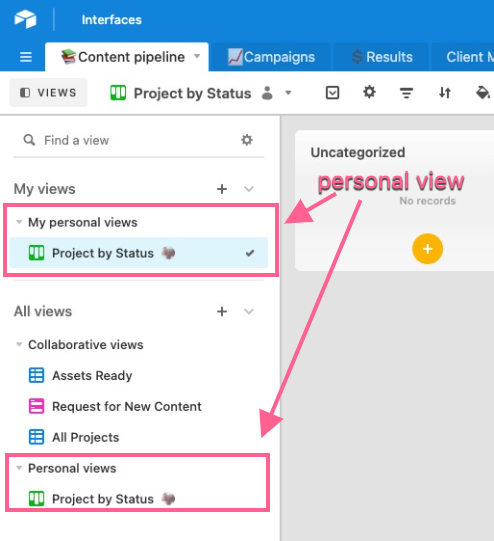 Clicking on the gear in the view sidebar, next to the "Find a view" text, will reveal a dropdown with a toggle to "Show everyone's personal views". Toggling the "Show everyone's personal views" option will reveal the personal views of other users. Each personal view's owner will be indicated by the owner's avatar next to the views they own.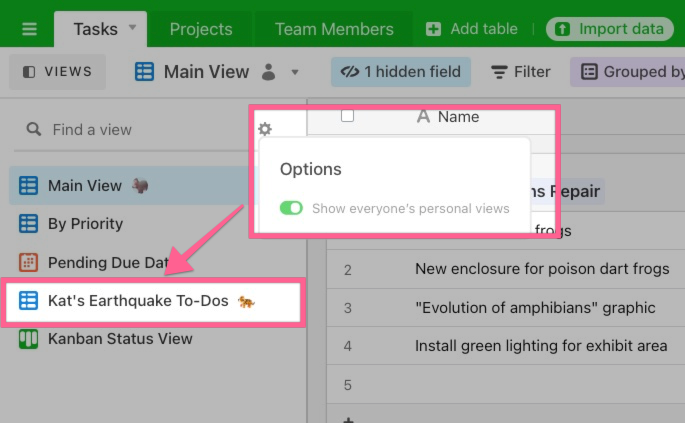 Hovering over a personal view will reveal both the name of the person that personal view was created by, as well as the current owner: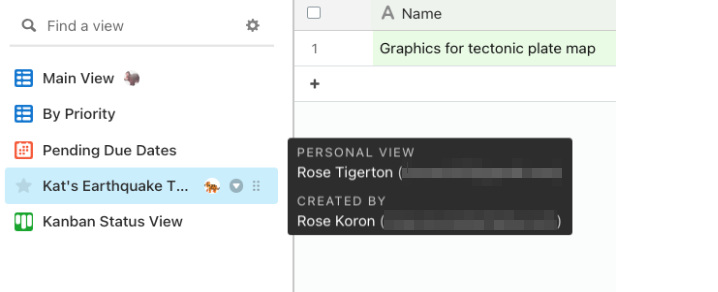 If you select another person's personal view, you will be able to see that view, but not configure or edit it in any way.

However, you can duplicate another person's view to use their view configuration for a new collaborative view, or for a personal view of your own:

Reassigning a Personal View
Those with creator or owner permissions on a base or workspace can reassign personal views from any base collaborator to any other base collaborator(including themselves!). The ability to reassign a personal view to others allows you to not only set up your personal views for yourself, but you can set up personal views for other collaborators in your base.
To reassign a personal view you own, open up the view menu for that view by clicking on, or next to, the name of the view you'd like to reassign. In the dropdown menu you will see the option to "Reassign to someone else":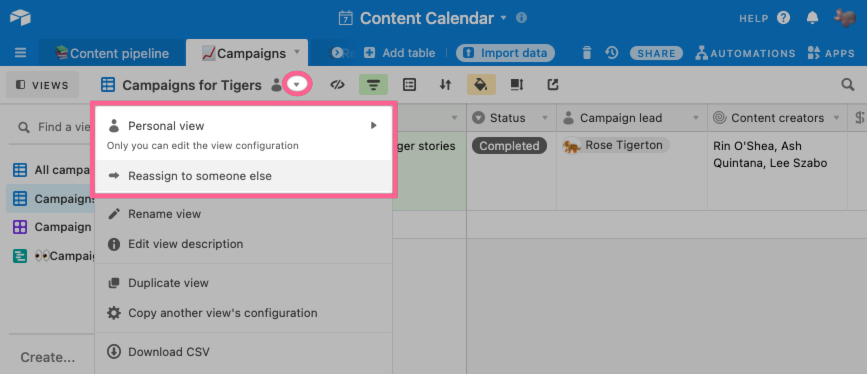 Clicking on the "Reassign to someone else" option will open up a modal where you can view a personal view's current owner, and choose which collaborator to assign as the new owner for this personal view. Once you've picked the new owner, click on the "Confirm reassign view" button.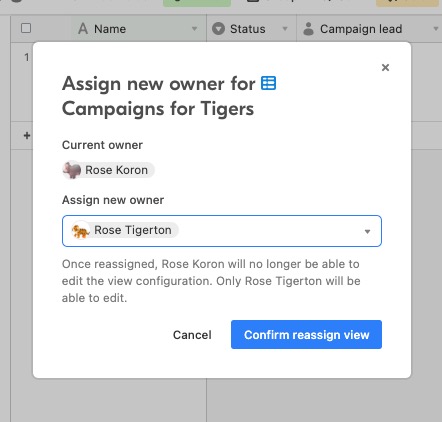 As noted in the screenshot above, once you've reassigned a personal view to another collaborator you will be unable to edit that view's configuration options.
If you are not the current owner of a personal view, you can still reassign that view! As you can see in the below screenshot, the ability to alter the view's configuration will be greyed out if you aren't the view's current owner, but that personal view can still be reassigned:

FAQs
What happens to the "original" collaborative view if I choose to change it into a personal view?
If you choose to switch a non-personal view to a personal view, then it is worth pointing out that the "original" view will not remain after converting to a personal view. As a best practice tip, duplicate any views you wish to keep before converting them to a personal view.
Can I have a table with a single personal view?
You cannot make the only view in a table into a personal view. For every table, there must always be at least one collaborative grid view accessible to everyone in the workspace.
What happens when you duplicate a base containing personal views?
When you duplicate a base with personal views, those personal views will remain, even if the collaborator that created those views is no longer on the base.
What happens to the personal views of a collaborator who is removed from a base or workspace?
Personal views for removed collaborators will remain on the base, even after that collaborator is removed. You could choose to either reassign that personal view to another collaborator, or if you are an owner, or creator, on a base's workspace you could choose to remove that view.
Can you remove a personal view created by a collaborator who has been removed from that base?
Any owner, or creator, on a base's workspace can delete a personal view created by a collaborator, removed or otherwise.
If my base is not on a paid plan, will the default view type change in large bases?
Personal views are a premium feature available for bases within workspaces on paid Airtable plans only. So regardless of your base's size, if your workspace is not on a current paid plan, you will not have access to premium or locked views unless your workspace plan is upgraded.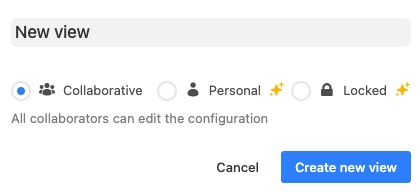 Will newly created views still default to personal views if I downgrade my workspace's plan from a paid plan (Team/Business/Enterprise Scale) to Free?
Personal views are a premium feature only available for bases within workspaces on paid Airtable plans. So if you downgrade your workspace's plan, you will lose the ability to create new personal views, and new view creation will default to collaborative views.
---
Was this article helpful?
---
What's Next