Adding and customizing the Timeline view
25 Aug 2022

4 Minutes to read
Adding and customizing the Timeline view
Updated on 25 Aug 2022

4 Minutes to read
---
This article will cover how to add and customize a new Timeline view. To learn more about using the Timeline view and how it differs from the Gantt view, we recommend reading this overview.
Prerequisites
The Timeline view is a premium feature available on bases within workspaces on either the Pro or Enterprise plans. Before starting this article, it's best to have familiarity with the basic concept of a view and know how to create new views.
Adding a new Timeline view
Click here to see a video walkthrough of setting up the Timeline view!
To add a new Timeline view, open the View side panel by clicking on the button near the top-left hand corner of your table. Then select "Timeline" from the list of available view types: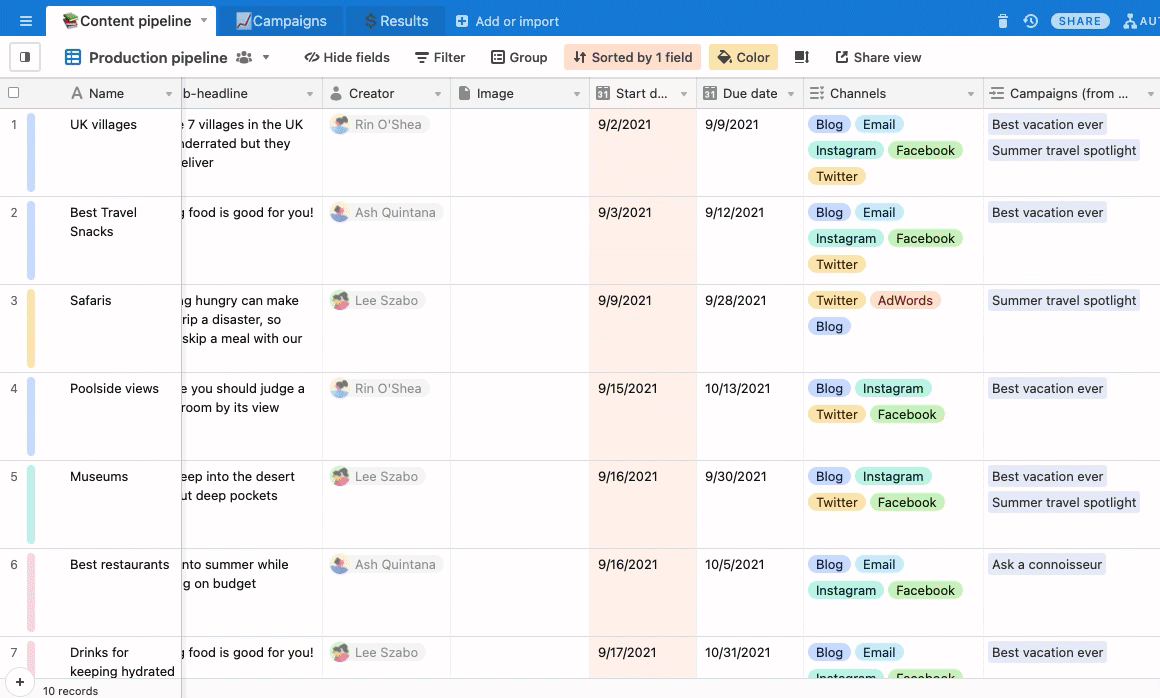 You will then set up some initial configurations for your new Timeline view:
Start date field: select a date field to use as the start date for your timeline records
End date field (optional): you can optionally choose a field to use as the end date for your timeline records
Group records: One of the biggest game-changers about the Timeline view is that you now have the option to group your records into visually distinct rows, called swimlanes. Learn more about grouping records into swimlanes here.
Customize labels: Choose which fields you want to see on each record in the timeline and how those labels will appear. Learn more about labeling records here.
Below, we created a Timeline view to track which pieces of content each team member is working on. Take special note of how the record grouping visually organizes all of the records on the timeline.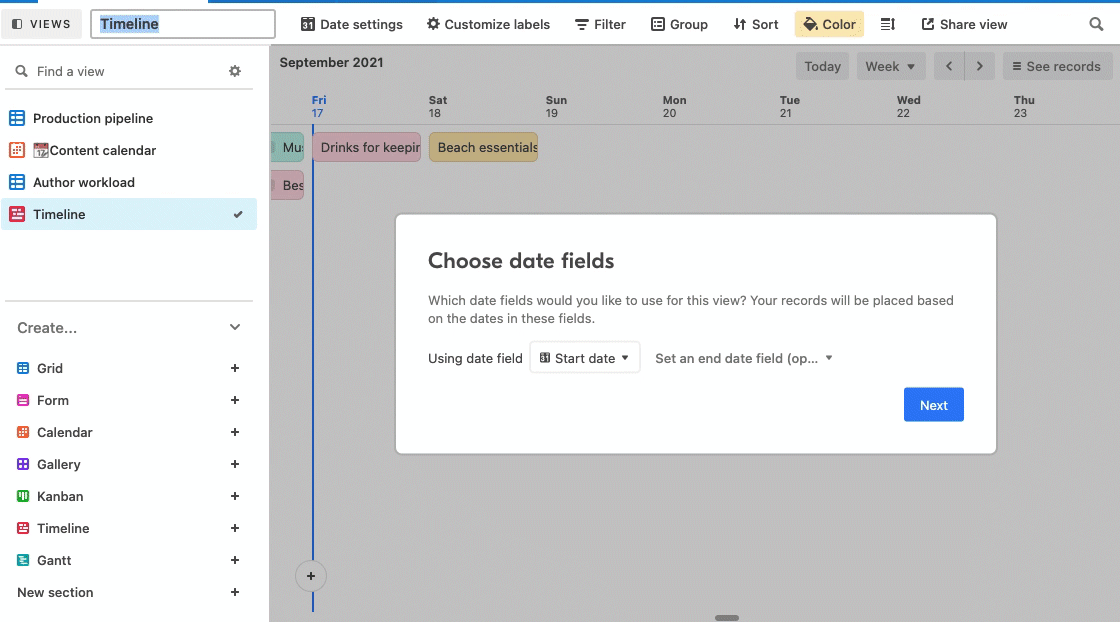 Note that you can adjust all of these initial configuration steps at any time within the customization settings for that Timeline view.
Configuring the Timeline view
Next, we'll cover how to configure your new Timeline view. If you'd like more information on configuring the appearance of your records, please see our support article on customizing records in the Timeline view.
Date Settings
Within the Timeline view, clicking on the "Date settings" button in the top menu bar will reveal a menu where you can adjust which date fields your Timeline view uses and choose which dates appear on your timeline.

You can replace the Timeline view's start or end date fields by using the dropdown menus. The Timeline view requires a start date, but you can optionally choose to remove the end date from a Timeline view by selecting the "Don't use an end date field" option:

For more information on how the Timeline view processes certain types of valid dates, see below.
Timestamps
The Timeline view does not currently account for any timestamps associated with the date fields. If the date fields you're using both have timestamps, the start and end date fields must be set to the same timezone.
Computed fields
Instead of using date fields, you can also use computed fields that output date values. However, if you use computed fields, you will not be able to manually adjust the start or end dates for your records by dragging the records on your timeline.
End dates
In the Timeline view, end dates are inclusive. For example, suppose your start date for a record is January 1, and your end date is January 3. In that case, the record will appear three days long (spanning from the beginning of January 1 to the end of January 3).
You can also adjust which days are shown on your timeline by toggling the "Date visibility" options in this menu.

By default, the timeline shows all calendar days; however, you can limit your Timeline view to only show weekdays by selecting the "Only workdays (Mon-Fri)" option. Selecting "Only workdays" will remove Saturdays and Sundays from your timeline. The "Only workdays" option additionally allows you to enter a list of "Holidays" to exclude from your timeline.
You can manually enter dates comma-separated in the YYYY/MM/DD format or use the date picker: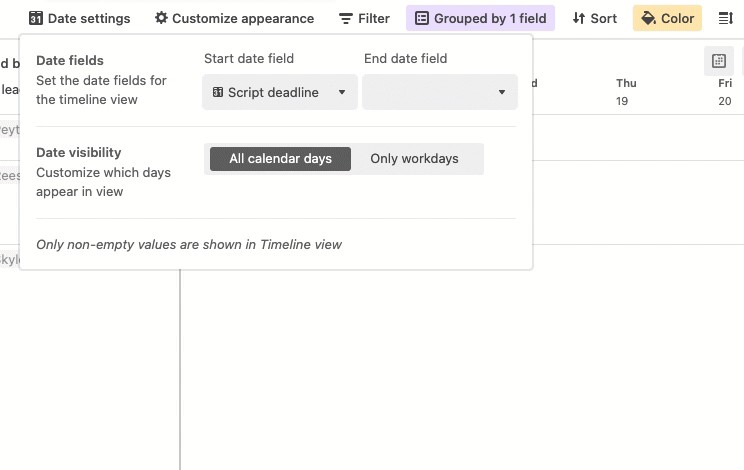 TIP
Any date you enter into the "Holidays" input will be removed from your Timeline view.
Changing the displayed timescale
You can change the date range on the horizontal axis of your timeline by clicking on the "Change timescale" drop-down menu in the top-right of the Timeline view. You can choose from the following date range options for your timeline: a week, two weeks, a month, a quarter, a year, or five years.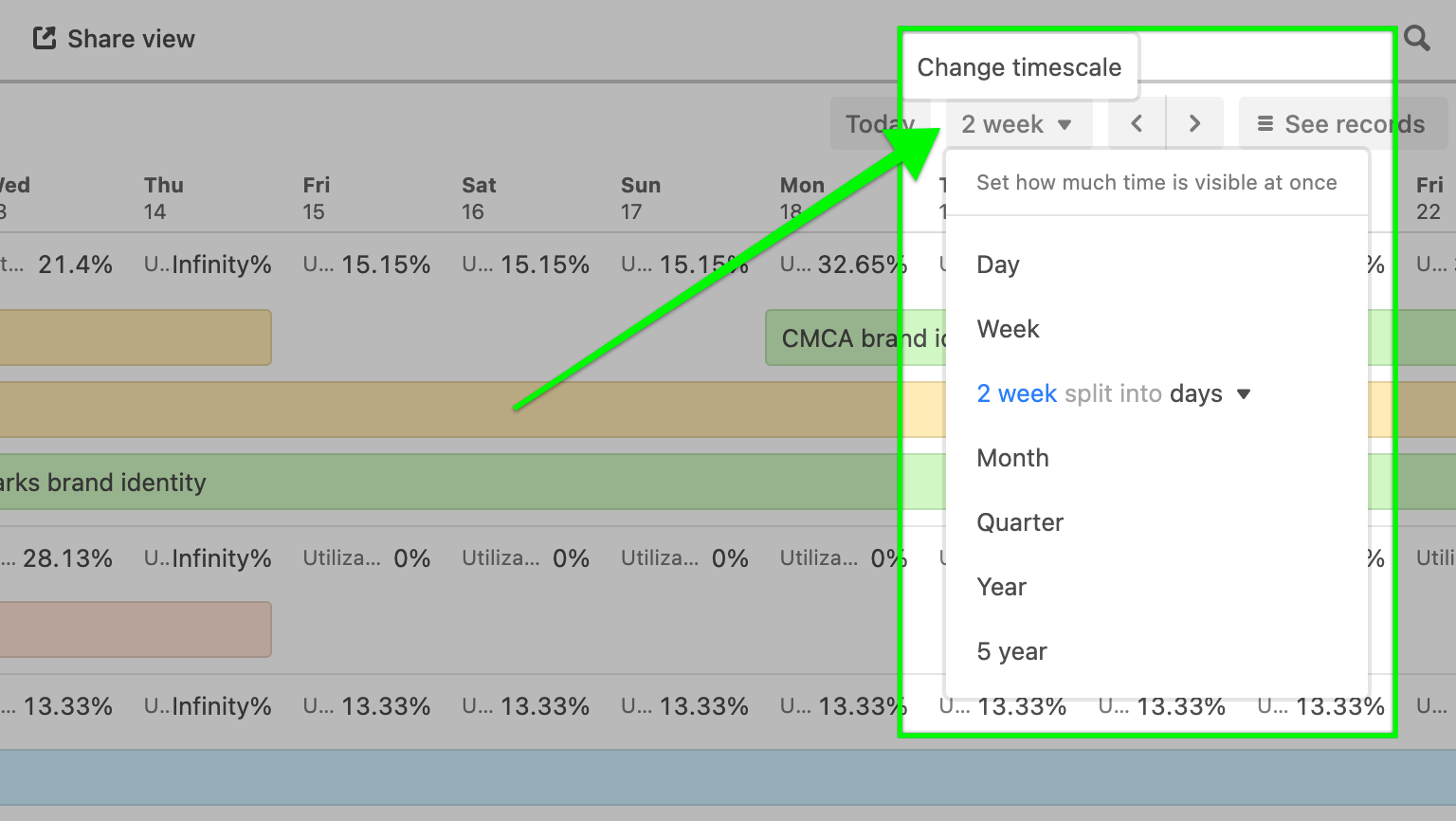 Additionally, you can create more granular splits in the given timescale. The "Day" and "Week" settings do not include further options to split. However, the following options do allow time split choices:
2 week - Days or Weeks
Month - Days, Weeks, or 2 weeks
Quarter - Weeks, 2 weeks, or Months
Year - 2 weeks, Months, Quarters, or 6 months
5 year - Quarters, 6 months, or Years
You can use the two arrow buttons in the top-right corner to navigate your timeline quickly by the currently selected timescale.

The button labeled "Today" will take you back to today's date, which is indicated on your timeline with a blue horizontal line.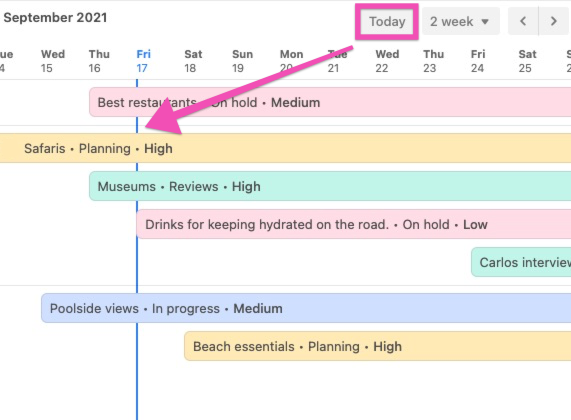 FAQs
Can I use the same date field for both the start and end dates for my Timeline view?
No, you must choose different date fields for the start and end dates for your timeline.
Can I print out or export my Timeline view?
We do not currently support printing or exporting the Timeline view at this time.
Learn more about the Timeline view
---
Was this article helpful?
---
What's Next