Configuring SSO in the Admin Panel
27 Feb 2023

3 Minutes to read
Configuring SSO in the Admin Panel
Updated on 27 Feb 2023

3 Minutes to read
---
The Admin Panel is a centralized tool to help Airtable admins manage their organization's Enterprise account. Learn how to set up SSO logins for your organization.
Introduction
Plan availability
Enterprise plans only
Permissions

Enterprise admins

Platform(s)
Web/Browser, Mac app, and Windows app
Related reading
Airtable terminology
Admin Panel-

A centralized set of tools to help admins manage their organization's Enterprise account. It's a designated surface that includes ways for admins to view and manage users, groups, reports, bases, and more. It is not visible or available to non-admins.



Setting up SSO in Admin Panel
Note
As a prerequisite, you'll want to retrieve the SSO metadata (sign-in URL and x.509 certificate) from your SSO identity provider.
Step 1: Navigate to the Admin Panel SSO tab
After retrieving your organization's third-party SSO metadata, navigate to the Admin Panel and click on the Settings page in the navigation sidebar on the left. Next, click the Security & Authentication tab.


Step 2: Add a new SSO identity provider
Under the SSO configuration section, you will see an option to + Add SSO identity provider. Clicking this will open up a configuration window.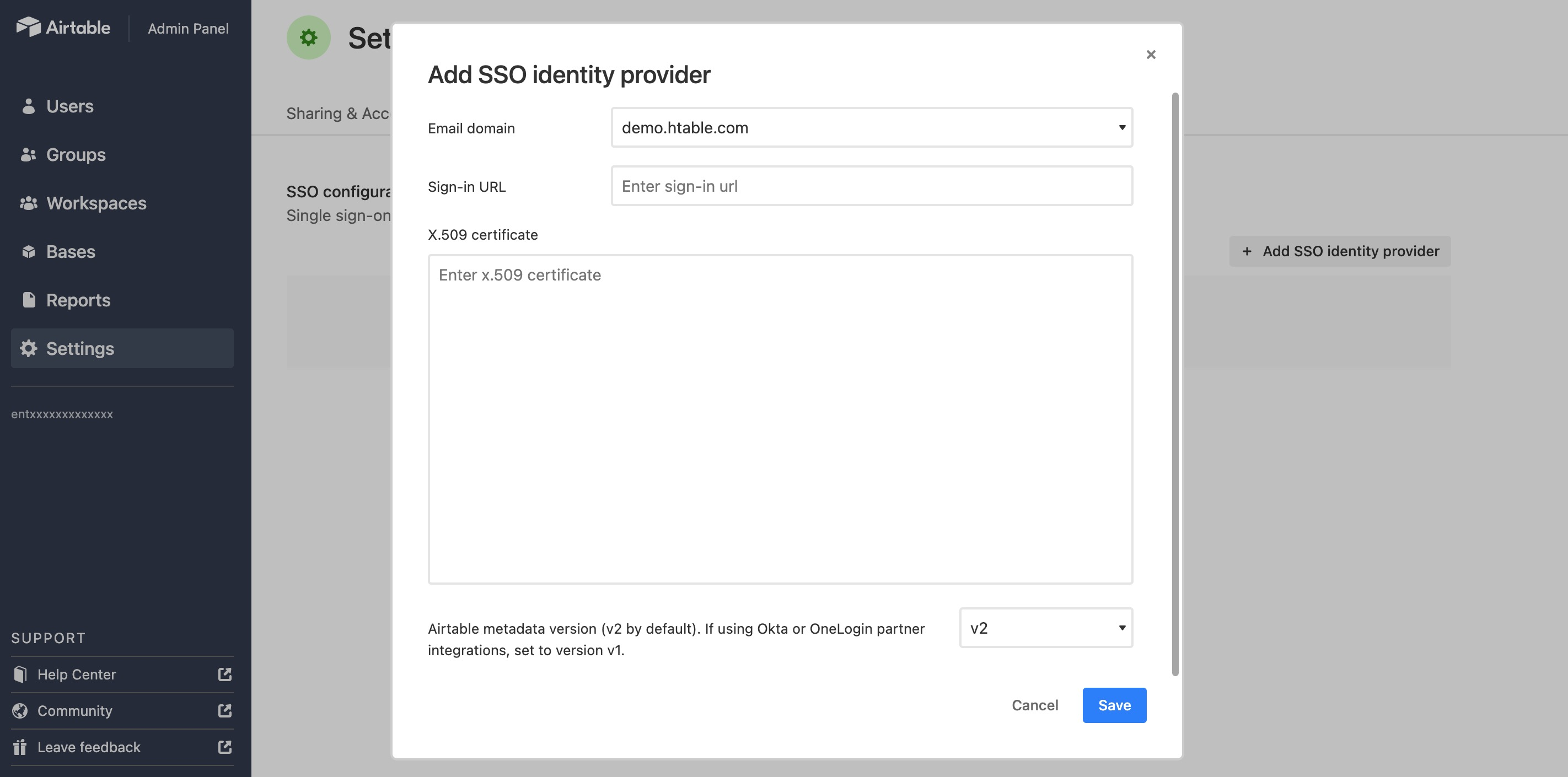 First, choose which domain this SSO configuration will map to. Clicking the down carrot will show all of the domains associated with your Enterprise account.
Note
If you are expecting to see other domains listed, then you will need to reach out to your Airtable accounts representative to make any necessary changes.
Step 3: Insert IdP information
Remember the prerequisite step at the beginning of the article? The next two steps will use that SSO metadata. First, you'll enter the sign-in URL of the third-party IdP. Then, you'll need to paste in the x.509 certificate: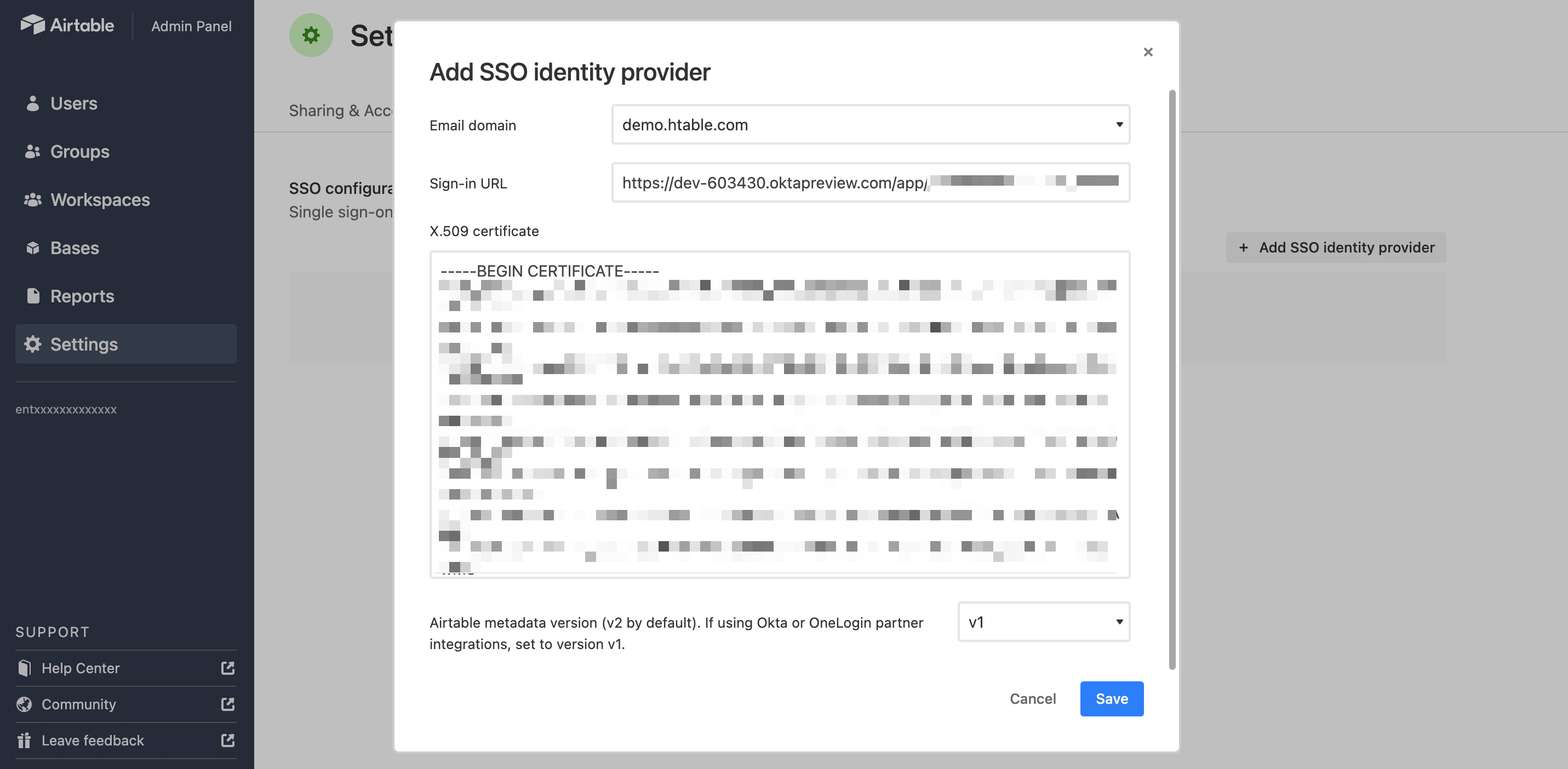 Step 4: Choose the metadata version
The last configuration step is to determine which IdP provider you are integrating with Airtable. Okta and OneLogin configurations will need to be switched to V1 option in the dropdown. Other partner integrations will use the default V2 option.
Step 5: Save and next steps
All that's left to do now is click Save. This will open a pop up asking you if you are sure about the changes. Click Save again to allow the SSO login configuration to occur. Changes may take a few minutes to show up.
After clicking save, the Settings page will reload. To log out all users associated with the configured domain and enforce SSO, please navigate back to the SSO & Authentication tab and toggle the switch under SSO optional/required. Before requiring SSO for your own email domain, you must first log out and back in with SSO to verify that the metadata you've provided is correct.

From here you can also click Edit metadata if future changes are necessary or if you want to delete the configuration.
SSO dependencies
The NameID must be the user's email address
The NameID format can be EmailAddress or unspecified
After editing your identity provider metadata, the changes may take up to 5 minutes to take effect.
You can only add identity provider metadata for email domains federated under your Enterprise account.
We only allow one set of identity provider metadata per email domain, globally. This means that if another enterprise account has already provided identity provider metadata for one of your email domains, you will need to talk to the admins of that account if you want to change the metadata.
If you are trying to switch SSO from Optional mode to Required mode for your own email domain after editing the SSO identity provider metadata, we require that you verify that the metadata values you've provided are correct, by first logging out and logging back in using SSO.
FAQs
Can I hold off on adding users to my Enterprise account until SSO has been enabled, or bulk deactivate?
We support programmatic disabling/re-activating users via SCIM for Okta (and only Okta). For additional details and setup instructions, please read our support article.
If SSO is enabled on an existing domain, how do I update it to a new domain?
NOTE
Keep in mind that admins may need to change the user's email in the IdP before the user can log in through the tile.
Update user email addresses in the Admin Panel using these instructions and then have them sign into Airtable using their IdPs. After signing in, users should see their updated workspaces/bases and email addresses on the home screen.
If Okta creates a duplicate account while attempting to update a domain, what do I do?
---
Was this article helpful?
---
What's Next