Users - Airtable Enterprise Admin Panel
23 Aug 2023

7 Minutes to read
Users - Airtable Enterprise Admin Panel
Updated on 23 Aug 2023

7 Minutes to read
---
Share feedback
Thanks for sharing your feedback!
The "Users" page of the admin panel lets Airtable admins manage and view information about Airtable usage focusing on users within their organization.
| | |
| --- | --- |
| Plan availability | Business and Enterprise Scale only |
| Platform(s) | Web/Browser, Mac app, and Windows app |
| Related reading | |
| Airtable terminology | Admin panel - A centralized set of tools to help admins manage their organization's Enterprise account. It's a designated surface that includes ways for admins to view and manage users, groups, reports, bases, and more. It is not visible or available to non-admins. |
Users overview
The "Users" page allows admins to view:
The total number of active users associated with the organization's Enterprise plan including external users
A breakdown of users by license type 1
Pending user invites
A list of all of the users in their organization
The name and email address of each user
Additional user details in a separate window
Identify the user as Internal/Provisioned (no tag displayed), External, Admin, or Deactivated
The last date of activity for a particular user 2
When the user joined
The seat type for each user 3
A cost center column for accounting purposes
The share link access level of a user 4
The "Users" page allows admins to take the following actions:
Invite new users
Search, sort, and filter results in various ways
Download a CSV of the list of users being displayed
Edit the email of a user
Sign the user out of all sessions they are currently logged in to
Revoke a user's admin access 5
Deactivate a user 6
1 This header will not be shown for organizations that have not renewed their Airtable contract as of November 2021.
2 Last activity is updated when a user takes a qualifying action in a workspace owned by the enterprise.
3 Organizations who have not yet signed a new billing contract with us will only be able to see whether the user is billable or not.
4 This column will not be shown for organizations that have not renewed their Airtable contract as of November 2021.
5 An admin cannot revoke their own admin permissions.
6 An admin cannot deactivate their own user account.
Invite users
Admins can quickly invite new and existing users to specific bases or workspaces by clicking the "Invite users" button located at the top right side of the Users page.

Clicking this button will open up a collaborator invite pop-over where admins can type a single email address or copy/paste several email addresses. Note that there is a limit of 1000 email addresses that can be invited at one time.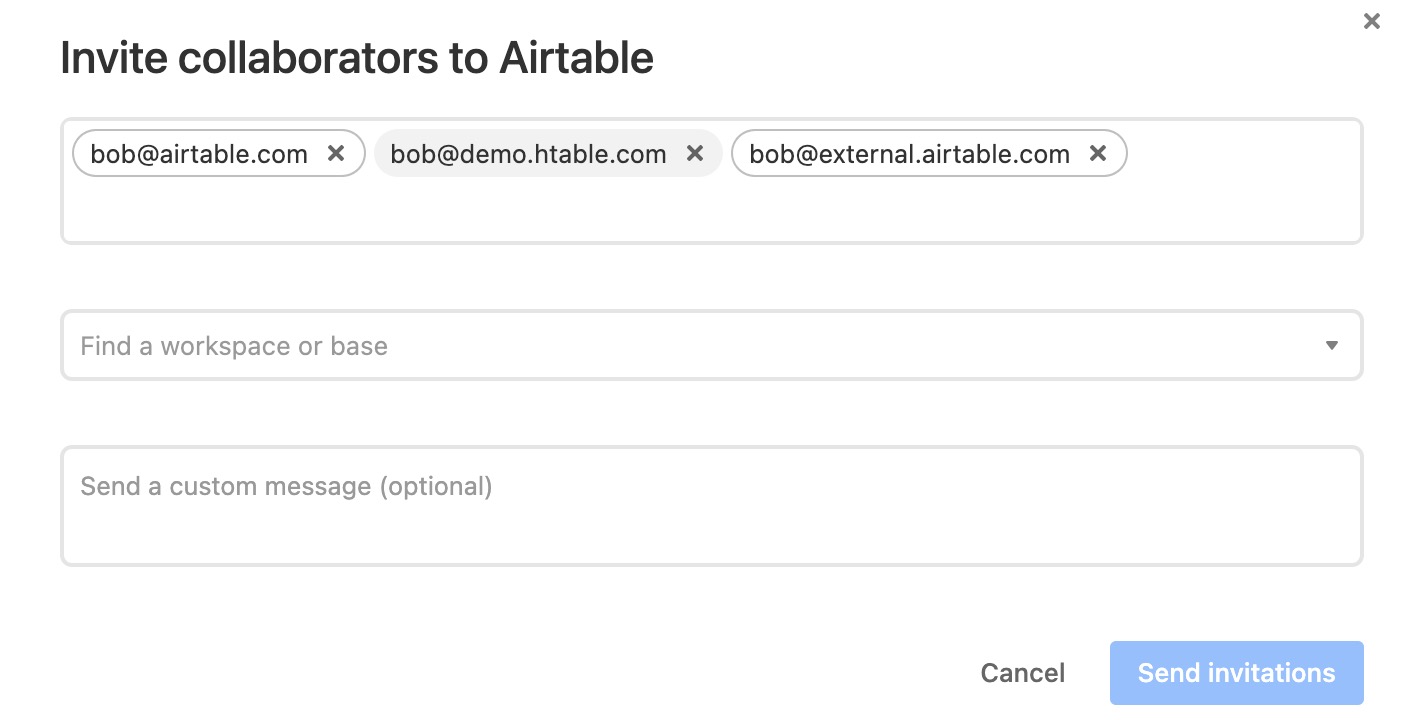 NOTE
If domain restrictions have been turned on for your organization's Enterprise plan, then you will see a warning for any email addresses outside of those restrictions. Additionally, internal domains will appear slightly greyed, while external domains will show white with a light grey border.
After adding one or more email addresses click the "Find a workspace or base" drop-down to scroll to or search for a workspace or base you'd like to invite the new user(s) to.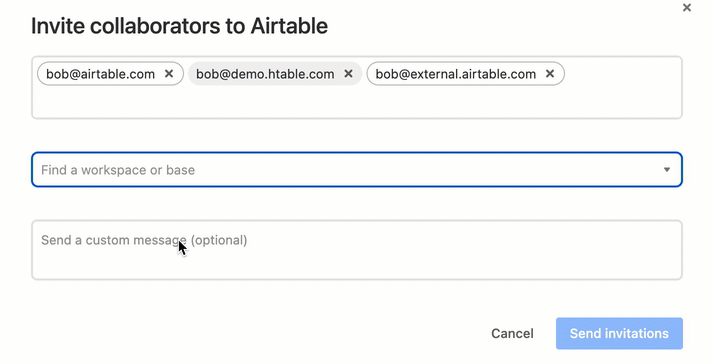 Once a base or workspace has been selected, a permissions drop-down will appear.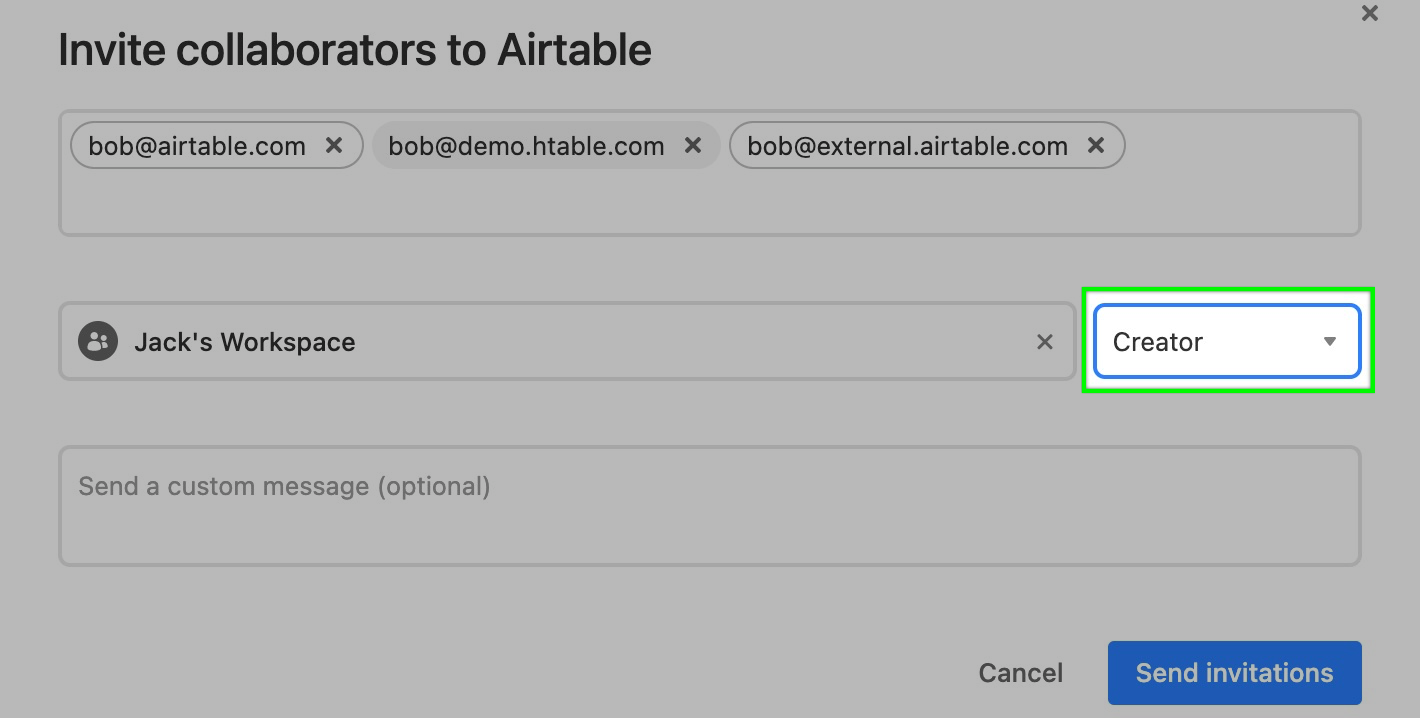 Lastly, a custom message can be added to the email invitation. This gives admins the opportunity to share more context with invitees.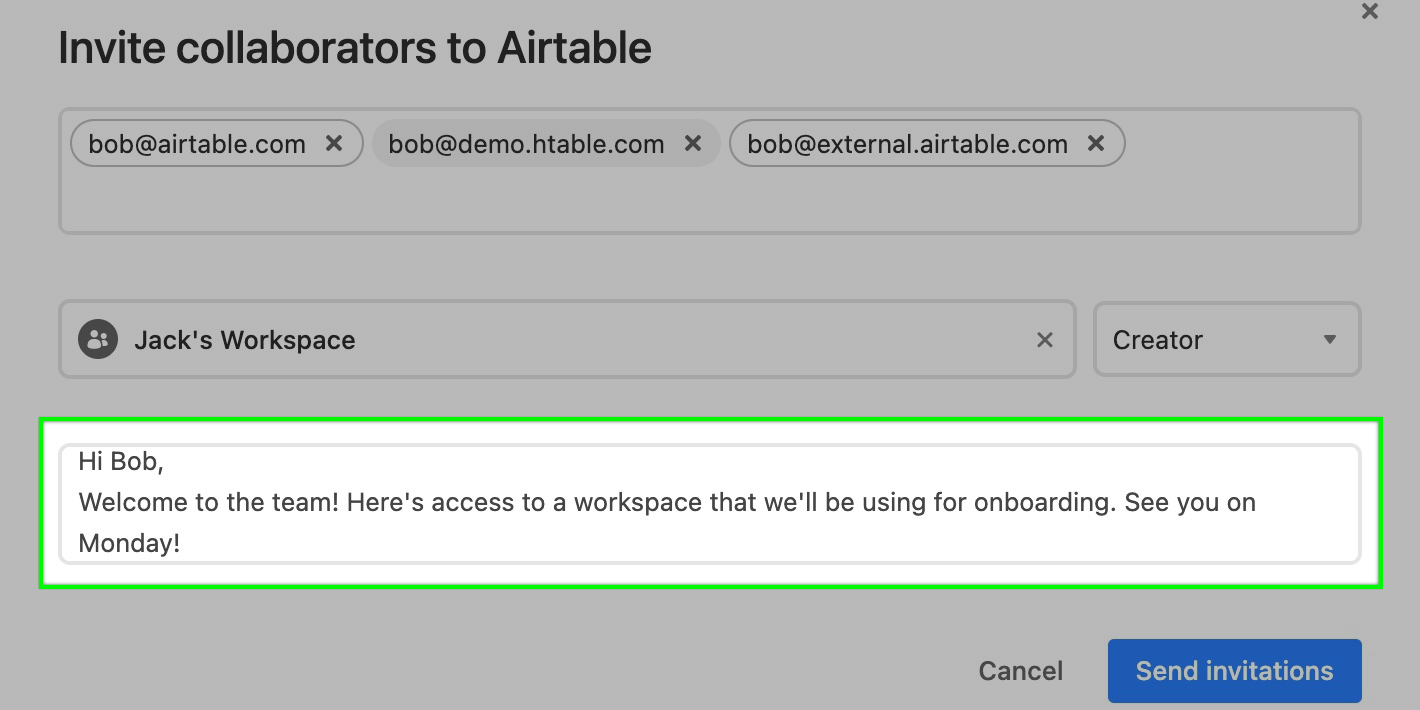 Here's how the invite appears in the pending user's email inbox: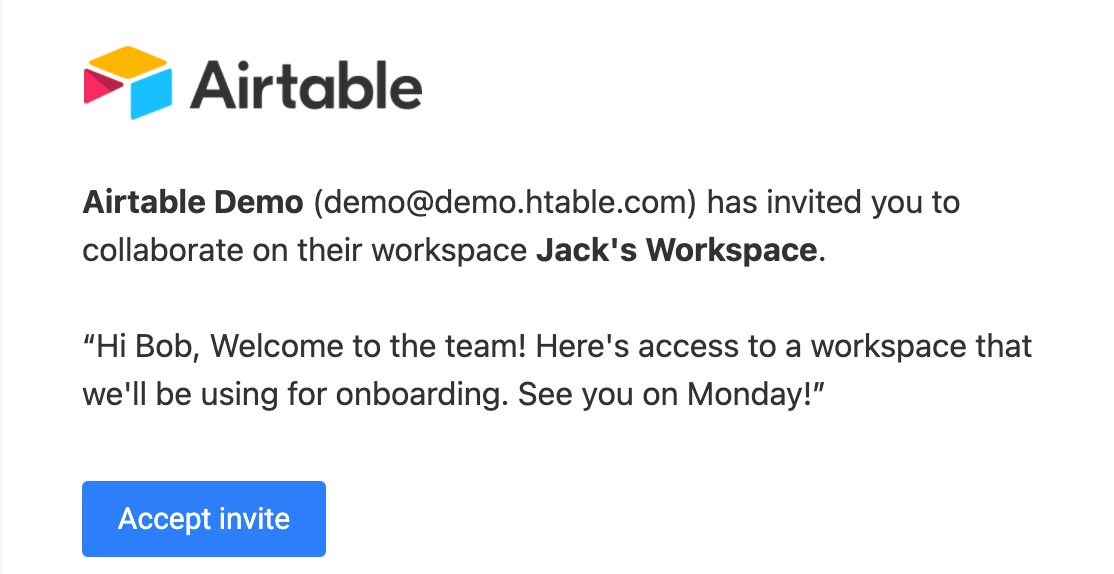 NOTE
Users who are already collaborating on other workspaces or bases in your organization's Enterprise ecosystem will auto-accept invitations to new bases or workspaces.
Pending invites tab
The pending invites tab shows a list of people who have been invited to use Airtable and do not have Airtable accounts yet.
NOTE
The pending invites tab does not show pending invites for users who are already collaborating in your organization's Enterprise ecosystem.

Admins can find users by email, see when the user was last invited, and also resend or cancel all pending invitations.

Searching, filtering, and sorting
As you work inside the Users page, we've included some useful ways to search, filter, and sort the list of users that admins can see.
Searching

The first option is to search for users by their name, email, or user ID. This allows admins to pinpoint a specific user or more broadly query multiple users. For example, an admin could search for all users with a particular domain name attached to their email address. The number of search results will appear in the search bar as you type.
Filtering

There are three options to the right of the search bar that will filter the list of users below. The "Account type" filter has 5 options to choose from:
All - This default filter option shows all users who have ever been associated with your organization's Airtable Enterprise plan.
Member - These are "current" Airtable users whose accounts have not been deactivated.
External - This group of users have an email domain that does not match the domain(s) of your company that we have on record.
Admin - This option will only show those users with admin privileges.
Deactivated - This filter will list out users who have been deactivated.
The "Last active" option offers admins the ability to filter users by a few different time periods. The default option is to show users who have been active at "Anytime." The other 3 options will show users active "More than 3 months ago," "More than 6 months ago," or "More than 1 year ago."
The third filter option lets admins see a list of users based upon the date that a user joined your company's Airtable Enterprise account. The default option is "Anytime," which will show all users who have been associated with your Enterprise account. The other 4 options are time-based and will show users who joined "In the last 1 month," "In the last 3 months," "In the last 6 months," or in the last year.
Sorting

Finally, clicking on any of the column names in the header of the Users page will sort the results of the users query.
Name (of user) - Alphabetically (Arrow up) or reverse alphabetically (Arrow down).
Last active - Most recent (Arrow up) or oldest active session (Arrow down).1
Joined on - Most recently joined (Arrow up) or oldest joined date (Arrow down).2
Seat type - Show Builders first (Arrow up) or show deactivated users first (Arrow down).3
1 Users with blank information in this column were either last active before Airtable started keeping track of this information (November 2019) or have never had an active session in Airtable.
2 Users with blank information in this column joined before Airtable started keeping track of this information (November 2019) or are external users.
3 Enterprise customers not yet on our new pricing plan will see this as a "Billable" column. Show billable users first (Arrow up) or show non-billable users first (Arrow down).
Individual user details

If you'd like to learn more about the information provided on the individual user details page, then please check out this support article.
Individual user actions

To the right side of the page, admins will see an ellipses (three-dot …) icon. Clicking this button will open up a window of actions that can be performed to change an aspect related to that user's account. These options allow admins to:
Edit the user's email address.
Sign the user out of all sessions they are signed into.
Grant or revoke admin access privileges.
Deactivate (remove) or provision (reactivate) the user's affiliation with your organization's Enterprise license.

Restrictions for changing emails
Admins are unable to modify External user emails since they are not considered part of the Enterprise account.
An admin is unable to change their own email, however, the action can be performed by a different admin.
The new email must be part of a domain owned by the Enterprise account.
The email can't be in use already.
The email can't be changed when the user has two-factor authentication enabled
Bulk user actions
On the left side of the Users page, there is a column of checkboxes that allow admins to select users and perform an action for the set of users selected. Some options will appear in the right corner of the header allowing admins to:
Sign the selected users out of all sessions.
Grant admin access to all of the users selected.
Deactivate all of the selected users.

NOTE
Admins are not able to perform actions on their own account in order to prevent accidental lock-out.
If needed, clicking on the top-most checkbox or "Clear selection" in the header will deselect all of the users in the list below.
CSV download option
On the Users page, admins will see a CSV download button near the right side of the page. Clicking on this button will download a CSV file of the current list of users being displayed. The file will include the following columns of data:
User ID, User first name, User last name, User email, Account type (blank means the user is "Internal"), Two-factor auth enabled, Email verified, Invited by ID, Invited by email, Last active date and time (in UTC), Joined on date and time (in UTC), whether or not the user is billable*,
*On newer Enterprise plans, this column will show which Seat type the user is.
NOTE
You can choose the program of your choice to import the CSV file, but, it's worth noting that we have made it easy for you to import CSV files into Airtable bases. Learn more about importing CSV files
in this support article.
Granting Admin access to users
To upgrade a collaborator from a user to an admin:
Visit your admin panel and select Admin from your account menu
From Users, find the name of the user you want to upgrade to as a collaborator.
Click the … to the right of their name and select Grant ADMIN access.

FAQs
Can I programmatically change multiple email addresses?
Yes, this section of our Enterprise Airtable API documentation will help. This can be especially useful if your company is migrating to a different domain.
---
Was this article helpful?
---
What's Next