How to create a form in Airtable
24 Jul 2023

9 Minutes to read
How to create a form in Airtable
Updated on 24 Jul 2023

9 Minutes to read
---
Share feedback
Thanks for sharing your feedback!
Whether it's product feedback, a job application, or new project requests—there's important information you need to collect from others that's essential to your work. With Airtable forms, you can collect information from anyone with a custom form that plugs directly into your workflow. In this guide, you'll learn step-by-step how to create, customize and share an Airtable form. By the end of this guide, you'll be able to collect information from anyone and put it to use—all within Airtable.
Introduction
| | |
| --- | --- |
| Plan availability | All plan types/levels |
| Permissions | "Owner" or "Creator" permissions are needed to create new form views as described in the article below |
| Platform(s) | Web/Browser, Mac app, and Windows app |
| Related reading | |
| Try it in Airtable | Create a form |
Step 1: Create your form
Concepts covered: table, form editor, field
Collecting information from teammates or external stakeholders can get chaotic quickly. Whether you're reviewing job applications or receiving project requests, there are a lot of details to wrangle and you don't want anything important to get overlooked.
Streamline your work in minutes with a structured form that captures every detail, each time it's submitted. Imagine you're collecting content requests from across your team. With Airtable, you can create a custom form that standardizes what is submitted in each new request, ensuring you have all the context you need to start working immediately.
Streamline information gathering
A table contains a list of items of the same type—like people, ideas, or projects and what you organize in your table depends on your workflow. Right now, the Content calendar base has several tables tracking different dimensions of this workflow: Content pipeline, campaigns, team and assets.
In tables where you want to capture or collect new information, there's a great opportunity to create an Airtable form. With a form, you can collect information from anyone and save it automatically to any table in your base. For example, the Content pipeline table tracks a list of all content—once a form is created in this table, any new submissions will populate alongside the existing content in that table.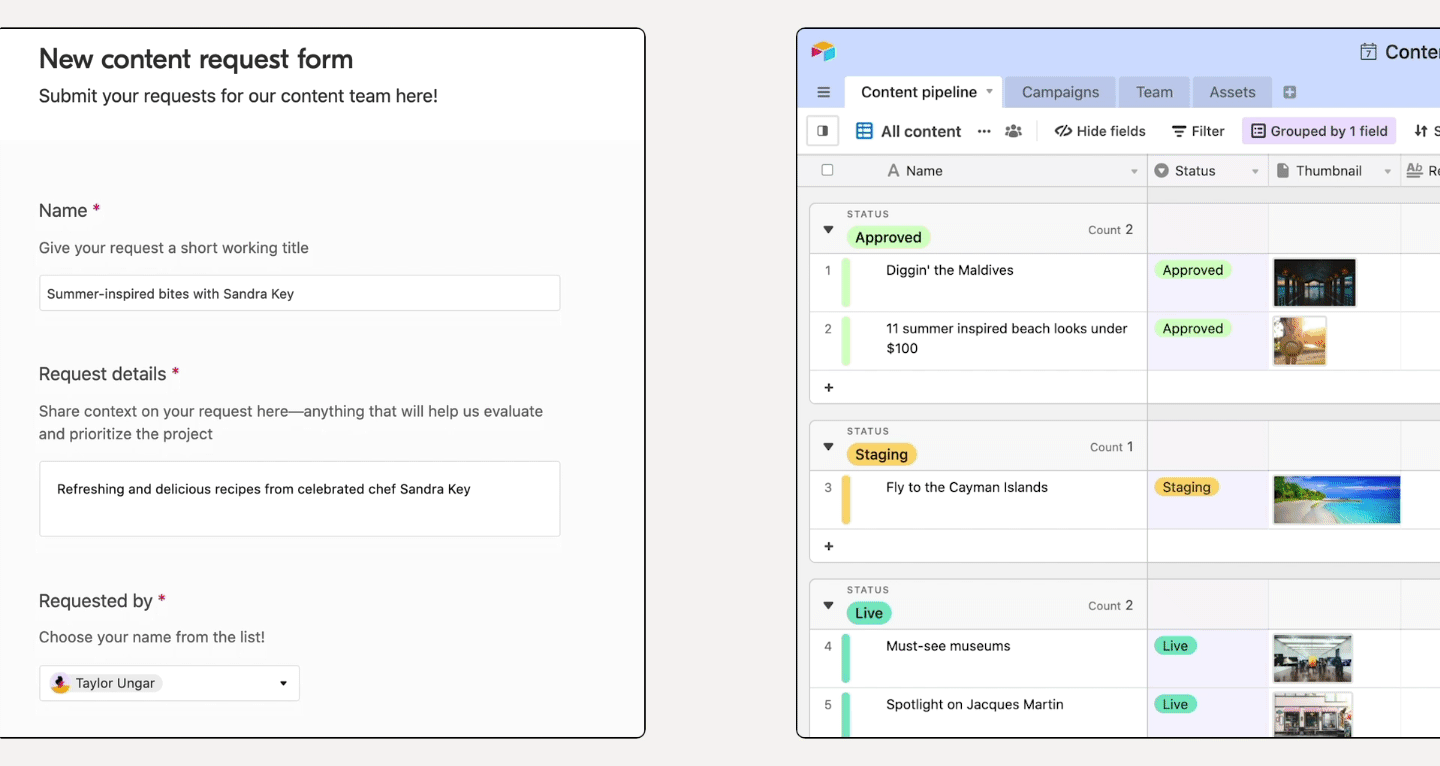 → Decide which table you'd like to collect new information. In this guide, feel free to follow along with this guide using this Content calendar template, or create your own—the same steps to creating a form apply regardless of your workflow!
Create your new form
Create a form tailored to the way you're already working in a second by adding a form view to the table you want to capture new information. The details you're tracking in your workflow are unique—instead of starting from scratch building your form, forms in Airtable are automatically generated based on the fields you've already added to your table.
You can get relevant, structured input by matching rich field types to the key information you want to capture in your form. Capture important dates with date field, collect files such as images or PDFs with attachment field, or let submitters choose from a dropdown list with single select field. If you need to capture additional information, you can add additional fields by selecting + Add a field to this table in the form builder.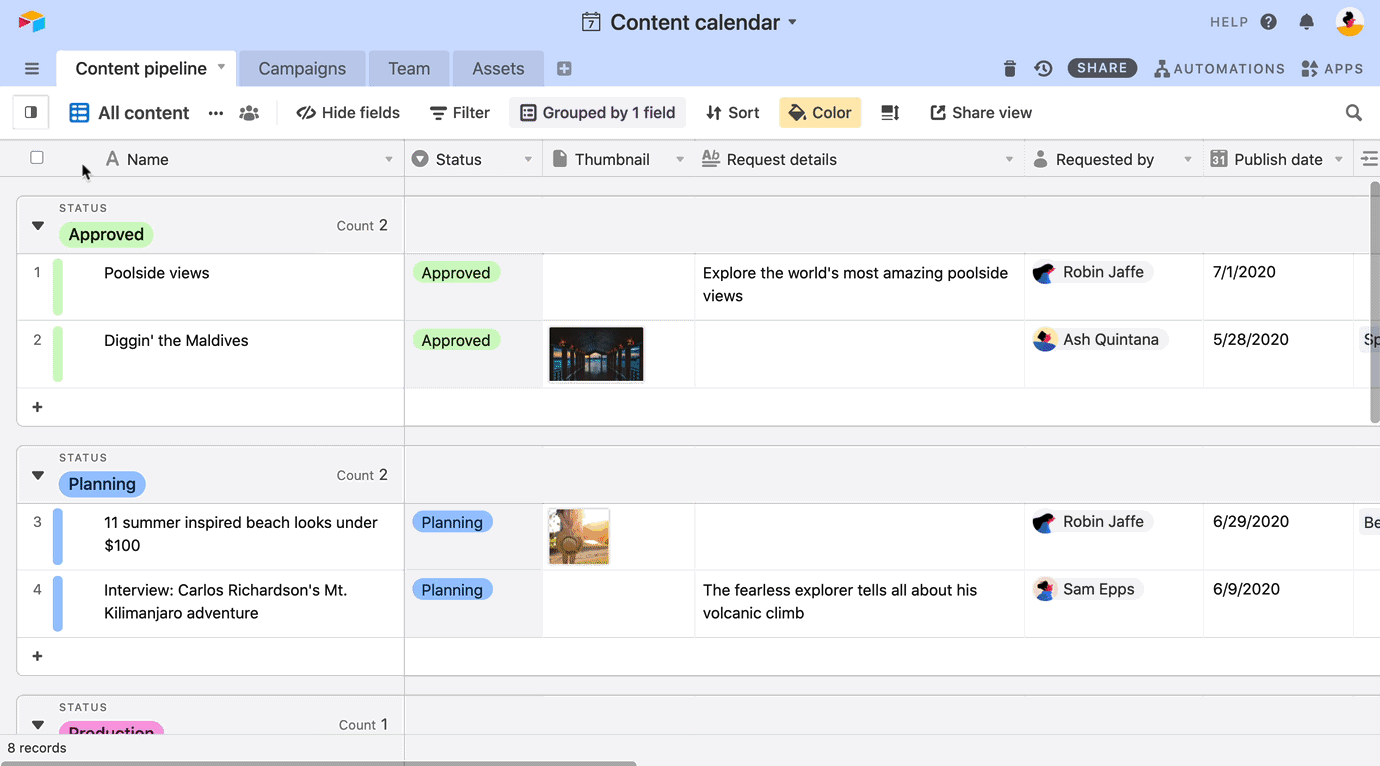 → Go ahead and create your own form! Navigate to the table you'd like to collect information in, expand the view sidebar, and select the Form + under Create a view. Once you've created the form, give it a name—the name of your form should match the purpose that form serves, such "job application form" or "new content request form"
Step 2: Customize your form
Concepts covered: customize form fields, conditional form fields
Don't let long or confusing forms get in the way of great work. Regardless of what you plan to collect, make sure your form is simple and clear to navigate to ensure those you send it to can easily complete it.
Now that you've created your new form, you're ready to start customizing what submitters see and how they can interact with it. You can tailor an Airtable form to your specific needs in the form builder—a customizable, drag and drop editable version of your form that gives you a preview of what submitters will see once it's shared.
Create clarity for submitters with custom, relevant fields
Your form contains different fields. With Airtable forms, you can customize which fields are visible in your form, how those fields look and in what order they're displayed.
When a new form is created, every field in your table will be displayed in the form builder. Determine what your visitors can see, and in what order by dragging and dropping each field in the form builder. Surface only the fields that are relevant to your form submitters by hiding irrelevant fields from visibility. Then, move high priority fields to the top of your form so that they're the first fields submitters will see when they open your form.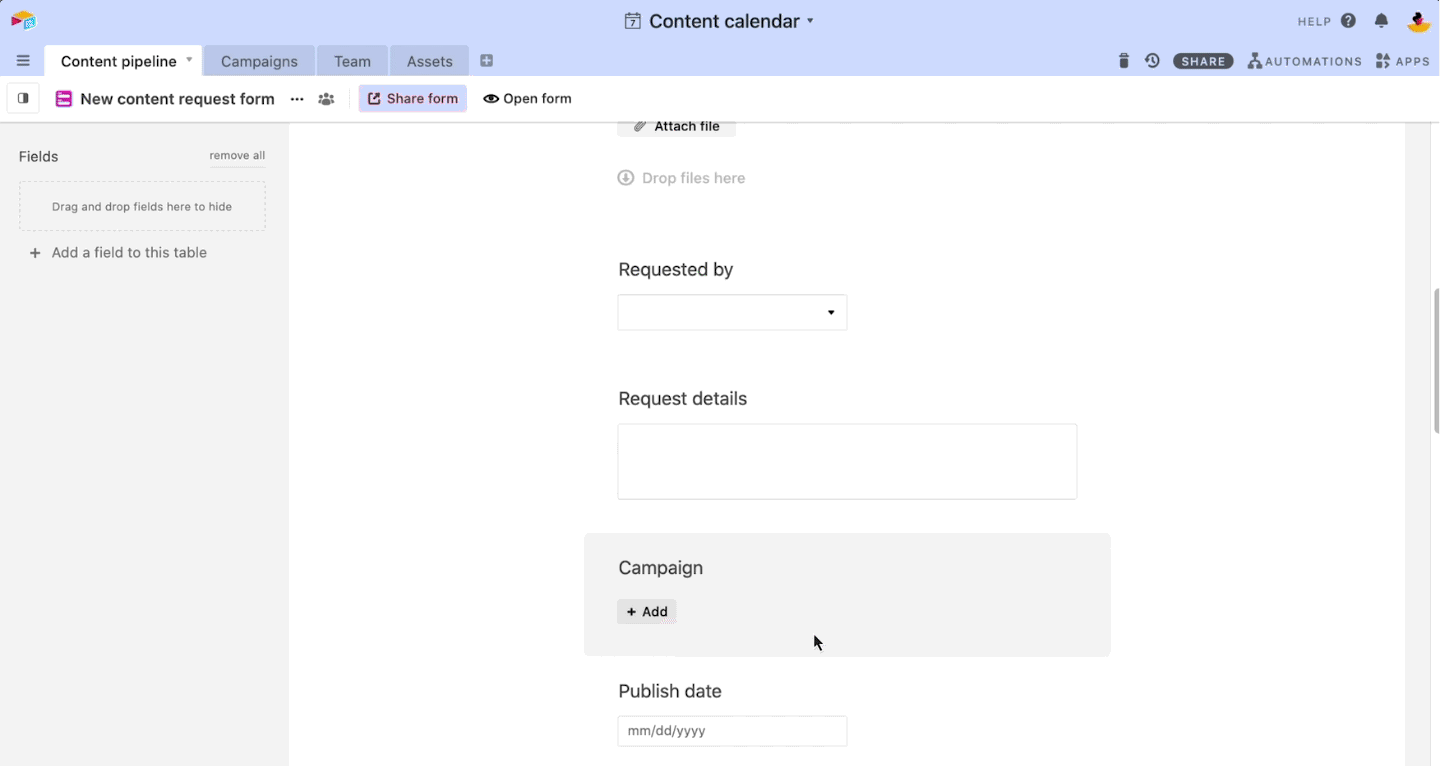 → Hide fields and change their order in your form! To hide a field, click the field name and drag to move that field to the left side of the screen. To change the order that submitters see each field, select the drag handle next to the field name and drag above or below other fields to set the order.
Now that you've determined which fields will be displayed in your form, ensure submitters have the context they need to respond by adding custom text. You can add a custom name and help text to any field in your form. For example, you can frame your field name as a question submitters can respond to in the form. Changes to the display names in the form will not affect the field names in your base.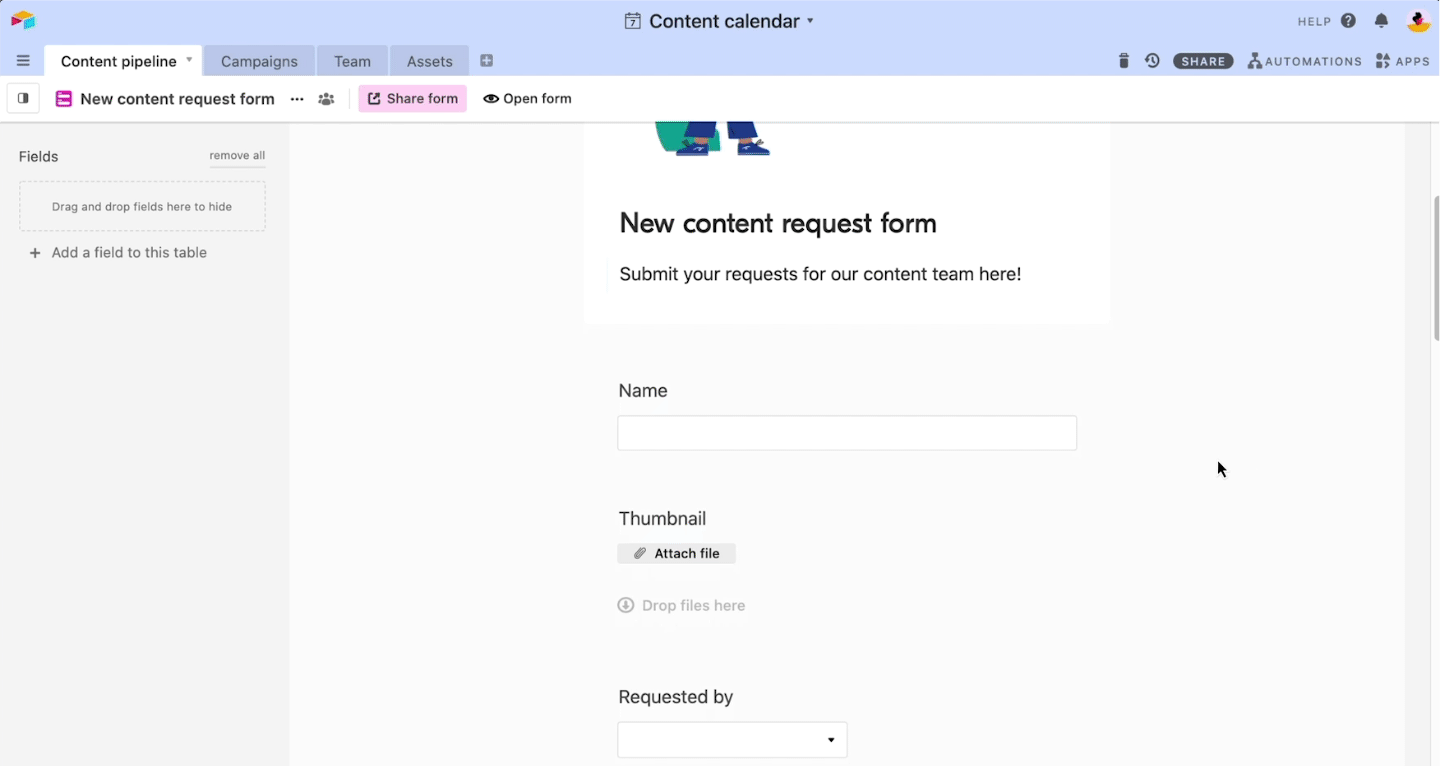 → Go ahead and start customizing the fields in your form! Add custom field names by selecting on the field and updating the field header.
Keep submitters focused with required fields and conditional logic
With multiple fields in your form, it's important for submitters to know what to focus on or how to gauge which fields are essential to complete. In addition to customizing how your form looks, you can create clarity by adding required fields and conditional form fields.
Help submitters know which fields are most important to complete by enabling required fields—when a required field is enabled, this field must be completed before the form can be successfully submitted.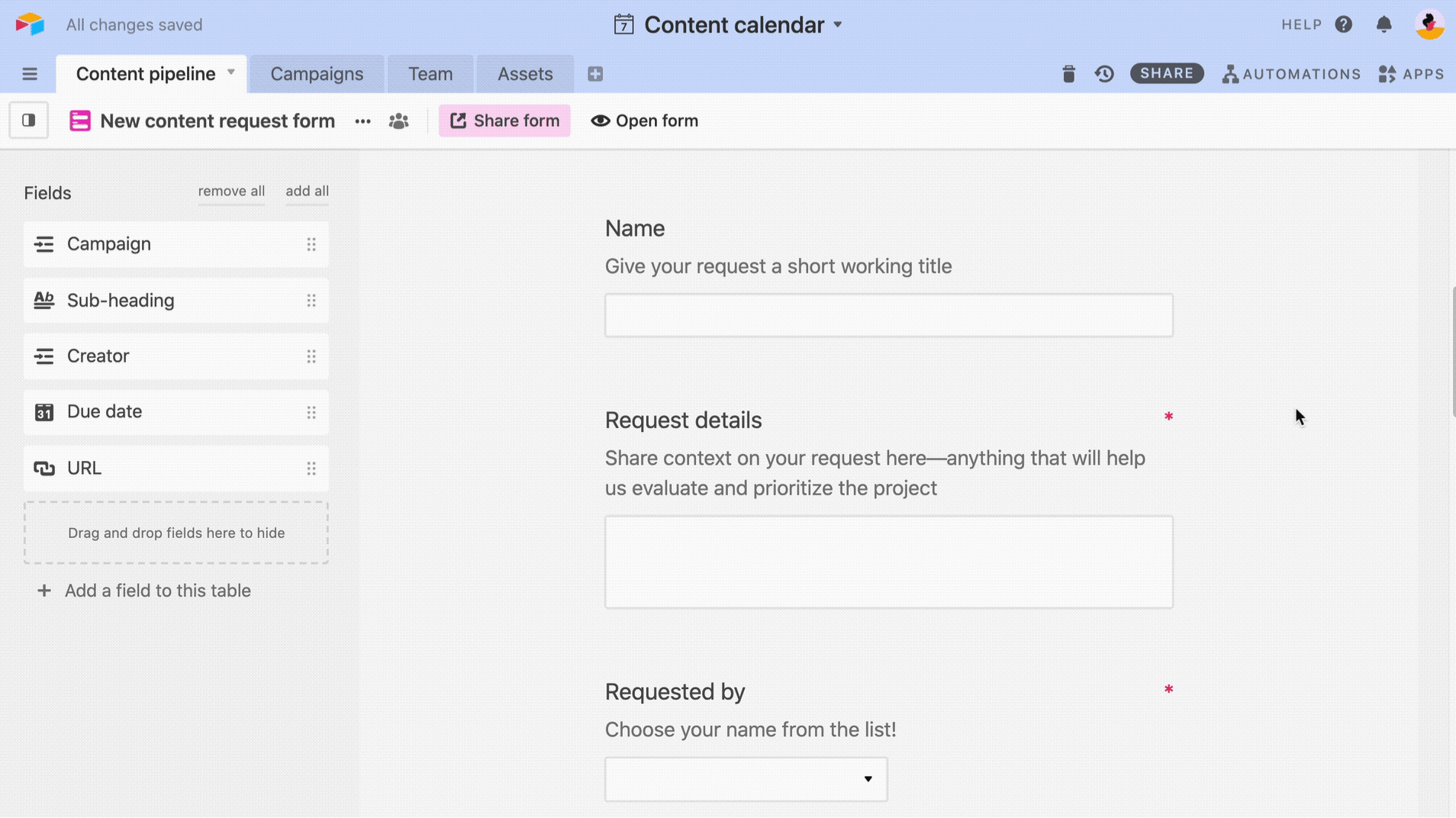 → Set important fields in your form to required. To make a field required, select the field and enable the toggle next to Required in the upper right corner. A red asterisk will appear in the field in your form, indicating to submitters that the field is required.
Create focus and save time for those filling out your form by adding conditional fields. Conditional forms fields enable you to show fields in a form based on what values the form submitter chose in previous fields. For example, you might want to collect additional context when Website is selected as a Channel. With conditional fields set up, when a submitter choses "Website" in the form dropdown, the context field will appear. If these conditions aren't met, submitters won't be presented with unnecessary fields and can complete the form more quickly.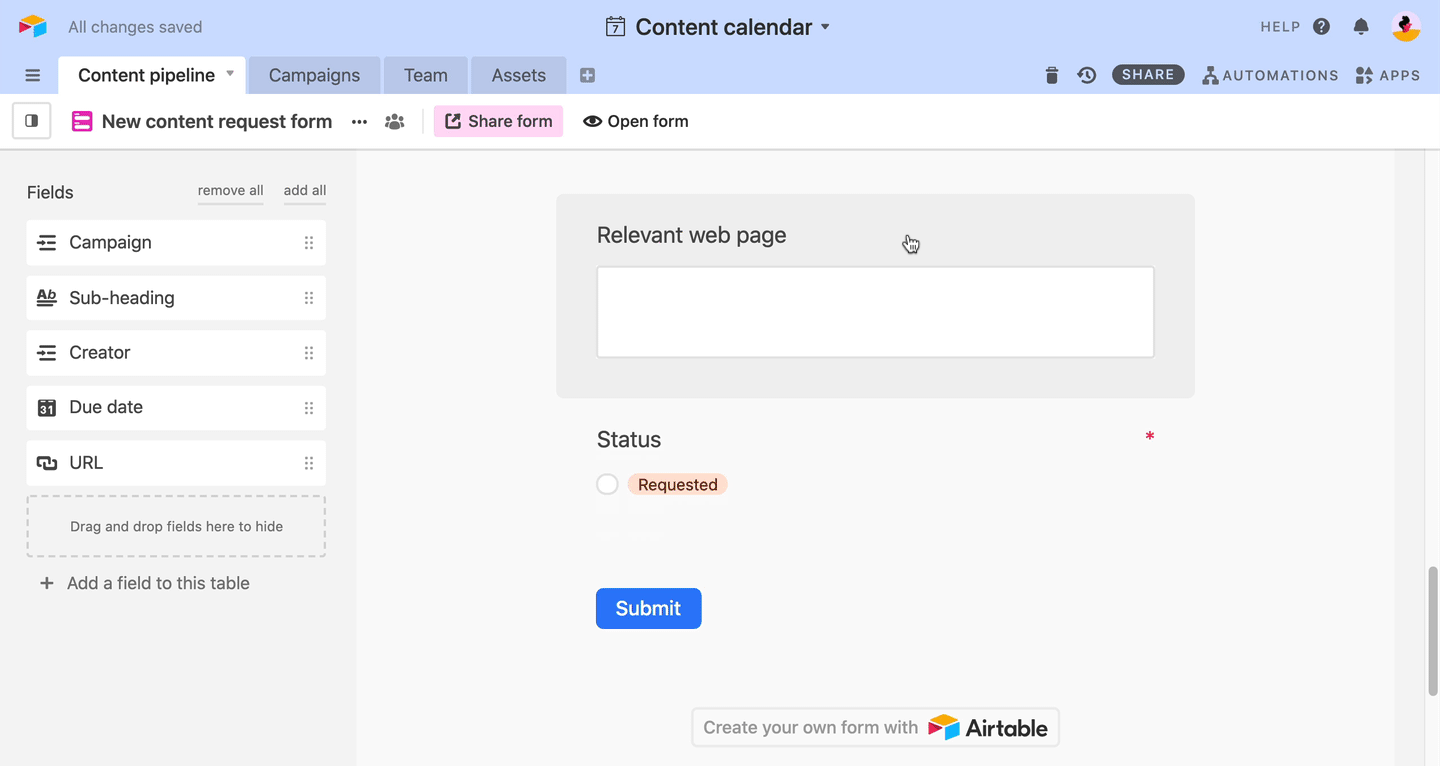 → Try adding a conditional field to your form! To get started, toggle on "show field only when conditions are met" in the conditional field you want to appear based on a set of conditions you configure. Be sure to test out the conditions work as expected—to test your live form, navigate to Open form in the upper left corner of your view and try it out!
Level up your form with your logo or a cover image
Add a fun touch to your form by adding custom branding with a cover image or your company's logo, available on a premium plan.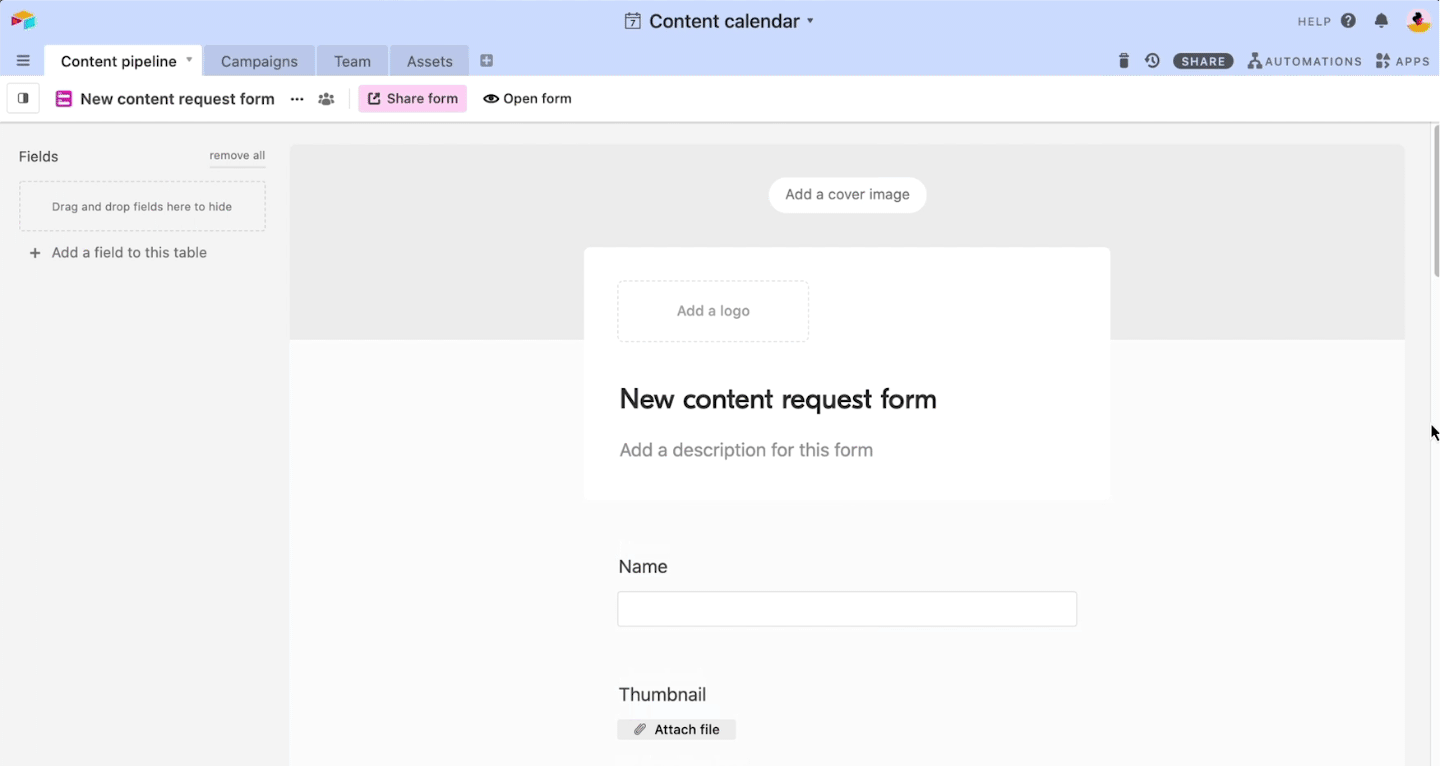 → To add a cover image, click anywhere in the header next to Add a cover image, upload the desired image, and then crop or rotate the image in the file picker to your desired size. To add a logo, select the Add a logo button and upload the image directly to the dialog.
Step 3: Share your form & collect submissions
Concepts covered: shared view link, view
With your form built, now it's ready for action! You can start collecting information by sharing your form. You can share it inside or outside your organization—from other teams to external partners to anyone around the world. Once you start receiving submissions, you can then review, update, and take action on those details—all within Airtable.
Share your form with anyone you want
With access to your form's share link, anyone you want can submit requests directly into your base—no need for them to sign in to Airtable.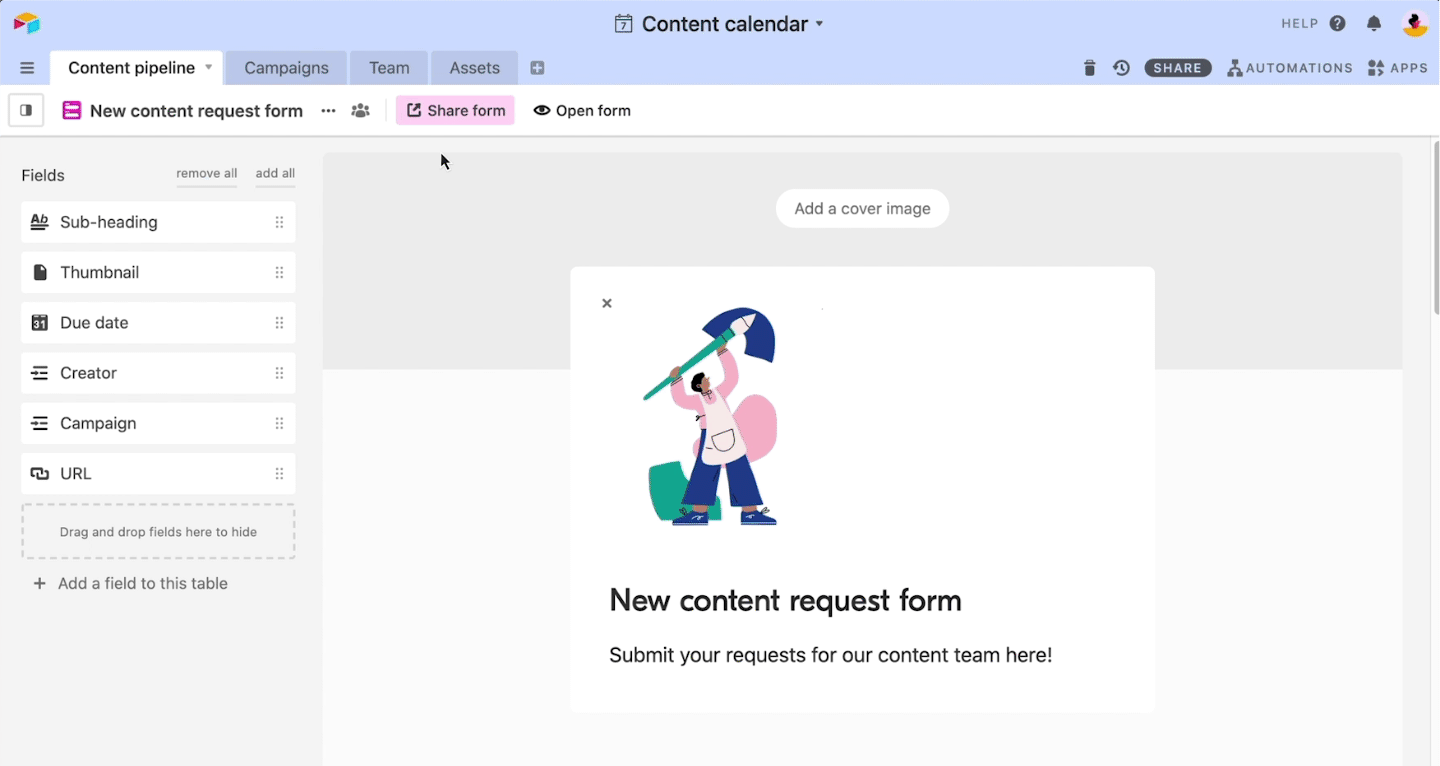 To share your form, select Share form on the view bar. This will generate a unique URL for your form, which you can copy and send to anyone you want. By clicking on the option to "Preview", you can preview and test how your form will look for your submitters.
If your form contains sensitive information, users on the Pro or Enterprise plans can add extra protection with a password or set access to a specific email domain.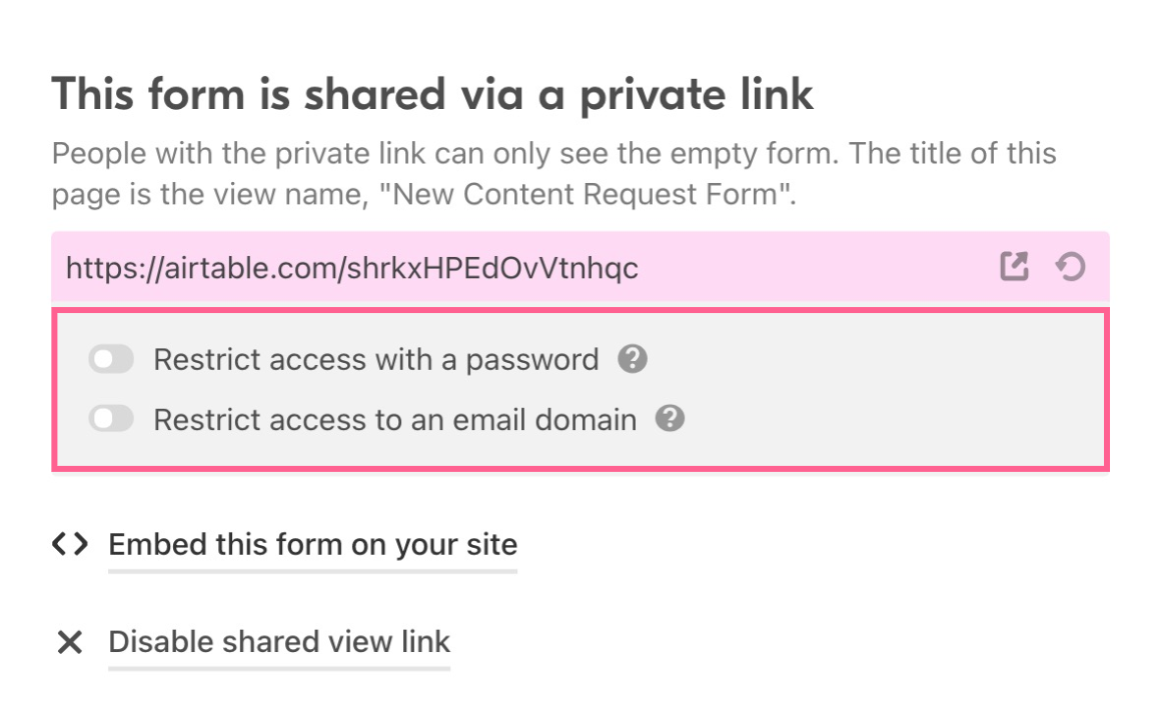 With your form shared, you'll start receiving submissions! Stay on top of every new submission by customizing your post-submission form settings—when a form is submitted, you can configure your form to send email to your inbox, display a custom message, or redirect your submitter to a custom URL.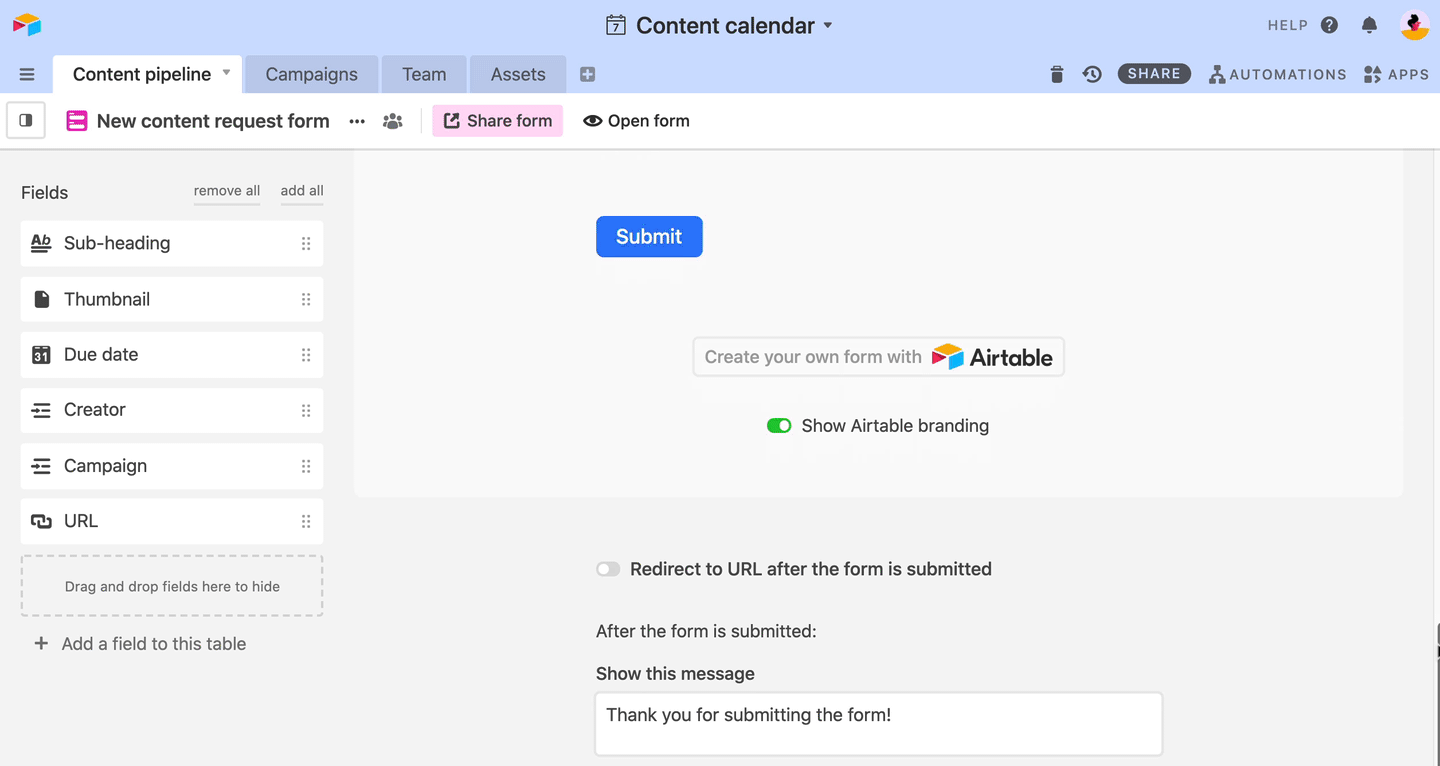 → To customize what happens after a form is submitted, navigate to the bottom of your form builder. Here you can toggle on the option that fit your specific needs.
Customize how you organize and review new submissions
With a form you can collect job applications, new content requests, or feedback directly in your base, all in one place. When someone submits information to your form, it will automatically show up as a new record in your table. Create a filtered view that shows you a list of only new submissions or view submissions along with existing work.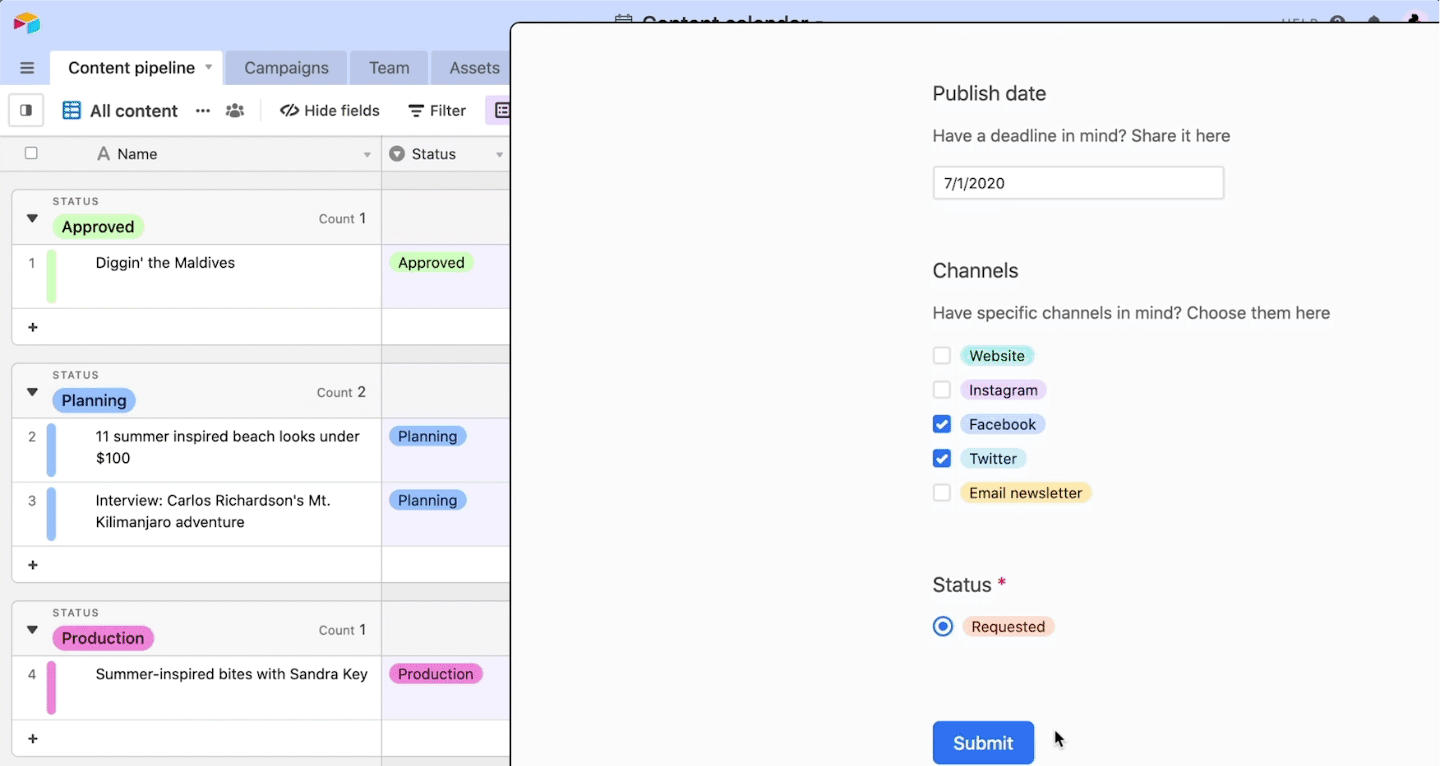 → Action submissions in your workflow by reviewing them in your table. When the form is submitted, watch as a new record appears in real time in the table you created the form in. Take immediate action on new submissions by updating field values, such as changing the status.
Recap
Nice work! You've taken three key steps to create a form in Airtable:
✓ First, your created a form that captures the essentials details you need to know
✓ Next, you customized your form, making it easy and clear to navigate
✓ Finally, you shared your form with your stakeholders and reviewed their submissions, all in one place.
With your custom form, you're now set up to collect key information from anyone, anywhere, directly in your workflow. From creation, to customization, to sharing - you can now capture the details that matter most with a form in Airtable.
---
Was this article helpful?
---
What's Next