Airtable automation actions: Outlook
27 Feb 2023

8 Minutes to read
Airtable automation actions: Outlook
Updated on 27 Feb 2023

8 Minutes to read
---
Share feedback
Thanks for sharing your feedback!
Automations are powerful customizable trigger-action workflows that work directly within your Airtable base. Learn how to use Airtable Automations with Outlook to:
Send an email in Outlook Email
Create an event in Outlook Calendar
Update an event in Outlook Calendar
NOTE
If your organization uses Microsoft Exchange email servers, only the cloud-based version of that service will work with our Automations feature. On-prem Microsoft Exchange servers are currently not able to integrate with Airtable.
Introduction
Plan availability
All plan types with varying limitations
Permissions

Owners/Creators - Create, delete, duplicate, configure, or rename an automation and edit an automation's description.
Editors - View an automation's configuration or copy an automation's URL.

Platform(s)
Web/Browser, Mac app, and Windows app
Related reading
Account authorization
As a prerequisite, you will need to already have a Microsoft account. This account will need to be connected to the Airtable base that you are working in. After choosing which trigger you would like to set up, you will have the option to Manage connected accounts or Connect new account. This authorization process is scoped to each individual Outlook service, so you will need to perform this process multiple times, at least once for each Outlook trigger, and also for reauthorizations in the future as needed. Jump down to the section below for more information on security and OAuth scopes.
Setup
After you have configured your base in the manner you choose, you can then begin configuring your automation. To start, click on Automations in the upper left corner of your base. Then, click Create an automation to begin the setup process. For this example, we will be setting up an automation that sends an email from Outlook and creates an Outlook calendar event whenever a new record is added to a view in our Project Tracker Template. We will also cover a slightly different example that demonstrates how to use the update event action.
Start a new automation and configure the trigger
Send email action in Outlook Email
Create event action in Outlook Calendar
Update event action in Outlook Calendar
Test and enable your automation
After the trigger and both actions have been tested successfully, you are ready to turn on your automation! Click the toggle in the upper right corner to turn on your automation — now, when a new record enters the "Incomplete projects by leader" view in our table, an email will be sent from our Outlook address and a new event will be created in our Outlook calendar.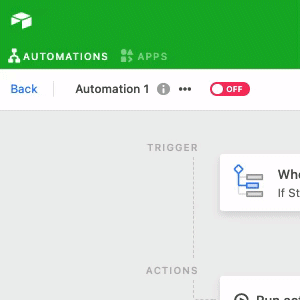 Security and OAuth scopes
Authentication
We request the minimum read/write scopes necessary to make the external source sync work. The OAuth consent screen will look like this:
| Outlook Calendar app access | Outlook Email app access |
| --- | --- |
| | |
The access approval screen will vary depending upon the automation you are creating. Clicking "Yes" means that you will allow us to access the necessary scopes to allow the automation to work.
Outlook scopes
| | |
| --- | --- |
| Scope name | Scope purpose |
| offline_access | For refresh token |
| profile | For user metadata |
| openid | For sign-in |
| Mail.ReadWrite | For reading/writing emails 1 |
| Mail.Send | For sending mail 1 |
| Calendars.ReadWrite | For reading/writing calendar events 2 |
| MailboxSettings.Read | For reading mailbox settings related to calendar events 2 |
1 Only for Outlook Email automations
2 Only for Outlook Calendar automations
We use delegated permissions for all of our Outlook integrations and tokens are transmitted between Airtable and Microsoft's servers securely via HTTPS. On Airtable's side, the tokens are stored in databases that are encrypted at rest.
For more information on Outlook scopes, check out Microsoft's documentation here.
FAQs
Can I preview the email that I'm sending out via the "Outlook: Send email" action?
Yes, more info can be found here.
---
Was this article helpful?
---
What's Next