Timeline view - Grouping
12 Oct 2022

2 Minutes to read
Timeline view - Grouping
Updated on 12 Oct 2022

2 Minutes to read
---
Share feedback
Thanks for sharing your feedback!
Timeline views allow you to organize tasks, projects, or other trackable events in an easy-to-understand and visually pleasing way. Grouping records in the Timeline view is similar to grouping records in Grid or Gantt views with some important differences explained below.
NOTE
This Timeline view is only available on Pro and Enterprise workspaces. For more information on Airtable plans visit our pricing page.
Overview
The "Group" option can be found near the middle of the view customization bar.

Once clicked, several configuration options will appear. These options are covered in the "Guide to grouped records" article. It's important to remember that if you already have a view with groups set up the way you'd like them to appear in the Timeline view, then you can click "Copy from another view" to save yourself a bit of time.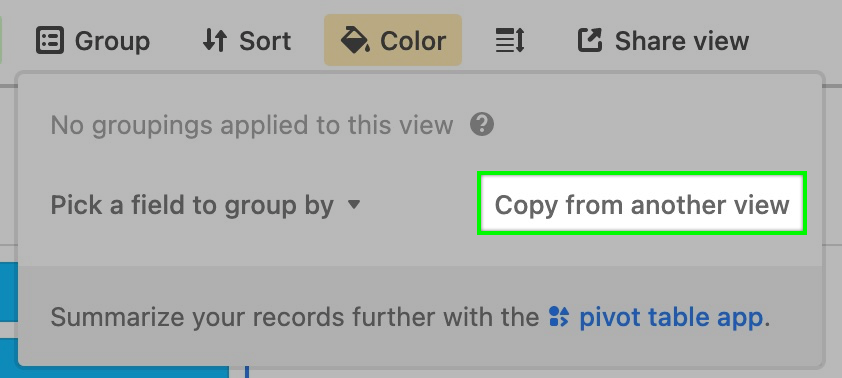 NOTE
If a Timeline view is grouped by a field that allows multiple values, then the Utilization function will be unavailable.
Drag-drop groupings
One of the main differences between Grid & Gantt view and Timeline view's groupings is the ability to drag and drop timeline records into different groupings. When the value that the record is being grouped by is connected to a single value field such as a Single select field or a Linked record field with "Allow linking to multiple records" turned off, dragging a record from one group to another will result in the removal of original value and the new group's value will be added. Here's an example of that process in action:

Notice that the green-colored "Technology Design" grouping is removed from the view once we move the record to another grouping. This is because no other records in our view currently meet the filter conditions.
Grouping behavior with multiple options
In Grid and Gantt views, when a grouping has multiple values it creates a new "pseudo" grouping that is composed of those multiple values. In a Timeline view, you can decide whether the same records split into multiple groups or if it only appears as the single "pseudo" group.
If you toggle the "Split multiple values into individual groups" option on…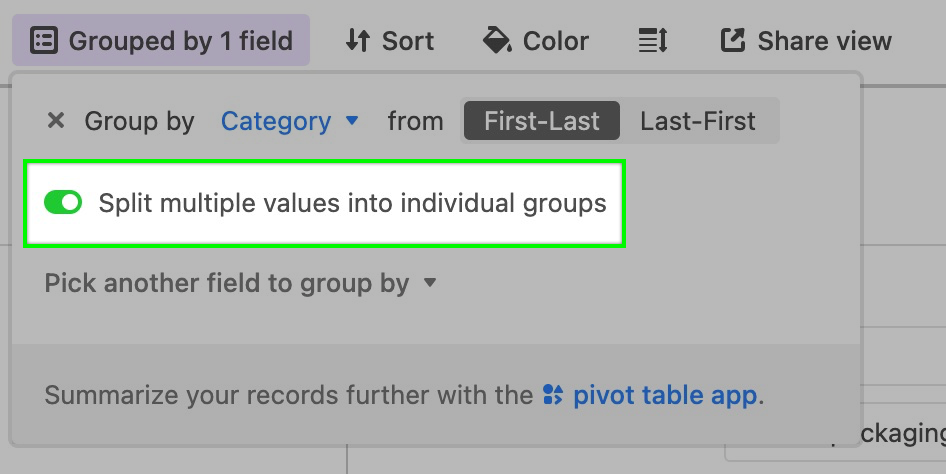 …then the same record will appear in each group that it is associated with.

However, if you choose to leave that option toggled off, then the record will appear in the "pseudo" grouping that is a combination of all of the groups it is a part of.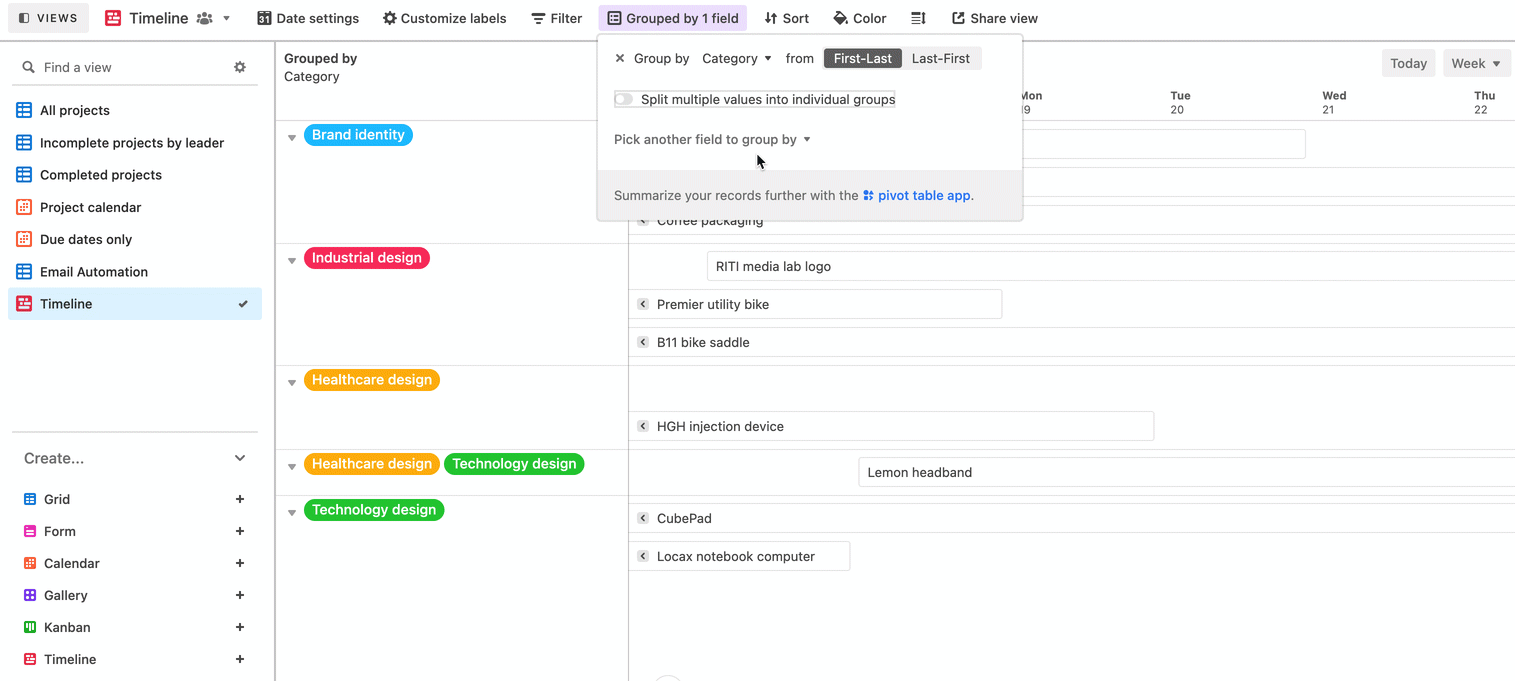 When you drag-drop an event into the multiple-valued grouping it will remove all of its current group attributes and have the multiple matching group values added instead. If you move a multi-grouped event to a single group it will remove all the group values and replace those with the single group value.
The important thing to be aware of here is that groups are not appended when you drag-drop events. Instead, they are removed and then made to match the attributes of the group where the event was dragged to.

NOTE
Even though records may appear multiple times when the "Split multiple values into individual groups" option is on, they will still only be counted once in Timeline view's summary bar and other Airtable functions/formulas.
FAQs
I don't see the option to split multiple values into individual groups, what might the reason be for this?
In order to see this option, the field you are grouping records by will need to be a Multiple select field.
Where can I provide feedback on this feature?
Feedback for this feature can be provided in this form.
---
Was this article helpful?
---
What's Next