Timeline View Overview
06 Jul 2022

1 Minute to read
Timeline View Overview
Updated on 06 Jul 2022

1 Minute to read
---
Every team knows the pain of trying to answer the simple question: when? The question of when can get complicated; when is a feature being released on a product roadmap, when should marketing materials be released on specific channels, when is your team's bandwidth being stretched too thin?
We at Airtable know how important timing is, which is why we are launching a new view type intended to help you manage your time-based projects all in one place: the Timeline View. Using the Timeline view, users now have a highly flexible way to visualize information over—you guessed it—time. The Timeline view is a premium feature available on bases within workspaces on either the Pro or Enterprise plans.
What is the Timeline view?
Watch this video to see the Timeline view in action! See how to set up, work with, and share your Timeline view so you can make sure you and your team are always on time.
The Timeline view allows you to visualize and track your records on a customizable horizontal scrolling timeline. One of the most exciting features of the Timeline view is the ability to group your records by any of your table's fields into visually distinct "swimlanes." The Timeline view is ideal for resource allocation, coordinating tasks across a team, and planning content out ahead of time.
How is the Timeline view different from the Gantt view?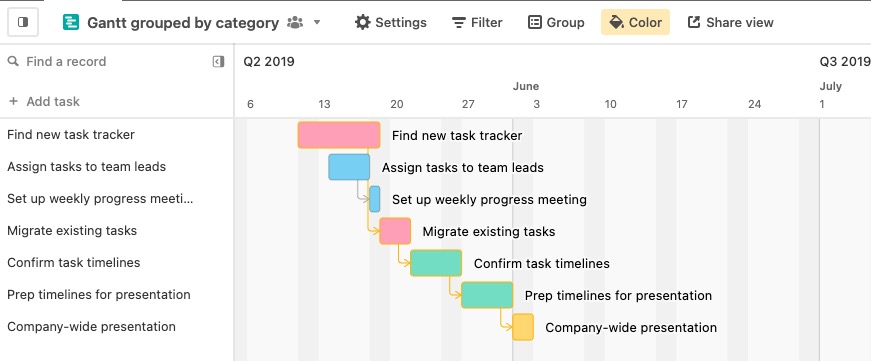 The Gantt view was designed with the Gantt chart in mind— you plot tasks, then the dependencies between those tasks, to visualize the "critical path" for a project. The Gantt view allows you to see every single step of a project from start to finish.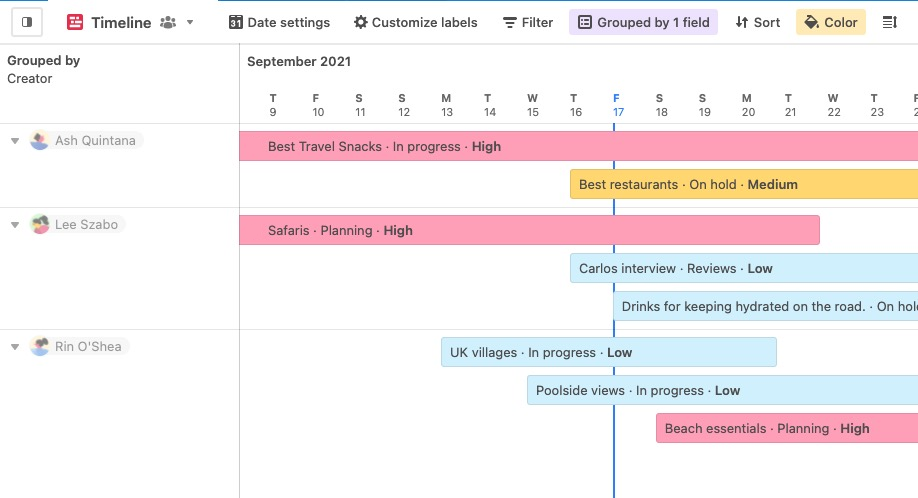 The Timeline view is more flexible and can visualize any set of records over time, grouped by any field in your table.
Each swimlane corresponds to a group of records in the Timeline view, while a swimlane corresponds to a single record in the Gantt view. Both the Gantt and Timeline views bring something to the table, and each can be uniquely helpful to your workflows.
DEEPER DIVES INTO TIMELINE VIEW
Adding and customizing the Timeline view
Customizing records in the Timeline view
Working with records in the Timeline view
Summary bar in the Timeline view
Resource allocation in the Timeline view
Related video content
---
Was this article helpful?
---
What's Next