Airtable technical requirements
12 Jan 2023

1 Minute to read
Airtable technical requirements
Updated on 12 Jan 2023

1 Minute to read
---
The requirements below pertain to Airtable desktop and mobile apps as well as shared and embedded Airtable views, including forms.
Web requirements
Tip
For the best performance, we recommend using the latest versions of the browsers listed above.
How do I check what version my browser is?
We recommend using a tool such as whatismybrowser.com to find out your browser version, as well as the most current version of that browser.
I'm unable to access Airtable because my browser is unsupported. How can I fix it?
If your browser version has been deprecated, you may not be able to access Airtable at all. Instead, you'll see a message like this: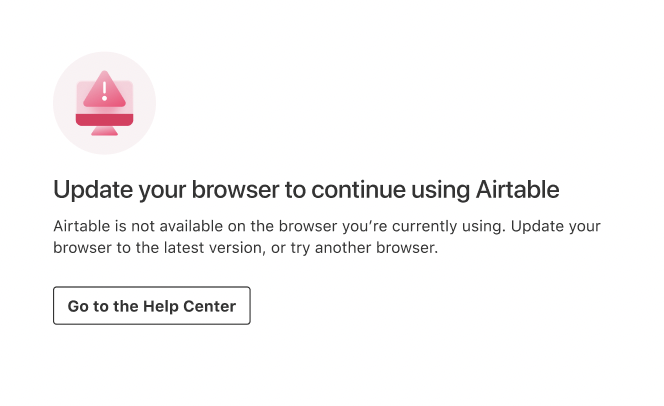 If this happens, please update your browser to the latest version to continue using Airtable.com.
I'm able to access Airtable, but see a message saying my browser will no longer be supported. What do I do?
If your browser version is going to be deprecated in the near future, you'll see a notice telling you the date that deprecation will occur:

If you see this message, we recommend updating your browser to the latest version to ensure continued access to Airtable.com.
I use an unsupported browser (e.g. Opera, Brave, etc.); will I still be able to use Airtable.com?
While an unsupported browser may be able to load Airtable.com, we're unable to guarantee compatibility and recommend using a supported browser instead.
Mobile requirements
Note
Shared views and forms are not currently accessible in Airtable's mobile apps. However, these kinds of links can be accessible in your mobile device's browser.
Mac app requirements
Windows app requirements
---
Was this article helpful?
---
What's Next