Airtable technical requirements
01 May 2023

2 Minutes to read
Airtable technical requirements
Updated on 01 May 2023

2 Minutes to read
---
The requirements below pertain to Airtable desktop and mobile apps as well as shared and embedded Airtable views, including forms.
Web requirements
Tip
For the best performance, we recommend using the latest versions of the browsers listed above.
How do I check what version my browser is?
We recommend using a tool such as whatismybrowser.com to find out your browser version, as well as the most current version of that browser.
I'm unable to access Airtable because my browser is unsupported. How can I fix it?
If your browser version has been deprecated, you may not be able to access Airtable at all. Instead, you'll see a message like this: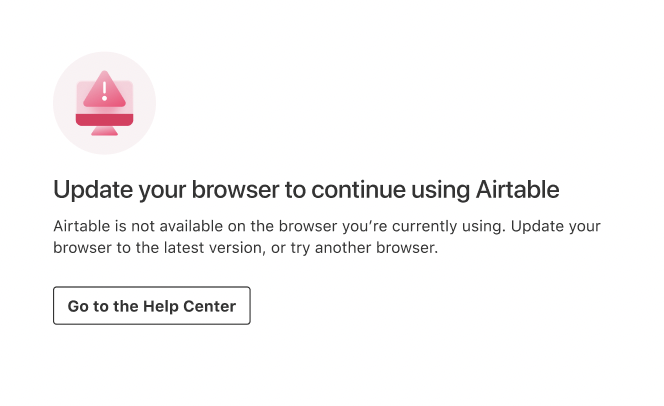 If this happens, please update your browser to the latest version to continue using Airtable.com.
I'm able to access Airtable, but see a message saying my browser will no longer be supported. What do I do?
If your browser version is going to be deprecated in the near future, you'll see a notice telling you the date that deprecation will occur:

If you see this message, we recommend updating your browser to the latest version to ensure continued access to Airtable.com.
I use an unsupported browser (e.g. Opera, Brave, etc.); will I still be able to use Airtable.com?
While an unsupported browser may be able to load Airtable.com, we're unable to guarantee compatibility and recommend using a supported browser instead.
Mobile requirements
Note
Shared views and forms are not currently accessible in Airtable's mobile apps. However, these kinds of links can be accessible in your mobile device's browser.
Mac app requirements
Windows app requirements
FAQs
Can Airtable be hosted on-premise?
Airtable is a cloud-based SaaS product, and we do not plan on offering an on-premise or self-hosted solution.
Does Airtable offer an offline access feature?
Offline access to Airtable is not currently possible, however, there are several options available for exporting your data to access it offline.
If you'd like to save your current Airtable records offline, you can export data from Airtable as CSV files. Note that you will need to export attachment files separately. Each table in your base will need to be downloaded as its own CSV.

Note

Exports do not include record-level comments, extension content, field descriptions, or base guide content.
Another backup option would be to set up an API integration that could periodically fetch all your data and save it, although this would involve some advanced program. You can find API documentation specific to your bases at airtable.com/api.
---
Was this article helpful?
---
What's Next