Airtable automation action: Create post on Twitter
22 Jun 2023

2 Minutes to read
Airtable automation action: Create post on Twitter
Updated on 22 Jun 2023

2 Minutes to read
---
Share feedback
Thanks for sharing your feedback!
Note
Due to recent, significant changes in Twitter's platform policies, this Create post on Twitter action will soon be deprecated. You can continue to use any already configured actions, but you will not be able to add these actions to any automations.
Because we want to minimize disruption to existing workflows, we will not be disabling any automations that use the action or removing the action from those automations. However, we cannot guarantee the continued operation of these automations, as we are at risk of Twitter disabling Airtable's access to their API. We recommend that users review their automations and migrate their workflows to another channel.
If you have an existing Hootsuite account, a plausible workaround might be to integrate
Airtable with Hootsuite
allowing you to schedule content to be posted directly from your Airtable base. You might also consider searching for answers and posting questions on
the Airtable Community page
.
When building an Automation, you may choose the action called "Twitter: post tweet". When the automation runs successfully, a post will be made to the connected Twitter account. The "Twitter: post tweet" action can be configured with one or more fields set to any text or to a value from a previous step or both.
Setup
To use this automation action, you'll need a Twitter account. We do not currently support posting to personal profiles.
Choose a trigger
To start, create a new automation. You'll then need to set up a trigger that will cause this automation to run. So essentially you'll want to pinpoint what should kick off this automation to post your content to Twitter.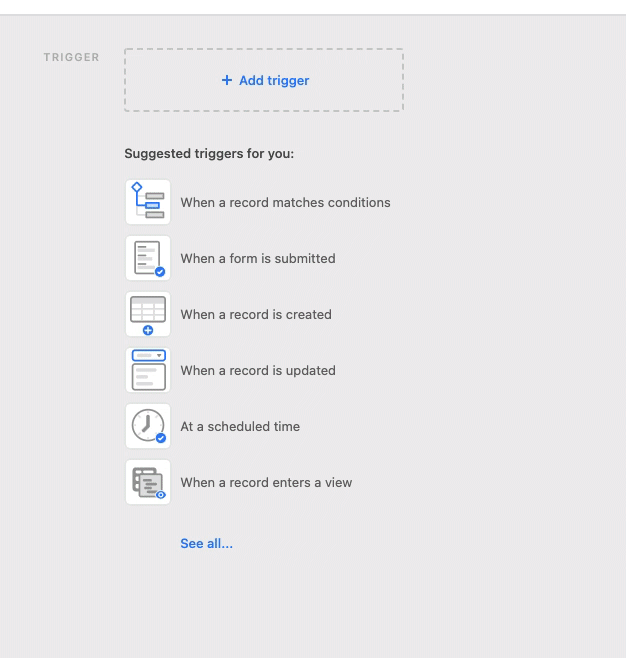 Add an action
To add an action, connect to the Twitter account you want to post to. You can now set up your message to include custom information including text, emojis, and information from records in Airtable. You can also add a link and attachments to include in your post.
After your message looks the way you want it to you must click "Run test" to ensure the action is working properly.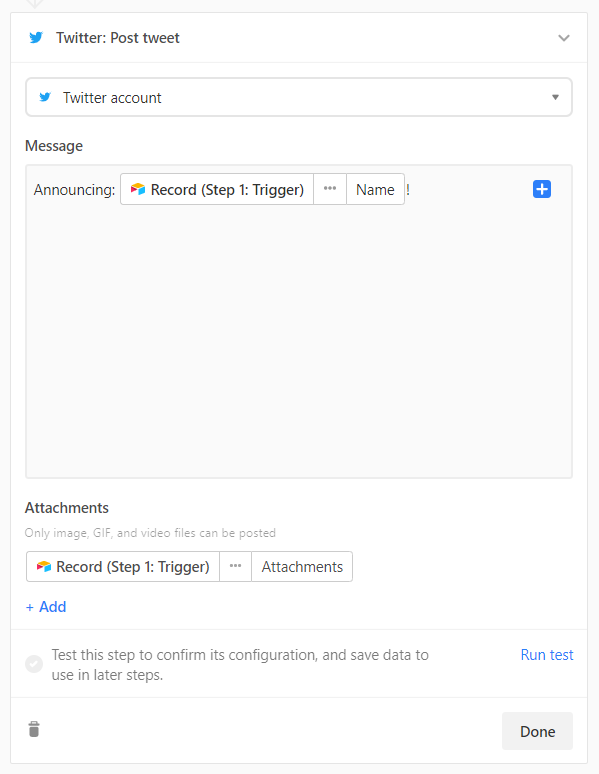 FAQs
Can I post images or videos?
Yes - you can post Airtable attachments as images and videos. However, there are certain limitations:
Supported image formats: JPEG, PNG, GIF, WEBP
Supported video formats: MP4, Quicktime
Maximum number of attachments per Tweet: 4 static images, 1 GIF, or 1 video.
A Tweet cannot contain a mix of static images, GIFs and videos.
Maximum file sizes: 5MB for static images, 15MB for GIFs and videos.
Can I @mention someone using this action? Unfortunately, in order to comply with Twitter's anti-spam rules, tweets cannot contain @mentions in our Automations.
---
Was this article helpful?
---
What's Next