Print a View
06 Jul 2022

1 Minute to read
Print a View
Updated on 06 Jul 2022

1 Minute to read
---
You can print a view of one of your tables by selecting the "Print" option from the ellipsis (...) dropdown in the view bar from a desktop version of Airtable. Alternatively, you can just use the keyboard shortcut Ctrl P .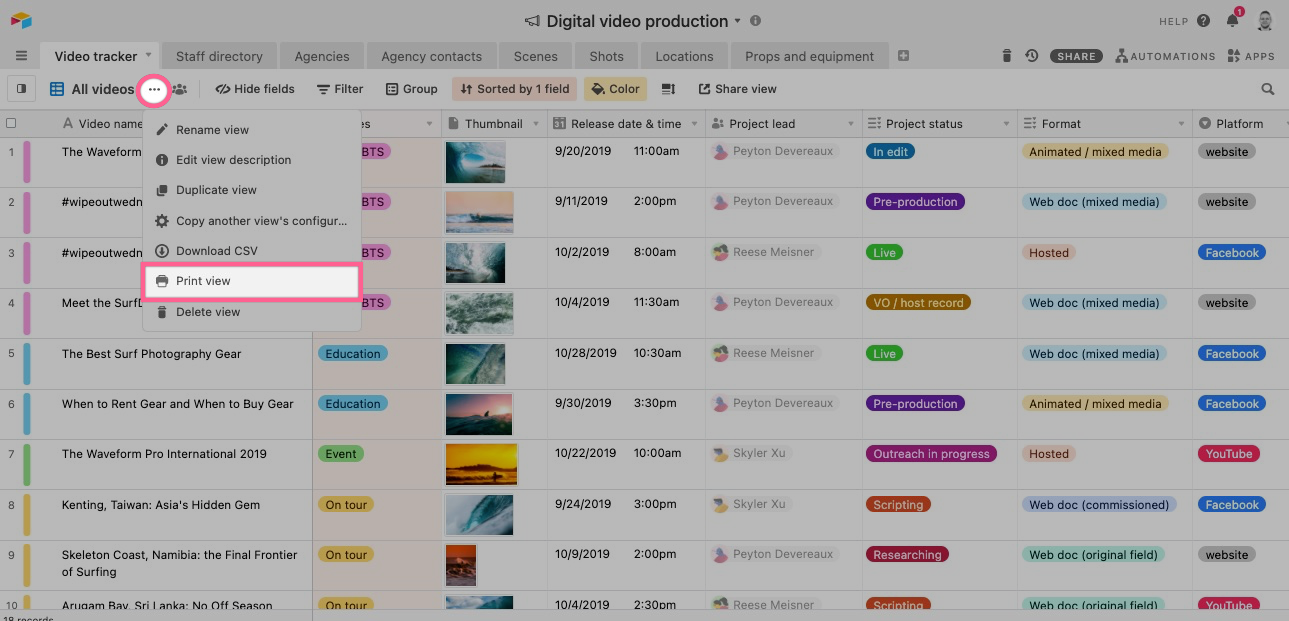 This will bring up the Airtable print dialog, in which you can alter the print settings.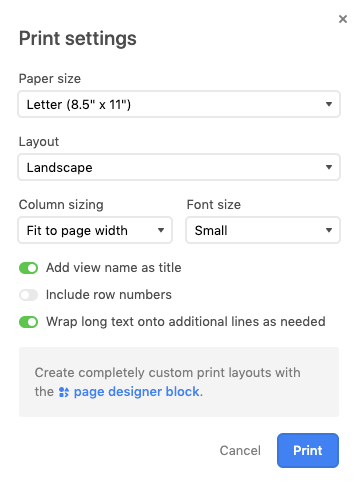 Pressing the "Print" button here will then bring up a final print dialog which will allow you to tweak a few more settings—which printer you'll send the data to, the number of copies, which pages, etc. If you're using Airtable in an internet browser, it'll bring up your browser's print dialog.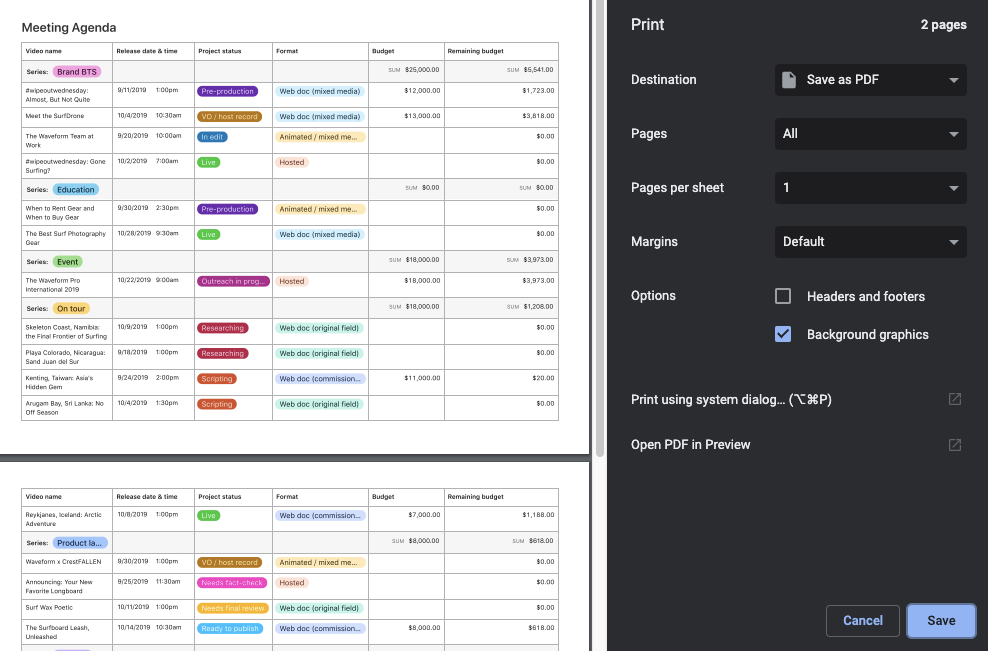 If you're using a desktop app, it'll bring up your operating system's native print dialog.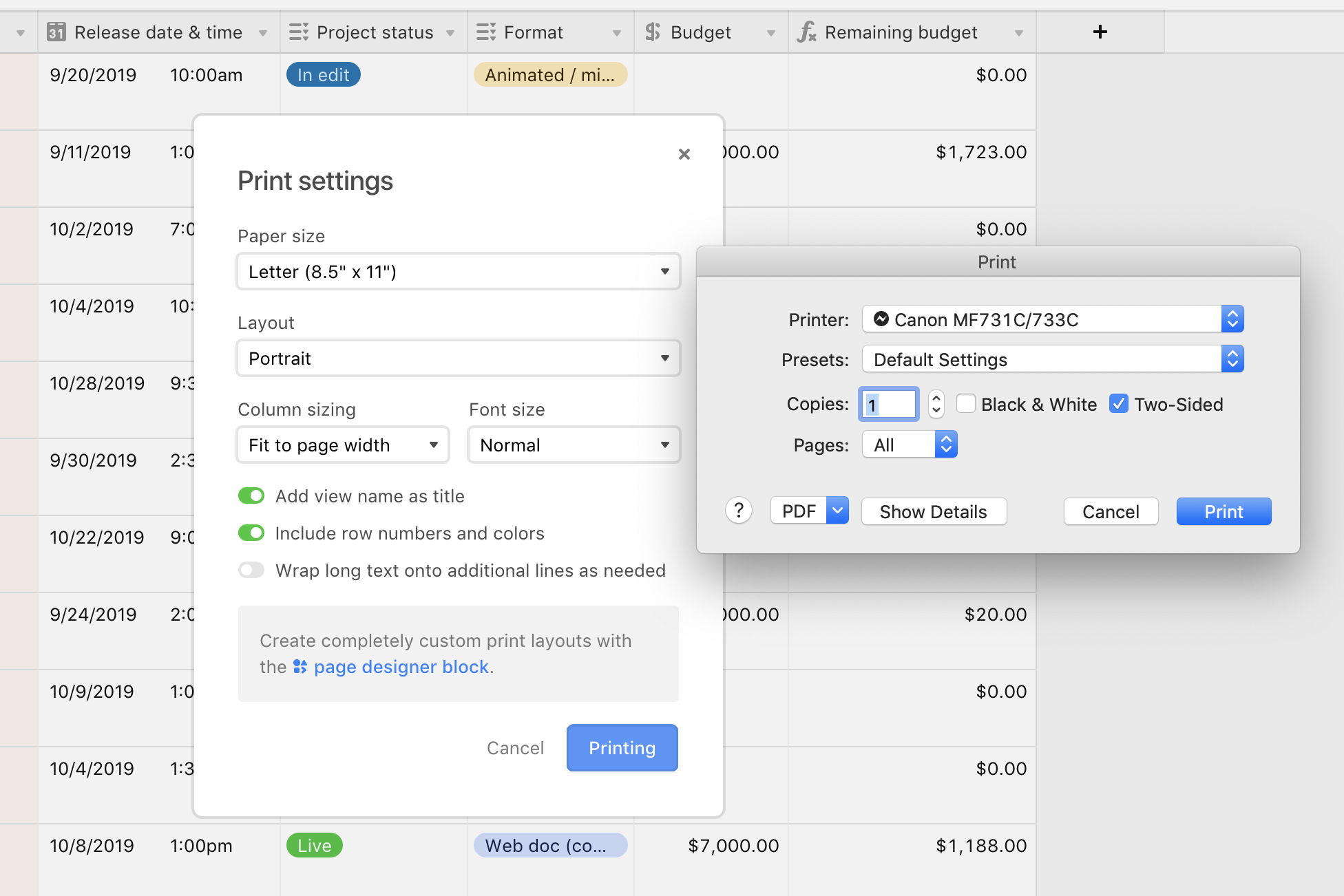 Note that the print dialog may appear differently depending on what type of view you wish to print.
Printing a grouped grid view
For a grid view without grouped records, you can select from a number of different paper sizes, change the layout between portrait and landscape, change the column sizing, adjust the size of the font, and choose whether or not you want to include row numbers or wrap long text fields.
For a full walkthrough on how to print grid views, see Designing beautiful printouts for the grid view.
Printing a calendar view
For a calendar view, clicking on the "Print view" option will automatically bring you to your browser or operating system's print dialog (skipping the Airtable-specific print dialog). This will enable you to print one month at a time, with whichever month is currently shown in your calendar view.
Printing a gallery view
For a gallery view, your print options are limited to changing the paper size and layout, but the printed version will retain the gallery card layout.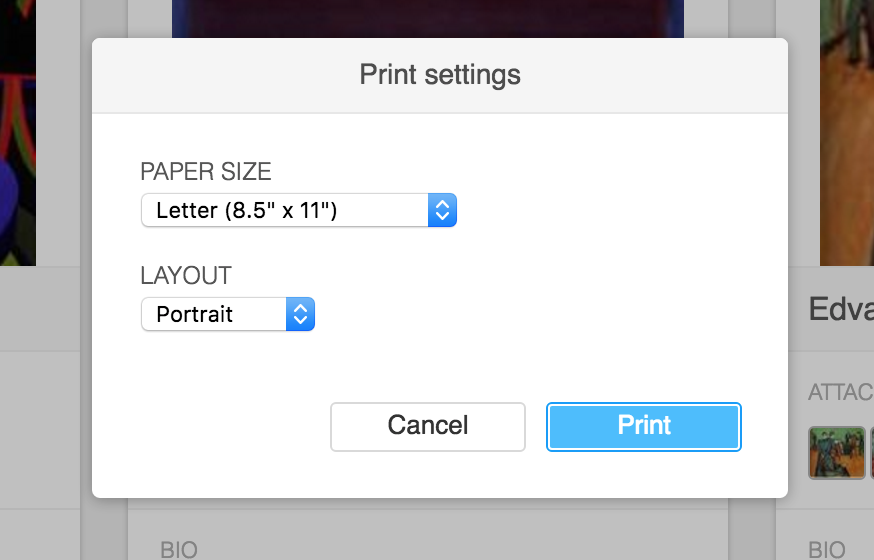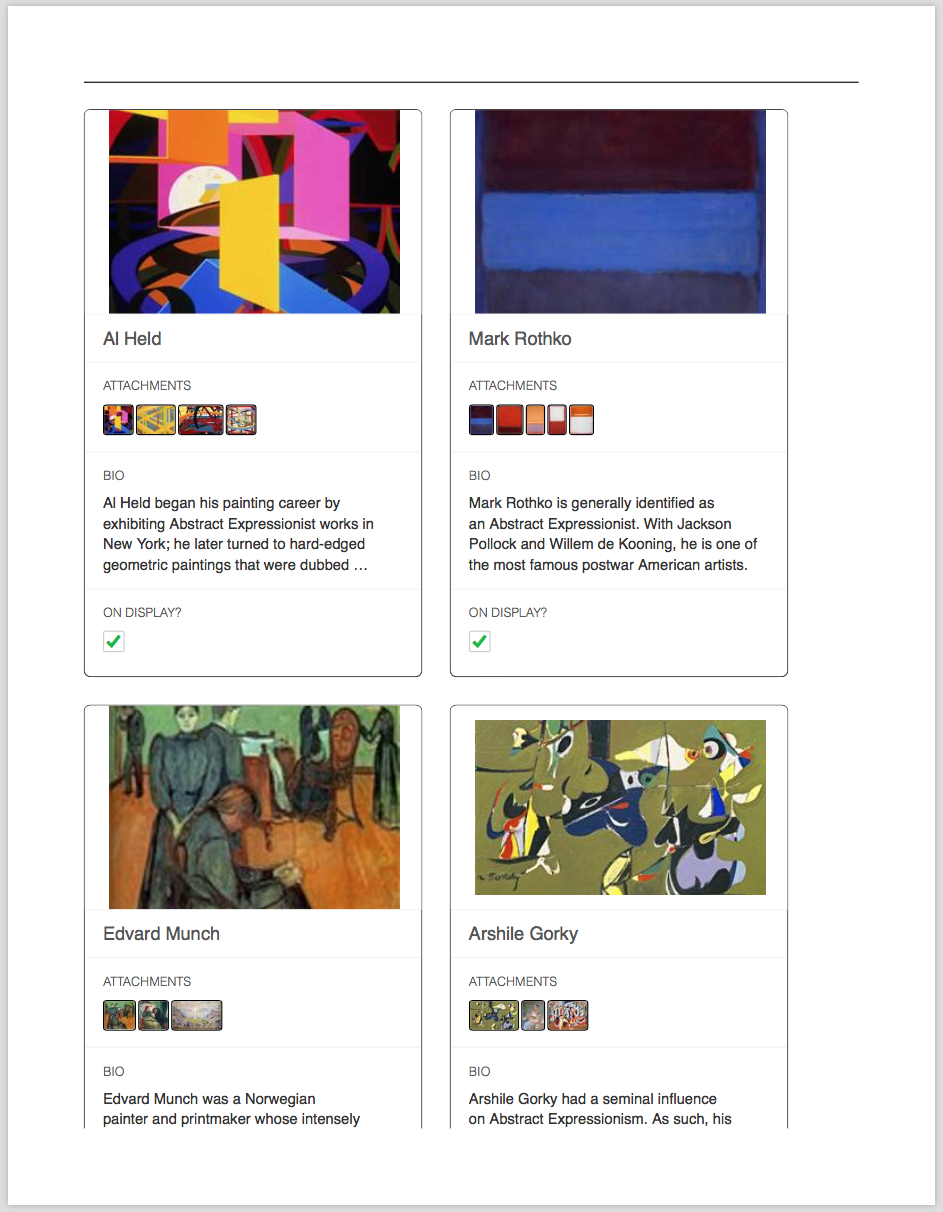 Printing a kanban view
A printed kanban view looks like a printed view with grouped records. More specifically, it appears as if you had grouped by the single select field on which the kanban view is based. It will also print only the fields that appear on the kanban cards.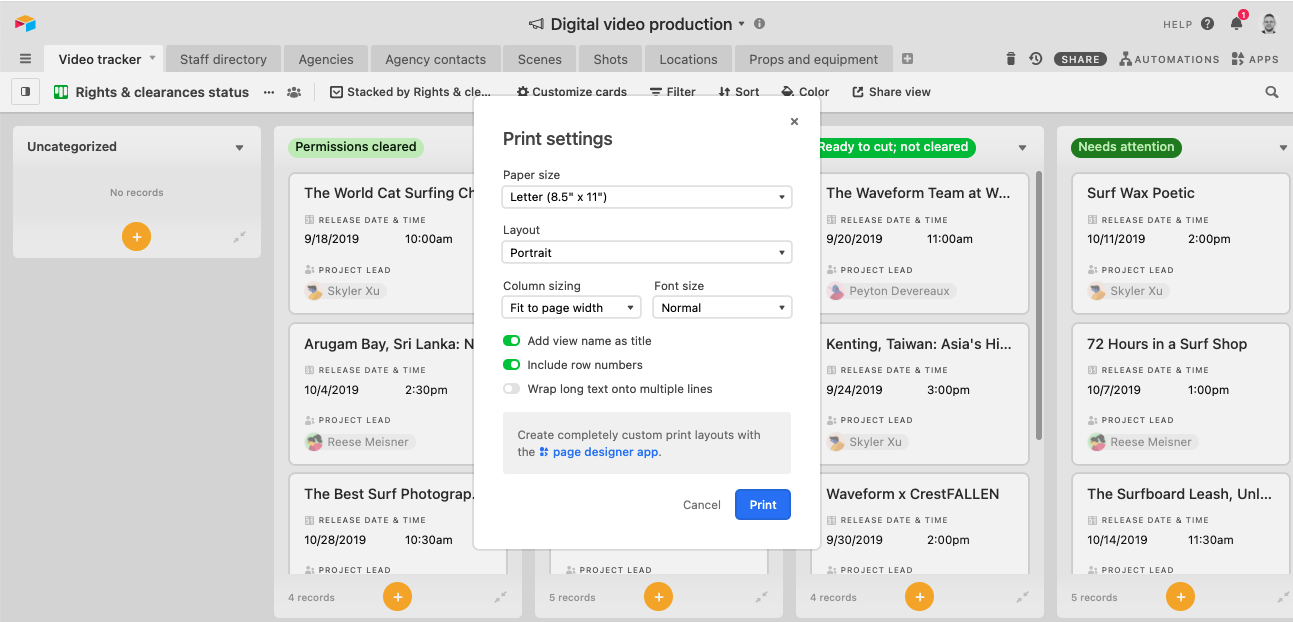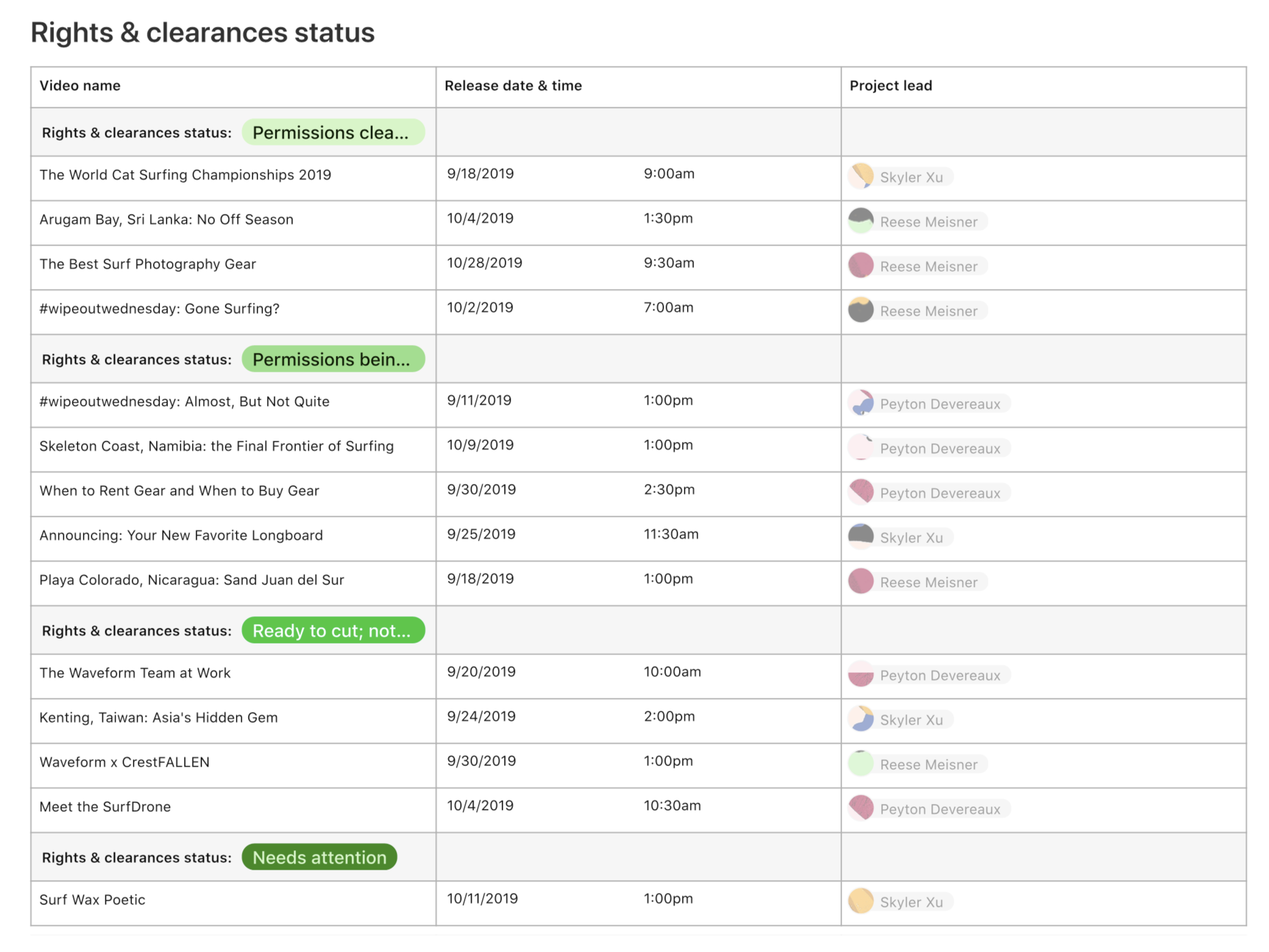 For an alternative approach to beautify your records and print in Airtable, see our page designer extension!
---
Was this article helpful?
---
What's Next