Can I make my own templates?
06 Jul 2022

3 Minutes to read
Can I make my own templates?
Updated on 06 Jul 2022

3 Minutes to read
---
You can let other people create a copy of a base you've created and use it for their own purposes by creating a share link to your base and enabling data copying. (You can also use it to export one of your bases to use in a different account.)
This is a great way for you to share interesting collections of data. Perhaps you've compiled a list of must-read books, and you want to share that list with your friends. With a share link, your friends can each make their own copies of your book base, check off books as they read through the list, and add new books of their own.
It's also a good method for sharing the tools you've designed to manage your workflow. Maybe, in the course of running your blog, you've devised an incredibly useful editorial calendar and you want other bloggers to be able to use your same setup. Anyone with the share link to this base can clear out your data and use it for their own purposes.
You can share your template with specific people or add it to the Airtable Universe for everyone to enjoy.
How to make your base available for copying
To share a whole base, click the "Share" button while in your base, and then click on the "Create a shared link to the whole base" option under the "Link sharing" header.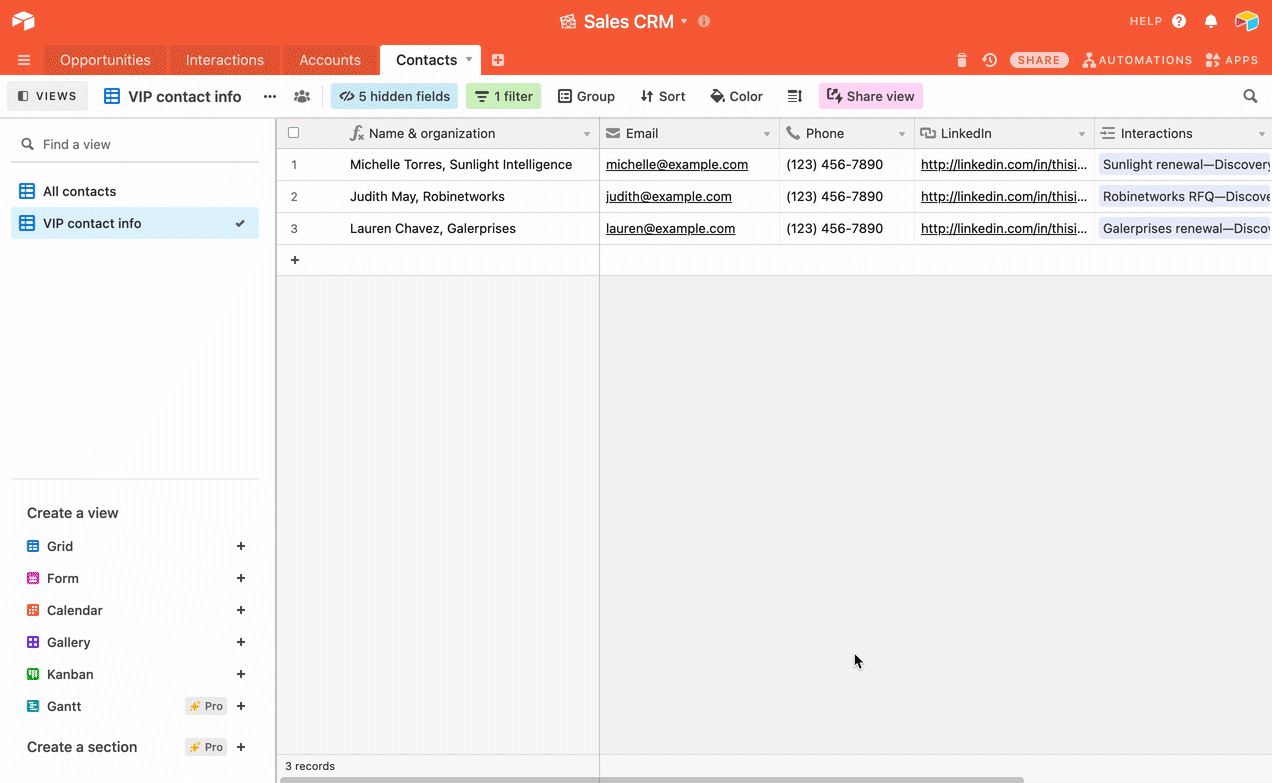 Clicking the "private read-only link" option will generate a share link for the base. Bear in mind that this link will be "live," in the sense that anyone opening the link will see all your recent changes to the base.
Notice the checkbox that says "Allow viewers to copy the data in this base":

If this box is checked, then, if you send someone the share link, they'll see a "Copy base" button.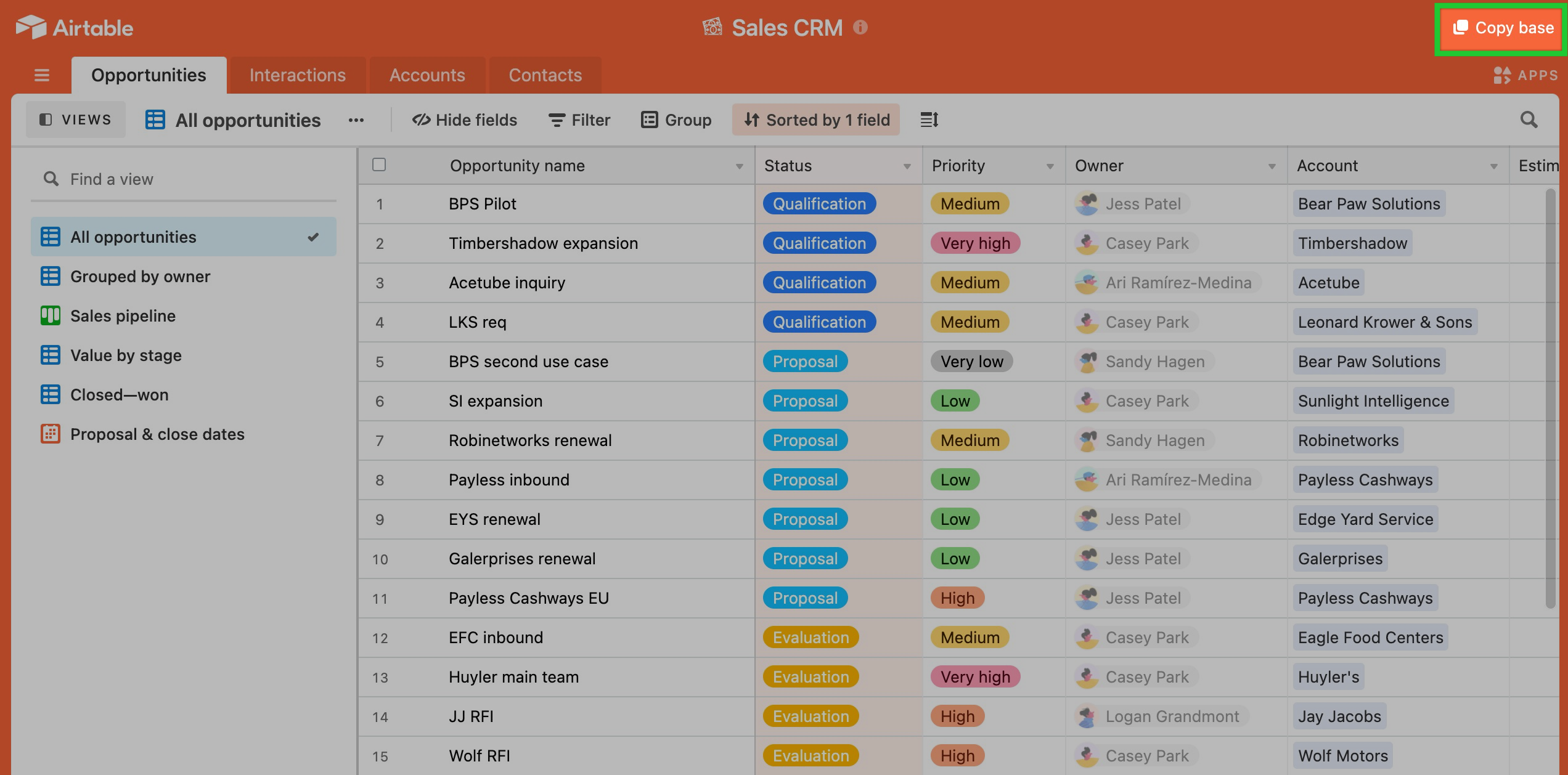 Clicking this button will allow that person to create a private copy of that base for their own purposes. Note that the person who copied the base will not receive any subsequent updates to your base, nor will you see any of their content or changes in the copied bases. For all intents and purposes, the copied base is completely separate from, and not connected in any way to, the original template base.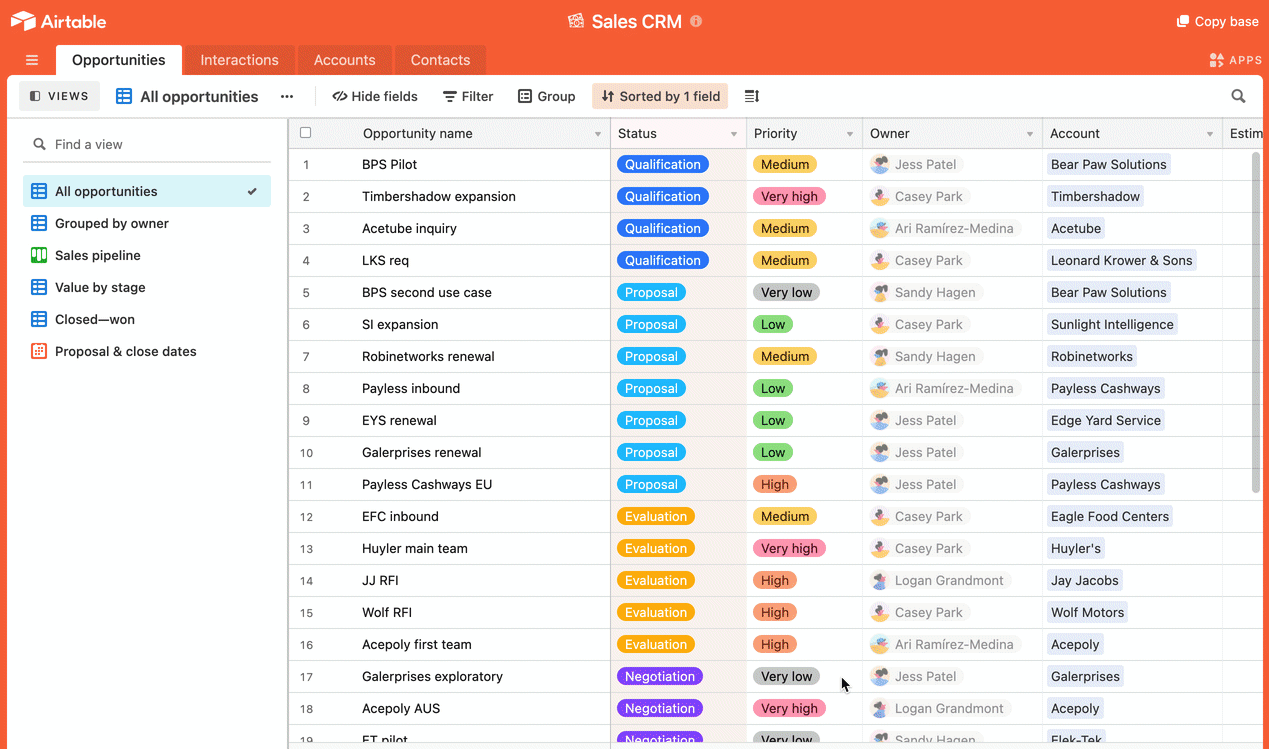 If you want to make your base copyable to an even wider audience, then you can embed your base on your website. Clicking the "Embed" option will bring you to a preview page which will show you what the embed will look like on desktop and mobile, and give you an embed code.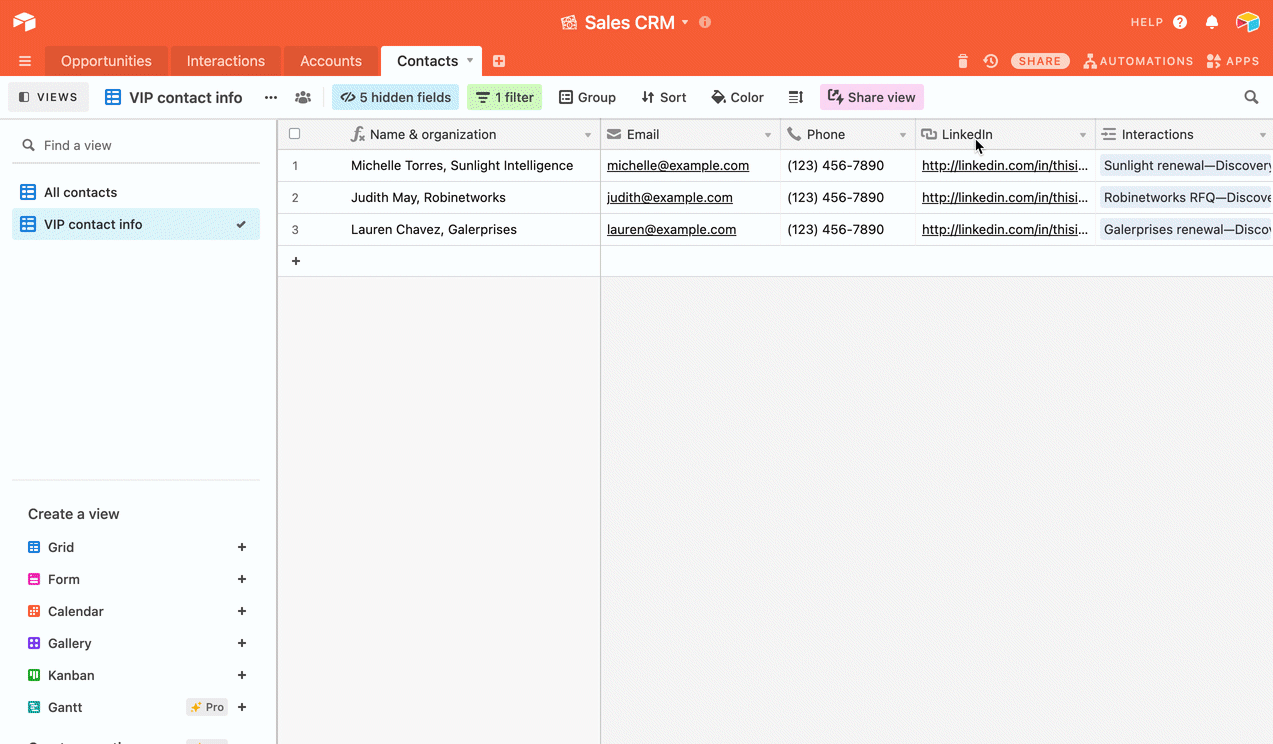 If the "Allow viewers to copy the data in this base" box is checked, then the embed(s) will have "Copy base" buttons at the bottom, which allows viewers who are signed in to their own Airtable account to make copies of the base for themselves.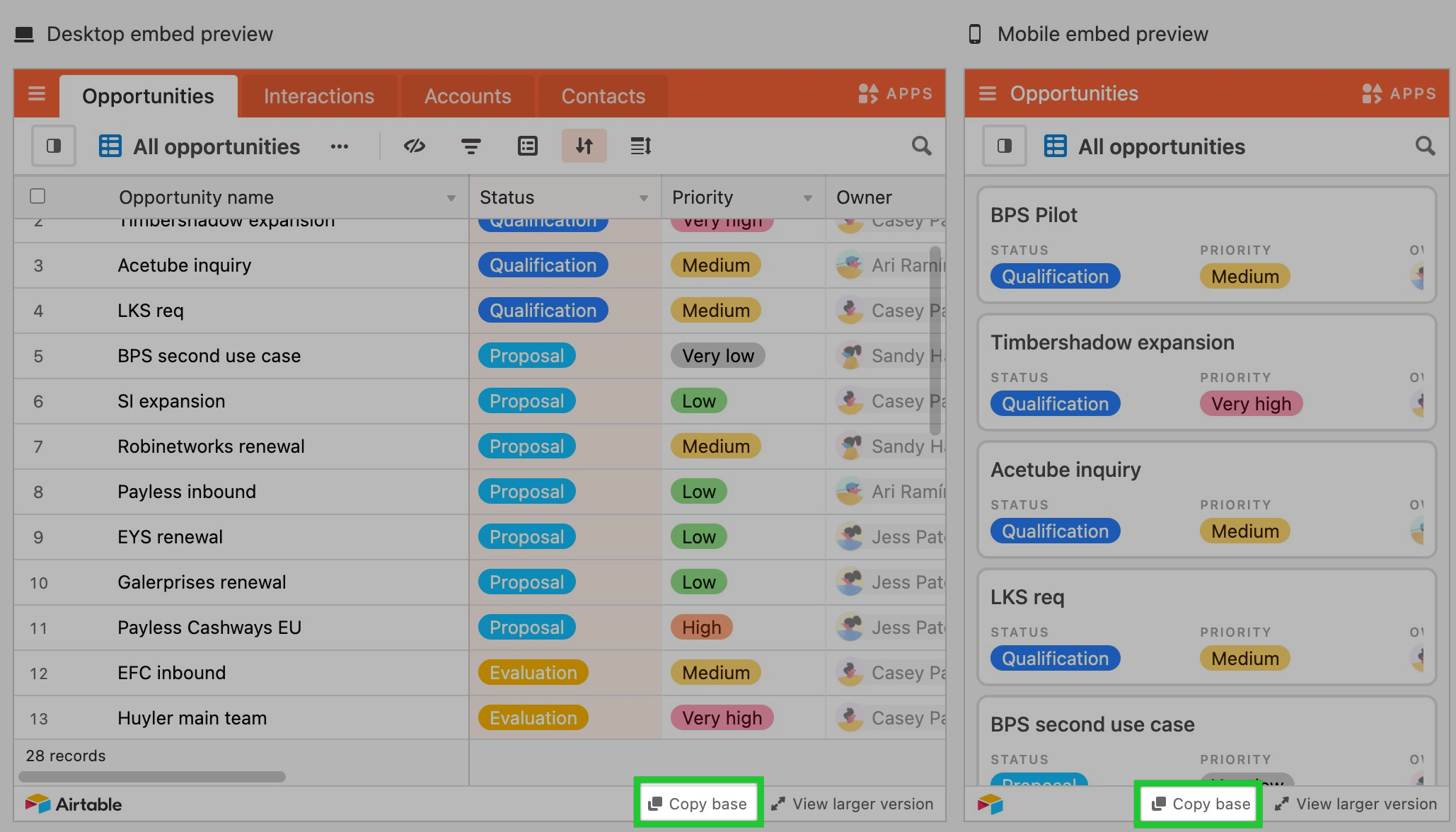 How to add your base as a template to Airtable Universe
Airtable Universe is a collection of user-created base templates that you can browse for inspiration, copy templates from, and upload your own templates. To add your own base to Airtable Universe, scroll down on the left-hand side and click "Publish your own!"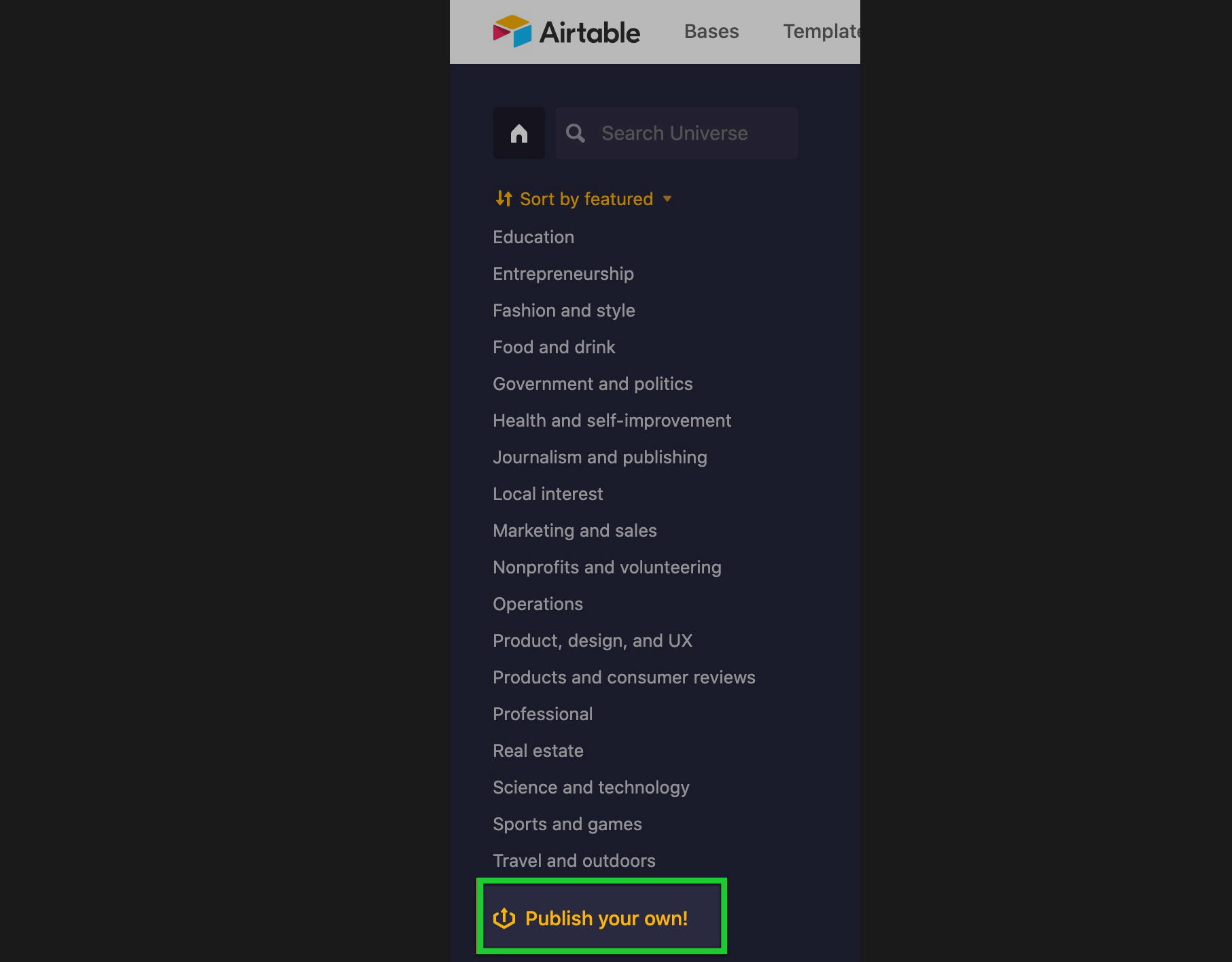 If you haven't already created a profile on Airtable Universe, you will be asked to make one now. Fill in your name, a short bio, and click Start publishing.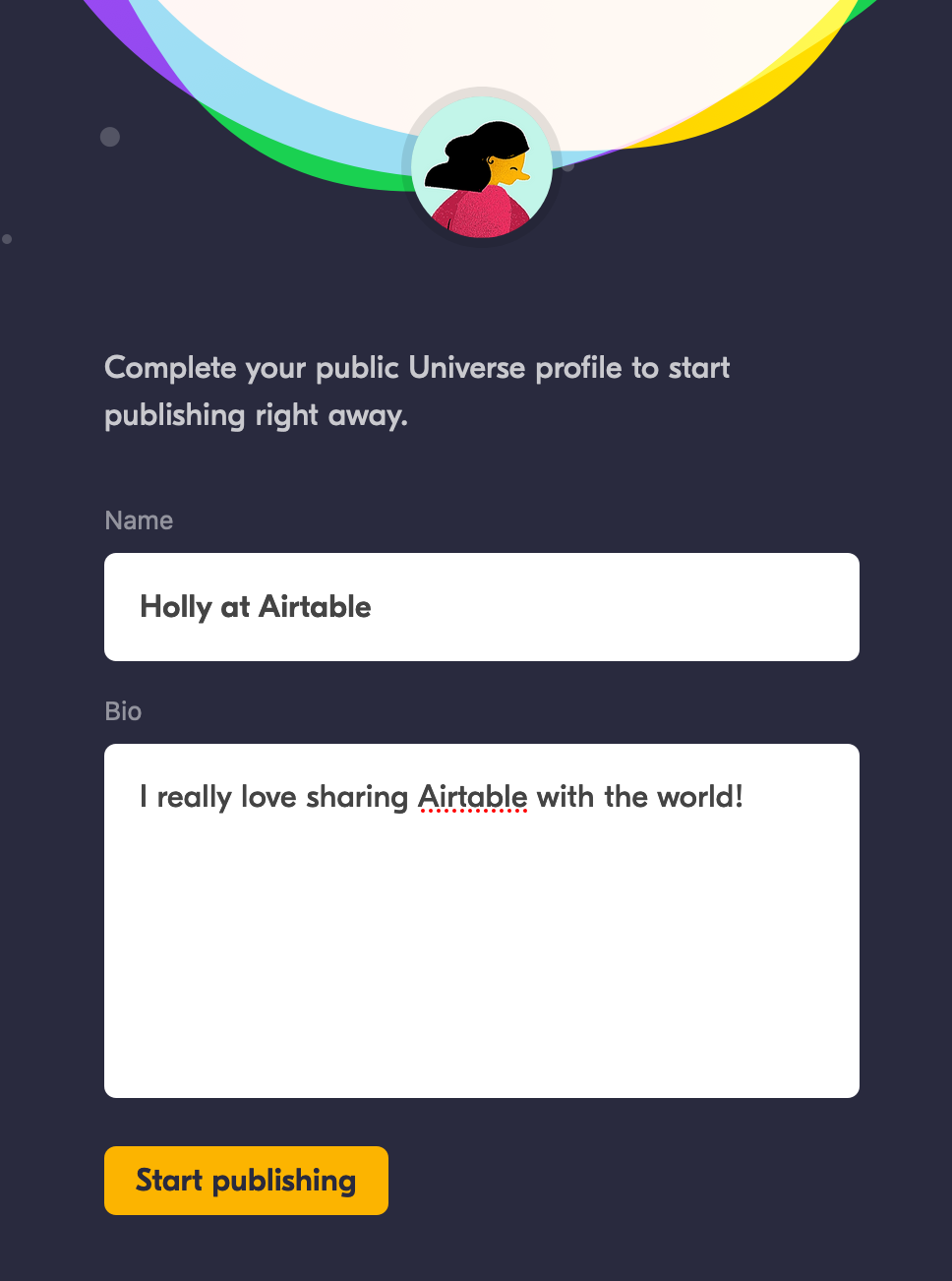 You'll then be taken to your Airtable Universe dashboard, where you can choose the base you want to share with other Airtablers. You can browse through the list, or if you've got a lot of bases to choose from, you can use the search bar to find the right base.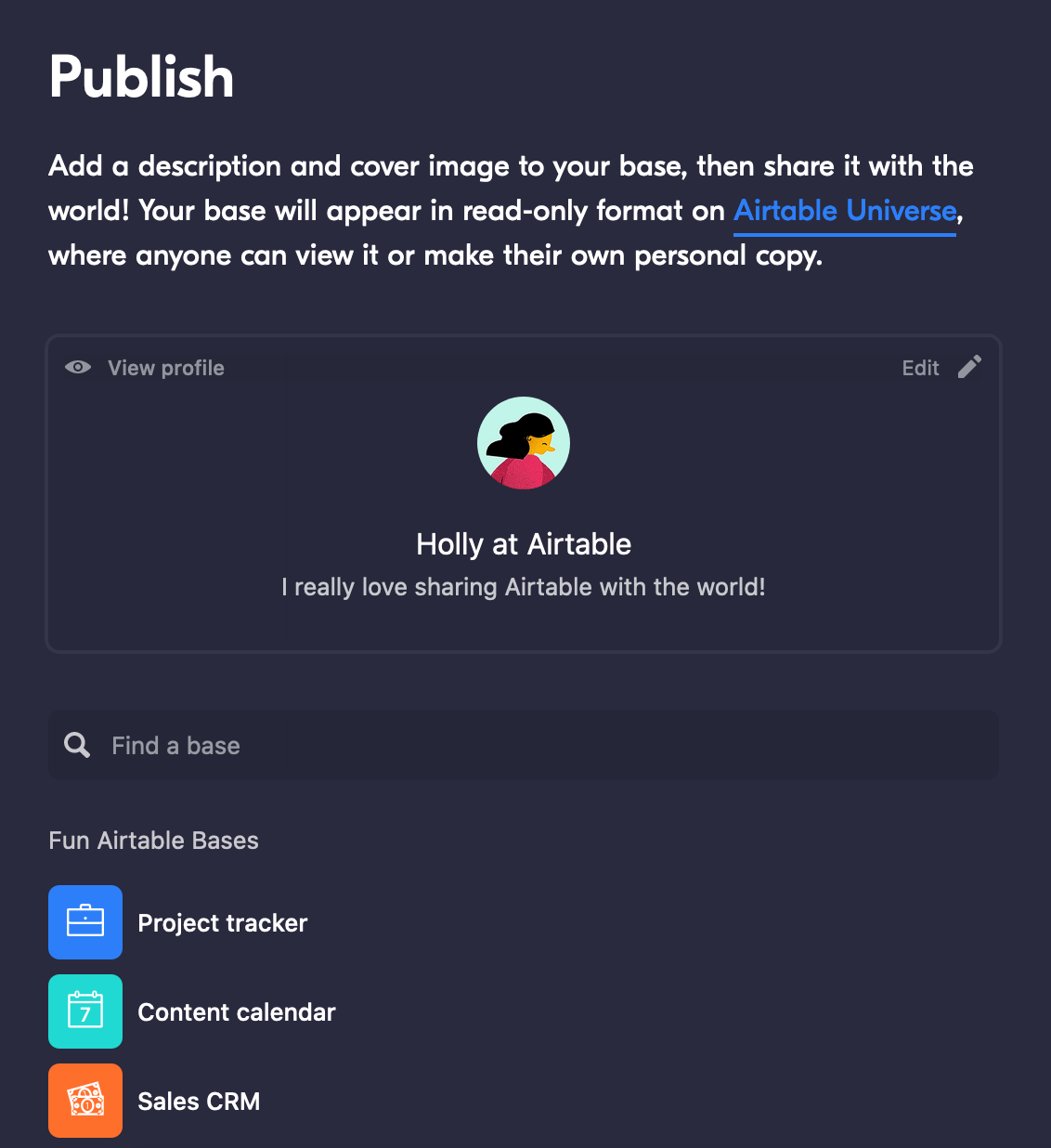 Next, you'll be taken to a publisher page where you can choose a share image, give the template a title, and add a description of what the base does and why it's so awesome. Choose 1-3 categories that accurately represent your base. Click Publish base and you're all set—you're now an Airtable Universe author!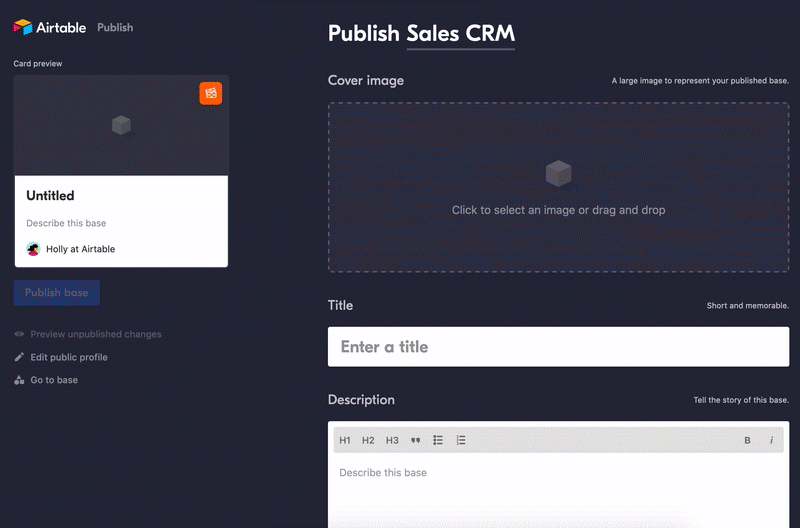 ---
Was this article helpful?
---
What's Next