Adding a workspace collaborator
08 Nov 2023

2 Minutes to read
Adding a workspace collaborator
Updated on 08 Nov 2023

2 Minutes to read
---
Share feedback
Thanks for sharing your feedback!
This article details how to share a workspace with another user and manage their permissions. If you'd like more information about collaboration in Airtable we recommend checking out this support article.
What is a workspace collaborator?
When sharing a workspace with another user, that user will become a workspace collaborator who has access to all of the bases/interfaces in that workspace (at a specified permission level).
Add a workspace collaborator
Note
In order to perform the following actions, you'll need Owner or Creator permissions.
From the Airtable home screen:
Click on the workspace where you intend to add a workspace collaborator from the left side of the page.
Click the Share button near the top right of an open workspace.
This will open the workspace sharing window. Here, you will see the options to Invite by email or Invite by link. Additionally, you can find previously configured "Invite links" as well as existing "Workspace collaborators" in those corresponding sections.

To Invite by email, input an email address or add several email addresses in a comma-separated list. Then, set the permission level that you would like the user(s) to have across all of the bases in the workspace, and optionally add a message. Last, click Send email to email those users an invitation to collaborate.
To Invite by link, click the Invite by link option. Then, set the permission level that the invite link will allow for access to bases across the entire workspace. Next, choose to "Allow any email address" or only allow a single email domain to be able to gain access as a workspace collaborator (recommended). Last, click Create link. Now you can click the clipboard icon next to the URL of the link you created to share that link in whatever way you see fit.
Remember that a workspace collaborator will have full access to all bases and interfaces in a workspace. If you only want to share certain bases with someone, you may want to make them a base collaborator instead. If you only want to share certain interfaces, then consult this support article.
Deleting invite links
To delete an invite link, click the X to the right of the invite link. Deleting the invite link will deactivate it, and anyone who attempts to use the old link will not be able to access the workspace.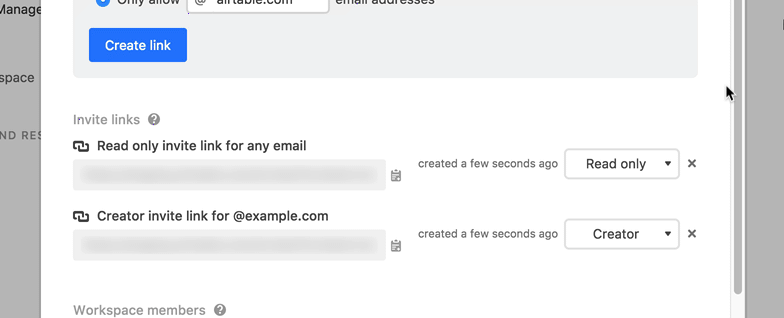 Removing a Workspace Collaborator
You can remove a workspace collaborator from the workspace sharing window. Click on the X next to the user you intend to remove. A few notes:
Only users with Owner or Creator workspace permissions can remove users at their permission level or lower.
You can only remove your own access if there is at least 1 owner remaining in the workspace.
Base collaborators cannot be removed from this window. Instead, consult this article.
---
Was this article helpful?
---
What's Next