Airtable Sync - Basic setup
06 Sep 2022

4 Minutes to read
Airtable Sync - Basic setup
Updated on 06 Sep 2022

4 Minutes to read
---
The Airtable Sync feature allows you to sync records from a source base to one or more destination bases to create a single source of truth across your organization.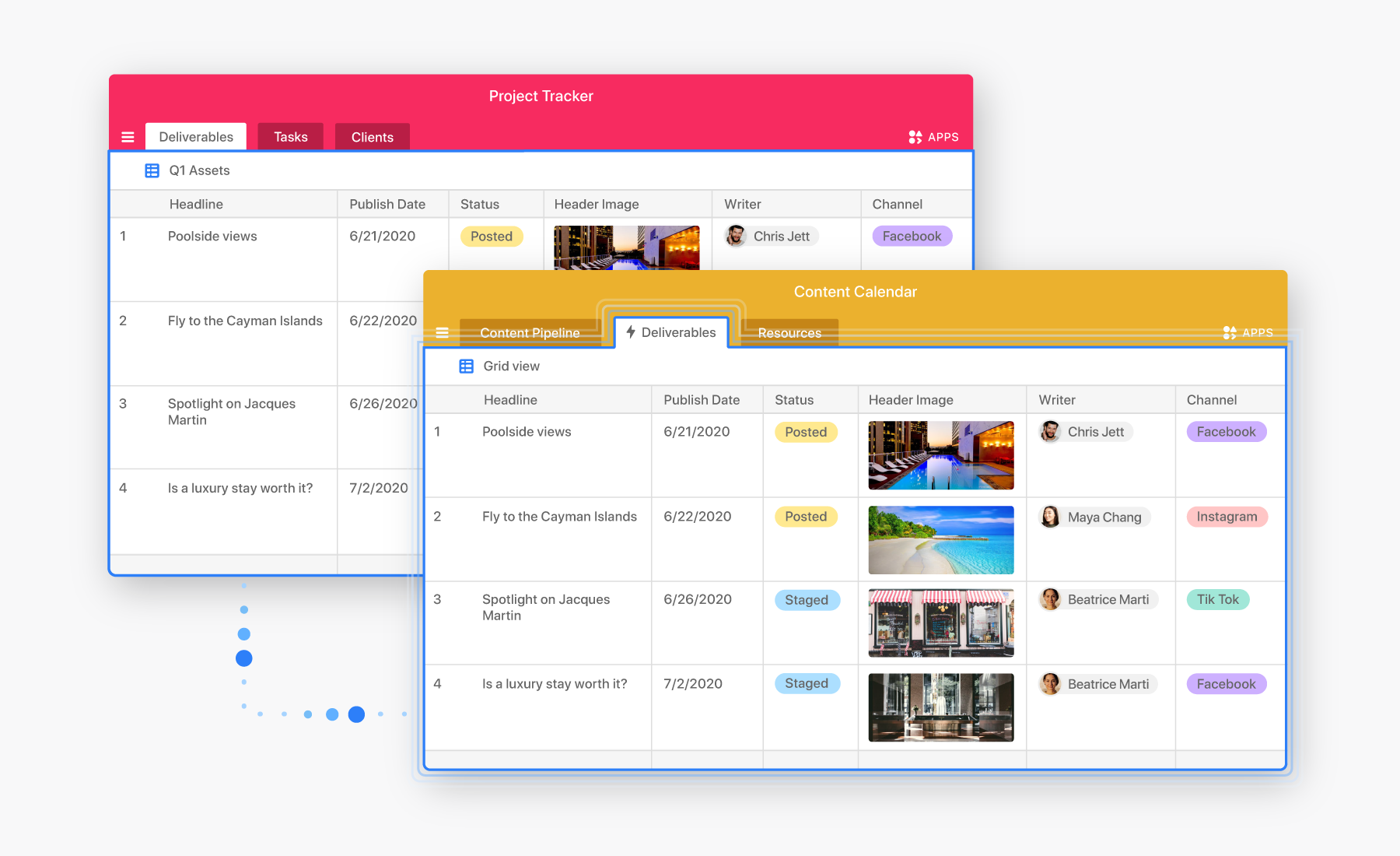 Overview
To set up a sync, you need access to a shared view that is enabled for syncing. You can then use this view to create a new synced table in any base that you have creator permissions to. Once the sync is set up, all visible records in the source view will be available in the synced table on the destination base. Synced data cannot be modified on the destination base.
Syncing can occur in two ways, automatically (ongoing) or manually. Automatic syncing occurs approximately once every 5 minutes and is only available on paid plans. Manually syncing can be used for one-off syncing for situations where you want manual control over when data is synced. For more information on configuring these options check out our advanced options article.
Note
Automatic syncs will eventually stop on bases that don't have any recent activity. To keep automatic syncs active make sure that some kind of action is being performed in the base on a regular basis.
Setting up a sync
There are three steps to complete in order to set up a basic sync.
Create a syncable view share link in the source base
Open the syncable view share link and click "Use this data"
Use the setup window to create the synced table
Step 1: In the source base, create a view share link and enable sync
Create a grid view that you'll use as the source for the sync. You can determine which information can be synced by filtering out records and hiding fields.
Then, click Share view to create a view share link and select "Allow data in this view to be synced to other bases". You can copy the URL in the pink box and share it with other users that may want to sync this data. You may choose to set a password or a domain restriction to further restrict access.
In the example below, we are sharing a view of employees on the engineering team, so we will create a new view that hides certain fields and filters records.
Step 2: Open the syncable view share link and click "Use this data"
Click the 'Use this data' button on a shared view page
While viewing a source base's shared view that has sync enabled, click the 'Use this data' button on the top right. Then, select the workspace and destination base you want to sync to. You can also choose to create a new destination base from the source base's shared view or copy the data into a new (non-synced) table in an existing base that you can edit.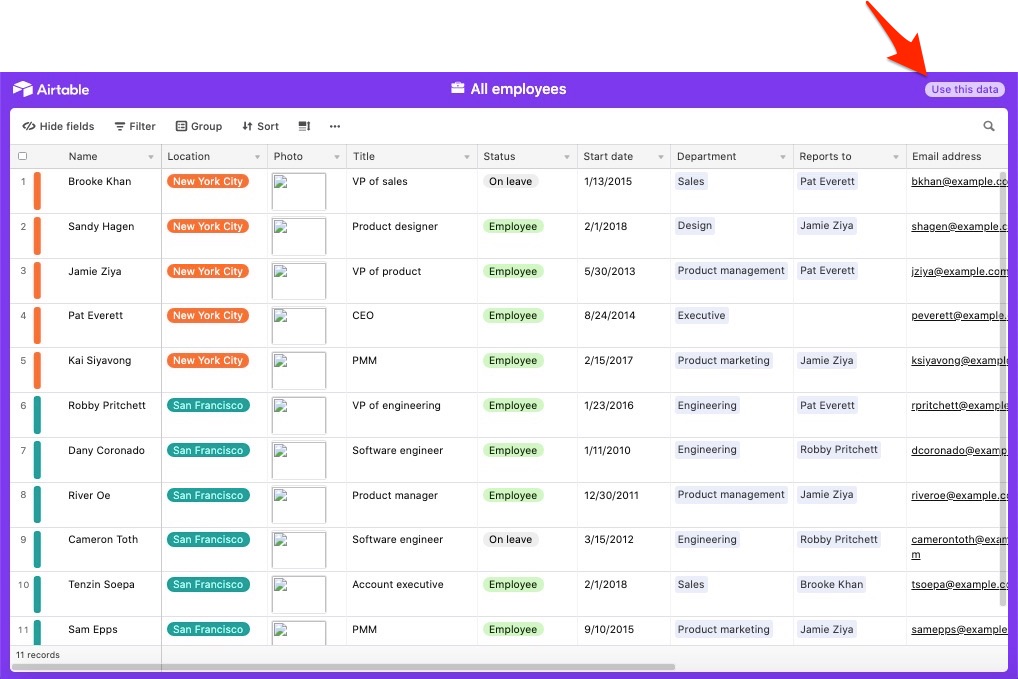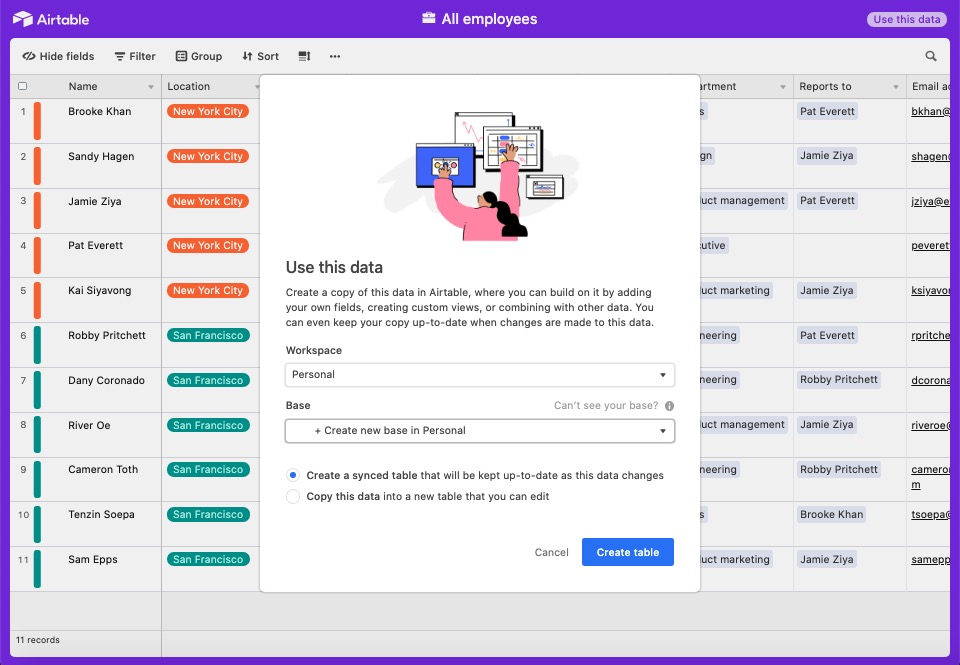 your title goes here
There are three ways to create a synced table in your destination base. Method 1 detailed above is the most straightforward, but you can also explore methods 2 and 3 below which provide other options.
(Optional) Method 2: Choose base and shared view
If you are a collaborator on both the source and the destination bases you would like to sync, then you can create a new synced table in the destination base by clicking on "Airtable base" under the "Sync data from" section. Next, you will configure the source of your sync by choosing from a menu of bases, tables, and views to choose from. After choosing a syncable view source click**Next** . This will take you to the setup page to configure the rest of your sync.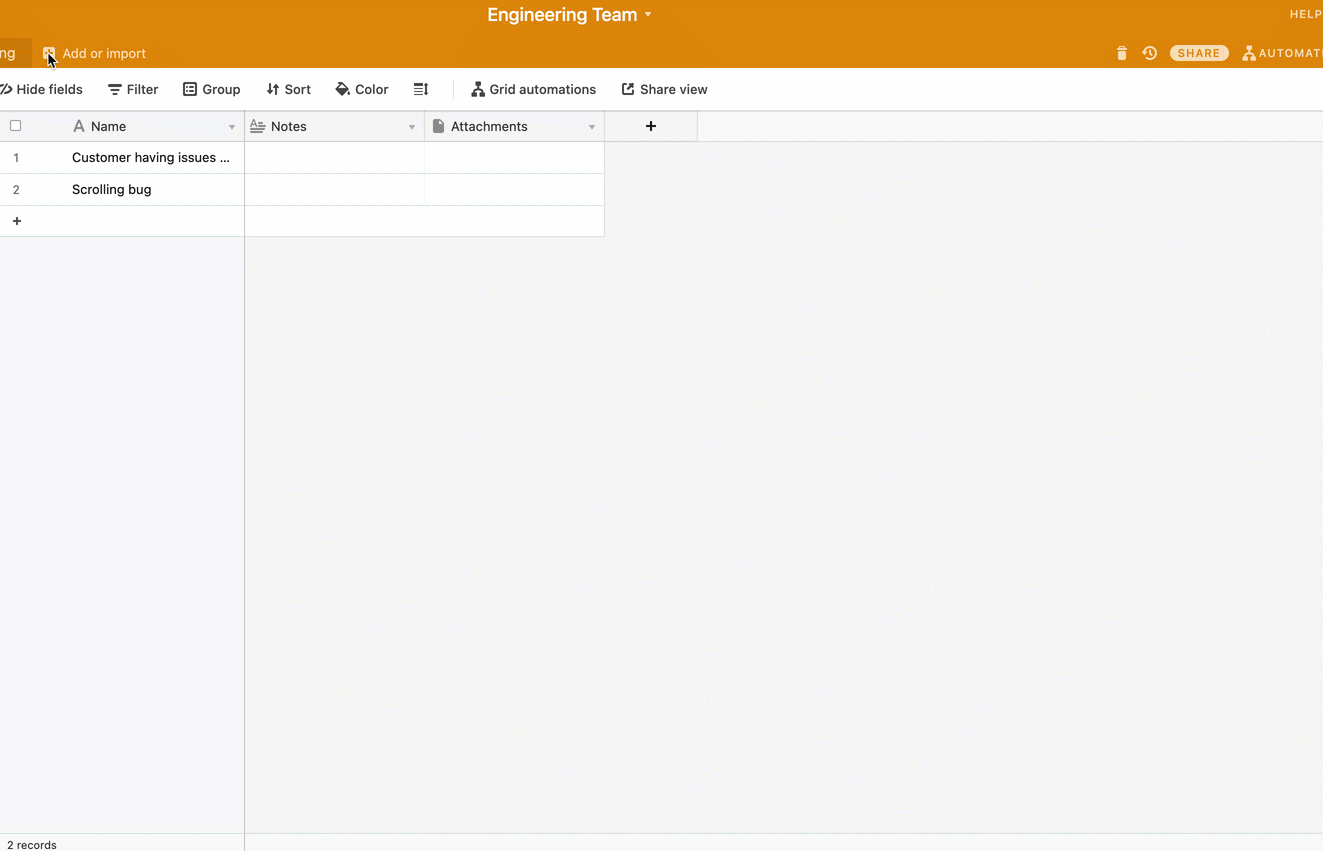 (Optional) Method 3: Enter shared view URL
Go to the base you would like to sync information to. Create a new table, and choose "Create synced table", and select "Enter shared view URL". Then, paste in a syncable view share link to proceed to setup.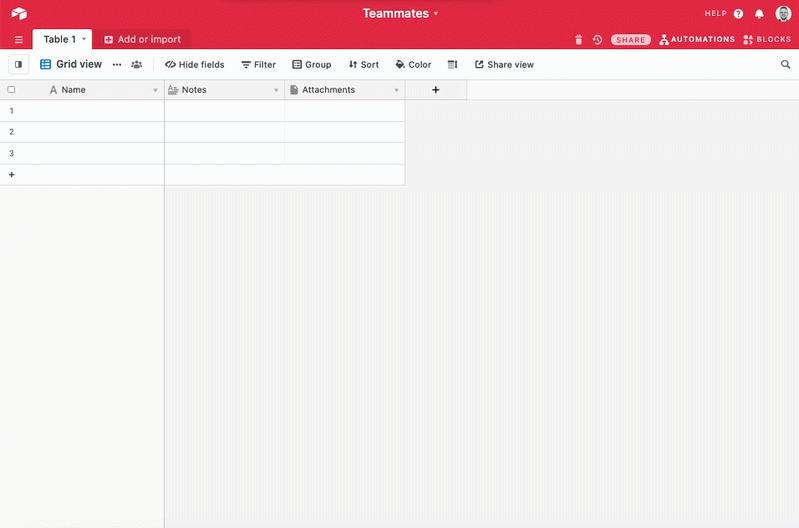 Step 3: Setup
When setting up your first sync, we recommend using the default settings. After you become comfortable with basic sync setup, you can view the section on settings in our advanced setup article.
Click Create table.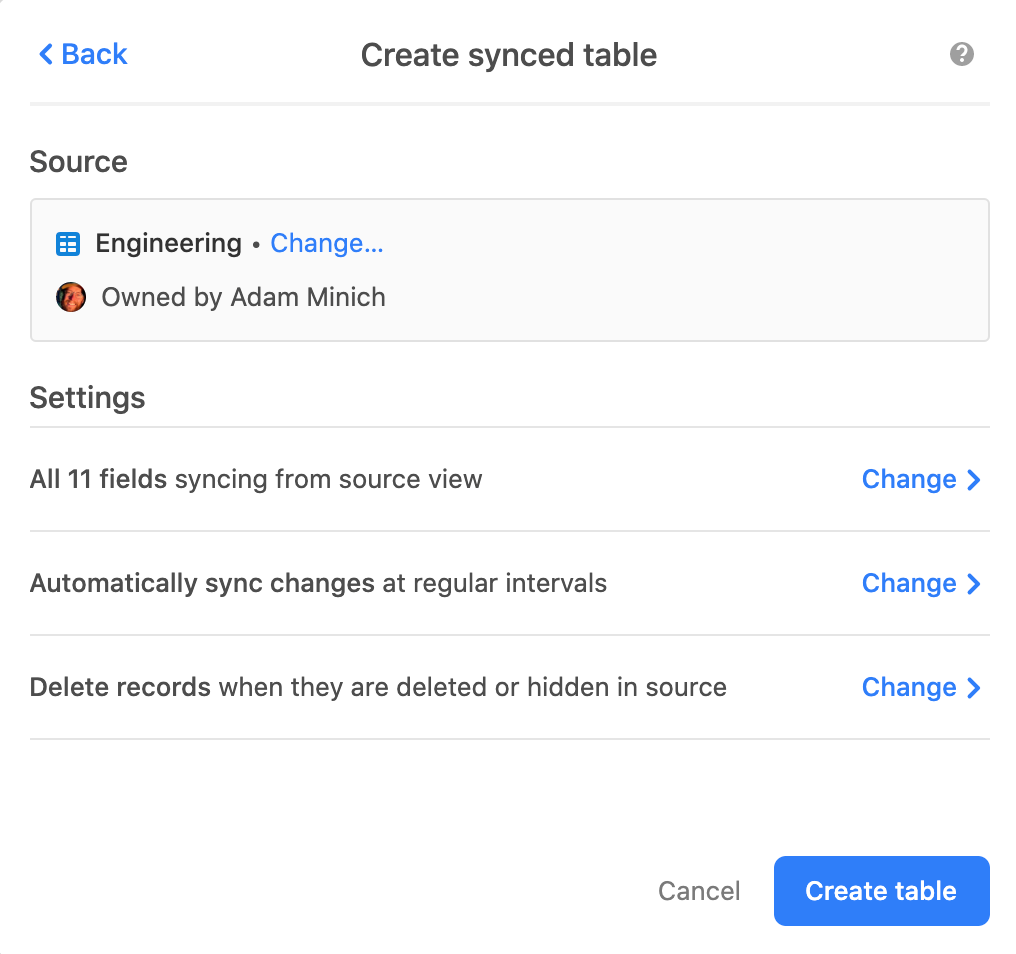 A table will appear that will have a lightning bolt icon next to the table's name, any synced fields, and where you would normally see a plus sign to add records.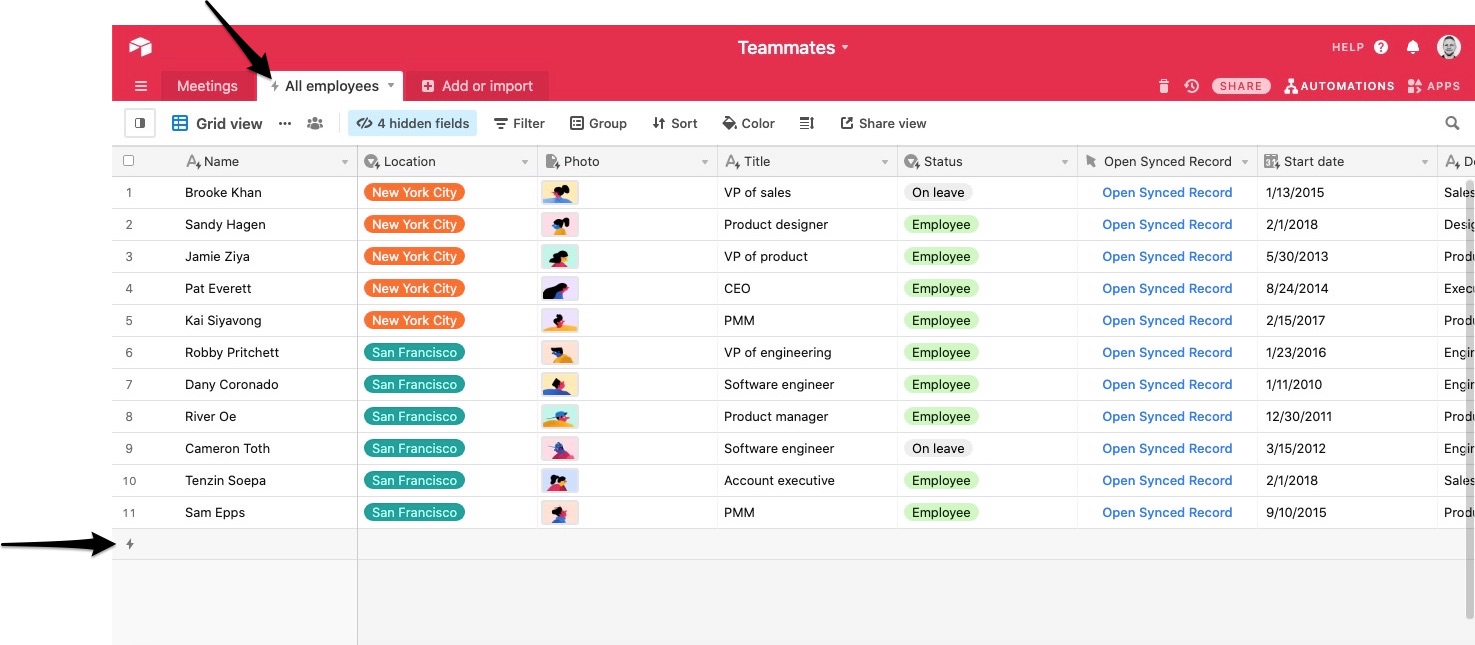 If you'd like to go back and adjust a sync's settings later, then navigate to the "Update sync configuration" option from that destination table's drop-down menu.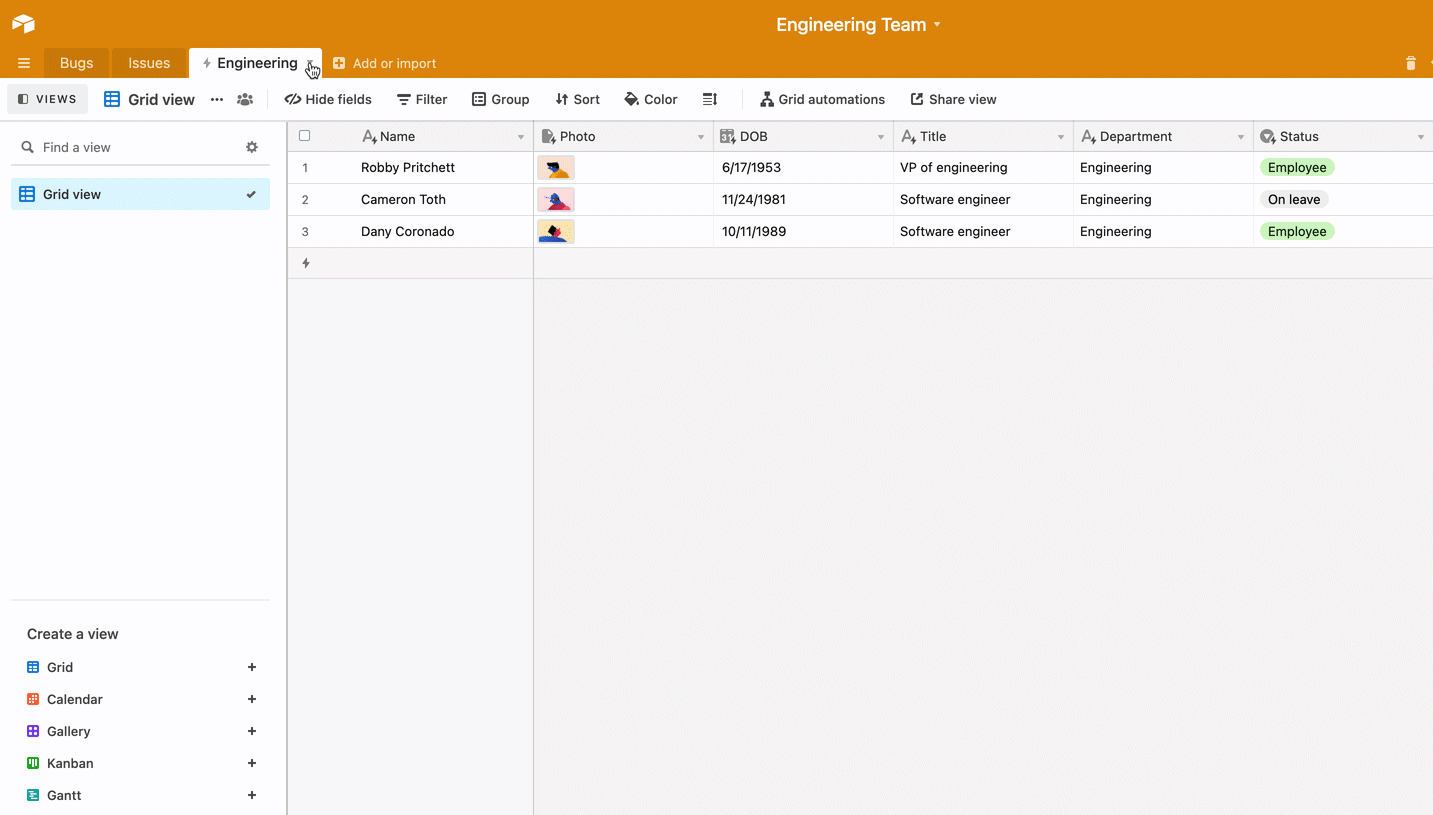 FAQs
Don't see an answer to your question below? Check out our extended Sync FAQs.
What happens if I "unsync" the destination table from the source table of a sync?
The contents in the destination table will remain. Though any changes to records in the source table will no longer be reflected in the destination table.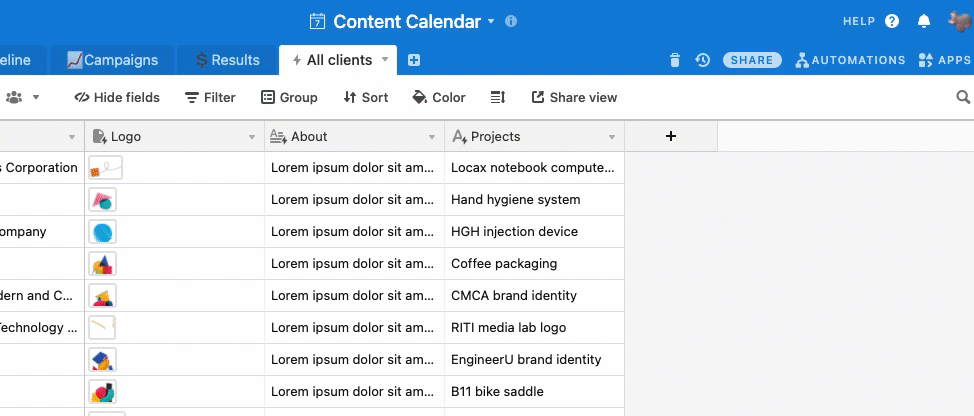 Can I add or delete records in the destination table created by a sync?
Sync is a one-way process so you can not add, edit or delete records in the synced destination table.
Can I edit and move records from one table to another using Sync?
If you need to add, delete, or edit fields on a record: sync may not be the best option for your workflow. For more context, we recommend reading this support article about combining multiple tables and this support article about copying a table from one base to another.
Can I sync records from multiple sources into a single destination table?
Customers on our Pro or Enterprise plan offerings are able to use the multi-source syncing feature to accomplish this workflow. This support article offers more information about that setup.
Related video content
---
Was this article helpful?
---
What's Next