Field Manager and field dependencies
21 Feb 2023

2 Minutes to read
Field Manager and field dependencies
Updated on 21 Feb 2023

2 Minutes to read
---
The field manager is Airtable's new surface focusing on table configuration — giving Pro and Enterprise users more control over permissions and settings for things like schema fields and field configurations.
Use cases for field manager and dependencies
The field manager and dependencies can be used to:
Bulk field delete
Update field permissions
Review a complete list of fields connected to a table
Locate relevant fields to update through filtering and sort by different criteria
Identify if a calculated field is broken
Identify which objects are dependent on a specific field before making changes to or deleting a field
Identify who created or last modified a specific field
Using the field manager and dependencies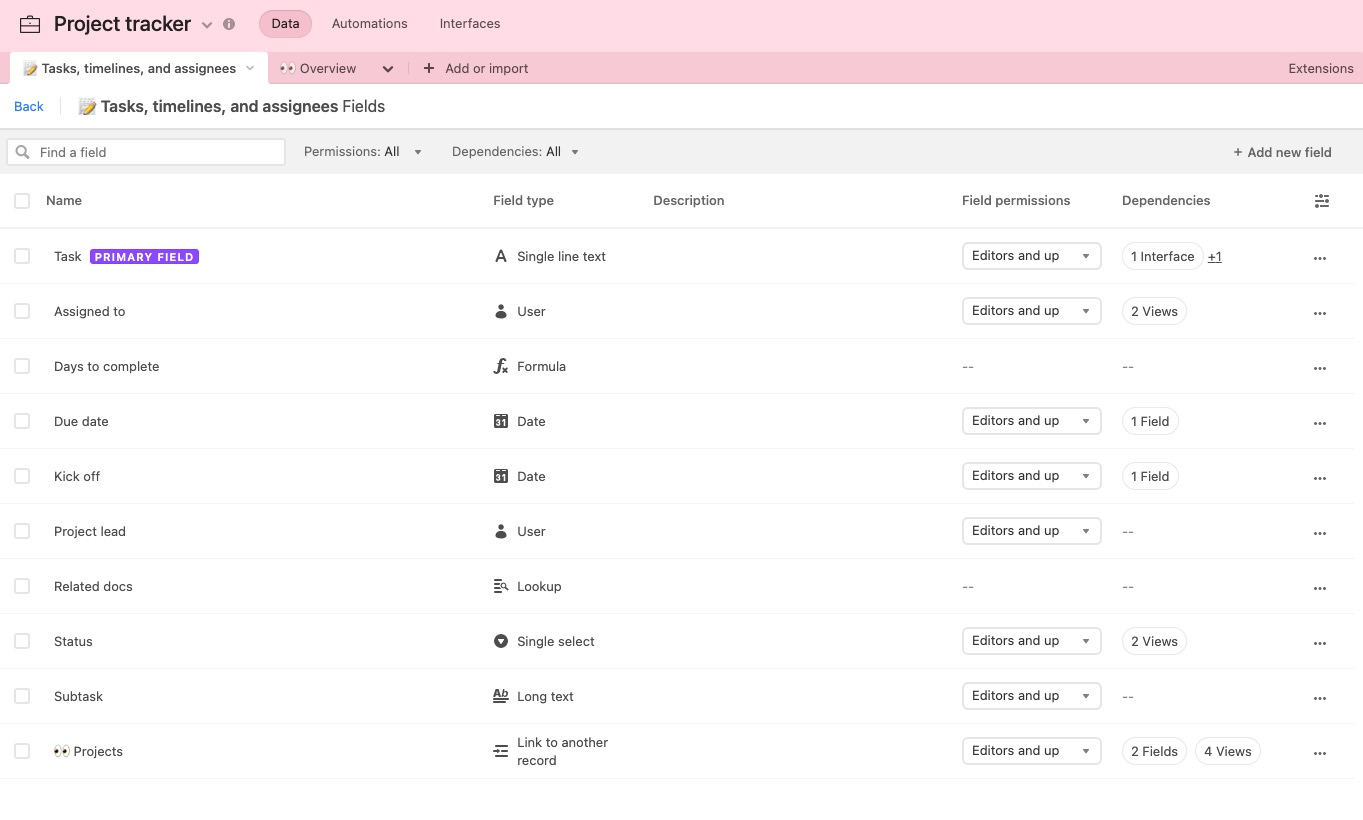 Please note that this feature is currently only available on Pro and Enterprise plans.
To access the field manager from your Airtable homepage:
Select the table you intend to review or update
Click the table menu and select Manage fields from the menu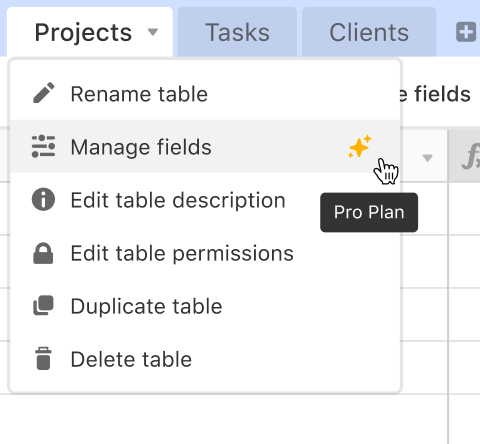 You can quickly search for or filter individual fields from the field manager using the Find a field, Permissions, or Dependencies filtering tools.
Any action available from the field's table level is also available in the field manager. Selecting Show dependencies (Enterprise only) from the field menu will open the dependencies details slide-out in grid view.
Understanding dependencies
Please note that this feature is currently only available for Enterprise plans.
From the field manager:
Select the Dependency column to access the dependency details list.
The current list of category options: Syncs, Automations, Interfaces, Fields, and Views
Keep in mind that the field manager will show potentially synced fields — meaning Airtable shows whether a field is visible in an actively synced shared view. However, the owner on the target side of the sync may choose not to sync it.
This panel outlines any dependencies that directly rely on the selected field and helps Creators understand the implications of deleting or changing the selected field.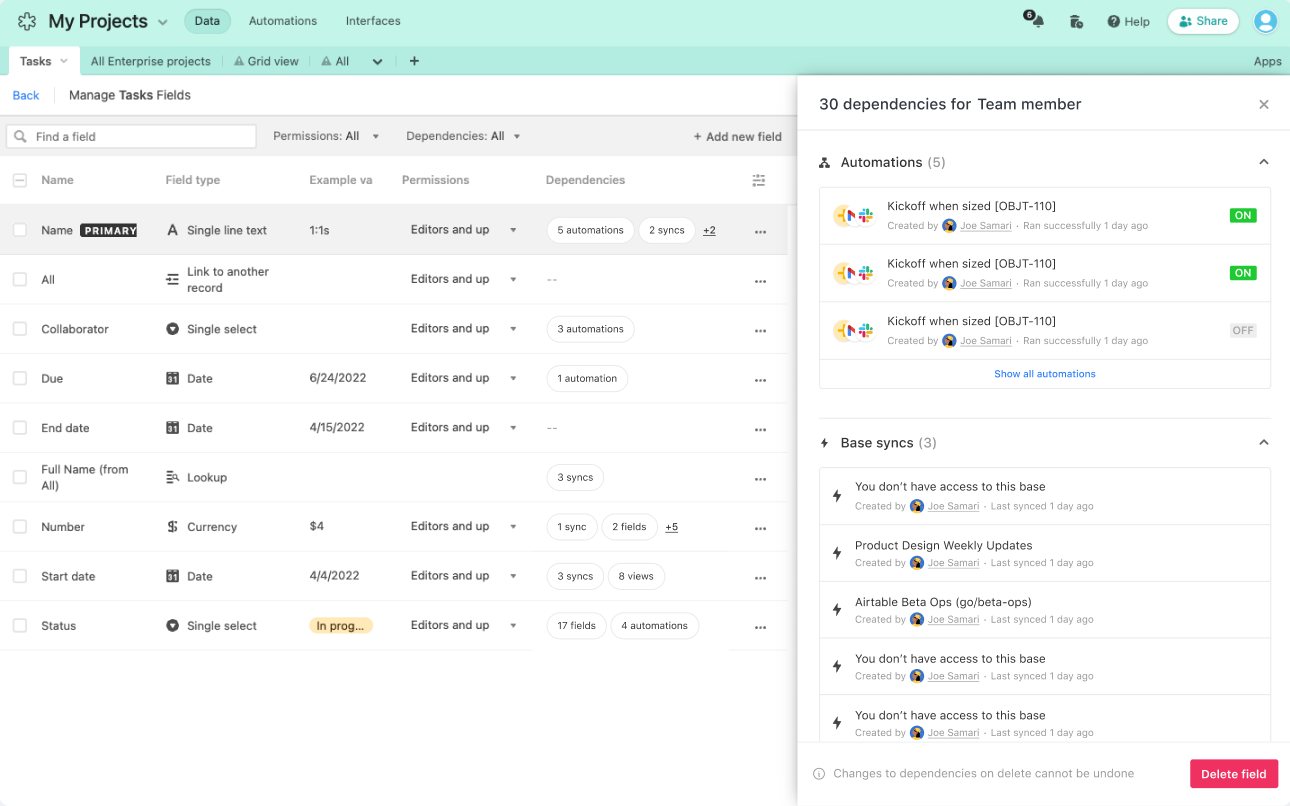 Understanding alerts
Airtable users receive alerts when:
Changing a field type
Updating field select options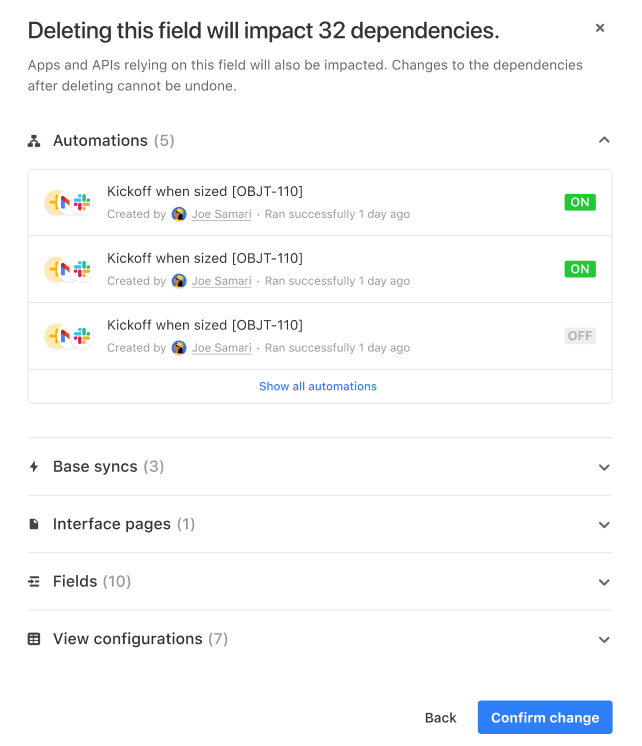 Toggling column visibility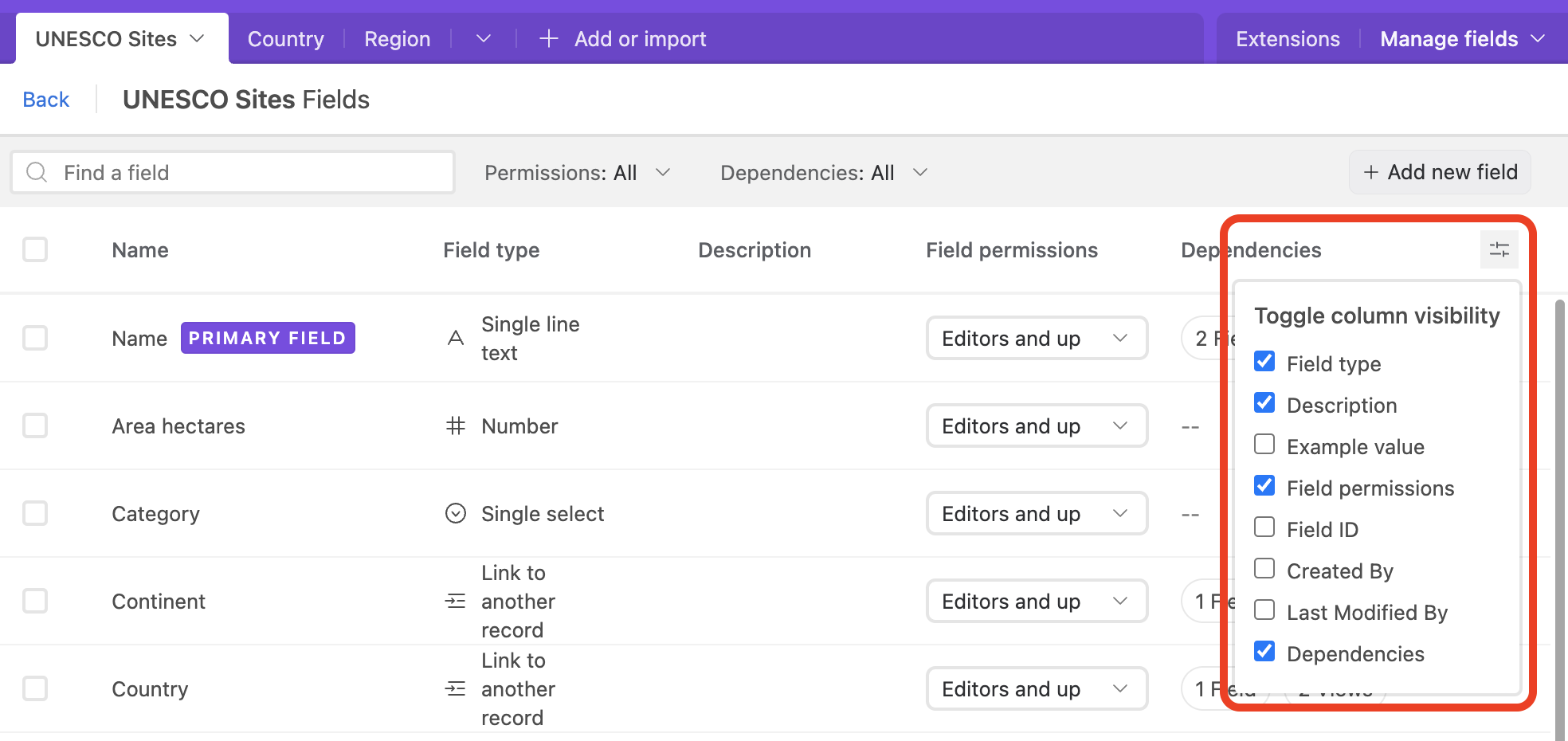 You can use the toggles to view:
Field type: the field type that's configured for each field
Description: any field descriptions that exist for each field
Example value: example text for each field, formatted by field type
Field permissions: view and change the current permissions for each field
Field ID: a unique alphanumeric identifier for each field, which can be used in URLs for prefilled forms, share view URL filters, and referenced in our API
Created by: the user who created the specific field
Last Modified by: the user who last modified the configuration of a specific field, as well as a timestamp of the most recent modification
Dependencies: outlined above
---
Was this article helpful?
---
What's Next