Taking and restoring base snapshots
05 Jul 2022

2 Minutes to read
Taking and restoring base snapshots
Updated on 05 Jul 2022

2 Minutes to read
---
Using a base snapshot, you can back up a base and restore it to an earlier version. Airtable automatically takes occasional snapshots of your bases, and you can also manually take a snapshot. It may be a good idea to manually take a snapshot of your base immediately before restructuring or otherwise making a large amount of changes to your base.
Note that all base collaborators are able to take and restore from a base's snapshots.
your title goes here
Taking a snapshot won't affect the base you create it in. Restoring a base from a snapshot will create a new base without affecting your existing base. The new base created by a snapshot can be used as a reference for recovery purposes, or you can switch over to this base completely moving forward. Bases restored from snapshots do not have revision history, but will include record comments.
How to take a snapshot
Airtable will automatically take snapshots of your bases at set intervals (after a certain amount of data is entered), but you can also manually take a snapshot.
To manually take a snapshot, open the history menu from your base (which resembles a clock running backwards in time), and click the Snapshots option:
Then, select the "Take a snapshot" option:
It may take a few seconds for your snapshot to complete.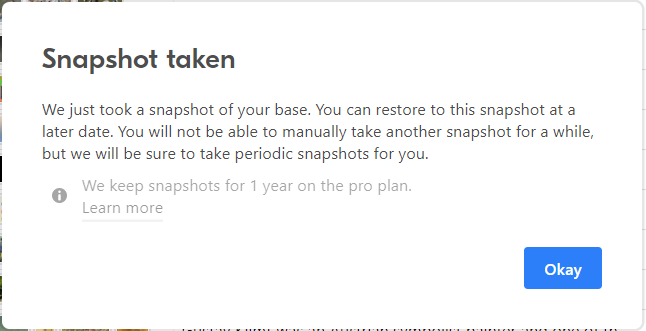 Once it has been completed, it will show up in the snapshots menu.
How to restore a base snapshot
To restore a snapshot, click the history icon, then snapshots, then choose the snapshot you'd like to restore:
You will then be prompted to select a workspace into which to place the restored snapshot of your base.
Limits on snapshot history
Your snapshots won't stick around forever—snapshots are only accessible for a certain amount of time depending on your workspace's pricing plan.
For the Free plan, you will be able to see the past 2 weeks' worth of snapshot history.
For the Plus plan, 6 months' worth of snapshot history will be saved starting at your time of upgrade.
For the Pro and Enterprise plans, 1 year's worth of snapshot history will be saved starting at your time of upgrade.
your title goes here
Snapshots have no revision history -- but comments are retained from the source base, like any other data.
FAQs
How often are base snapshots taken automatically?
The exact scheduling of snapshots is based on the count of user actions taken in a base. On a base that's very actively used, you'll probably get at least one snapshot a day. For bases not used as frequently, snapshot cadence will adjust accordingly. You can get a sense of the regularity around which you can expect snapshots to be taken, presuming usage levels remain steady, by viewing your current snapshot intervals after a few days of using your base at a typical rate.
How often can base snapshots be taken manually?
If you take a base snapshot manually, you'll need to wait for a little while before you can take another. This time period is typically just a few hours, but can vary depending on how many changes are made in your base since that last snapshot was taken.
Do base snapshots include interfaces?
Yes! Base snapshots do include interfaces, and any edits currently pending on those interfaces.
---
Was this article helpful?
---
What's Next