URL preview extension
05 Jul 2022

2 Minutes to read
URL preview extension
Updated on 05 Jul 2022

2 Minutes to read
---
The URL preview extension allows you to preview specific types of URLs stored in records in your base directly from the extension. You can use it to preview content without the need to open a new window or tab to visit the page directly. It works best with links to popular audio and video platforms as well as other Airtable bases. Note that apps are a premium feature available on bases within workspaces that are on either a Pro or Enterprise plan.

Getting started
The URL preview extension requires no setup and has no settings to adjust. However, it has the following requirements:
A table with a URL field.
One of the supported URL types (see below).
Only collaborators with editor access and above can install and configure this extension but all collaborators will be able to see the preview.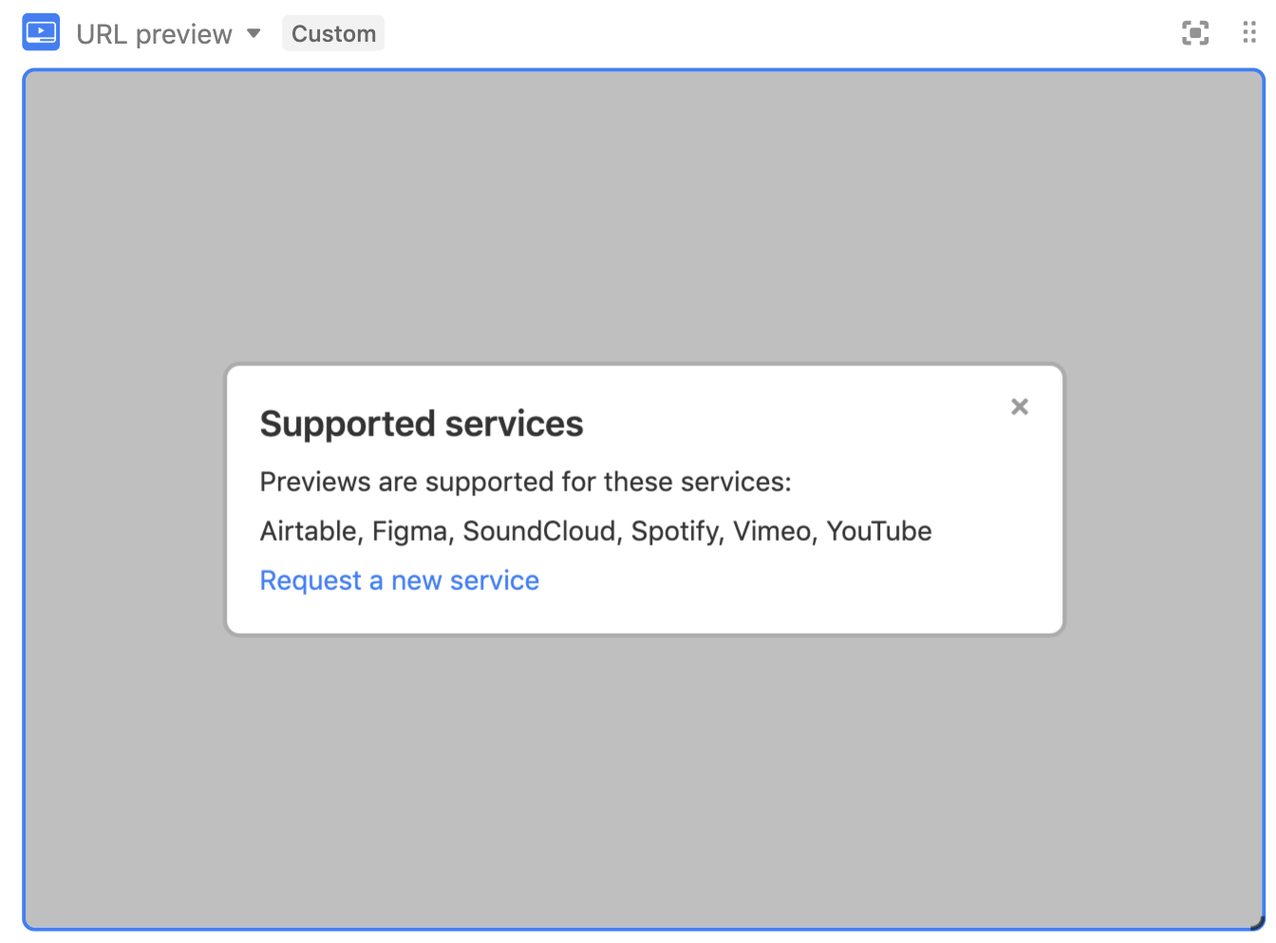 Currently, the URL preview extension only works with the following URL types:
Airtable URLs (share links only such as https://airtable.com/shrxxxxxxxxxxxxxx)
YouTube URLs
Vimeo URLs

Step 1: Generate share link in Vimeo
Step 2: Use share link to copy rewritten URL

Spotify URLs
SoundCloud URLs
Figma URLs
Loom share link URLs
Google Drive folder and file share link URLs
Google Docs, Sheets, and Slides URLs
If you'd like support for another URL type you can request it through this form or by clicking the link displayed by the extension when a record with an unsupported URL is selected in your base.
How it works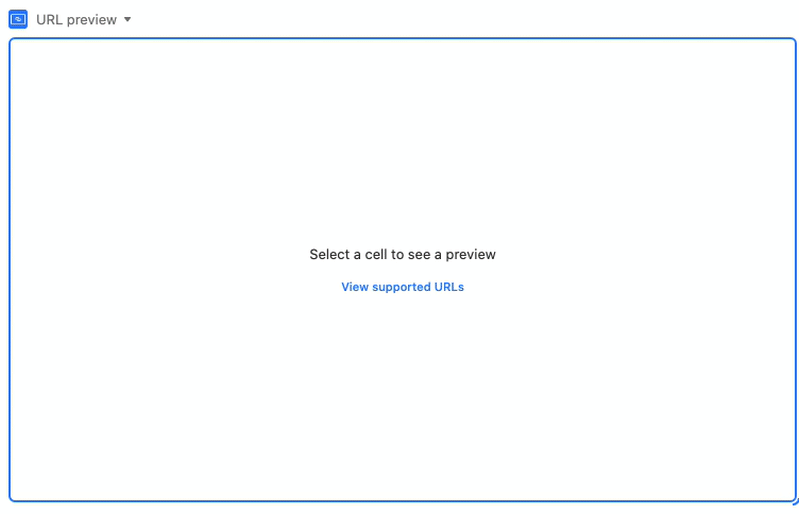 The URL preview extension displays a preview for the currently selected field, or a specific field (selected in the extension settings) if it has a valid URL for one of the supported services. You can interact with this preview directly from the dashboard or, if you prefer, after making the extension display in full screen mode.

Frequently-asked questions
Here are some common questions and answers about the URL preview extension.
How is the URL preview extension different from the embed extension?
The embed extension works in a similar fashion, as it also displays the contents of a URL of an external site in the extension, but it has one primary difference: the contents of the embed extension remain until you change that URL in the extension's settings while the URL preview extension's content can change dynamically.
If you don't change the content of the embed extension it will always display the same content. The URL preview extension, on the other hand, won't display anything until you select a record in one of your base's tables that contains a supported URL.
How can I make the URL preview extension display an unsupported URL type?
If you want to see a specific URL type officially supported in this extension you can request it through this form.
---
Was this article helpful?
---
What's Next