Add a table description
06 Jul 2022

1 Minute to read
Add a table description
Updated on 06 Jul 2022

1 Minute to read
---
Sometimes the name of your table or view isn't long or detailed enough to explain everything. When this happens, you can add descriptions to make it easier for your collaborators to understand how the base is set up.
Add a table description
To add a description to a table, navigate to the table to which you'd like to add a description. Next, click the dropdown arrow next to the table name. From the dropdown menu, pick the Edit description option.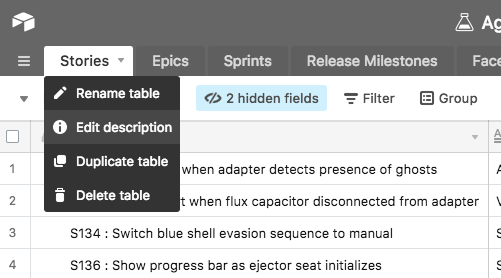 This will bring up a text box into which you can enter a description for the table or edit an existing description. When you're ready, click the Save description button.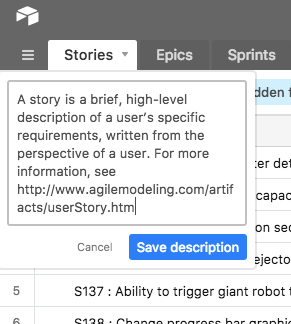 TIP
To learn more about adding descriptions to a view,
click here
.
Working with descriptions
Once your table has a description, an information icon will appear next to the table or view name in its tab. Mouse over the information icon to get the description. You will be able to read a table description from any table—not just the table being described.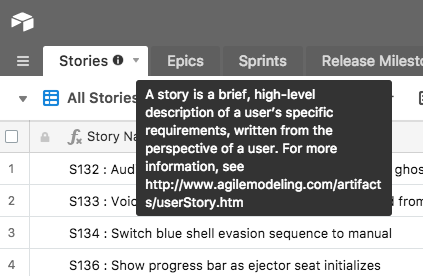 To edit a description, you can click the information icon and it'll bring up the description text box again. To delete a description, click the information icon and delete all the text in the description box, then save. Doing this will cause the information icon to disappear.
Permissions
Table descriptions
Table descriptions can be created and edited by collaborators with edit permissions.
Table descriptions are visible to all collaborators.
View descriptions
Collaborators with edit permissions may edit a view description.
Comment-only collaborators may edit the descriptions of their own personal views. Only the owner of a personal view may edit its description.
View descriptions are visible to all collaborators.
Frequently asked questions
How long can the descriptions be?
The maximum length of a view or table description is 20,000 characters.
However, for view descriptions in the view switcher you will only see the text that fits in the space provided. Because each character varies in width, there is no character limit. In general, descriptions under 75 characters should be fully visible in the view switcher without being cut off.
Can I add links or apply text styling like bold or italic?
View and table descriptions do not support rich text formatting. Note that a link may look like it is clickable, but it is not an active link.
---
Was this article helpful?
---
What's Next