Airtable home screen
31 Aug 2023

3 Minutes to read
Airtable home screen
Updated on 31 Aug 2023

3 Minutes to read
---
Share feedback
Thanks for sharing your feedback!
The Airtable home screen helps you navigate to and discover the work that matters most to you. Below, we'll walk you through the details of where you can find various menus, options, links, workspaces, bases, and interfaces.
Introduction
Plan availability
All plan types
Permissions

Owners - Can access workspace settings from the home screen and everything else listed below.
Creators - Can rename and customize the appearance of bases and interfaces from the home screen. Can create new bases in workspaces where workspace collaborator permissions have been granted at the creator level.
All users - Can navigate and search for workspaces, bases, and interfaces and customize their home screen experience by pinning and starring items.

Platform(s)
Web/Browser, Mac app, and Windows app
Related reading
Home screen navigation
Take a look at the list below for a complete overview of the home screen.
Sidebar collapse - Click this button if at any point you'd like to close or reopen the sidebar on the left side of the home screen.
Search - Search here for bases and/or interfaces. You can press CMDK at any time (in a base, interface, or on the home screen) to open up the search bar.
Help menu - Open this to find links to Airtable's Help Center, official community website, use our help bot and contact our support team, contact our sales team, open the developer documentation, and more.
Notifications - Click here to open up your notifications. Learn more about notifications here.
Account menu - Click here to:

Navigate to your account page
Open your workspace trash
Manage groups (if applicable)
Set notification preferences
Manage integrations
Navigate to the developer hub
Log out of Airtable

Workspaces - Click Home in the left sidebar at any time to reset the home screen. Additionally, you can open the drop-down next to All workspaces to scroll and browse through any workspaces you are collaborating in. Lastly, you can open the drop-down next to the Starred section to quickly navigate to any bases or interfaces that you have favorited. More on starring below.
Filter/Sort options - The drop-down menu on the left allows you to Show all, Show bases only, or Show interfaces only. The drop-down on the right allows you to further filter by choosing to show items Opened by you, Shared with you, and Starred. Lastly, you can sort items Newest to oldest or Oldest to newest.
Display style - Click here to toggle between showing items as a list or as a grid.
Quick links - Here you'll find a few links to Templates, the Marketplace, and the Universe.
Create a base - Click here to create a base. This will open a popover menu where you will choose the workspace location to create the new base. (Creator or owner permissions only)

Bases and interfaces
The image below shows where you can find additional options for your bases and interfaces when you have a particular workspace page open. Here, we show the experience in a grid format, but the list format is similar. Hovering over a base or interface will give you additional options:
Starring - This allows you to favorite the bases and interfaces you work in the most. Just click the star to add or remove from the starred list in the sidebar to the right. From the home screen, if you choose the Starred option (covered in the section above), then you will be brought to a page with all of your starred bases that you can drag-and-drop in the order you prefer.
Pinning - We discuss this in more depth below.
Base options - Hovering over a base will show the "..." spillover menu. Depending upon your permission level, you may be able to rename, share, duplicate, or delete the base. You may also move the base or customize its icon and color. Finally, you can also set Slack notification rules for the base, pin the base at the top of your workspace, or add it to your starred list.
Interface options - Hovering over an interface will show the "..." spillover menu. You can click Go to workspace if you are a workspace collaborator where that interface resides. This option will be greyed out if you are only a base collaborator. Also, you can star an interface from this menu.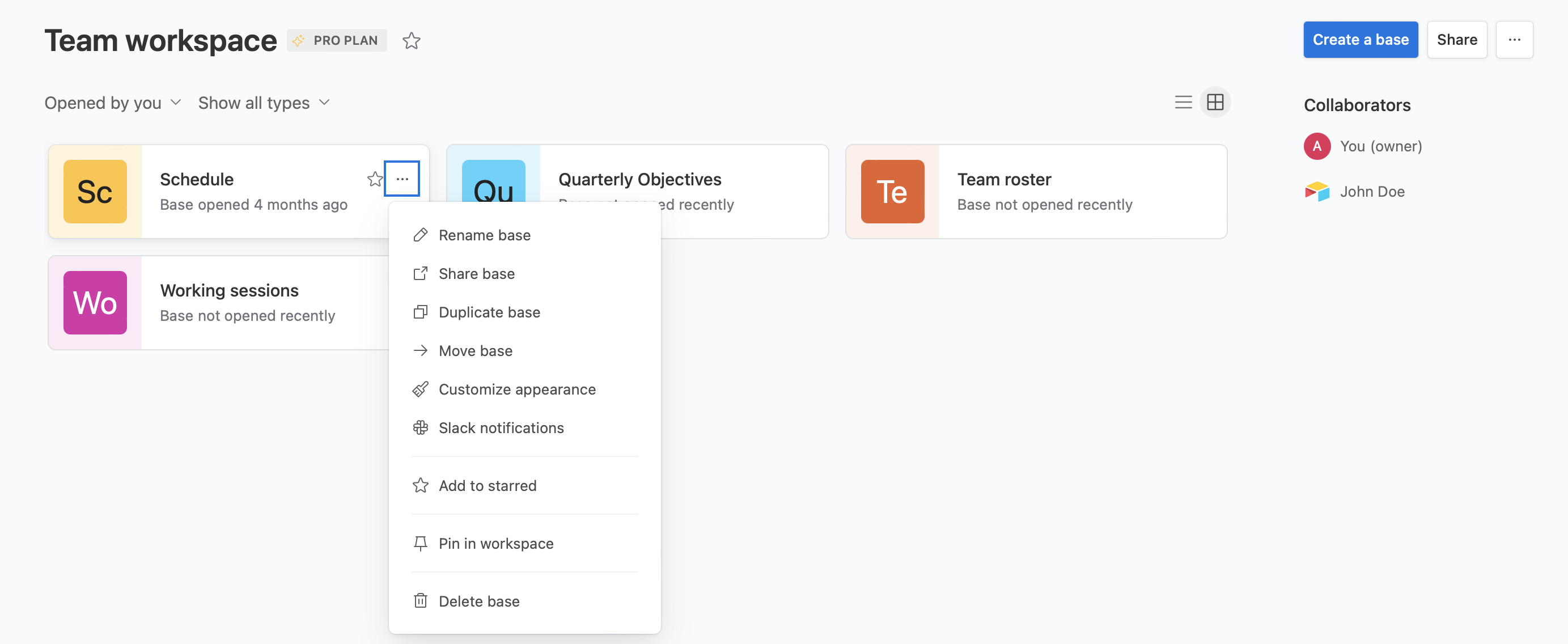 Pinning bases and interfaces
You can also choose to pin a set of up to 3 bases and/or interfaces at the top of each workspace page. Pinned items will appear in the order that they were pinned, earliest to most recent. To add another pinned item you'll need to remove another pinned item first if you've already reached the maximum of 3 pinned items.

Note
The option to pin bases or interfaces does not appear on the home page. You'll need to navigate to a specific workspace page to see this option appear.
---
Was this article helpful?
---
What's Next