Airtable home screen
14 Oct 2022

3 Minutes to read
Airtable home screen
Updated on 14 Oct 2022

3 Minutes to read
---
NOTE
The home screen may appear slightly different on the MacOS or Windows desktop app versions of Airtable. Additionally, mobile apps (Apple iPhones, Apple iPads, and Android devices) may show even more variances. This article covers the web browser experience of Airtable.
After signing up and logging in, you'll be brought to the Airtable home screen. In this article, we'll break down the various sections to help you navigate to different areas of the product.
Home screen header
The home screen header contains several links and icons to help you learn, create, manage, and view in-app notifications.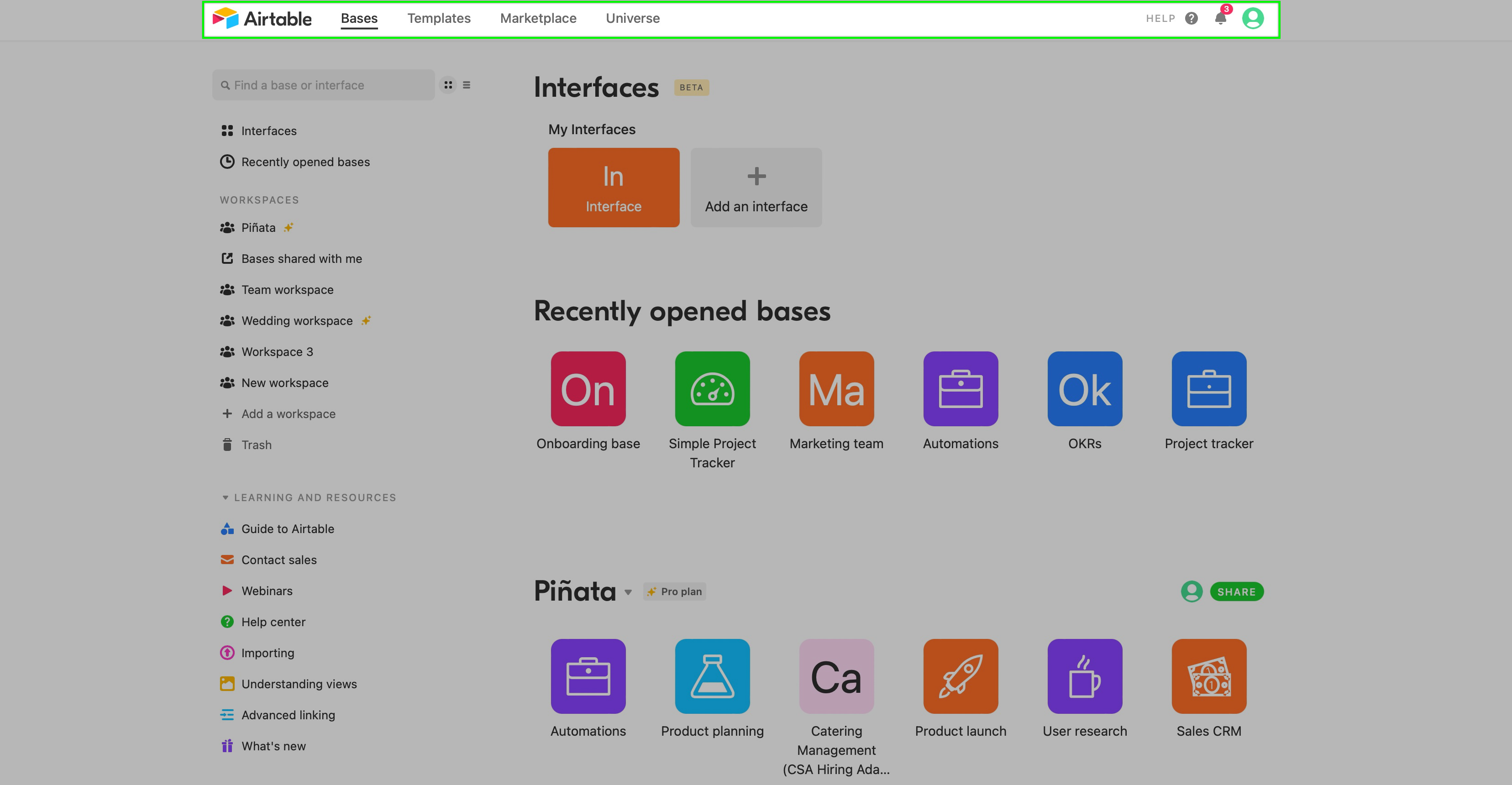 There are five links on the left side of the header:
Airtable logo - Refresh the home screen.
Bases - Refresh the home screen.
Templates - Airtable official templates.
Marketplace - Navigate to our marketplace to add Extensions and scripts created by Airtable, 3rd-party partners, and community members.
Universe - Access and add base templates created by internal and external power users or publish your own base to share with others.
On the right side of the header you'll find:
Help - Contains various links to learn about Airtable, contact support or sales, find shortcuts, view our API documentation, or upgrade workspaces.
Bell icon - Here you can view notifications. If the icon shows a number, then there are notifications that you may not have seen yet.
Profile pic icon - This icon will link you to more account information. Here you can also adjust notification preferences, refer colleagues and friends, view 3rd-party connected accounts, and log out. Enterprise admins can also access the admin panel from this drop-down.
Home screen sidebar
The home screen left-hand sidebar contains quick links to various sections and resources. You can search for a base or interface by name and also change whether to view bases and interfaces as a grid or list. You'll also find the "Interfaces" and "Recently opened bases" links near the top, a section containing workspaces associated with your account, and a "Learning and resources" drop-down section.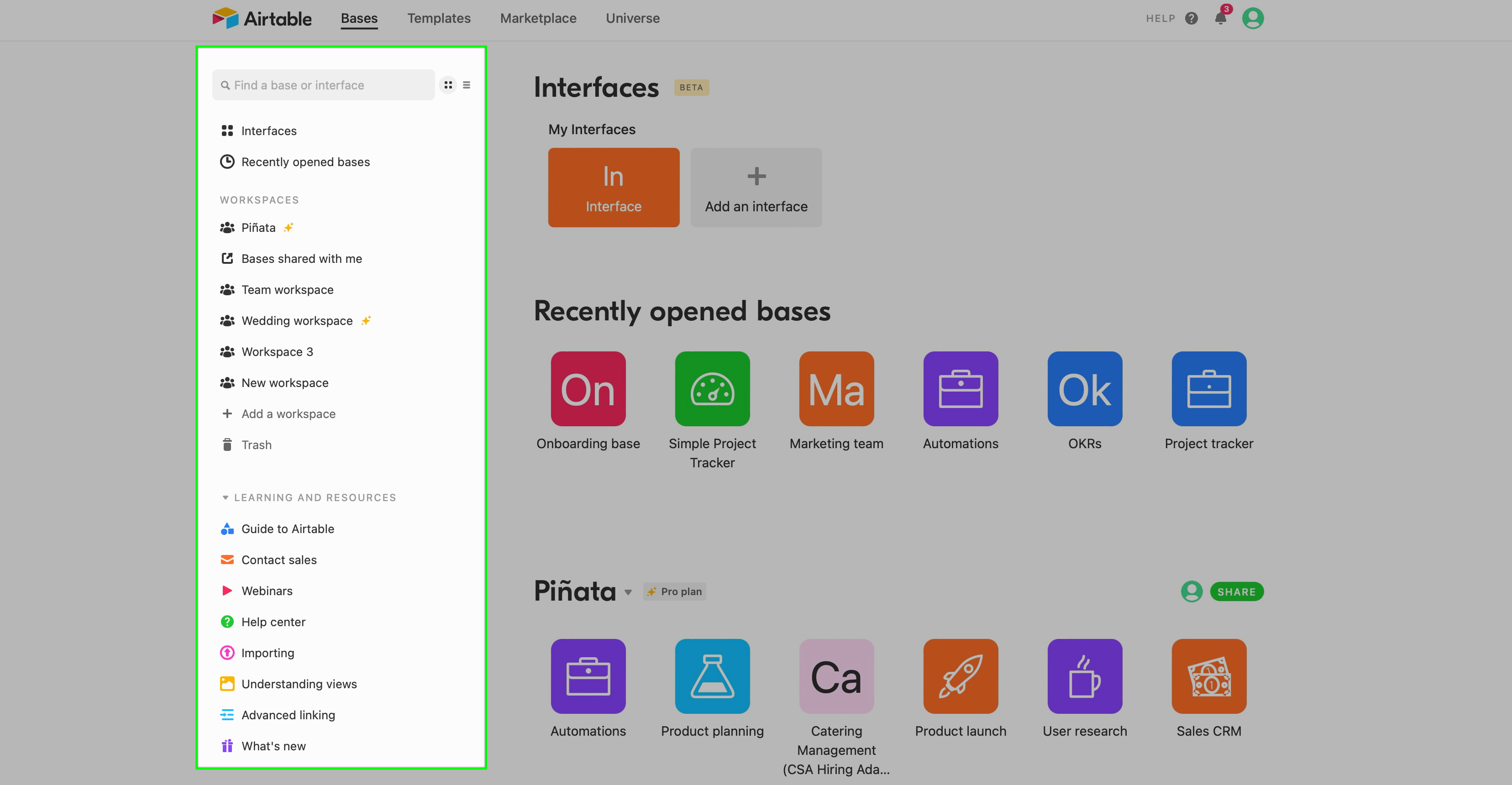 Workspaces section
In this section, you'll see any workspaces that you own or have been invited as a workspace collaborator. A special workspace called "Bases shared with me" shows any bases that have been shared with you from workspaces where you are not a workspace collaborator. You can also add a new workspace or navigate to your account's trash bin from here.
Learning and resources section
This section links out to several helpful links:
Guide to Airtable - Looking to ramp up your Airtable skills? You'll find many guides aimed at increasing your workflow efficiency and sophistication in Airtable.
Contact sales - Use this link if you are interested in our Enterprise plan offerings.
Webinars - This one is for visual learners! This will take you to a collection of pre-recorded webinars hosted by our Education team.
Help center - A link to find self-serve resources to help unblock you the moment you run into an issue.
Importing - A link to a section in our help center that specifically covers various import features we offer.
Understanding views - Views are one of Airtable's main differentiators from spreadsheets. They allow users to view the same data held in Airtable in uniquely targeted ways. If you don't know, now you know.
Advanced linking - Linked records are what make Airtable a powerful, relational database.
What's new - A link to our What's new page where you'll find information about some of our recently released features.
Interfaces
Interfaces are currently a beta feature that will appear near the top of your home screen. Interfaces allow users to design custom webpages where collaborators can view and interact with data stored in Airtable bases.
Recently opened bases
This section conveniently displays the six bases you most recently accessed near the top of your screen, so you can find what you're looking for quickly–no need for all that scrolling.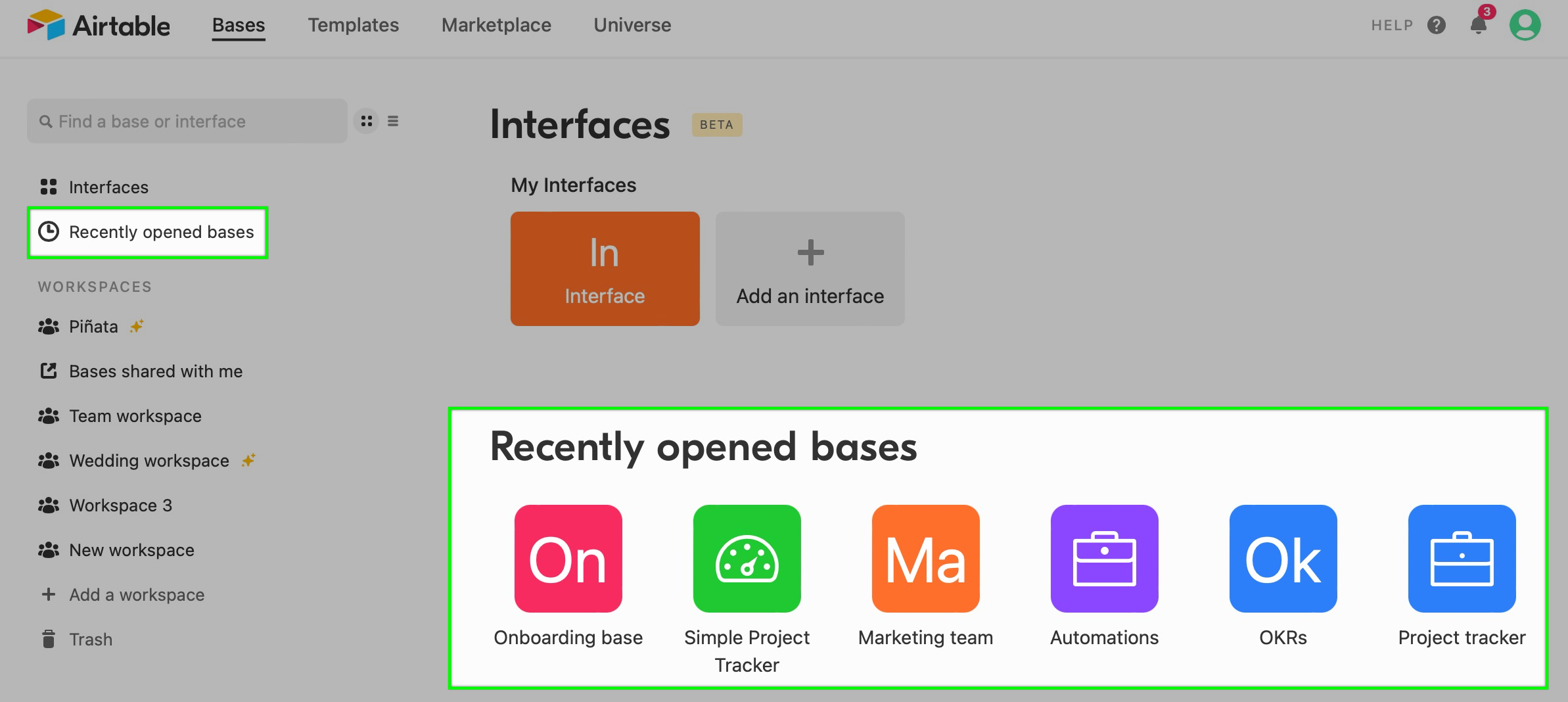 Workspaces
Below Interfaces and Recently opened bases, you'll find any workspaces where you are a workspace collaborator. This includes both workspace you own and workspaces that other users own, but have shared with you. Bases from workspaces you don't have collaborator permissions in will appear in the "Bases shared with me" pseudo workspace. A reminder that you can use the "Workspaces" section in the left sidebar to jump to a particular workspace rather than scrolling.
---
Was this article helpful?
---
What's Next