Create record Action
08 Nov 2022

2 Minutes to read
Create record Action
Updated on 08 Nov 2022

2 Minutes to read
---
When building an Automation, you may choose the "Create record" action. When the automation runs successfully, a record will be created in a specified table. T he "Create record" action can be configured with one or more fields set to any text or to a value from a previous step or both.
Setup
After you have configured your base in the manner you choose, you can then begin configuring your automation. For this example, we will be setting up an automation that creates an archive record of completed projects in our Project Tracker template. This same process can be done manually by linking records and using lookups, but by using the Automations feature, now the process can be accomplished automatically in a similar fashion.
To start creating an automation, click on "Automations" in the upper right corner of your screen. Then, click "Create an automation" to begin the setup process.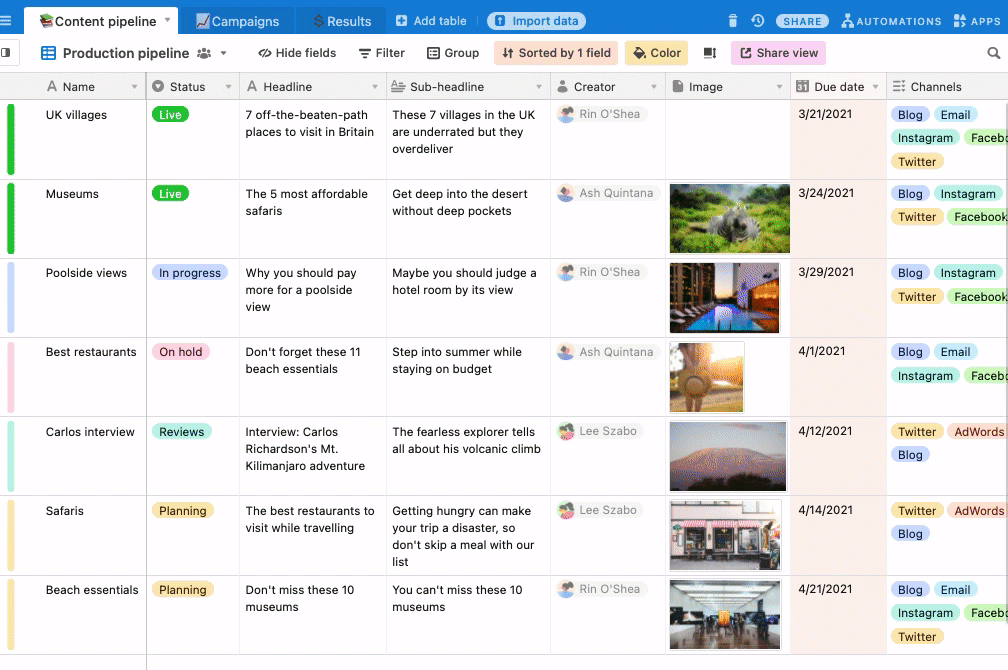 Choose a trigger
Next, choose a trigger, such as "When a record enters a view". In our example, the view was filtered to only show records from the "Design projects" table in the "Completed" view. A filter is used in the "Completed" view that only shows projects marked complete. This means that when the checkbox field is checked the automation will fire. After proper setup, test your trigger by clicking "Run test".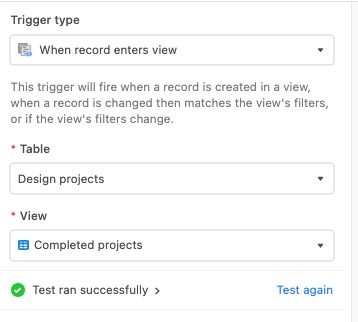 Add an action
After testing the trigger successfully, we can move on to setting up the action. Click the blue "+ Add Action" button. Then, click on the "Create record" option. This will bring up a menu of options. First, select your desired table where the new record will be created. Next, you can choose which information from the trigger to add to the table you have chosen for this step. In our example, we are only inserting certain information into a new "Design projects (Archived)" table that we created. After adding the desired information for the action step make sure to test the action.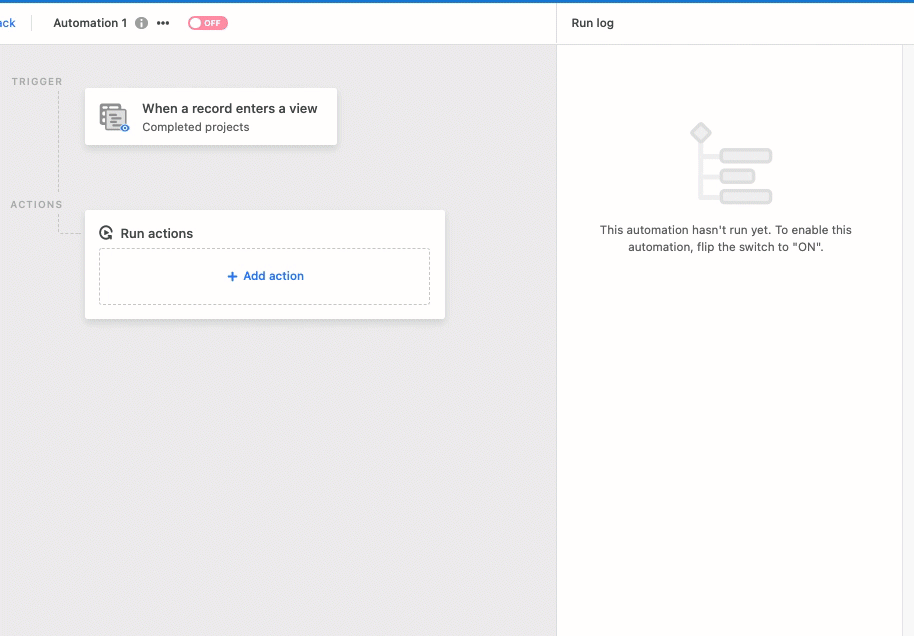 After successfully testing the action, you can turn your automation on. Now, in our example, a new record will be created any time someone marks the project as complete.
FAQs
How do I have all of the field information from a record inserted into the created record?
If your use case requires that more or all of the information from a record be created in another table, then you'll need to configure each field in the automation to be included in that record. It's possible that field names may not match, so be sure to double-check the way that you are mapping the fields and data in the automation's configuration.
---
Was this article helpful?
---
What's Next