Troubleshooting Airtable
11 Sep 2023

4 Minutes to read
Troubleshooting Airtable
Updated on 11 Sep 2023

4 Minutes to read
---
Share feedback
Thanks for sharing your feedback!
If you are having an issue accessing your Airtable account or base, you may come across an error message like:
Something is broken
Yikes! Something broke.
Sorry, the page you were looking for was not found.
Here are some initial troubleshooting steps you can take to resolve most issues.
Clearing your browser or desktop app cache
A hard refresh of your cache may resolve the issue. From your Airtable browser tab, you can do a hard refresh by holding the ⌘ Cmd and ⇧ Shift keys and then pressing R. If on a Windows device, the shortcut to hard refresh a page is CTRL + F5.
your title goes here
Clearing your browser's whole cache may not be a bad idea either -- just be sure you don't have any work in progress on any of your browser's tabs, like a half filled-out form! Instructions here.
On Google Chrome, the confirmation screen will look something like this: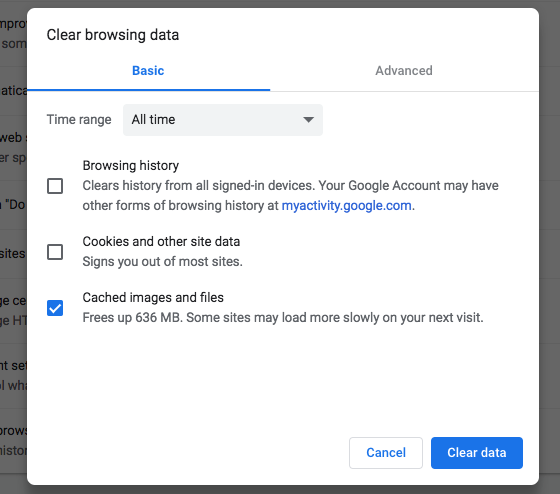 If you're using Airtable's desktop app, you can click Help on the menu bar, and select clear cache and reload to effect the equivalent action.

Once you clear your cache, try to reload your Airtable base and see if the issue is resolved.
What to do if you still have issues
On the rare occasion of a widespread issue (affecting users other than yourself), you can check https://twitter.com/airtablestatus to check for updates from our team.
Before contacting support...
Try using an incognito window / a private browsing window / safe mode to see if this issue still occurs.
Test to see if the problem still occurs in another browser.
Gather the following details:
You can then contact us by clicking the blue message icon in the bottom right-hand corner of our support center, or Help > Message Us inside Airtable. Please attach any screenshots of what you're seeing and a description of the issue you're having including any relevant details listed above so that we can help you as efficiently as possible.
Troubleshooting connectivity
In order to improve Airtable's stability, we have implemented the wildcard domain *.srp.airtable.com. We use this domain in order to run a connectivity test when Airtable is first loaded. If the connectivity test fails repeatedly, you will see a small message like this in the bottom left-hand corner of the Airtable page that you are trying to load:

Overview
In many cases, this message appears because the internet connection you are using is truly unstable due to poor connectivity. For these cases, we recommend that you work through the troubleshooting steps outlined in this article or contact your IT department to see if there is a known issue.
However, we have found that a small percentage of our users are unable to connect to this domain because of other extenuating circumstances. Some common causes include:
Corporate VPNs
Security software (especially those performing SSL inspection)
Firewalls
Anti-virus software
Even if you do not have one of these software examples installed on your personal computer, your corporate IT department may have installed software at the network level that you are unaware of.
Troubleshooting: Next steps
We recommend that you contact your IT or security department and request that they unblock "*.srp.airtable.com" from any relevant security software. Here is an example template message that you can use when contacting your IT department:
Hi,
Airtable.com has recently been displaying notices saying that it cannot connect to any subdomain under the wildcard *.srp.airtable.com. It says that these subdomains must be unblocked for correct product functioning.
Would it be possible to unblock HTTPS and WebSockets from this domain and all subdomains? Here's a link to the support article from Airtable that discusses this.
Thanks!
NOTE
If you do not have an IT department or you are connecting to Airtable on a home network, then you will need to manually adjust the settings on your computer and/or network to mitigate any possible blocks (i.e. VPN, Security/Anti-virus software, Firewalls, etc.).
Testing connectivity
Once the unblocking has occurred, you can test if it worked by simply loading the airtable.com homepage while logged in. If it was successful, the message should stop appearing.
If you have any further questions or need assistance, please contact our support team and mention this help article.
FAQs
Does Airtable maintain a list of required IT dependencies?
For our paid clients, we maintain a list of required domains that must be unblocked in order for Airtable to properly function. We provide updates to the list as changes occur. Please contact Airtable support for more details.
Note that *.airtable.com has always been on this list, meaning that all subdomains of airtable.com must be unblocked. This includes the aforementioned *.srp.airtable.com domain.
Do all subdomains of srp.airtable.com need to be unblocked?
Yes, all subdomains must be unblocked. The prefix is random and cannot be predicted. For example, all of the following must be unblocked:
abcd.srp.airtable.com
efgh.srp.airtable.com
0123.srp.airtable.com
Does this mean Airtable is now less secure?
No. The same data is being transmitted, we are just changing the domain name which it is being transmitted through. Previously this data was received in part through rt.airtable.com.
For more detail about our security posture and certifications, please see this webpage.
---
Was this article helpful?
---
What's Next