Troubleshooting Airtable issues
05 Apr 2023

1 Minute to read
Troubleshooting Airtable issues
Updated on 05 Apr 2023

1 Minute to read
---
If you are having an issue accessing your Airtable account or base, you may come across an error message like:
Something is broken
Yikes! Something broke.
Sorry, the page you were looking for was not found.
Here are some initial troubleshooting steps you can take to resolve most issues.
Clearing your browser or desktop app cache
A hard refresh of your cache may resolve the issue. From your Airtable browser tab, you can do a hard refresh by holding the ⌘ Cmd and ⇧ Shift keys and then pressing R. If on a Windows device, the shortcut to hard refresh a page is CTRL + F5.

your title goes here

Clearing your browser's whole cache may not be a bad idea either -- just be sure you don't have any work in progress on any of your browser's tabs, like a half filled-out form! Instructions here.
On Google Chrome, the confirmation screen will look something like this: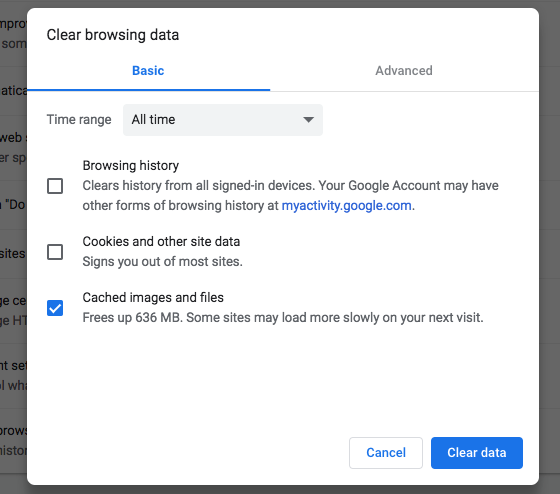 If you're using Airtable's desktop app, you can click Help on the menu bar, and select clear cache and reload to effect the equivalent action.

Once you clear your cache, try to reload your Airtable base and see if the issue is resolved.
What to do if you still have issues
On the rare occasion of a widespread issue (affecting users other than yourself), you can check https://twitter.com/airtablestatus to check for updates from our team.
Before contacting support...
Try using an incognito window / a private browsing window / safe mode to see if this issue still occurs.
Test to see if the problem still occurs in another browser.
Gather the following details:
You can then contact us by clicking the blue message icon in the bottom right-hand corner of our support center, or Help > Message Us inside Airtable. Please attach any screenshots of what you're seeing and a description of the issue you're having including any relevant details listed above so that we can help you as efficiently as possible.
---
Was this article helpful?
---
What's Next