Airtable extensions overview
12 Apr 2023

2 Minutes to read
Airtable extensions overview
Updated on 12 Apr 2023

2 Minutes to read
---
Extensions help to extend the functionality of an Airtable base. From map and chart which introduce new ways to visualize your work, to Google Cloud Vision, translate, and send SMS, which help put it into action, extensions not only enhance your existing Airtable use cases, but also introduce completely new ways of building your own extension workflows.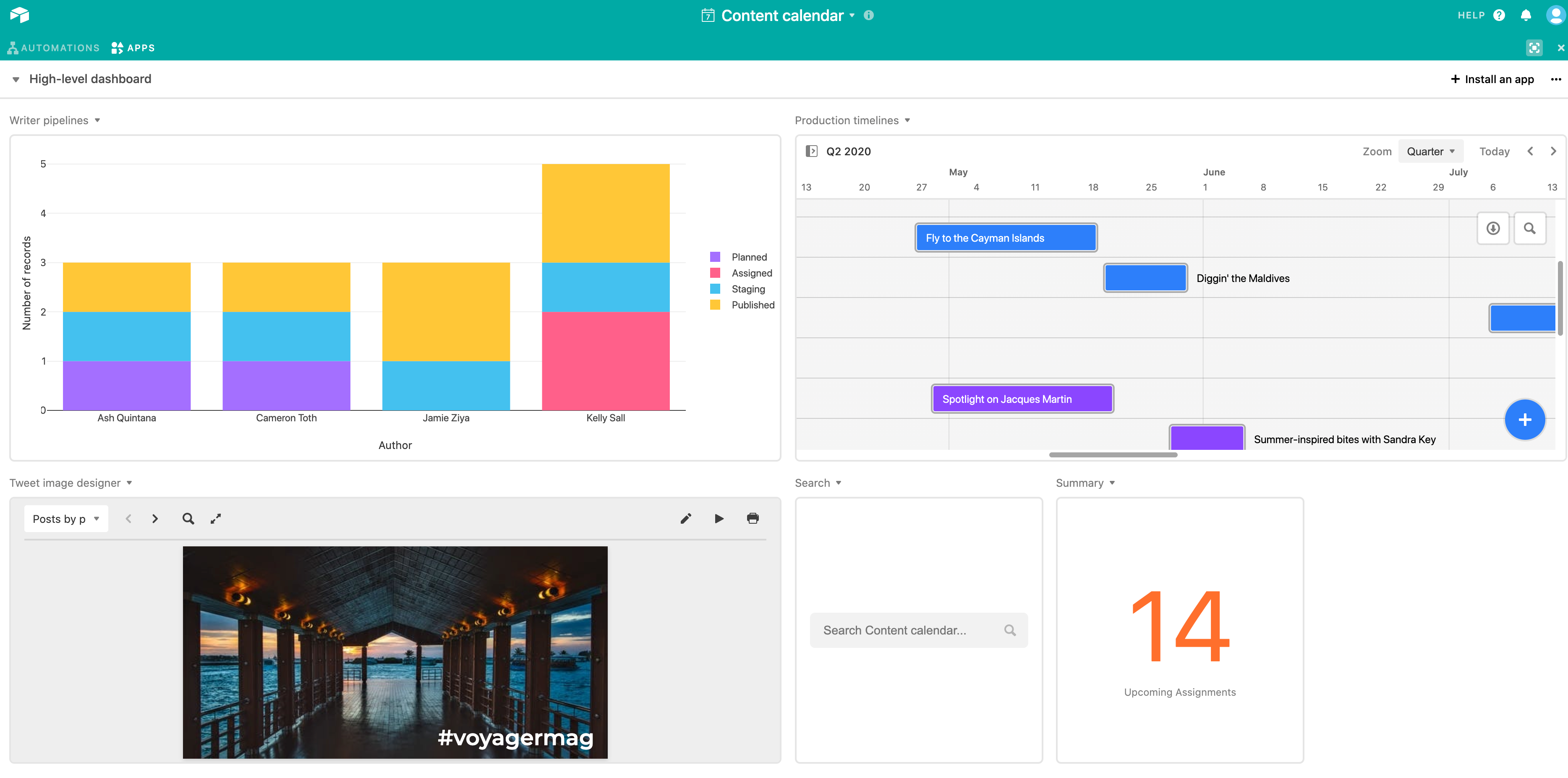 You can add an extension to any of your bases on any Airtable plan. It's worth noting that there are various extension limits depending upon which plan your workspace is on. More on plan differences here.
Popular extensions
Page designer extension
Web clipper extension
More extensions
Time-based extensions
Data visualization extensions
Reporting extensions
Bulk import/update extensions
External services extensions
Other extensions
FAQs
Why is an extension I have installed paused?
For larger bases, when may pause certain extensions if they could slow down the base during loading. You can still resume using them if you click the 'Load extension' button on each extension, or the 'Load all extensions' banner at the top of the Extensions dashboard.
Can I create a custom extension?
With the Blocks SDK, you can use React to create your own real-time, interactive extensions that live in Airtable. We host your code, so you don't have to worry about servers or setup. You can create your extension in your own development environment and import your favorite npm packages.
The full API Reference and tutorial guides for the Blocks SDK can be found on our developers site . If you are looking for help with development, check out the Custom Extensions section of our community forum.
How can I manage all of the extensions on a base?
We cover the ins and outs of managing extensions on a base in this support article.
Accordion contents/Answer
What happens to my extensions when I downgrade?
If you are part of a workspace on a Pro plan and change from Pro to free or Plus, existing installations of extensions in your bases will be disabled. This means that you will be unable to view or interact with these extensions.
If, in the future, you decide to re-upgrade your workspace plan from free or Plus to Pro, the disabled extensions in your bases will be reenabled with the same settings that they had at the time when you downgraded
How can I install an unlisted app?
In most cases, you'll need to contact our support team for assistance. Remember that these kinds of extensions have not been reviewed by Airtable. Make sure you only add unlisted extensions from developers you trust.
Related video content
---
Was this article helpful?
---
What's Next