Enabling rich text in the long text field
01 Jul 2022

2 Minutes to read
Enabling rich text in the long text field
Updated on 01 Jul 2022

2 Minutes to read
---
On long text fields, rich text allows you to apply bolding, italics, strikethrough, code block, linkified text, quotes, header text, and many kinds of lists (numbered, bulleted, checkboxes).
To get started with rich text, toggle the "Enable rich text formatting" in the field configuration dialog.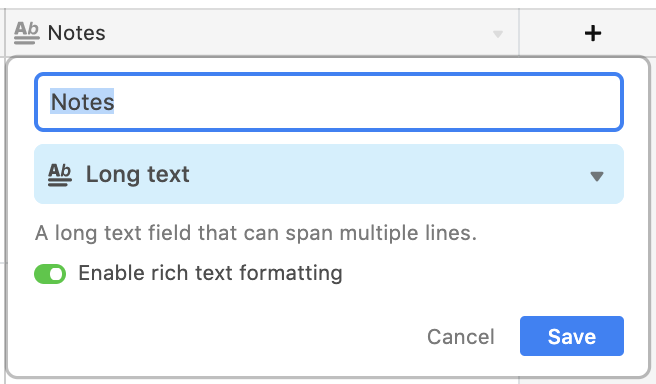 If you disable rich text, the formatting is removed from the content. If you later enable rich text on the same field, the old formatting will not be reapplied. However, you can use Ctrl + Z to undo the change as long as it is in the same web session.
Determining when to enable rich text
Rich text increases usability of long text by allowing you to
organize with lists and headings,
emphasize important information through bolding and italics, and
link to external URLs.
When working within Airtable, you will likely want to enable rich text to gain this added functionality. However, if you need to connect to your records through the Airtable API or through integration services such as Zapier, Integromat, or Workato, you will want to test if the Markdown output will work with the external system you are connecting to.
Also be sure to check for app compatibility with rich text.
Getting started with rich text
Once you have rich text enabled, you can double-click into the cell to start editing in the grid view or view the expanded record view in all other views. You can also press enter/return while the cell is highlighted to enable edit mode. When you are on a line of text, the paragraph style menu icon will be available to expand to the full menu. When you have text highlighted, the text formatting menu will appear above the text. For a description of paragraph styles and text formatting including shortcuts, see formatting rich text.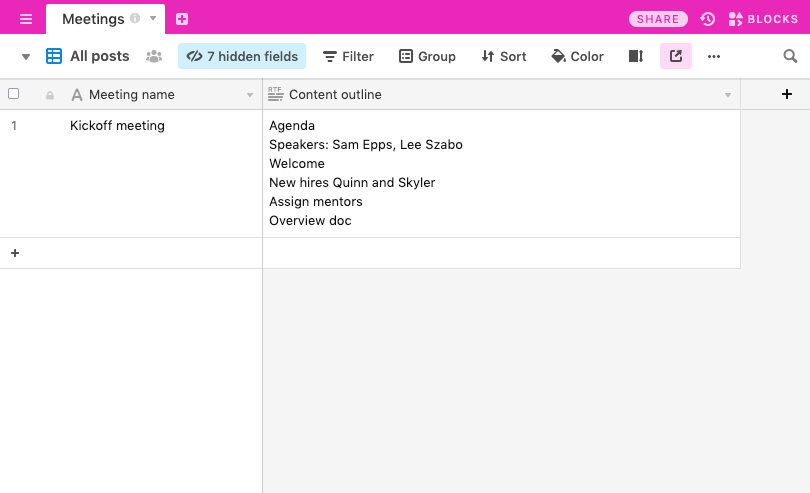 For more room to write, you can click the expand button in the upper left of the cell to edit in the expanded cell view. When you are done editing, you can exit by using the escape key or clicking outside the editing area.
Sorting, filtering, searching, searching with rich text
When sorting, filtering and searching, the plain text without any markup would be used for the action.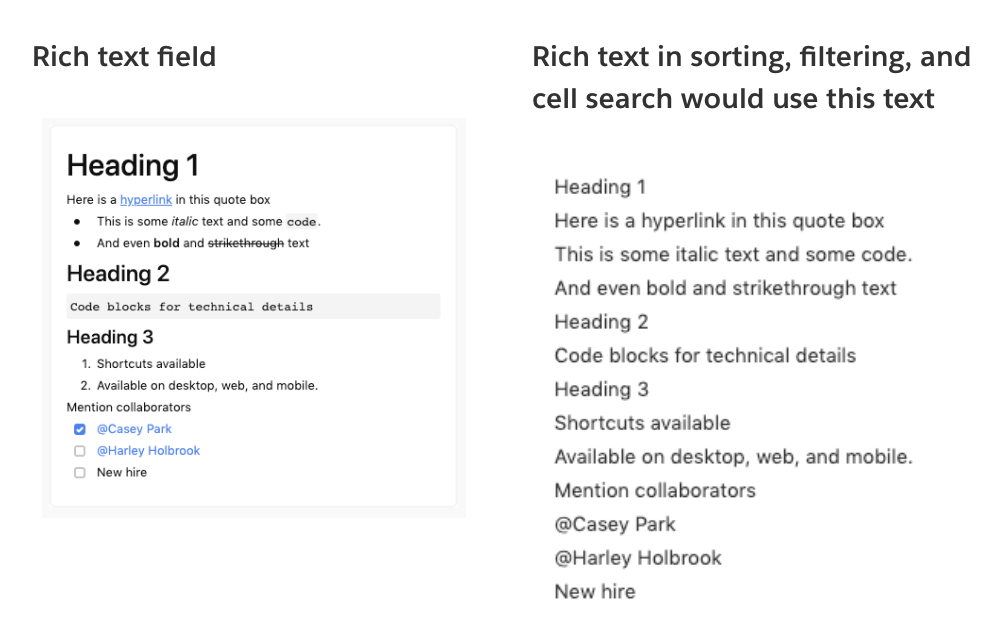 As a field for complex information, the rich text field is not suited for grouping and so is not available as a grouping option.
Collaborators can edit concurrently when rich text is enabled
As two collaborators type, the changes will immediately be seen by both people. While the changes are being made, the image of the other collaborator will appear in the upper right of the rich text cell until the typing stops. The undo history is specific for each person which means only your own edits will be removed.
---
Was this article helpful?
---
What's Next