Formatting rich text in the long text field
01 Jul 2022

2 Minutes to read
Formatting rich text in the long text field
Updated on 01 Jul 2022

2 Minutes to read
---
When long text has the rich text option enabled, you can apply text formatting by using the popup menus that appear in editting mode. Both inline text formatting and paragraph styles are available. You can also @mention collaborators in your base.
Formatting can be applied by clicking the menu, using shortcut commands, or using some Markdown syntax options. Learn the full details of the Markdown for Airtable syntax or you can refer to the summary of the syntax below.
Inline Text Formatting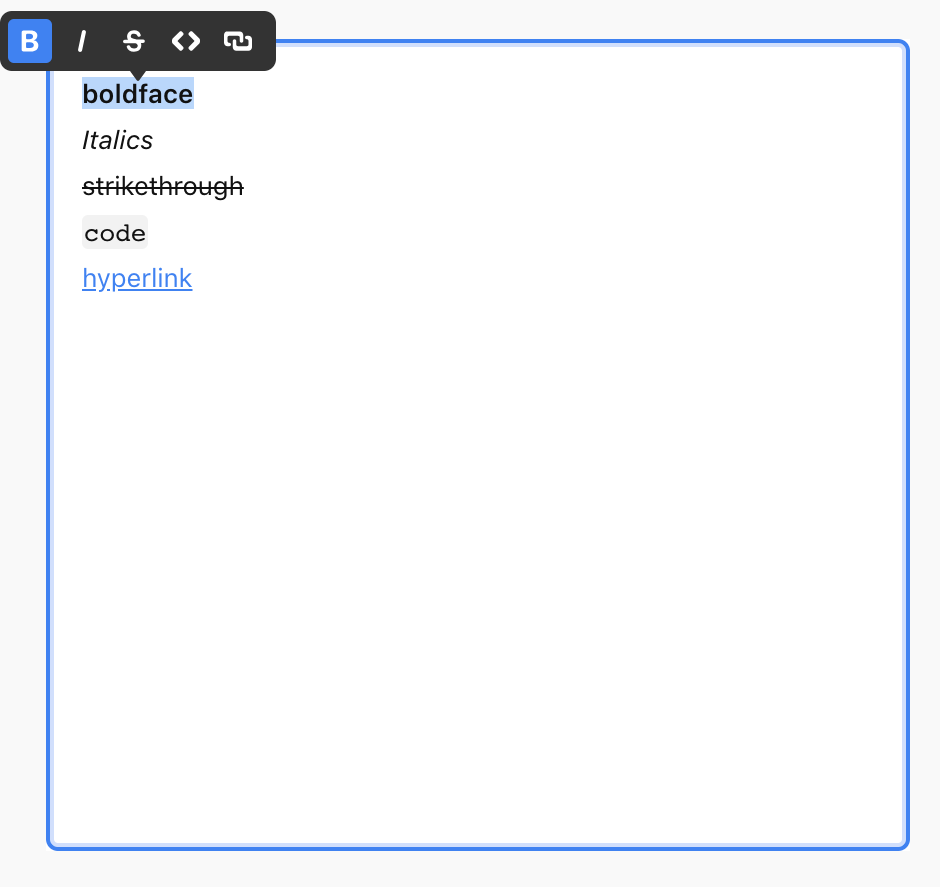 Highlight text to select from a number of formatting options:
Boldface
Italic
Strikethrough
Code
Link
Another way to change your format to bold or italics is to use keyboard shortcuts while your cursor is in the text box.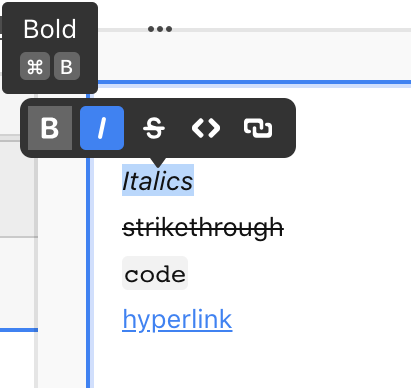 Shortcuts or Markdown
Boldface: Ctrl B
Italic: Ctrl I
Code: Markdown with text
To quickly add a link in your clipboard to existing text, you select the text in the rich text field and use Ctrl V to paste.
If you forget the keyboard shortcuts, you can find them by hovering over a specific format option in the formatting index. If a shortcut is available, you'll see a popup appear.
Paragraph styles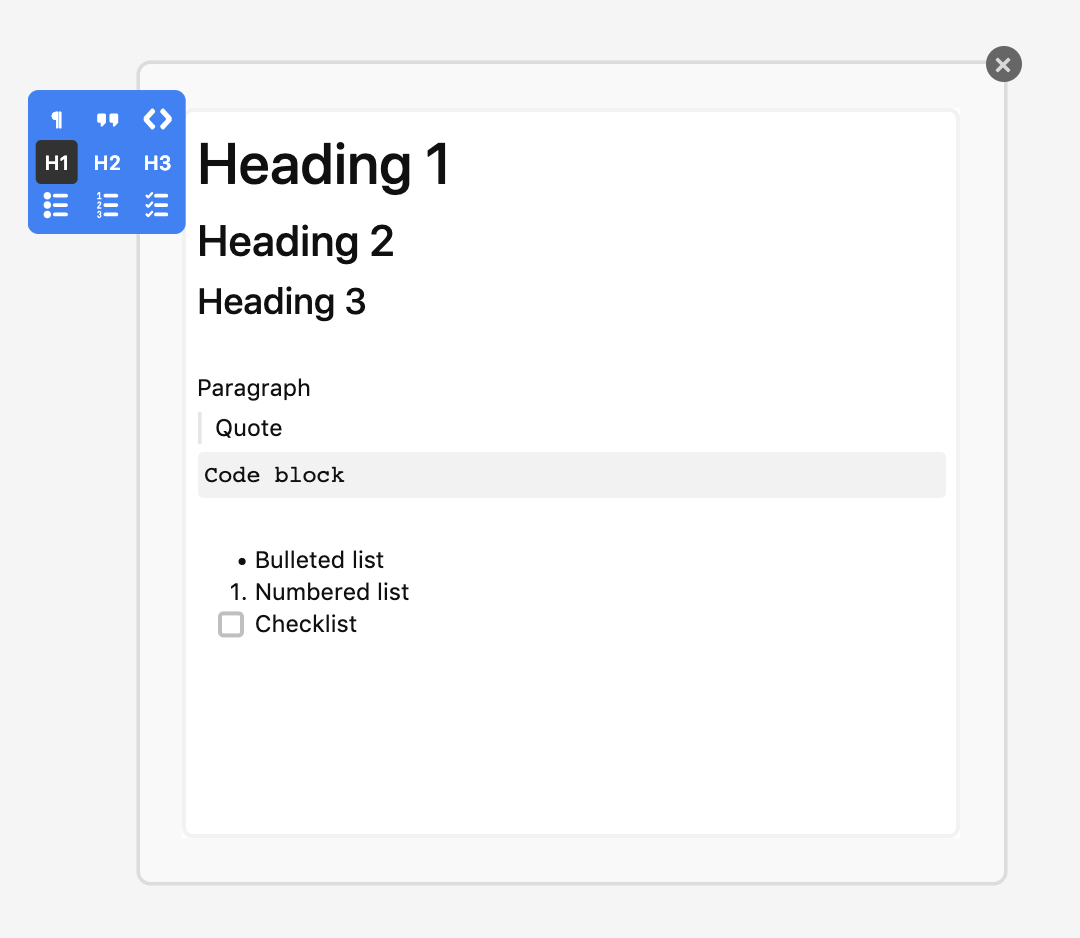 You can select between a number of paragraph or header styles when viewing the text in an expanded cell or expanded record view. Expand the paragraph styles icon you see to the left of your cursor to view your options. From there, you can choose your paragraph style.
Paragraph styling is also supported by Markdown and some keyboard shortcuts. For example, you can use Markdown to quickly start a new line with a character plus a space to automatically convert it to one of the paragraph styles. For example, typing "#" and a space will start a new heading 1.
TIP
There are more options with Markdown than what is shown here related to long text fields specifically. Please see Markdown in Airtable for context on options within other product areas.
General styles
Paragraph
Quotes (">")
Code blocks
Headings
Heading 1 ("#")
Heading 2 ("##")
Heading 3 ("###")
List styles
Numbered lists: Ctrl Shift 7 or Markdown ("1.")
Bullet points: Ctrl Shift 8 or Markdown ("-" or "*")
Checkboxes: Ctrl Shift 9 or Markdown ("[ ]" or "[x]")
While in edit mode, you can also cycle through the paragraph styles using Ctrl </kbd> and <kbd>Ctrl</kbd> <kbd>.
Similar to the formatting menu, you can hover over your paragraphs options in the paragraph menu to view the available shortcuts.
Mentioning
In addition to these formatting options, @mentioning is possible inline and will open the collaborator picker. If you @mention a collaborator when rich text is enabled, they'll receive a notification and will begin watching the records where they are @mentioned.
---
Was this article helpful?
---
What's Next