Managing and sharing interfaces
26 Jan 2023

7 Minutes to read
Managing and sharing interfaces
Updated on 26 Jan 2023

7 Minutes to read
---
With Interface Designer, you can create visual interfaces that reflect your underlying base's data. Interface Designer has a built-in publishing workflow that allows creators to create or build on existing interfaces without worrying about affecting other collaborators.
Introduction
Plan availability
All plan types/levels
Permissions

Please consult this support article for a breakdown of Interface Designer permissions.

Platform(s)
Web/Browser, Mac app, and Windows app
Related reading

Consider looking over our guide on building new interfaces

Airtable terminology

Interface - An interface is a curated representation of base data created using Interface Designer. Interfaces are fully customizable and can contain various visual elements, data sources, and permissions.

Interface page - Interfaces break up information into one or more interface pages. And while an interface always contains at least a single page, creators can add more pages.
Working with interfaces
When it comes to Interface Designer, there are three main ways Airtable users can work with interfaces:
Base collaborators with creator permissions can build new interfaces.
All base collaborators can view and interact with published interfaces.
Interface-only collaborators can view and interact with published interfaces without having access to the underlying base.
Interface Designer allows creators to control when their interfaces are visible to other collaborators by controlling when those interfaces are published. Collaborators without "Creator" permissions can only see published interfaces. This allows creators to experiment as they please because they can control which interfaces are published, republished, or unpublished with just a few clicks. This article will cover the whole interface publishing workflow from beginning to end: editing, previewing, publishing and sharing!
Interface home screen
There are two ways to navigate to the interface home screen, depending on where you are in Airtable:
From inside a base:

From inside the interface editor:

Editing interfaces
To see unpublished interfaces, edit existing interfaces, or create new interfaces, you must first enter Edit mode in the interface group you'd like to work within. Collaborators with "Owner" or "Creator" permissions on an interface's base will be able to enter editing mode within any interface or interface page in that base. Note that if you don't have "Owner" or "Creator" permissions on a base, you will not see the Edit button because you are unable to edit interfaces with your current permissions. To enter editing mode, navigate to the interface you want to make changes in 1, then click the interface page you want to edit 2, and then click on the "Edit" button at the top of the screen 3.

In editing mode, you are able to see all currently unpublished interfaces and interface pages, as well as unpublished changes within published interfaces and interface pages. Changes made in editing mode won't persist outside of editing mode until an interface or interface page is published/republished.
Any changes you make to an interface within editing mode are automatically saved. While in editing mode, interfaces will indicate in the top bar if there are any unpublished changes within the current interface. If someone previously published an interface, you will also be able to see the date of publishing:

You can exit editing mode at any time by clicking "Exit" in the top right corner of the screen.
Once you've finished editing your interface, you can preview the changes you made to see what your collaborators will see.
Previewing
Clicking on the "Preview" toggle in the top bar will let you see what the final product would look like if the interface/interface page was published in its current state.

We always recommend previewing any changes you made to an interface to ensure your interface looks and acts just right! Entering preview mode will also allow you to interact with your interface without elements showing the properties panel when clicked—giving you a much better idea of how an interface will feel when it's published.
In preview mode, you can also double-check all the interactive parts of your interfaces, like seeing which fields are editable, checking the conditions in your Filter elements, and making sure your Record picker elements fit nicely within your formatting.
Preview mode not only allows you to see what your interface would look like if it were published, but preview mode also allows you to see your interface as if you were another specific base collaborator viewing that interface. The "View As" dropdown will be set to "Yourself" by default, but you can use the dropdown to select another collaborator in your base to see what your interface will look like for them. This is particularly helpful if you added a "Current user" filter to your interface.

When you have finished previewing, it's time to show your interfaces off to other base collaborators by publishing your interface.
Publishing
When you are ready for your work to be available to other collaborators in your base, you can click the Publish button in the top bar to choose which interfaces you'd like to publish. Clicking Done will keep the interface or interface page(s) in an unpublished, but saved state.

When clicking Publish all interface pages with unpublished changes will be published. However, Interface Designer allows you to select which, if any, of your interface pages you'd like to keep in an unpublished draft state. On the right, click the three-dot icon next to the interface page that you would like to put into Draft mode. The toggle the Keep as draft option on. You'll see Draft appear next to that interface page's name.

In the publishing menu, you can:

Return to editor if you aren't ready to publish or republish that individual interface.
Publish when you are ready.
Sharing
You can share a URL directly to an interface with your current base collaborators once your interface has been published. While on the interface you'd like to share, copy the URL from the address bar and send it to any of your base collaborators.
To share an interface with non-base collaborators (aka interface-only collaborators):
Click the share button when you have an interface page open.
This will cause the interface share modal to pop up. You can share the interface with collaborators — defining their permission level and offering or restricting access to certain data. You can also choose to share interfaces with individuals or groups* (Enterprise only) directly via email — with the option to notify users. Alternatively, base creators can create links that automatically grant interface access once clicked. Invite by link is only available to base creators.

NOTE

You can also choose to Allow access to the connected base. It's important to understand that this will invite the user as an interface and base collaborator. Depending upon the permissions set, this may incur additional costs.

For more information on interface permissions, please read this support article.
NOTE
Interfaces each have a unique URL, so you can easily share a specific interface with a base collaborator by sharing the URL for the interface you'd like them to see. If your interface includes a "Record picker" or "Record selector" element, the URL will also include the specific record you are viewing. So, not only can you share a particular interface, but you can also share a specific record in that interface via the URL.
FAQs
How do I delete an interface?
To delete an interface, make sure you're in "Edit" mode. Click the three-dot icon next to the interface name, and then select Delete.

How do I unpublish an interface?
To unpublish an interface, make sure you're in "Edit" mode. Click the three-dot icon next to the interface name, and then select Unpublish interface.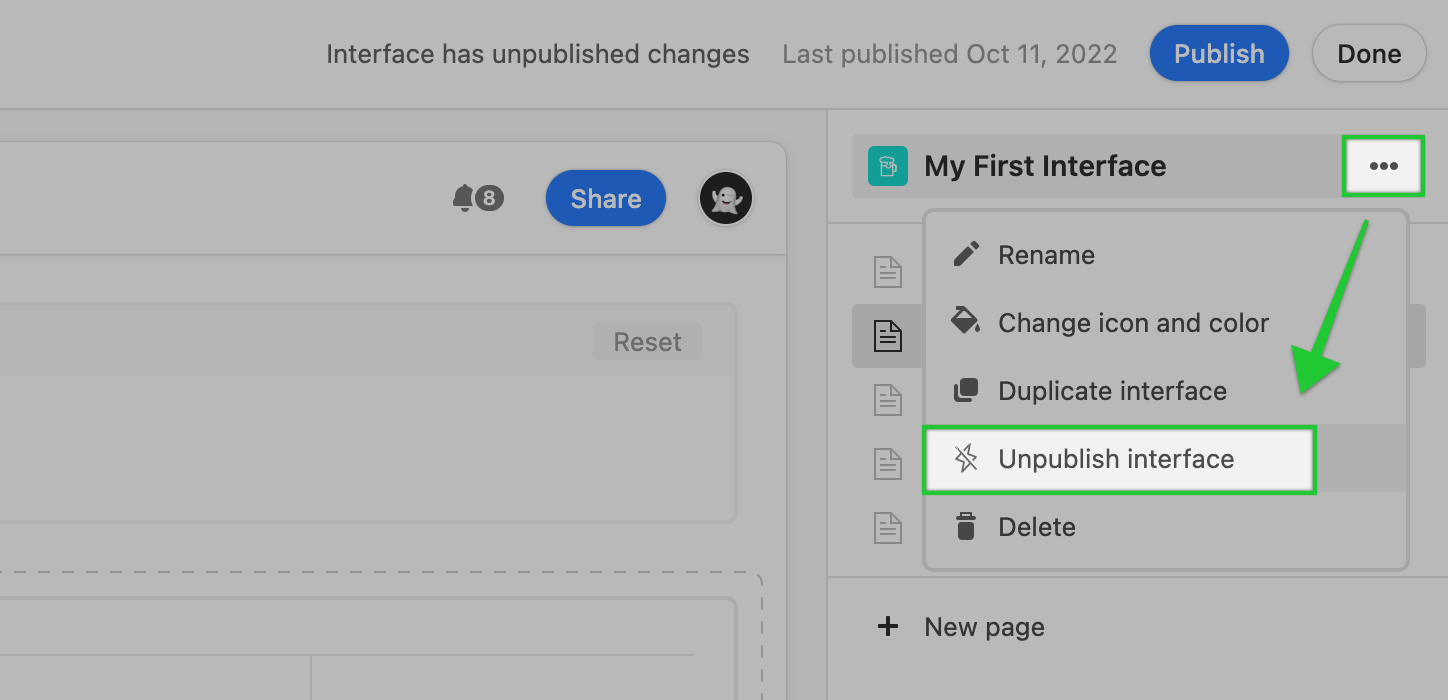 I changed the look of one of my interfaces, why is that not showing up for my other collaborators?
If you made a change to an interface group or to the elements contained in an interface itself, you must first publish the changes for that interface in order for other collaborators in a base to see those changes.
If I share an interface with another individual or team, can they see the underlying data?
Not necessarily. It depends on whether the option to allow access to the base was checked when the invitation was sent. Ultimately, only base collaborators can view the underlying base.
What happens if someone who is not a base or interface collaborator tries to navigate to an interface URL?
If you share an interface URL with someone who is not an invited collaborator, they will have to request access to see the interface.
Can I duplicate an entire interface and all of its pages?
Yes, you can duplicate an interface and all of its pages.
Can I duplicate or copy or duplicate an interface into another base?
We do not support duplicating an interface or an interface page into another base at this time.
What happens to changes made to my published interface if I don't publish those changes?
Any changes made to an interface in editing mode will automatically be saved. So you can choose to publish changes to an individual interface whenever you are ready.
Can I embed an interface page?
---
Was this article helpful?
---
What's Next