Managing Airtable notifications
15 Feb 2023

2 Minutes to read
Managing Airtable notifications
Updated on 15 Feb 2023

2 Minutes to read
---
Share feedback
Thanks for sharing your feedback!
When something important happens in Airtable, we let you know through notifications. The events that are currently able to trigger notifications include when someone shares a base with you, adds you to a workspace, @mentions you in a record, or assigns you to a record using a user field. These alerts are delivered through email, mobile push notifications, and the bell-shaped notification icon in the app.
NOTE
If you'd like notifications for other events not listed above, you may be able to create an automation to send your own custom notifications. You can learn more about creating custom notifications in this article.
Introduction
Overview
You can open up your notifications by clicking on the bell icon in the upper right corner of the home screen, inside a base, or from an interface page.
The notifications window allows you to select between Unread and Read notifications.
You can mark all unread notifications as "read" by clicking the button above the unread notifications.
You can also mark an individual notification as "read" by clicking the circle next to that particular notification.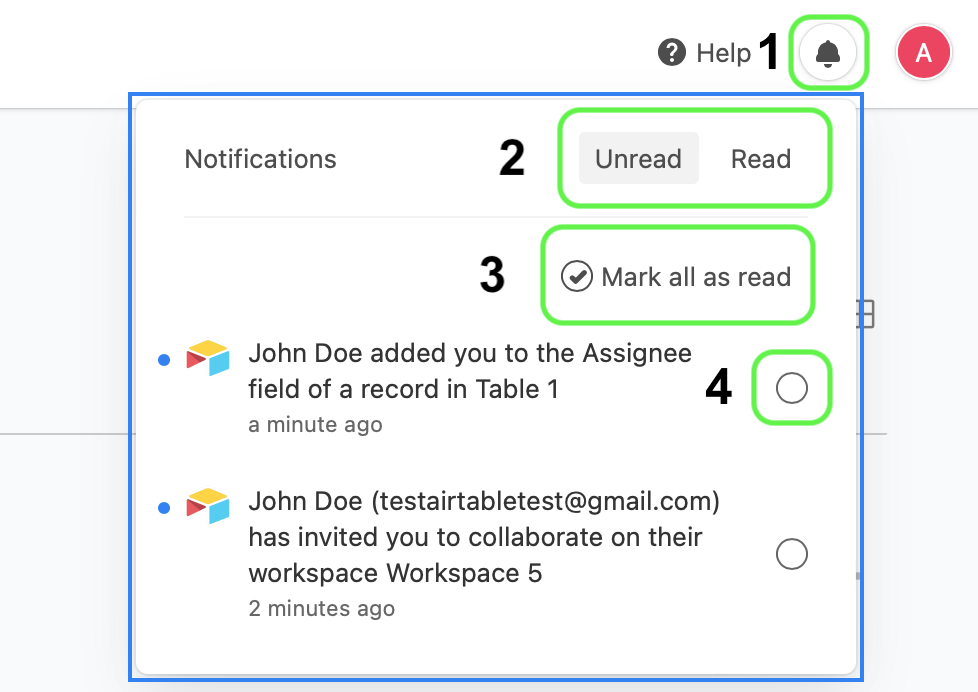 Here's an example of what a notification via email might look like: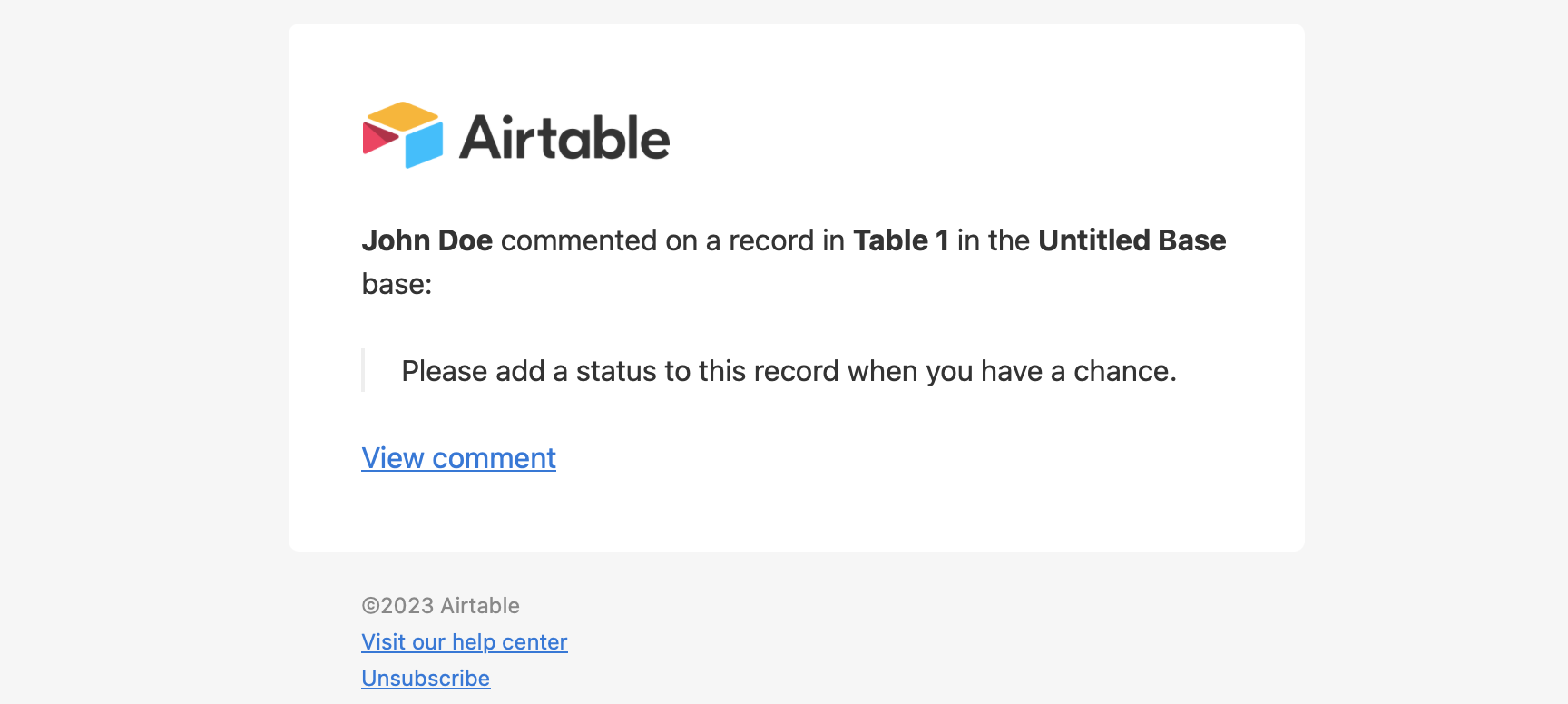 Adjusting notification settings
To change your notification settings:
Click on your account icon in the top right corner to bring up the Account menu, then click on the Notification preferences option.

This will allow you to switch Mobile push notifications and/or Email notifications on or off.

FAQs
Can I choose specific types of notifications to receive?
At this time it isn't possible to only receive notifications for one particular event, like being mentioned in a record comment. However, the note near the top of this article links to an article that covers the possible workaround of using Airtable Automations to create custom notifications.
Will I receive notifications when I @mention myself?
No notifications are sent when @mentioning yourself. However, it is possible to set up custom notifications as outlined in this article.
I'm not receiving notifications for a base. How do I switch them back on?
Notifications for a base can get switched off in a number of ways:
Toggling them off via the in-base drop-down menu.
Clicking 'Unsubscribe' from one of the notification emails.

Note: These unsubscribe links are unique to individual users. If you forward a notification email from your inbox to another person and they click the unsubscribe link, it will unsubscribe you from notifications.
In either case, you can toggle notifications back on by following the instructions in the Adjusting notification settings section above.
---
Was this article helpful?
---
What's Next