Trash for deleted bases and workspaces
22 Feb 2023

1 Minute to read
Trash for deleted bases and workspaces
Updated on 22 Feb 2023

1 Minute to read
---
When you delete a workspace or a base, it will temporarily be available in your workspace trash for seven days. During that time, a workspace owner can restore the bases and workspaces. Items deleted within a base such as tables, fields, records, views, and extensions can be restored using your base trash.
To access the workspace trash, click on your user icon in the top-right corner of your home screen, then click "Trash" from the drop-down menu.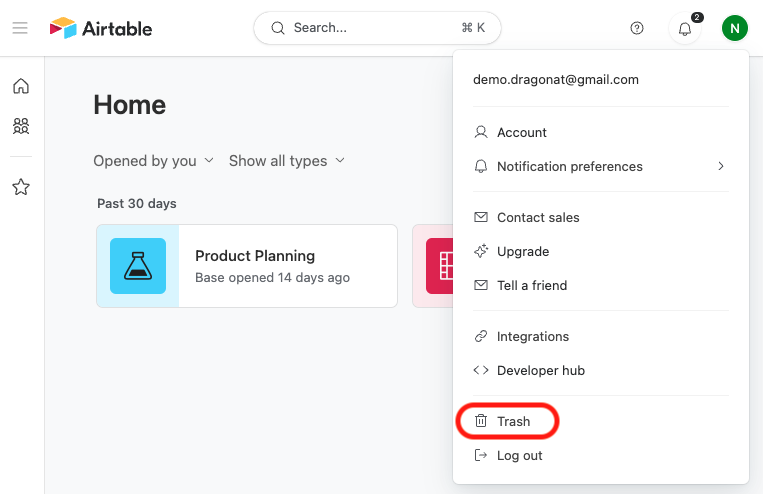 Note

What if I'm not able to see the Trash option in my user menu?

You may still be using an older version of the Airtable home screen. Look for the Trash in the home screen sidebar under "Add a workspace".
This will bring up a list of the deleted bases and workspaces from the past seven days. You will only see deleted workspaces and bases that you had owner permissions for. Each deletion entry will tell you what was deleted, what kind of item was deleted (base or workspace), when it was deleted, and who deleted it.

To restore an item from the trash, click the Restore option next to a deleted item. You should now be able to see the restored item from your home screen.
Trash and permissions
The actions you are able to take within the trash modal are limited by your permission level.
You need to have owner permissions for the workspace to see the trash dialog.
Only owners can empty the trash.
Collaborators that are not workspace owners cannot see those deleted items in the trash.
You need to have owner permissions to restore deleted bases and workspaces.
---
Was this article helpful?
---
What's Next