Getting started with Airtable views
05 May 2023

4 Minutes to read
Getting started with Airtable views
Updated on 05 May 2023

4 Minutes to read
---
This article provides an overview of views within Airtable - how to use the view switcher, search, and create new views.
This article is primarily focused on grid views—to learn more about our other view types, please see the articles for all of the view types. You may also want to read a related article on sharing or embedding a view on your website.
What is a view?
Views are specific to each individual table in your base; you can use views to show only specific fields or records, and apply other configurations to manage the information in that view. Each view can have its own unique configurations to hide, sort, and filter records within a table. You can create up to 1000 views per table in your base.
Users on Airtable's Pro and Enterprise plans have access to two premium view features that allow for greater control over view configurations in a team context: locked views and personal views.
Using the view sidebar
The view sidebar helps to navigate all of the views in a table. You can open the sidebar features in two ways: mouse over the view icon to open it as a fly-out, or click the view icon to keep the sidebar pinned open.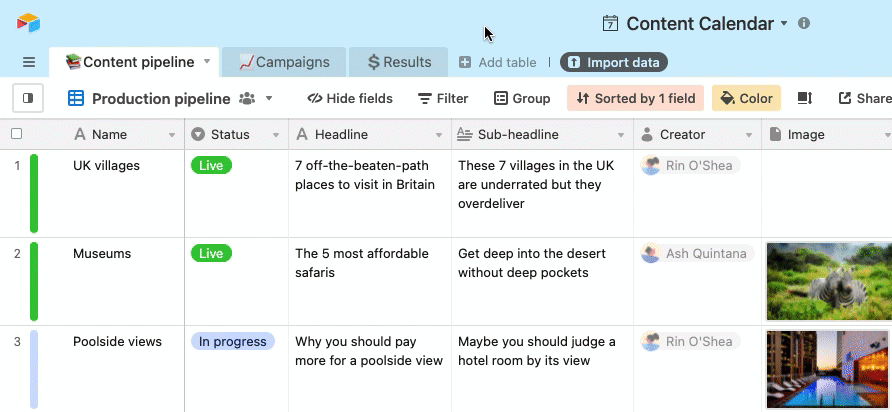 NOTE

If you are a heavy keyboard user, you can quickly switch views by pressing ⇧⌘K, type the view name to navigate to, and then press enter to switch to the target view. You can also change the width of the sidebar by dragging the resize handle on the right border of the sidebar!
Collapsing the "Create" view section
The "Create" section of the view sidebar is collapsible, freeing up screen real estate so you can easily access all of your views whenever you aren't actively creating new ones.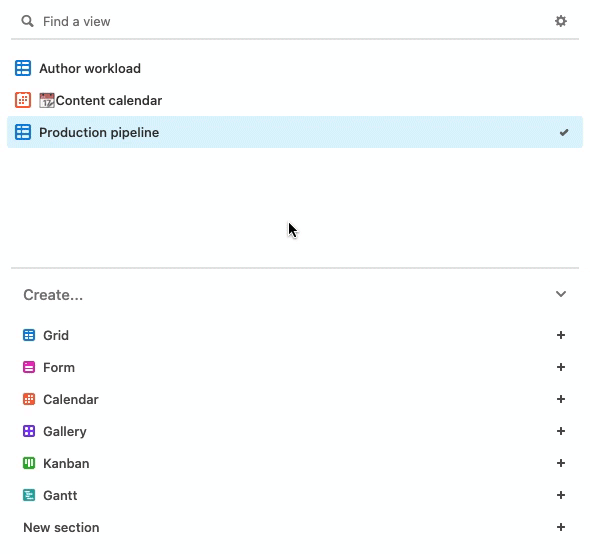 You can toggle the expansion of the view creation section by clicking on the word "Create..." in the view sidebar, as shown above.
Searching views
If your base has a lot of views, it may be helpful for you to use the view search bar. When you click on dropdown arrow for the view switcher, you can enter a search term where it says "Find a view" to find the view you're looking for. We will return both exact and fuzzy view matches for entered search terms.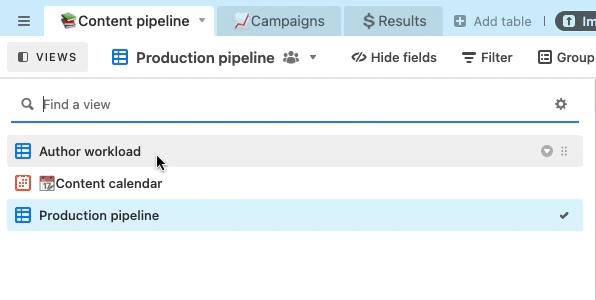 Creating views
To create a new view, start by opening up the view switcher and going down to the section labeled "Create...", then clicking on the option for the type of view you'd like to create. If your view creation section is collapsed, you will need to expand it.
With the view creation section open, you can hover over each of the view options for a brief explanation of that view type. Once you've picked a view type, clicking on that type will open up the menu to create your new view. You can now choose the view permission type and name your view then finish the process by clicking "Create new view".
Below we created a new grid view for keeping track of all our current projects.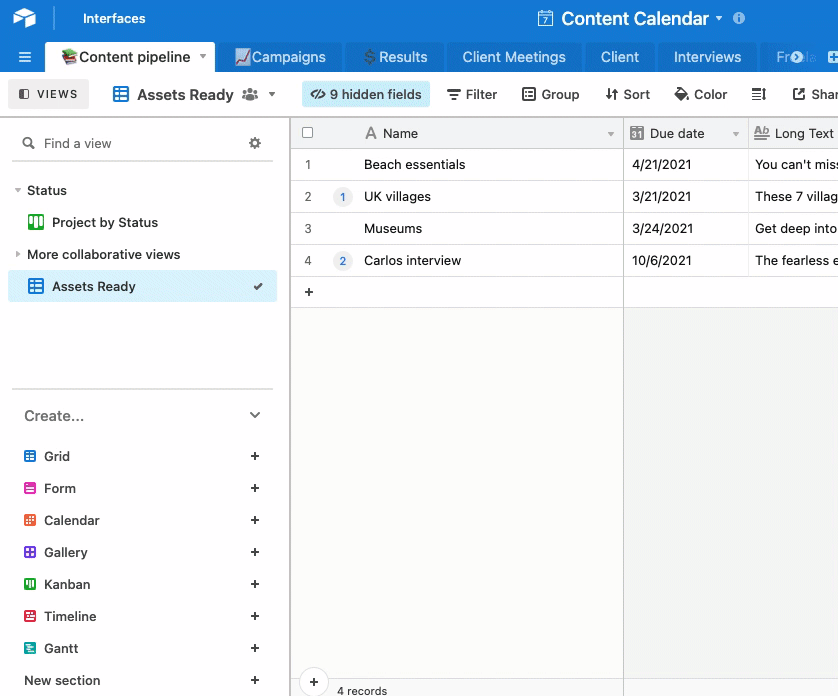 To learn more about creating views please see this support article.
Duplicating views
Duplicating views can help you make small adjustments to other views that already exist without having to rebuild all of the filtering conditions, groups, hidden fields, etc.
In the example below, we want to create a new view that will only show our Tasks that have been completed. Just click on the dropdown menu next to a view in the sidebar and choose "Duplicate view."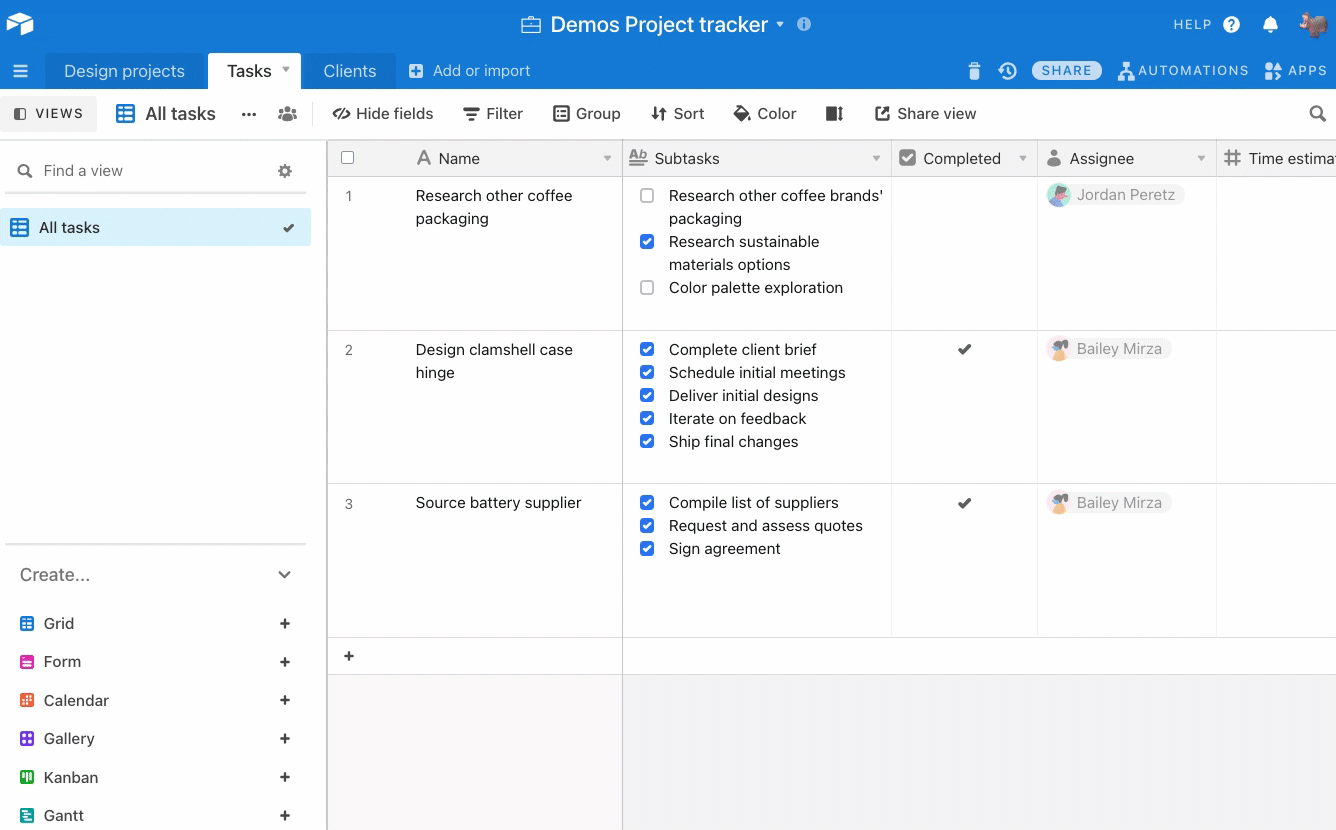 You can also duplicate a view by clicking on the three-dot icon next to a view's name.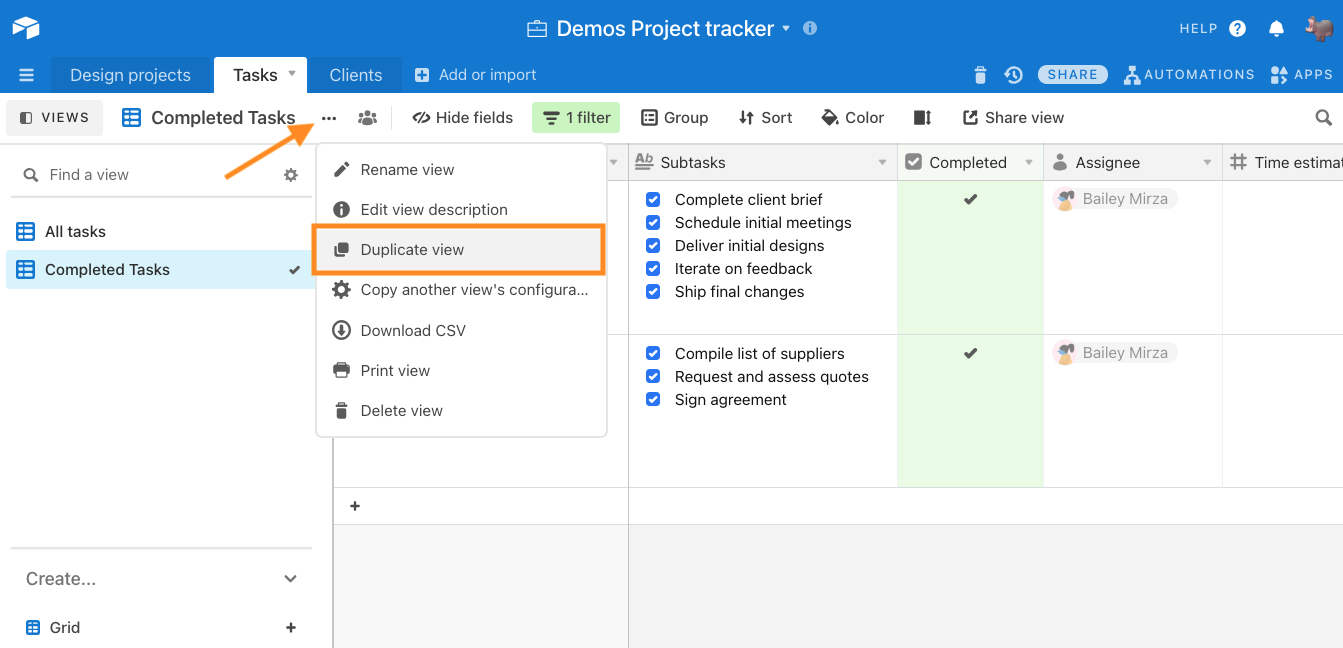 Favoriting a view
Pro and Enterprise workspace users can star, or favorite, their most frequently used views to add them to an easily accessible "My favorites" section at the top of the view sidebar. Read more about favoriting views in this support article.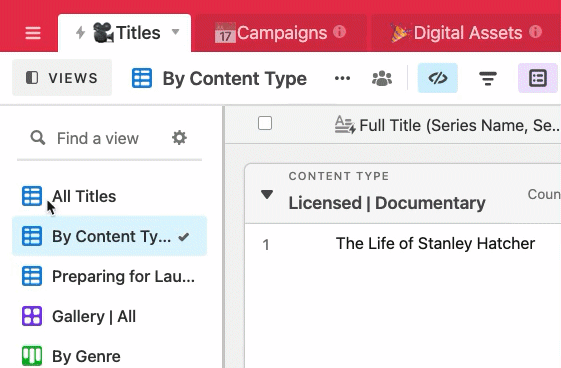 Deleting views
To delete a view, click the ... view menu and then select Delete view at the bottom of the dropdown menu that appears.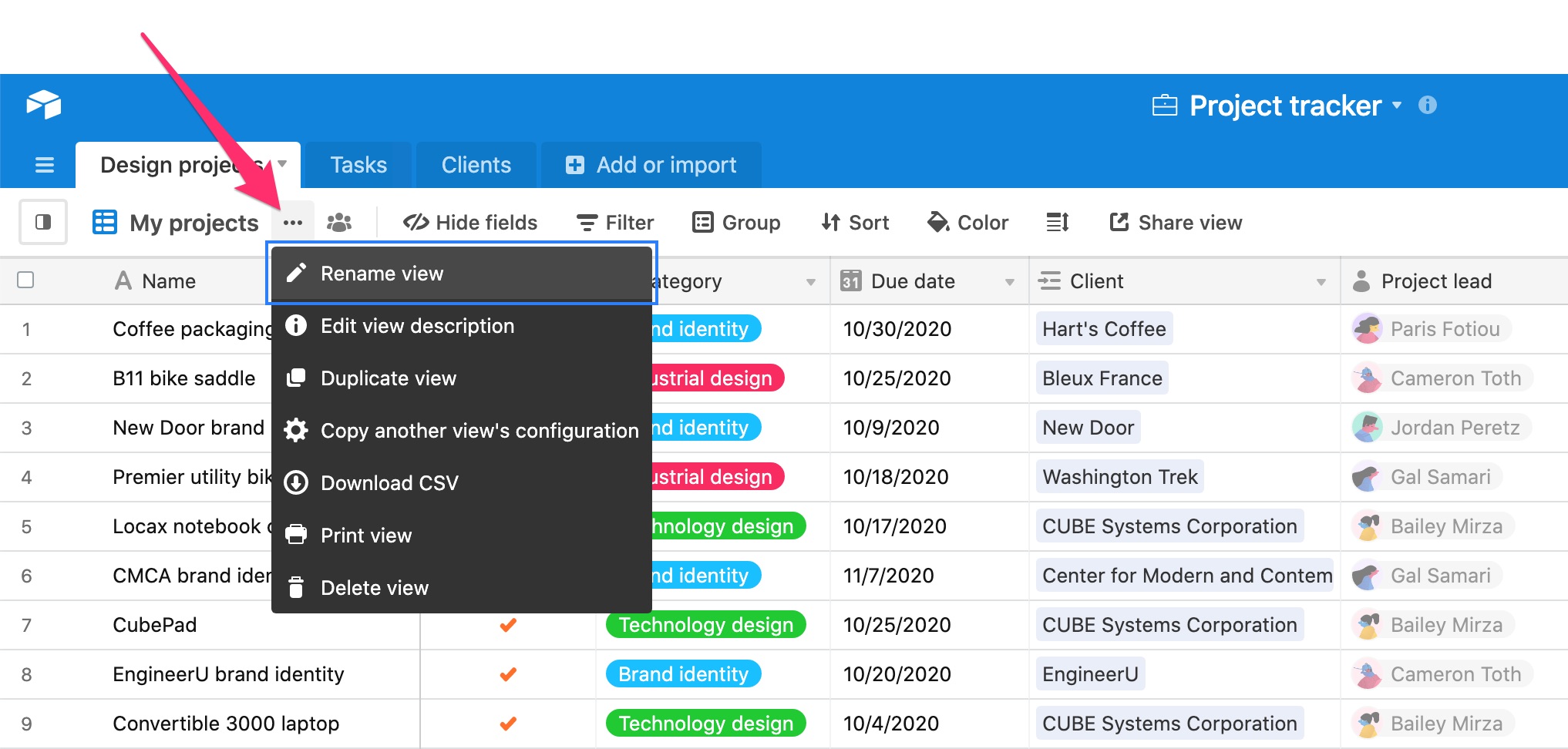 View super sections
We are excited to introduce an organizational structure that will automatically separate and elevate your essential views: super sections for "My views" and "All views". Super sections group together relevant view types into easily accessible and collapsible sections of the view sidebar and additionally include shortcuts that allow you to create new views on the fly.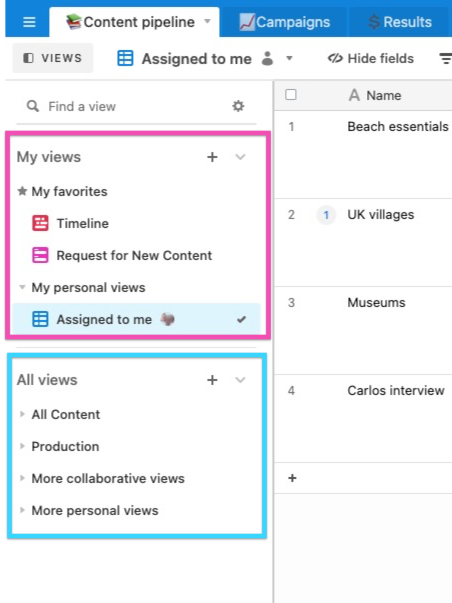 To learn more about super sections, please see this support article.
FAQs
Do record counts in views count towards the overall base record total?
Not exactly. Since views are meant to give insights into the same data, the same records will appear in multiple views. The records that appear in multiple views will only be accounted for once. The total record count for a base is determined by adding the number of records that are in each table together. An unfiltered view in a table will give you an accurate count of the number of records in that table. Workspace owners can navigate to the workspace settings page to monitor base-level usage.
Related video content
NOTE

Does your UI look a little different from this? Experimental features are made available to a small, randomized set of our customer. If you have any feedback on the changes you may be seeing,

please contact support

.
---
Was this article helpful?
---
What's Next