Transferring ownership in Airtable
04 May 2023

3 Minutes to read
Transferring ownership in Airtable
Updated on 04 May 2023

3 Minutes to read
---
Share feedback
Thanks for sharing your feedback!
In Airtable, workspaces contain multiple bases and have owners. If you'd like to change who "owns" a base then you will effectively need to move that base from its current workspace to another workspace owned by the user you'd like to transfer your base to.
Transfer a base to another workspace
To transfer a base from one account to another, you'll need to create a workspace that is shared with both of the accounts:
In the account that your base is currently in, create a new workspace
In the newly-created workspace, click the Share button, and add your other account as an owner or creator of the workspace
Move the base that you want to transfer into this new workspace
Log in to your other account
Un-share your first account from the workspace
Example: transferring a base from a professional account to a personal account
Suppose that you have two Airtable accounts: one using your professional email address, and one using your personal email address. You have a base on your professional Airtable account that you would like to transfer to your personal Airtable account.
First, you need a workspace to which both accounts have access. You can do this in a number of ways, but one way to do it is to create a new workspace on your professional account, and invite your personal account as a workspace member with creator permissions.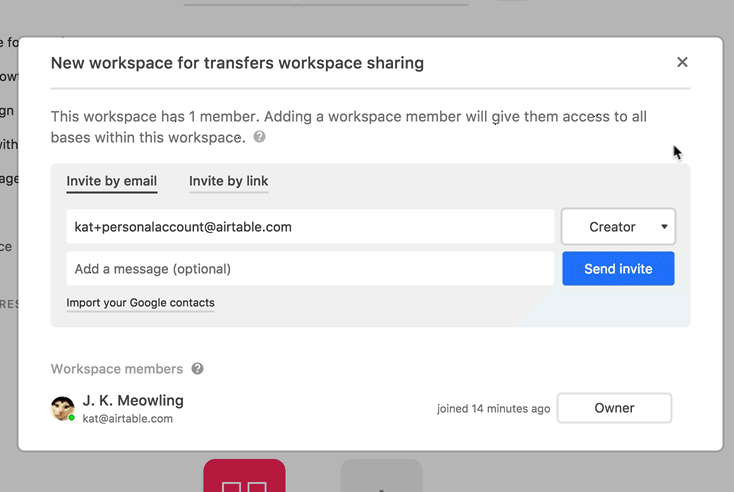 Next, while logged in on your professional account, click and drag the base(s) you wish to transfer from your professional workspace to the newly created workspace shared between your professional and personal accounts. You'll see a hand icon appear near a rectangle of six dots which will allow you to drag and drop the base.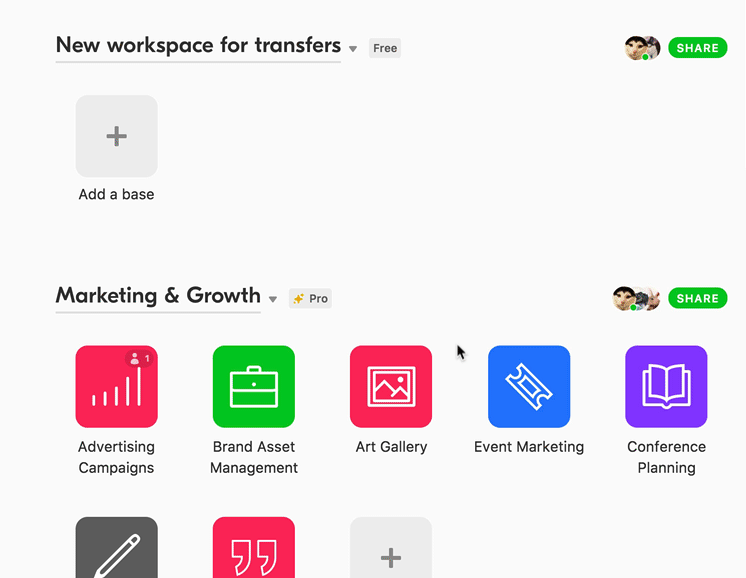 Alternatively, you can choose to add a base to another workspace by clicking the dropdown menu on the base you would like to move and selecting "Move Base to another workspace".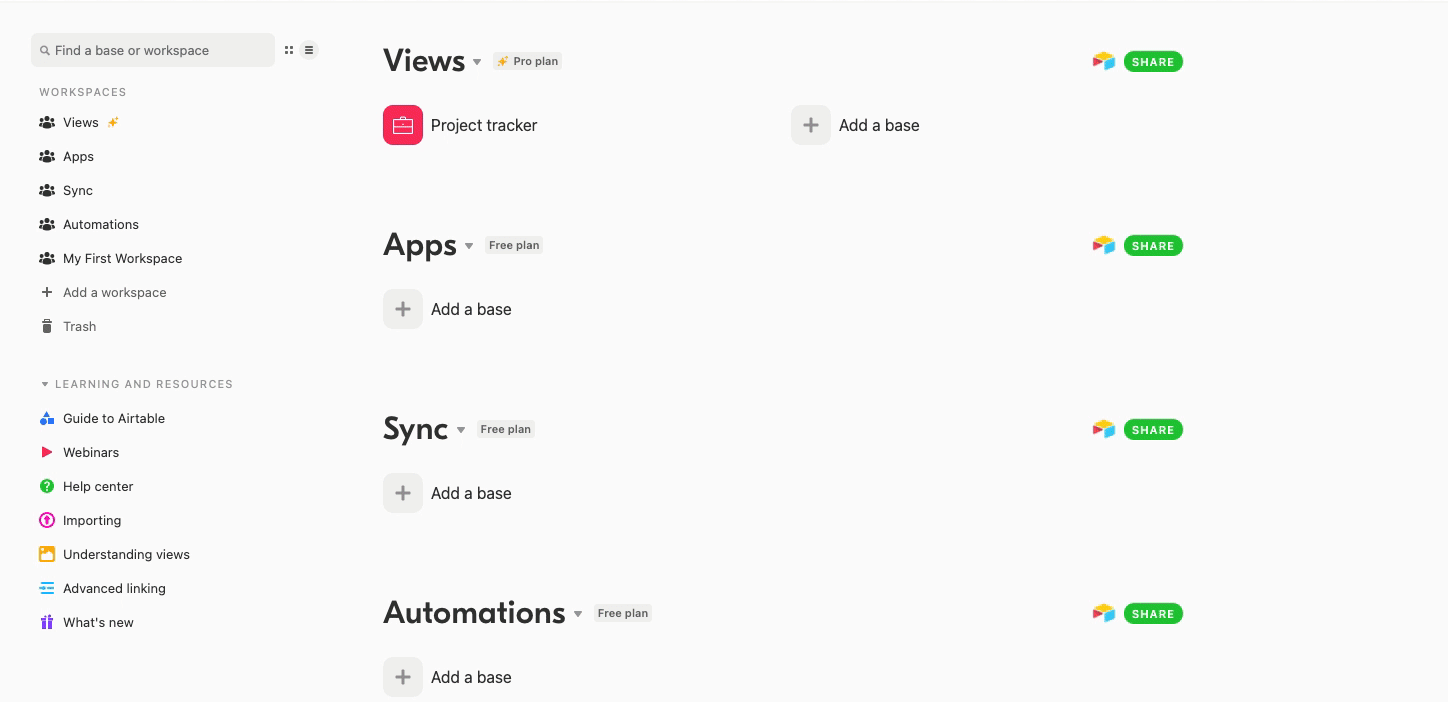 Now, once you've moved the base you wish to transfer into the shared workspace, you can access it when logged in with your personal account.
If you would prefer for your professional account to not have access to the base after you've transferred it to your personal account, log in with your personal account, then click and drag the base from the shared workspace to another workspace to which your professional account doesn't have access.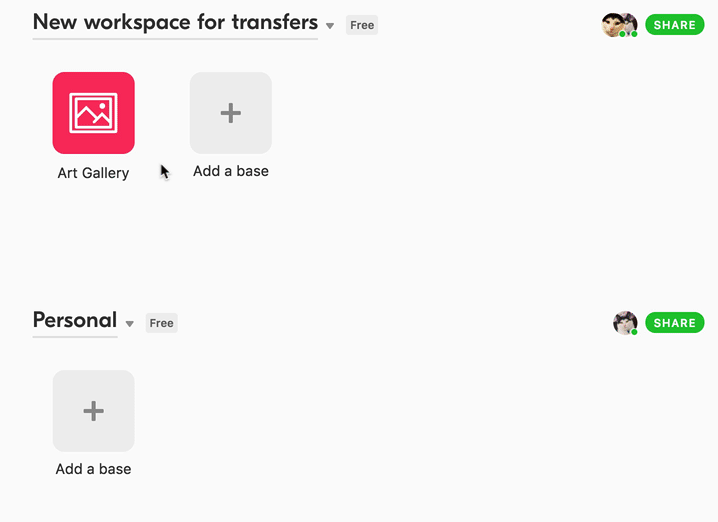 Transfer workspace ownership to another account
If you are the sole owner of a workspace, you will need to transfer ownership of the workspace to another user's Airtable account before you can remove yourself from that workspace or change your permissions on that workspace.
your title goes here
Before removing yourself as the owner you should have the new workspace owner change the credit card to their own. This change can be made in your workspace settings.
To transfer ownership of a workspace, access the workspace share dialog by clicking the share button on the workspace for which you're trying to change ownership. Then, you can change the permission level of another person in the workspace to make them an owner. (Note that you must be an owner of the workspace yourself in order to make someone else an owner of that workspace.)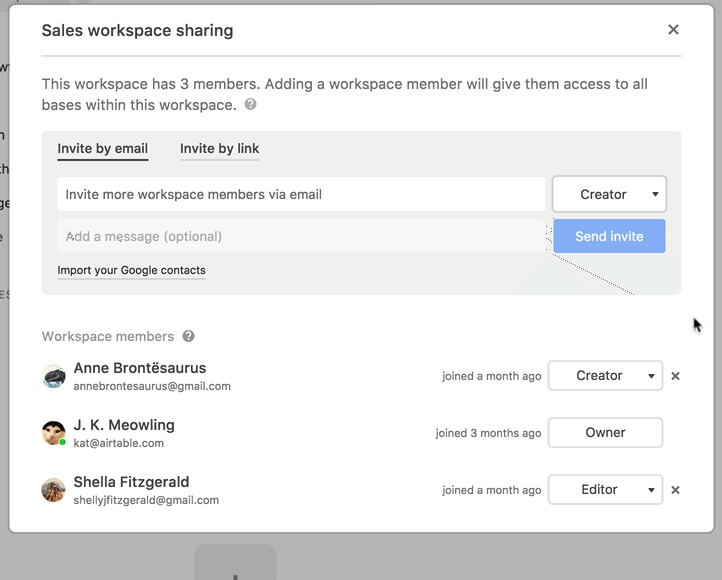 Once there is another owner, you can downgrade your own permission level, or even remove yourself from the workspace entirely.
Please be aware that if you downgrade your permission level or remove yourself from the workspace, you will need to request that someone else on the workspace raise your permission level or add you back to the workspace.
It's also worth noting that the credit card in use for that workspace's billing would continue to be charged, even after the workspace ownership transfers. We recommend coordinating with the new owner to change the payment method as part of the workspace handoff process, before removing your own access. You can change the credit card on file from the Payment section of the upgraded workspace's settings page.
---
Was this article helpful?
---
What's Next