Watching comments
13 Sep 2022

2 Minutes to read
Watching comments
Updated on 13 Sep 2022

2 Minutes to read
---
When you are watching comments on a record, you will be notified whenever someone comments on the record. In order to receive notifications from Airtable, you will need to ensure your general notifications are turned on and that you have verified your email address associated with your Airtable account.
How do I watch comments?
There are four general ways to start watching comments:
By manually setting yourself to watch a record's comments in an expanded record.
By commenting on a record.
By being mentioned in a record or a comment.
Finally, you'll be set to watch comments on any records when another user (or automation) adds you to a user field type with the option to "Notify users when they're added" turned on before adding new collaborators to records.
NOTE
Note that if a user has previously chosen to not watch the comments for a record, then options 2, 3, and 4 above will not automatically set the user to watch the comments. That user will need to manually turn the option to watch the record back on using the expanded record method listed in option 1 above.
Expanded record watch settings
To configure your watch settings, expand a record. The right side of the dialog is the record's activity feed. At the top right, click the "Watch comments" bell icon. Clicking this will allow you to change your watch settings between "Not watching" and "Watching comments."

If you don't want to watch comments, you can just set your status to "Not watching" again. At this time, it isn't possible to enable or disable watching multiple records at a time using this method.
Watching via @mentions or commenting
If you comment on a record, or if another collaborator @mentions you in a record's comments, then you will automatically be set to watch the record's comments in question. If you are not watching a record's comments, then you can also be notified if someone @mentions you in a long text field. For more on commenting and @mentioning, see the article titled "Comment on Records and @Mention Collaborators."
Watching via a user field
When a user field type is set up to "Notify users when they're added", it will automatically cause future collaborators to also be added to watching any comments that they are assigned to.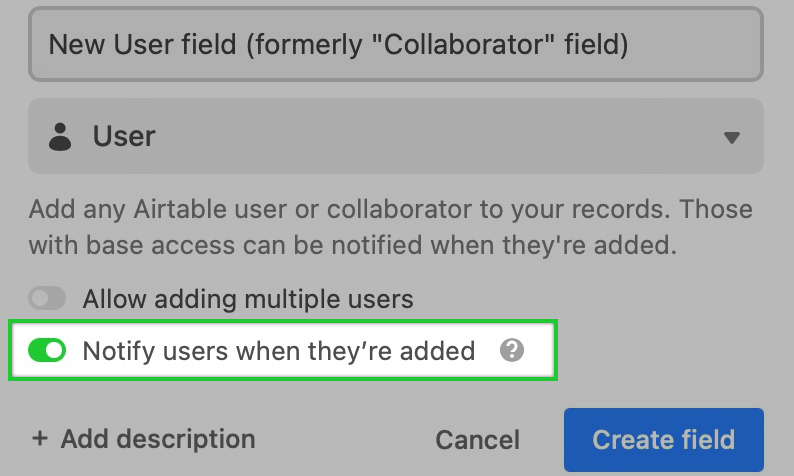 Additionally, this makes it possible to watch multiple records' comments at one time, by copying and pasting a collaborator's information to multiple cells at the same time. You can also use the fill handle, but note that both options will overwrite rather than append any existing collaborators added previously.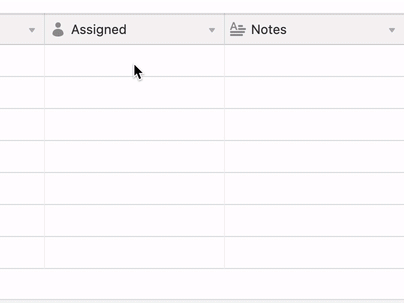 Finally, it's worth pointing out, that users will still only be able to disable watching comments one record at a time by clicking the expanded view of a record as mentioned in the "Expanded record watch settings" section above.
---
Was this article helpful?
---
What's Next