How to create a view
06 Jul 2022

3 Minutes to read
How to create a view
Updated on 06 Jul 2022

3 Minutes to read
---
In this article, we'll cover the process of creating a new view from start to finish. To learn more about views in general, check out this support article.
Creating a new view
Start by opening up the view menu and going down to the section labeled "Create...". If your view creation section is collapsed you will need to expand it by first clicking on the word "Create..." in the bottom left-hand portion of the view sidebar.
With the view creation section open, you can hover over each of the view type options for a brief explanation of that view type.
Once you've picked a view type, clicking on that type will open up the menu to create your new view. You can now choose the view permission type and name your view as part of the view creation process: This will help ensure that critical information about the view (i.e. name & permission type) are captured upfront.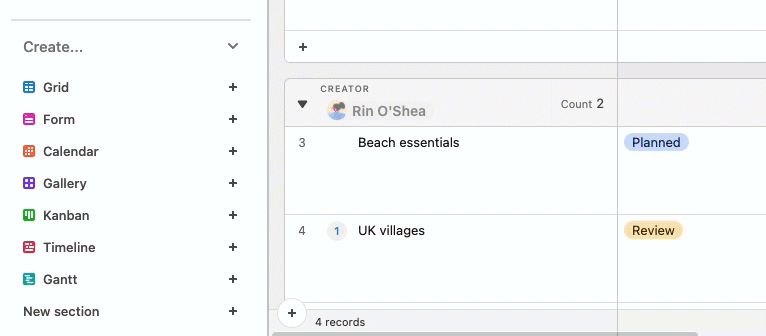 You can choose from the three view permission types:
Collaborative views: viewable and configurable by all collaborators
Personal views : views that can only be configured by the current owner of that view and are hidden from other collaborators by default
Locked views: views that other collaborators cannot edit unless the view has been explicitly unlocked
You can choose to change a view's permission type at any time from the view settings menu.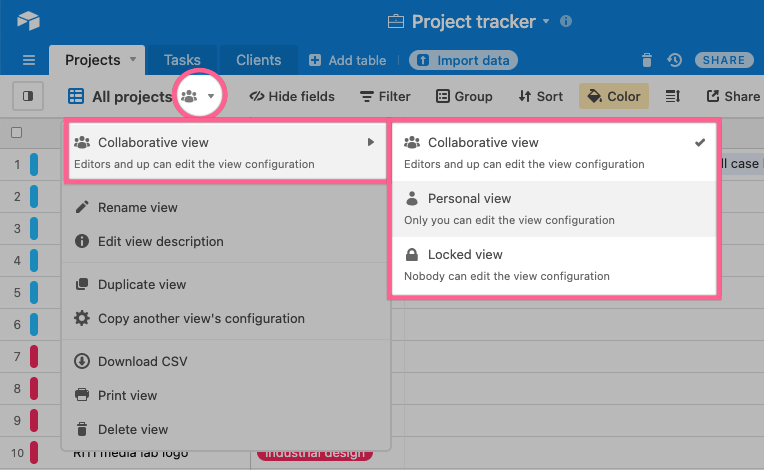 Once you've created your new view you can name it, show/hide fields on it, filter out records, and order the records manually or by sorting them.
The attributes of a grid view that can be saved for that individual view include:
When you aren't creating a new view, you can gain a little more screen real estate by collapsing the "Create" section of the view sidebar.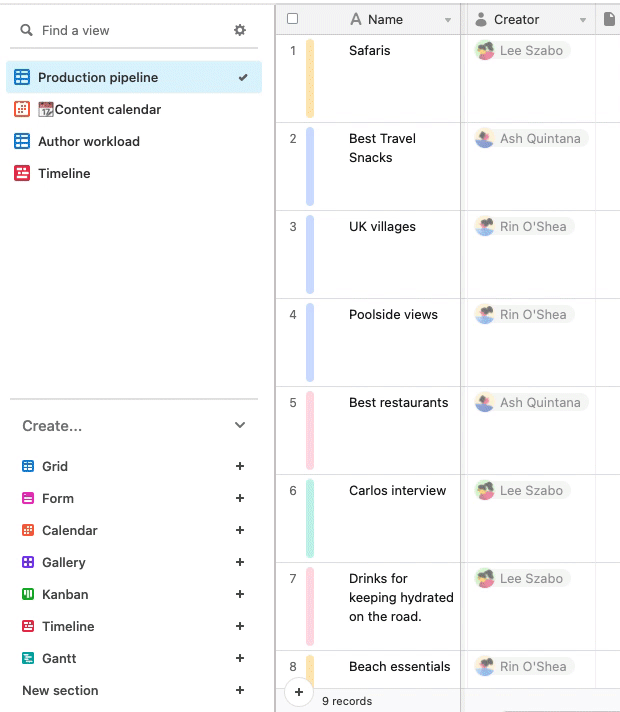 TIP
After you've created a few views, you can switch between them easily by selecting views from the view switcher. Note that you can toggle the view switcher using the keyboard shortcut **⌘ ⇧ K** (command + shift + K).
Newly created views in large bases are personal by default
Personal views are now the default permission type for large bases (defined as bases with over 20 views, and where there are more than three different collaborators creating views).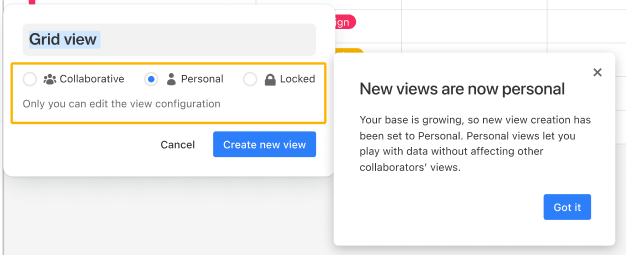 If you'd like to choose another permission type when creating a new view, you can easily change the settings by selecting any of the other view permission type options before clicking "Create new view":

To learn more about personal views please see this support article.
Creating views from view super sections
We currently have two super sections : "My views" and**"All views"**. Super sections group together relevant view types into easily accessible and collapsible sections of the view sidebar and additionally include shortcuts that allow you to easily create new views on the fly.
Personal view creation shortcut
The "My views" super section introduces a new shortcut to easily create new personal views on the fly: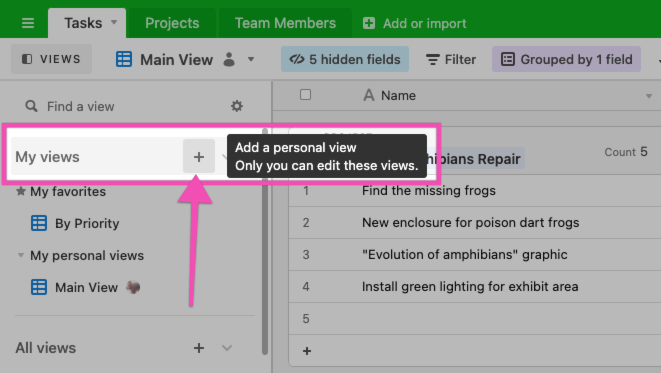 Clicking on the "+" button next to "My Views" will autofill the view's permission type as "Personal" and prefill the name of the new view as "[Your Name]'s Viewtype":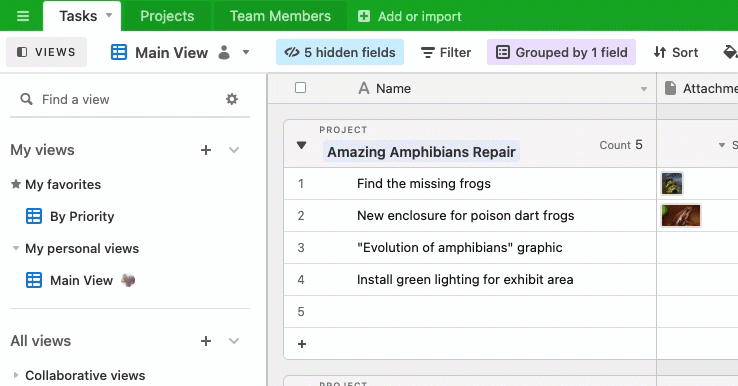 Collaborative view creation shortcut
The "All views" super section introduces a new shortcut to create new collaborative views and view sections easily:

Clicking on the "+" button next to "All Views" will autofill the view permission type as "Collaborative":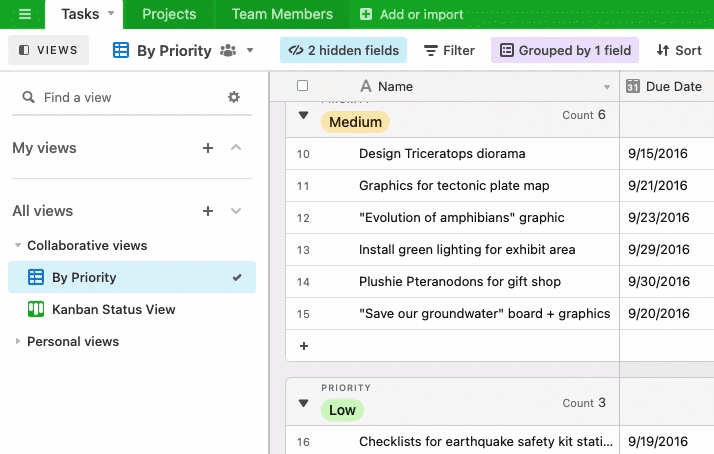 FAQs
Do I have to choose the name for a view as I create it?
Whenever you create a new view, it will generate a unique default name for that view. For clarity, we do recommend giving each of your views a different descriptive name. You can also choose to rename your view after it's created.
If my base is not on a premium plan, will the default view type change in large bases?
Personal views are a premium feature available for bases within workspaces on Pro and Enterprise plans. So regardless of your base's size, if your workspace is not on our premium plan, you will not have access to premium or locked views unless your workspace plan is upgraded.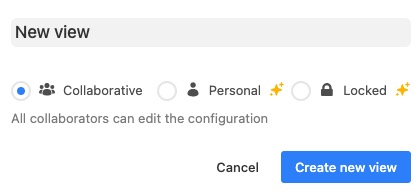 ---
Was this article helpful?
---
What's Next