Airtable bases overview
18 Nov 2022

1 Minute to read
Airtable bases overview
Updated on 18 Nov 2022

1 Minute to read
---
An Airtable base contains all of the information you need for a particular project or collection. Each of the square icons on your homepage is a different base. It's kind of like a workbook in a traditional spreadsheet, and can contain multiple tables of content. For example, a base for a sales pipeline could have separate tables for sales leads, companies, and deal opportunities, whereas a base for planning a wedding could have separate tables for potential venues, attendees, and wedding registry items.

Unlike a traditional spreadsheet, you don't have to view your tables as flat grids—you can also view a table as a calendar, a gallery of large cards, a kanban board, a Gantt chart, or on a horizontal timeline.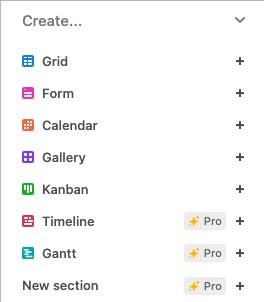 Airtable provides a number of convenient ways to create a new base. Select one of the options below to get started:
Using a template from our template gallery
If you're new to Airtable, we recommend starting with a template so you can see how a base is typically structured. You can choose an existing template from our template gallery that is tailored to your use case, but you can also easily modify it to suit your own needs.
If you're comfortable with making your own custom tables, fields, and views, you can start from scratch with an empty Airtable base.
Importing an existing spreadsheet or CSV into a new base
If you have an existing spreadsheet or data source, you can export to a CSV and then import that CSV into a new Airtable base.
Duplicating an existing Airtable base
If you already have an existing Airtable base, you can easily duplicate the entire base.
Taking and restoring base snapshots
Airtable will periodically take snapshots of your bases so you can restore an earlier version of your base in case you make accidental changes.
---
Was this article helpful?
---
What's Next